11 Halloween Marketing Ideas To Boost Your E-commerce Sales
It's almost Halloween. Ghostly Greetings!
Let all the ghosts, wizards, and pumpkins do their magic. It's time for you to advertise, sell and be spooky!
Knowing that this is one of the year's largest sales peaks, makes Halloween a bit scarier than it actually is! However, it is a great chance for you to get to know your clients better, build intimate relationships with them, boost your e-commerce sales and maximize your ROI. It is your chance to build a brand your customers will love, have an emotional connection with and be loyal to.
This is the season for BOOsting brand awareness and exposure along with acquiring new customers.
Let your e-commerce sales go Boo when you follow the upcoming steps!
Table of Content:
The Best 11 Halloween Marketing Ideas To Increase Your E-commerce Sales:
The Best 11 Halloween Marketing Ideas To Increase Your E-commerce Sales
1- Have A Mobile-Friendly Website
Did you know that 59% of all online traffic came from smartphones and tablet devices?
People are increasingly using their phones to browse websites on the internet more than desktops which means that all online businesses need to optimize their websites accordingly. Your online store should be mobile-friendly. It is important to make it easy for your audience to shop from anywhere, anytime.
Designing a mobile-responsive website is crucial, especially during big events and festive seasons.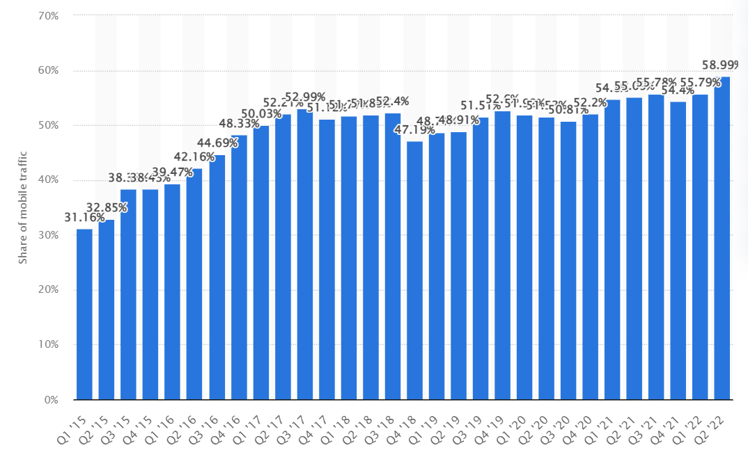 2- Have A Halloween Look and Feel All Over Your Website
Did you know that Top-consumer psychology surveys prove that when shoppers are in a good mood or when they feel connected to the brand emotionally, or when they feel satisfied with the look and feel of the website, they tend to buy 2x their needs.
Hence, having Halloween-themed decorations all over your e-commerce store would definitely enhance your brand awareness and loyalty, build connections with your audience, and driveway more sales during festive seasons.
Here are some spooky ideas:
Use Halloween-themed images with a call to action.

Use a creative Boo pop-up with offers as soon as visitors open your website.

Create a banner on your homepage where you can announce promotions, contests, or giveaways. 90% of your new visitors will get a first impression from your banner about the offerings in the store.

Use Halloween phrases in your copywriting

.
3- Have Special Offers & Promotions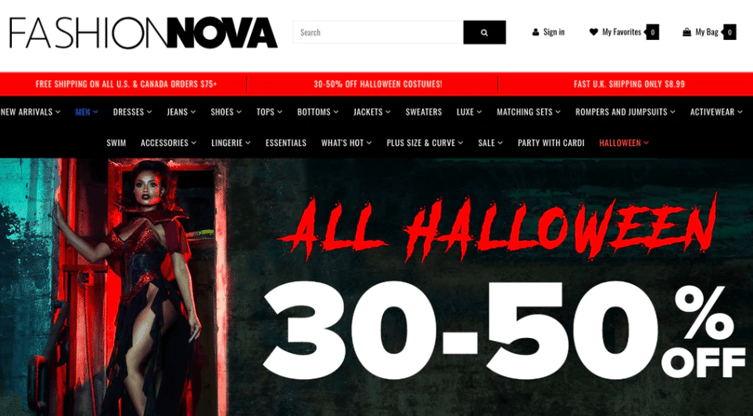 Maximize your sales by creating a sense of urgency in buying. Use different offers on multiple product sections. Use deals that are specific for certain groups of customers, such as a lucky draw or extra-hour sales, and many more. A pop-up with a coupon is very appealing. You can attach a gift card to the delivery package or attach an e-gift card in the receipt billing email. Offer free shipping for a limited time, you can also offer it globally if possible.
Moreover, you can send automated follow-up emails with gift cards to remind your customers and influence them to purchase on the promotion days.
4- Create A Captivating Email Marketing Campaign
Here is an interesting fact 91% of existing customers prefer personalized emails to social media. Email advertising is 40 times more effective at obtaining new clients than Facebook or Twitter. Email is the second most effective channel to acquire customers, accounting for 7% of user acquisition in e-Commerce.
You can use attractive ghostly Halloween-themed email templates. Use an eye-catching haunting subject line and spectacular CTA. Send your customers product recommendations email with highlighted discounts. Send recovery and retargeting emails when your customers abandon their carts. Also, you can send reminders before the offer is over to influence them to buy with keywords like: LIMITED STOCK, 1 HOURS LEFT, UNTIL MIDNIGHT.
5- Use Upselling & Cross Selling Strategies
Upselling & Cross Selling Strategies help you influence your audience to buy more at once. Did you know Halloween is the third-largest holiday for shopping after Christmas and Easter?
Something else to consider is that people love to spend more at this time of the year! For example, if your e-commerce sells clothes or costumes, upselling can be perfect for your online business! You can always suggest more relatable products for your shoppers. You can also offer them a certain discount when purchasing a certain number of items. Encourage your customers to buy in a bundle.
6- Design
Enchanted Halloween E-commerce Social Media Marketing Campaigns
Advertise your festive discount offers over social media where you can have an impact over your customers' psych. Use your social media platforms for announcing discounts, limited-time offers, new products, events, product launches, limited-time products, fun contests, gifts, fun activities, and more.

With compelling captions, spooky designs, and attractive paranormal images, you can attract the eyes of your consumers and direct them with the perfect call to action to your website and online store. Use stories, posts, and reels with a specific Halloween color scheme or theme that matches your brand and go with it. Maximize the visibility of your content by using intriguing hashtags such as #trickortreat #Halloweendeals #Halloweensales. Leash your creativity and let your people be in awe.
7- Have An Allocated Budget For Four E-commerce Ads
Organic content and postings are a great way of communicating and attracting your audience. However, we need to admit that nowadays the attention span of consumers on all social media is super low due to the cluttering of content and advertising.
Brands and businesses are fighting for the attention and purchasing power of consumers. For that reason, it is better to allocate a certain budget for your social media ads. Do your research, and choose the best platform and best ad type for your e-commerce business. Whether it is Facebook or Google? Instagram or Pinterest? Or others. Make sure you are using the most relevant keywords to your brand and to Halloween.
8- Engage Customer With User Generated Content
Marketing that goes from real people to real people promotes loyalty and trust for brands. People are sick of advertising. Generating real authentic content can be an extremely special thing for them, especially on certain occasions like Halloween. This strategy can help in spreading awareness and exposure for your brand.
With user-generated content, you can host contests, video contests or image contests, or caption contests so that people can share personal content and tag you or use a certain specific hashtag for your brand people can use. Push customers to generate content that talks about or markets for your brand.
9- Create Organic Captivating Content On Your Blog
SEO is a great way to reach your audience where they are and give them exactly what they are searching for. You can drive more seasonal traffic to your online store and website by writing about Halloween topics, like Halloween Gift Ideas.
If you have a blog on your website you can perfectly use it to generate relevant SEO articles with Halloween topics that can boom and let the audience trust your brand as a source. Consequently, this will generate organic traffic to your site where they can read your blog, get ideas and purchase your products. Don't forget to add a little creativity, a sense of humor, and some pumpkin spices to your content articles.
10- Start Halloween Pre-advertising & Teasing Campaigns
According to the National Retail Foundation, 40% of active buyers start purchasing things before the festive season hits. Starting your Halloween marketing campaigns one month to two weeks earlier will be perfect as your audience will start purchasing their needs before the Halloween date. Hence prepare your discounts, websites, social media announcements, contests, and all your marketing material for your e-commerce.
11- Collaborate with Relevant Businesses or Influencers
You can collaborate with relevant local organizations as a sponsor or investor to build stronger brand visibility and exposure. Also, you can still collaborate with relevant brand ambassadors or social media influencers to boost your Halloween products on their pages by mentioning your brand and using your stickers in their reels and stories.
Discover The Complete Guide to Use eCommerce Influencer Marketing to boost Sales
Check what Mars did when they collaborated with 20th Digital Studio and Disney Advertising Sales to advertise for their very own horror short film series – Bite-Size Halloween series.
Have a spooky Halloween and Boost Your E-commerce Ghostly Products With Convertedin
It's never too early to at least start thinking about your Halloween marketing campaigns. There are hundreds of Halloween marketing ideas to maximize your e-commerce sales, attract new clients to your website and engage with your existing customers. However, beside getting crazily creative, you can give up the hassle of planning and preparing your 360 marketing campaign and let Convertedin do all the work for you. Boost your sales and influence shoppers during festive seasons with personalized ads across multiple channels using our e-commerce-focused automation platform.
Have a Great Ghostly Halloween!