5 Best Shopify apps to automate your eCommerce business
If you're an e-commerce business owner, there's no doubt that automation is a topic of interest. For many entrepreneurs, it feels like the holy grail—the secret sauce that can take your business to the next level. But where do you begin with so many different tools and conflicting advice on how to use them?
This article will give you a clear overview of the different types of automation tools available, how they can help your business, and how you can get started with them.
What Does Automation Mean For E-Commerce?
Automation is the process of using software to manage and streamline repetitive tasks. This can include automatically sending out email campaigns to create product listings on an e-commerce store.
Shopify stores, for example, have eCommerce automation tools that can be integrated to help you save time and streamline your business. But it's essential to understand the different types of automation to choose the best tool suited for your needs.
The Benefits Of Automating An E-Commerce Business
Here are the benefits of automating your e-commerce business:
Automating your e-commerce store means you can spend less time on repetitive tasks and more time working on growing your business.
Hiring a VA (virtual assistant) to do the work for you can cost anywhere from $6,000 to $10,000 per year, depending on their location. Automating tasks with software instead of hiring someone will save you thousands of dollars each month.
By using automation tools, you can ensure that your product listings are consistent across different platforms (e.g., Google shopping). This helps improve brand recognition and customer trust in your business.
You can spend more time working on your business by automating your SEO and PPC efforts. The less time it takes to manage your store, the more money you will make.
Automating tasks allows you to save time and focus on other aspects of your business. For example, suppose you can spend less time listing products manually. In that case, you can spend more time improving website content or working on a new marketing campaign that will bring even more sales.
5 Best Shopify apps to automate your eCommerce business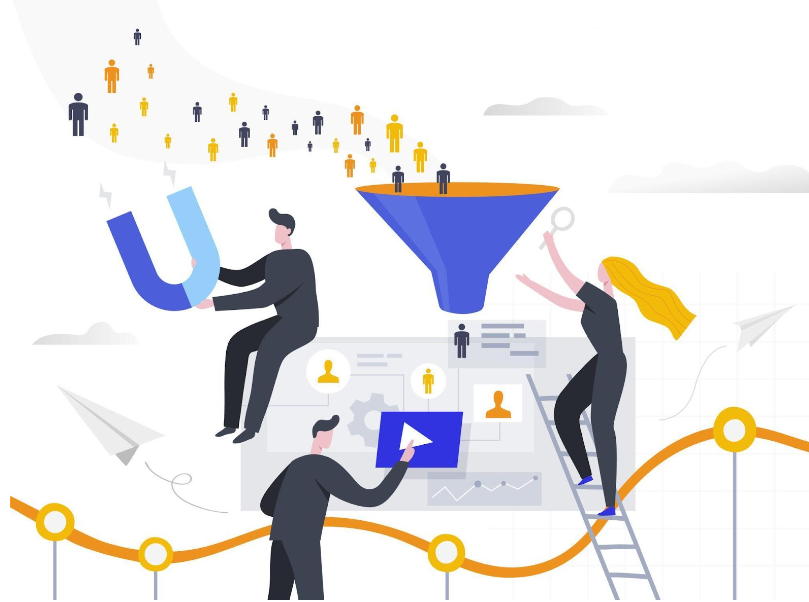 Shopify automation tools can help you streamline your business and save time while increasing revenue. Here are some sections to start automating and app options for making the whole area efficient:
1- Automate Marketing with Convertedin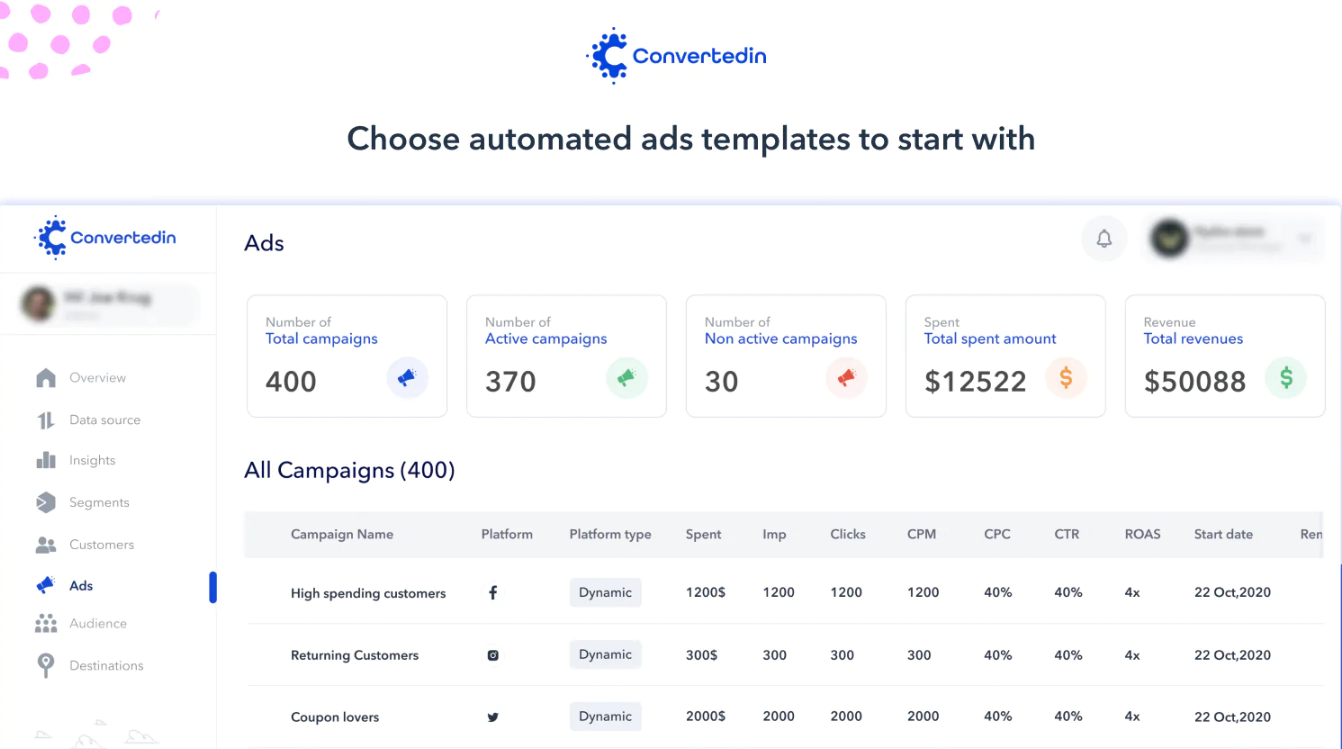 A good marketing automation software can significantly help you, especially if you're new to the game. ConveretdIn software will help you create and manage marketing ads across multiple platforms.
Convertedin is an AI system that uses shopper insights and data to create personalized marketing campaigns for e-commerce stores. You can use it to automate your marketing, including creating ads, managing bidding, measuring performance, and much more.
For example, suppose you sell clothing online, and someone visits your site. In that case, Convertedin will create an ad for the visitor that includes their size based on browsing history. Or, if a customer purchases a pair of shoes from your store, you can use the software to automatically send them emails offering other shoe styles they might like.
This AI tool has many features that will help you grow your business faster by automating your marketing. Some of these features include:
Features and Benefits:
Ads strategy and management automation across multiple channels
Set up a multichannel market strategy efficiently
Upscale your ROAS across Facebook, Snapchat, and Google Ads.
Efficiently retarget customers who have already converted and those who abandoned their shopping carts.
Explore the performance of your ad campaigns and personal ads from every angle.
Monitor your brand across multiple social media channels with a single service.
2- Thrive by Shopventory For Inventory Management
Thrive by Shopventory is a centralized solution that lets multi-location and online Shopify sellers manage their inventory. It's designed for Shopify merchants who want a simple and powerful inventory management solution that allows them to manage their inventory from a single place, whether they are managing multiple locations or just one.
Shopify Inventory seamlessly connects your brick-and-mortar locations with your Shopify Store. You can also connect Square, Clover, and PayPal to see your business data in one place.
Features and Benefits:
It automatically updates your inventory records as you receive the merchandise and fill orders from different warehouses.
Easily view your store profitability over a particular time at a specific location
Create invoices and collect payment when you integrate with POS systems
It automatically creates orders based on inventory levels, customer orders, and sales data.
3-Automate Customer Service with Tidio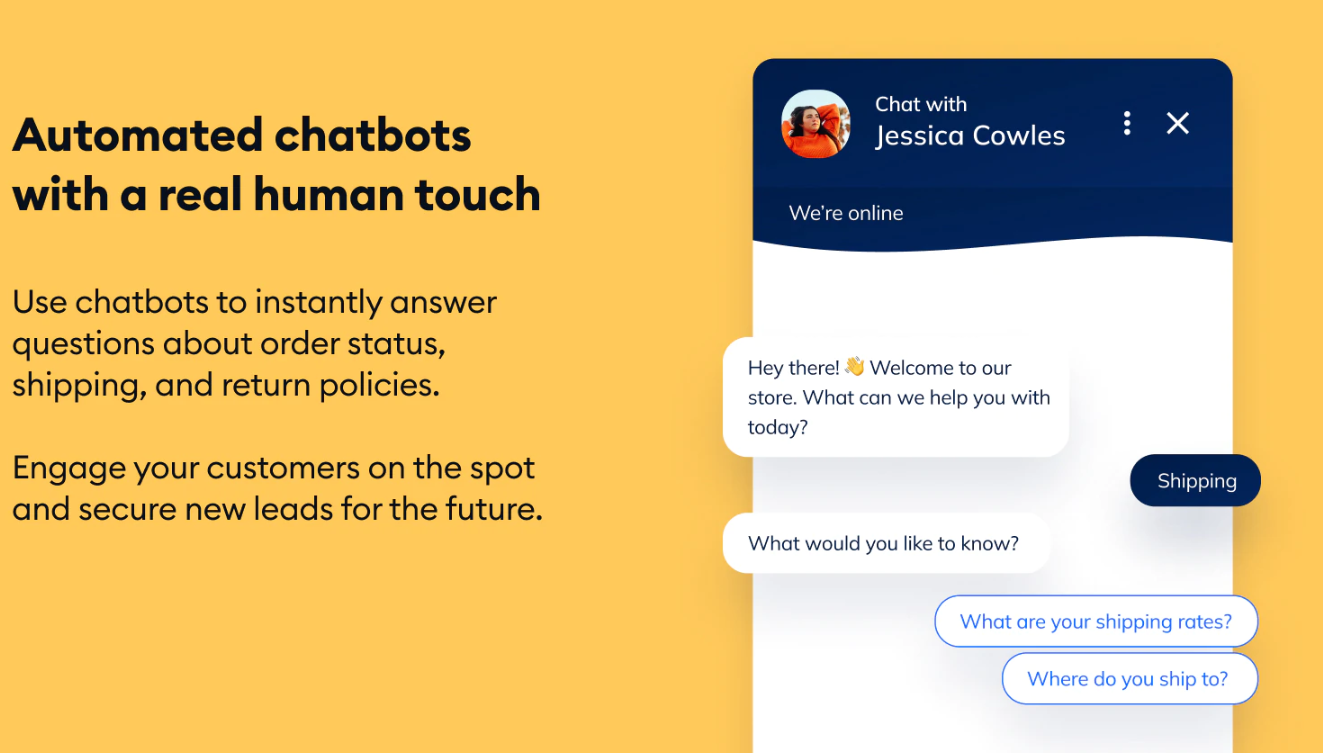 Tidio is a chatbot that helps Shopify stores automate and manage customer communication across all channels such as messengers, live chat, and email. You can also set up a live chat on your store. It provides you with the ability to create custom commands and answer questions from customers.
The Shopify app is an excellent tool for small businesses that want to automate customer service but don't have the budget or time to build their own bot.
You can also use Tidio to create custom commands and answer customer questions. The app gives brands access to pre-made workflows and templates for everyday customer service interactions.
Features and Benefits:
It allows you to chat with your customers directly from your Shopify store.
It allows you to create automated messages for your customers, schedule live chats and send personalized email replies.
It increases customer satisfaction by making your store more accessible. It helps retain customers by providing instant answers to their questions and concerns.
It provides a 24/7 support team to help you with related issues.
4-Automate Shipping returns with the AfterShip Return Center App
Quickly processing your return is one way to make customers feel good about shopping with you. A good return policy also attracts new customers and encourages them to spend more in your store.
With the AfterShip Return Center APP, you can automate your returns process by providing the return shipping address, tracking information and order details.
It saves you time and money by allowing you to process returns quickly and accurately while increasing customer satisfaction.
Features and Benefits:
Automatically generate a return label using AfterShip's integrated USPS account.
Automatically send an email to the customer with their tracking number once their package is shipped out.
Send return update emails
to select the best return method based on customer needs
5-Manage Shipments with Easyship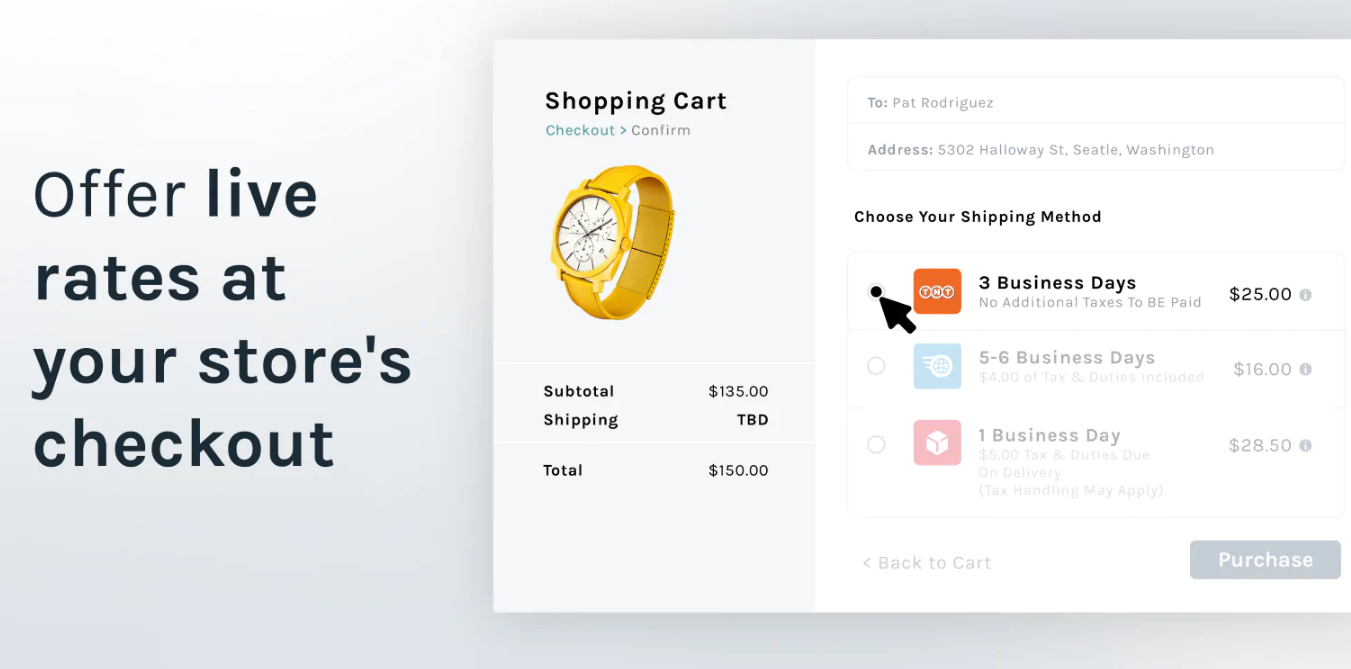 Shipping can be one of the most confusing and time-consuming parts of getting up and running a new business, especially for those just starting in e-commerce. Easyship is an all-in-one cloud shipping solution that integrates with many shipping platforms like DHL, UPS, USPS Priority Mail, and more.
The plugin allows you to easily access discounted shipping for your products with over 250 courier services. This implies that your customers will have a variety of shipping options to choose from at checkout. They can then decide which option—from fastest to cheapest—suits their needs best.
EasyShip can be used to manage your shipment orders around the world. Not only does it help you create invoices and track shipments, but also prints VAT, import tax documents, and more.
The software automatically calculates rates and generates labels, which means less time spent managing the day-to-day operations of your business. They also offer other services like order consolidation and tracking that can help save even more time in the long run.
Features and benefits:
Organizes all of your shipments by date, status, and tracking number.
Automatically calculates rates and generates labels.
Provides detailed reports on your performance.
Manages freight costs and keeps track of all expenses.
Final Thought
Automation is crucial for the success of an e-commerce business because it allows you to focus on core activities that matter the most. You can do many things you need to do to be successful in eCommerce with little or no human intervention. Automation lets you focus on the crucial things moving your business forward. Adopting a software-based approach to managing your eCommerce shipping operations can reduce costs, save time, and improve customer satisfaction.