6 Promotional Emails To Multiply Your E-commerce Conversion (With Examples)

By
Merna Helal
·
6 minute read
Even with the E-commerce boom after Covid-19, the industry has a huge disadvantage of having no face-to-face contact. Therefore it's hard to build strong relationships with your customers, but there are multiple ways you can gain their loyalty. On top of the retention list is promotional email campaigns. In fact, the ROI on email marketing campaigns is $36 on every $1 spent!

In this article, we will go over some examples of the best promotional emails you can send to existing or potential customers to help you multiply your sales (or more!).
Table of Contents
6 Types of Promotional Emails
What is Email Marketing for Ecommerce?
Many people believe that promotional emails and email marketing are things of the past, but that's quite wrong. As a matter of fact, more than half the world's population (4 billion) check their mail at least once every day. That's why any successful eCommerce business needs to put effort into its email marketing strategies.

First, let's know what email marketing is and how you can utilize promotional emails to get more leads, retain customers and increase sales.
Email marketing is a tool to let your customers know about any new products, deals, or company information. For e-commerce, it can be used for much more; for instance, you can send emails to someone who visited your website but didn't add anything to his cart or to someone who abandoned their cart. In a nutshell, eCommerce email marketing is a way to connect with each individual customer and establish a relationship with them.
What are Promotional Emails?
A promotion email is a message sent to your customers or leads to inform them about the ongoing and upcoming promotions your ecommerce store is offering.
In general, promotional emails are a crucial part of any email marketing campaign, or they can even be a marketing campaign on their own. Needless to say, any type of business can gain a lot from sending promotional emails. However, ecommerce businesses can benefit the most, as reaching existing and potential customers right in their inbox allows you to establish long-lasting relationships with them.
This loyalty is usually hard to achieve for online businesses, but with the right promotional emails, your ecommerce store can develop personal relations and increase sales.
It's also worth noting that if done right, customers will wait for your promotional emails each week. Statistics actually show that 49% of US customers prefer to receive weekly promotional emails. That's mainly because they want to stay updated with their favorite brands without the hassle of visiting the website themselves and looking for the latest offers.
Why Do Ecommerce Stores Need To Send Promotional Emails?

Any promotional email is sent to achieve one of these goals:
Drive traffic to your website
Upsell and cross-sell
Update customers
Pushing customers to return to their abandoned carts
Raise brand awareness
Generate hype over a certain product or offer
Staying in touch with customers
Increase sales and revenues
All this will result in an increase in sales and revenues. On that note, a study showed that 59% of consumers believe that promotional emails influence them to make a purchase. Now let's
take a look at some promotional emails you can use to at least double your conversion.
Top 6 Promotional Emails Types and Examples
There's no better way to announce a new product, collection, or service rather than offering a limited-time offer on them and sending a blast email to your customers or website visitors. In this type of email, you should highlight all the features of the new product and maybe add the price rates.

It's important to give enough information that you get people excited yet don't say everything, so people actually click on the CTA to learn more about the product on your website.
In this example, Ann Taylor sent their customers the following email to notify them about their upcoming sale for their new collection.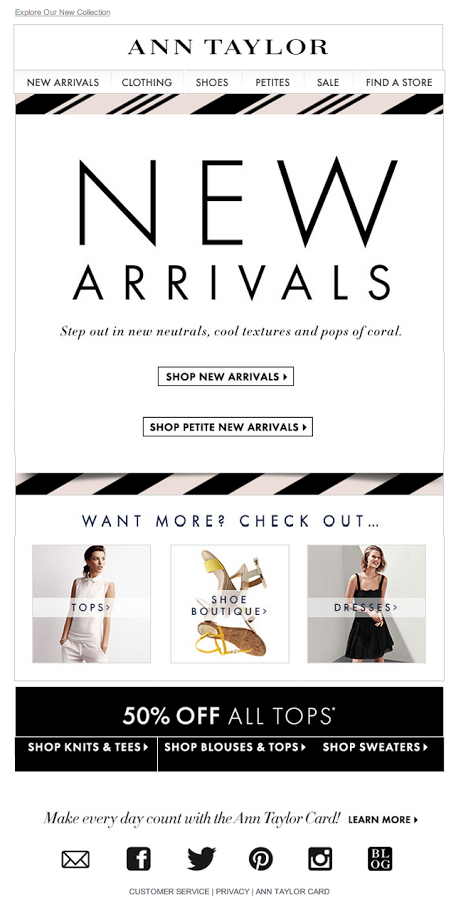 Most ecommerce businesses offer exclusive deals on holidays and special occasions like Christmas, back to school, or thanksgiving. Sending an email with all the details of the offers you are providing will ensure that your customers have you in mind while shopping for that occasion, and with a strong call to action, you can ensure that customers will check out your website instantly to learn more about the promotion.
The renowned graphic designing tool, Crello, sent this email to its users to announce a 40% discount in celebration of Christmas.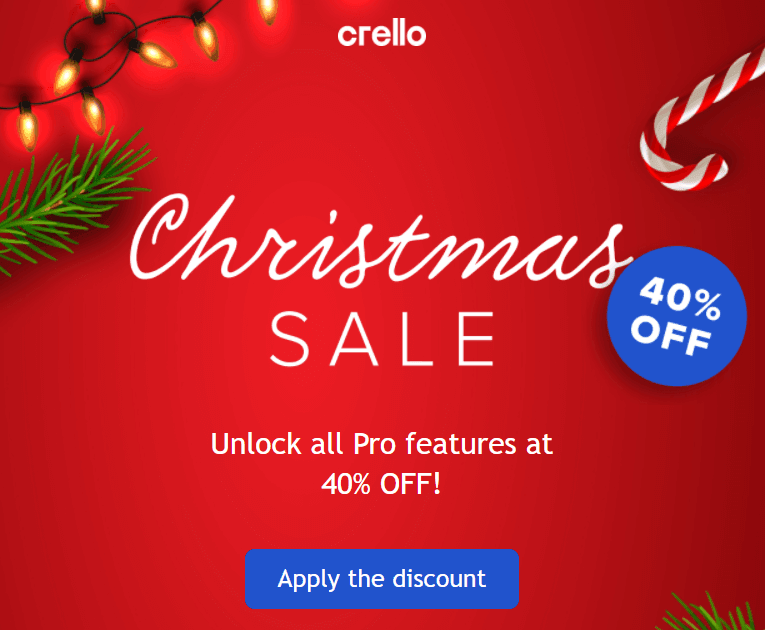 Subscriber-Special and Referral Offers
One of the best ways to generate qualified leads and increase brand awareness is by offering an exclusive subscriber-special discount. Meaning that anyone who subscribes to your email list gets a discount. This could be a one-time thing for each subscriber, or you can take it a step further and allow referral links. So whenever someone refers your business to someone else, both of them get a discount.

Keeping in mind that referral emails can be a bit annoying to customers, therefore it's important not to spam them with too many emails.
Through fun and short email, the socks brand offers an exclusive deal for its subscribers when they refer one of their friends.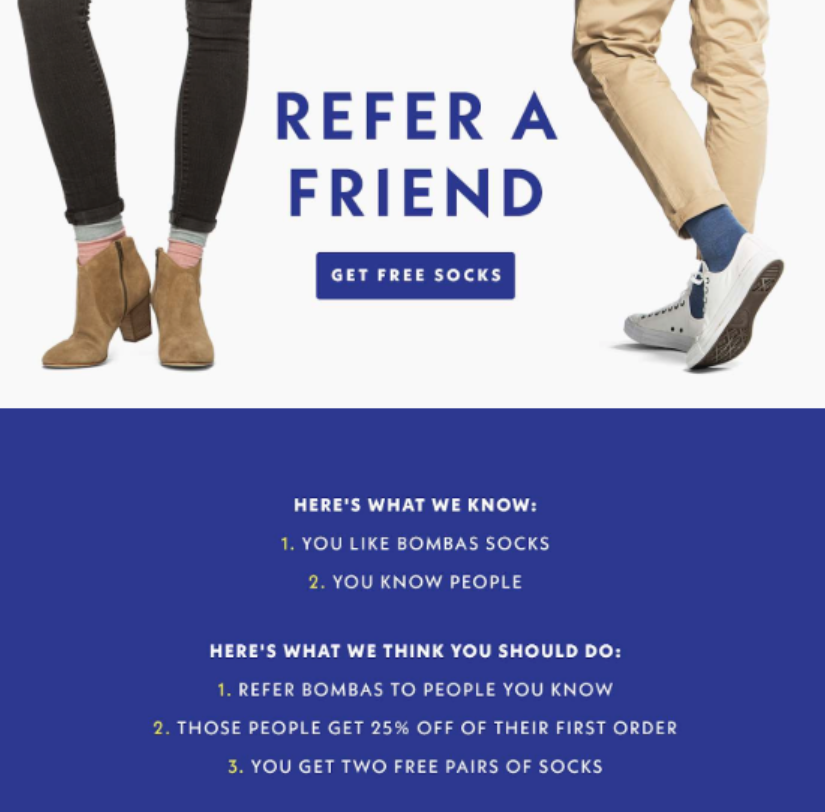 Rewarding loyal consumers with giveaways every once in a while is a great way to keep them hooked. A giveaway promotional email should definitely be personalized, and it could be at random times or at customers' special occasions like a birthday.
Giveaways could also be in the form of a contest to keep your customers engaged for a longer period. In this case, you should start the campaign with an email listing all the rules and details of the contest. Followed by a reminder email, then lastly, an email with the winners.
For instance, The Plum Guide sent the following email to a long list of their loyal customers. It's just a simple email to ensure that their customers remember the contest and how much they can win.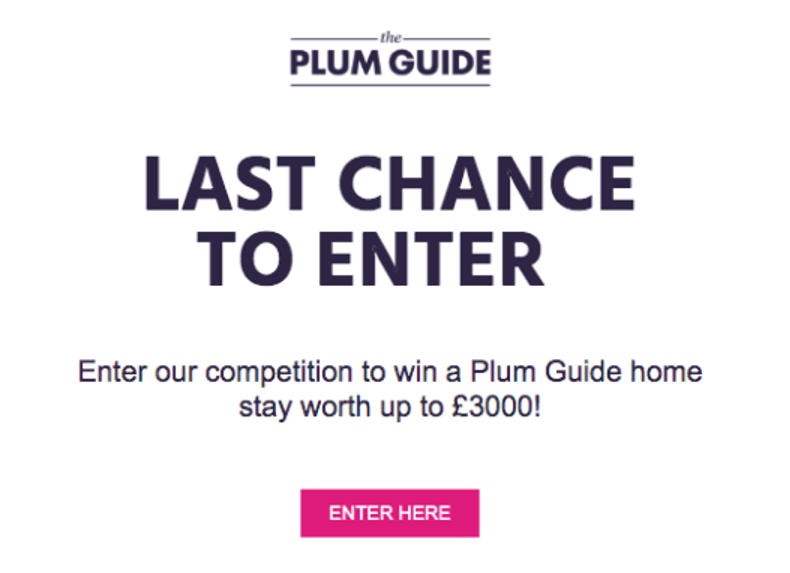 Whenever you are launching a limited-time offer, you should inform your customers through a short email containing the type of offer. For example, if it's a 10% off certain items or a buy one get one free deal. The email should also include the starting and ending date of the offer.
This also could be used as a whole campaign with multiple emails at different times. Including an email sent before the start of the offer, one on the first day and another before it ends.
In this example, Forever 21 offers a 70% discount for two days, and although this is a click-and-mortar business, the deal is online only. This indicates that ecommerce businesses gain more from these types of deals.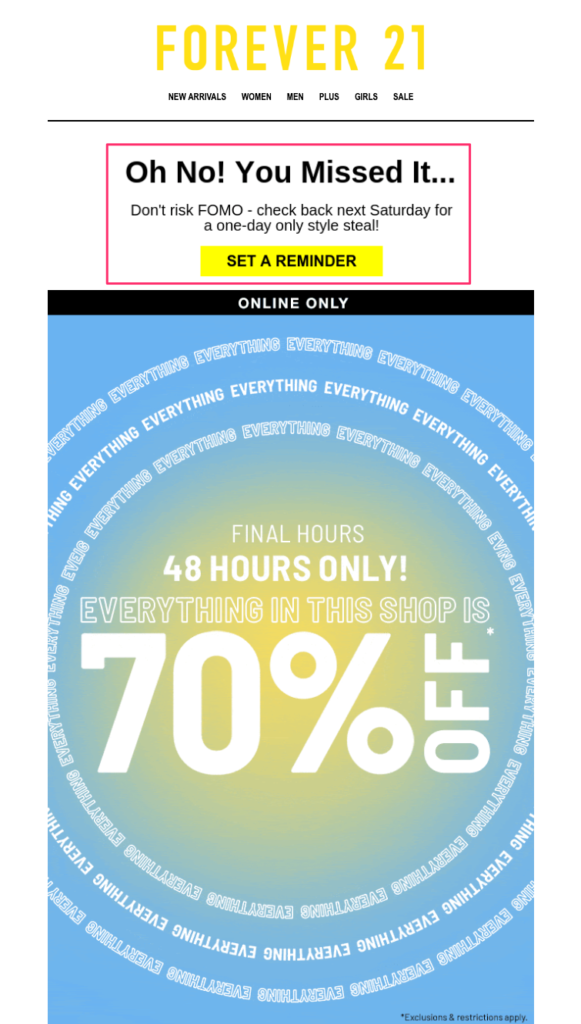 Many businesses send out post-purchase emails, but only smart ones send post-purchase promotional emails. After a customer finishes a purchase or gets their items delivered, you should send them a cross-selling or an upselling email.
In a cross-sell email, you showcase items that complement the consumer's previous purchase. Whereas in an upsell email, you should inform your customer about an upgraded version of their chosen items, persuading them to go for the pricier option.
For example, the company sent a post-purchase confirmation email that also shows a number of complementary items, so consumers can add them to their cart and get them all in one delivery.

8 Tips to Send the Best Promotional Emails That convert
Sending the right email is not easy. Each element of the email, starting from the subject line to the timing, is extremely important to the success of the email campaign and the ROI.

A great Promotional email should be/have:
Personalized with the customer's name and preferences
A clear and strong call to action
Be short and to the point
A relevant and distinctive subject (avoid using words that tend to be used in spam emails like "Best deal of your life" or "You can't miss this offer"
Eye-catching and unique design
Optimizable for all types of devices (mobile, tablet, laptop)
Easy to understand
Links to your social media accounts
Additionally, there are other things you can do from your end to increase conversion. For instance, you should keep track of your data (open rate, click rate, timing when most people open their emails). Also, you should perform A/B testing to learn more about your customers and their preferences.
Get more tips about writing the best promotional emails in Tips And Best Practices For A Successful E-commerce Email Marketing
AI Tools for Email Automation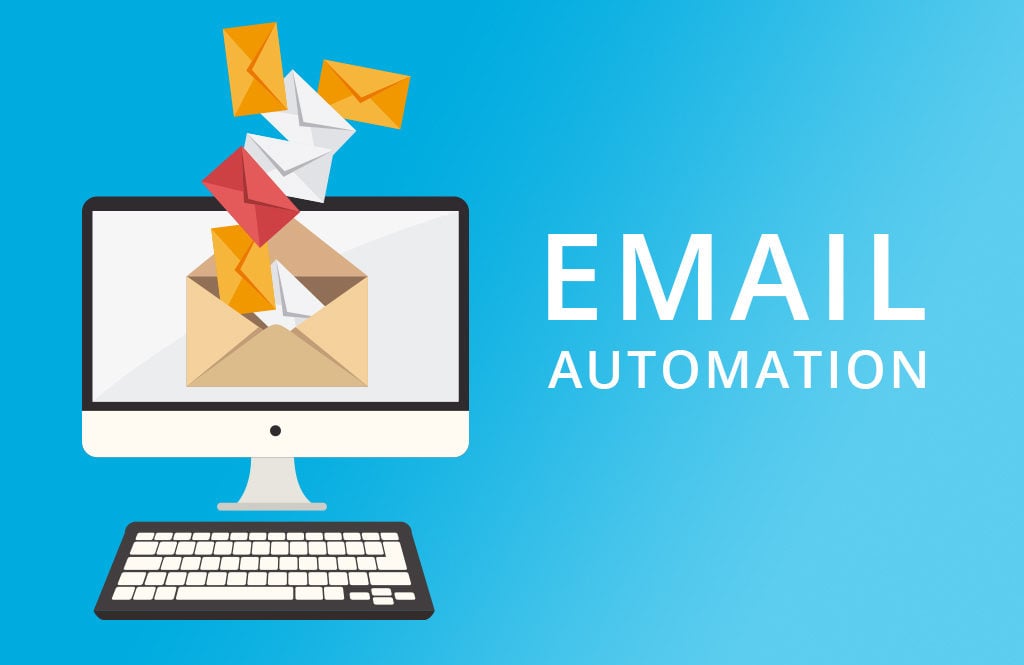 You believe in the importance of sending promotional emails, yet you think the process is a hassle? We 100% agree with you; that's why our tool, ConvertedIn will help you create and personalize all your email campaigns to improve your conversion and increase your ROI.
ConvertedIn allows you to create workflows that automatically send out personalized emails to your customers or website visitors after finishing a certain action. For instance, you create a workflow that sends out a promotional email with a 10% voucher for anyone who abandons their cart for two days.
There are many other ways in which ConvertedIn can help you, including
Automating ads across multiple channels such as Google, Instagram, and Facebook
Creating SMS campaigns and seamlessly integrating them with email campaigns
Auto-segmentation
Offering customers relevant recommendations
Read more about email campaigns' automation in Email Marketing Automation for Ecommerce: How It Works, Benefits, Examples
Final Thoughts
In the end, it's worth noting that sending promotional emails is a delicate art, and you never want to overdo it and annoy customers into opting out. Through a carefully-planned timeline, an email should be sent at each stage of the buyer's journey.
This will ensure that your customers never turn to a competitor to fulfill their needs. What are you waiting for? Request a demo now and send the best promotional emails to multiply your conversion!