[Guide] The Complete Guide to Ads Automation Using Convertedin
By
Nada Sobhi
·
9 minute read
Ads Automation is the newest thing in ads. It's what many online businesses are doing and what many e-commerce stores and shops want and need.
That's why we have created your complete and go-to guide on Ads Automation and how Convertedin makes the process a piece of cake for businesses.
Introduction
What Is Ads Automation?
What Is Convertedin?
What Is Automating Data Collection and Customer Unification?
What Is Automation Segmentation?
What Is Audience Automation and Lookalike Audience Creation?
What Is Automating Ads Creation?
What Types of Campaigns Are Supported by Convertedin?
What Is Facebook and Google Pixel?
What Is Catalog Automation?
What Is the Onboarding Process?
Introduction
Store owners, e-commerce business, and media buyers often struggle with customer data and how to use that data to create audiences, ads and campaigns, and reach their ideal customers.
It's true, despite the upgrades provided by social and digital marketing channels like Facebook, Twitter, and Google, it's still no easy feat to have everything in one place.
The targeting and ads creation process is still time-and-cash-consuming and involves many errors.
But what if you could zoom in on a customer and target them directly?
What if, instead of creating audiences and individual ad campaigns, everything could be done for you, easily and effectively with no human error?
Business would be a lot easier, right?
If the hassle of creating audiences, targeting and segmenting them, and then selling to customers is something that has ailed you for some time, then the solution to your problem is: Automation.
And we have just the tool.
Read on to find out what ads automation is, how you can collect customer data, segment customers, create ads, and lots more, automatically.
What Is Ads Automation?
Ads Automation is the process of creating ads automatically based on data you provide or those generated for you.
Automated ads remove the guesswork involved in advertising and reaching audiences.
In other words, if you have an audience ready, Convertedin can easily target them and generate lookalike audiences and then target and retarget them for you.
What does Convertedin do in Ads Automation?
If you don't have an audience, Convertedin will generate the most suitable and compatible audience for your business and then generate lookalike audiences, and launch campaigns and retargeting options without you having to lift a finger.
What Is Convertedin?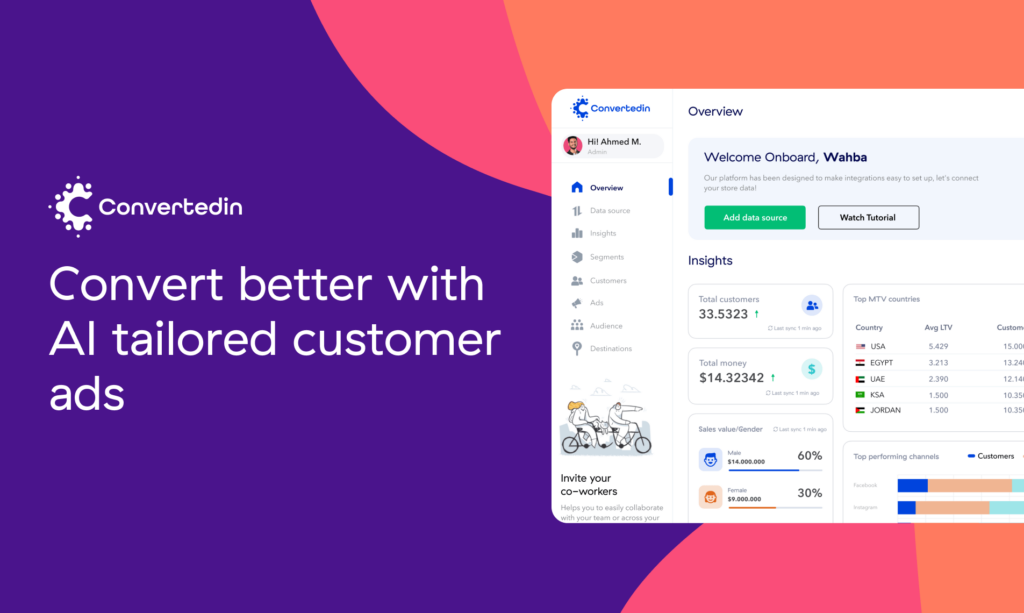 Convertedin is an ads automation platform that helps e-commerce businesses, marketers, and media buyers manage data, audiences and ads campaigns seamlessly and effectively.
You no longer have to go through each campaign or ad set manually.
If you already have some customer data ready, you can upload it to the Convertedin CRM, which will convert this data into segments and then audiences to be targeted.
The Convertedin CRM will also create unlimited segments for your customers, based on either initial data you provide or data provided by Pixels installed on your website.
Convertedin's segmentation system will manage segments and create new ones based on your visitors and their behavior.
From these segments, you will be able to target potential customers, reach out to people who browse but never purchase, and understand your customers and how they react to your store much better.
Convertedin offers you multiple digital channels for your ads campaigns, including but not limited to Facebook, Google Ads, and Twitter.
What Is Automating Data Collection and Customer Unification?
Any business needs to collect data about its customers so it can sell to them and reach more customers and expand its footprint.
However, the process of collecting customer data is strenuous to say the least.
Not to mention, you not only have to collect data, but also ensure that it's not scattered, duplicated or lost.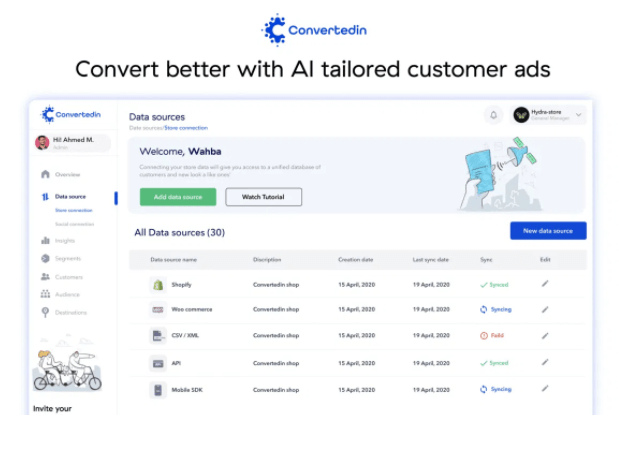 At Convertedin, everything is about automation. This includes tools to make even the most annoying tasks simple and manageable.
What does this mean?
The Convertedin platform goes through all the data on your website or e-commerce business, including new and old customer data, creates customer profiles, and combines it in one place. In other words, Convertedin unifies all the data.
Any interaction between your business and your customer, such as website visits, adding to cart,…etc, the Convertedin platform will log that event and add it to your Convertedin account.
In other words, you no longer have to worry about scattered data and wasted ad spend.
In fact, having unified customer data means you can tailor ads based on your knowledge of your customer's purchasing history and accordingly recommend relevant products to them.
This increases customer loyalty and can generate more sales.
And the best part?
All this is done on autopilot. Which means you save time and effort, cut costs, and save money while advertising.
What Is Automation Segmentation?
Segmentation is the process of dividing customers, users, buyers, or any type of people into groups or segments.
Segmentation is looking at customers from an analysis and analytics perspective.
This segmentation process helps you learn more about your customers and divide them into groups so you can target them with ads.
If you want to sell men's shaving cream, your target segments should therefore be men in several age groups.
It would be pointless to have women in that category. That's what a segment is for.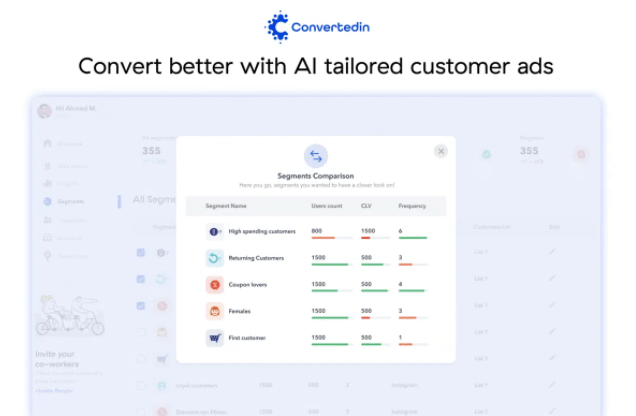 Once you connect Convertedin to your data source, the tool begins the segmentation process, giving you an unlimited number of segments to use based on the size of your business.
You can literally have 1,000+ segments for your business, allowing you to reach specific customers and generate more sales.
There are two main types of segments available on Convertedin. These are:
1) Pre-defined Segment: This includes 27 user segments such as high-spending customers, low-spending customers, idle customers, one-time shoppers, loyal customers…etc.
2) Dynamic/Generated Segment: These segments are generated based on data available from your business's website.
Each product in your store will have the following three main segments:
– Customers who bought the product
– People who added the product to their cart but didn't buy
– Customers who are likely to buy from you based on Convertedin's AI recommendation engine.
So, for example if your business sells shampoos for colored hair, each shampoo product will have the above-mentioned three segments.
Once you have created your segments, it's time to take them to the next level which is transforming them into an audience that can be used in ad.
With Convertedin, this process is automated as well.
What Is Audience Automation and Lookalike Audience Creation?
So far we have covered data collection and segmentation. Now we move on to the next part, which is creating audiences and lookalike audiences.
What is an audience?
An audience is your target customers. It's those people you have segmented into groups that are now going to be targeted with your ad campaign.
Creating an audience may not be a difficult task, but how about creating hundreds and thousands of audiences?
Not so easy anymore, right?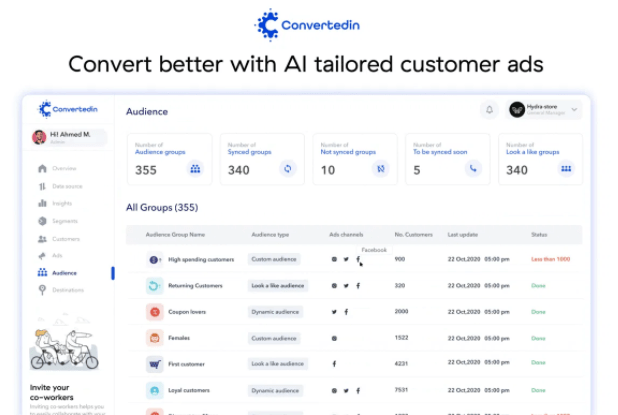 That's what Convertedin does. It segments your customers, turns them into hundreds and thousands of audiences and targets them on social media and Google through several ads.
There are three types of audiences Convertedin works with. These are: Custom audiences, lookalike audiences, and dynamic audiences.
Let's go into detail about each type of audience.
Custom Audience:
A custom audience is an ad targeting option that lets you, as a business, find your current customers on platforms like Facebook.
In this case, you will need to upload resources like customer emails, customer lists, web and mobile app traffic, or customer engagement on the platform to create a custom audience.
You don't need to upload all of these, just one of them will do.
In other words, these are your current customers. They know you and may have previously shopped from you before.
Join Convertedin's private Facebook Group The Ads Automation Family for more tips, insights, and conversations on ads automation.
Lookalike Audience:
A lookalike audience is an audience that has similar qualities to your custom audience. They are people who act like your customers and are therefore potential customers for you.
Facebook explains it best. It describes the lookalike audience as "a way to reach new people who are likely to be interested in your business because they're similar to your best existing customers."
In addition, Facebook says that when it's time to grow your business, that's when you use your custom audience to create a Lookalike Audience.
For example, Convertedin creates a segment called "high-spending customers." It then turns them into an audience (called "high-spending customer audience") to use in an ad campaign. After that, Convertedin will create five lookalike audiences based on that audience.
Dynamic Audience:
A dynamic audience is for companies and e-commerce businesses who have a product catalog, particularly a Facebook Product Catalog.
If you don't have a catalog, you won't be using this type of audience.
Now that you're familiar with the audiences, let's see how this lines up in the ads creation process.
Imagine the number of audiences and lookalike audiences and the time, effort, and money needed… what if this can be automated to save all 3?
Convertedin is all about optimization and automation. So the process of creating the above mentioned audiences and creating ads campaigns is a piece of cake.
Everything is done via the Convertedin account. You won't have to do a thing, except save a ton of time and lots of precious dollars.
Next step?
Automating Ads Creation
Now that you have your audiences ready, it's time to move on to ad creation or rather the automation of the ads creation process.
Normally, Automated Ads is a feature offered by platforms such as Facebook and Google. The process involves machine learning and artificial intelligence to build and run ads with minimal content during setup.
But how many ads can you run at the same time?
Or better how many ads can you keep up with at the same time?
Not a hundred, we can guess.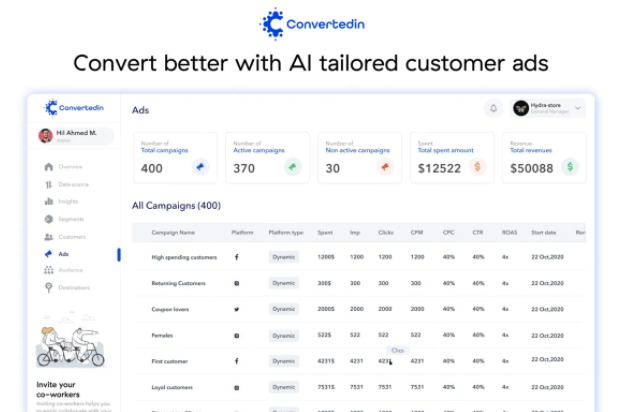 That's what Convertedin does. We take the hassle out of the process and ads are created based on the audiences and everything is run automatically from your Convertedin account.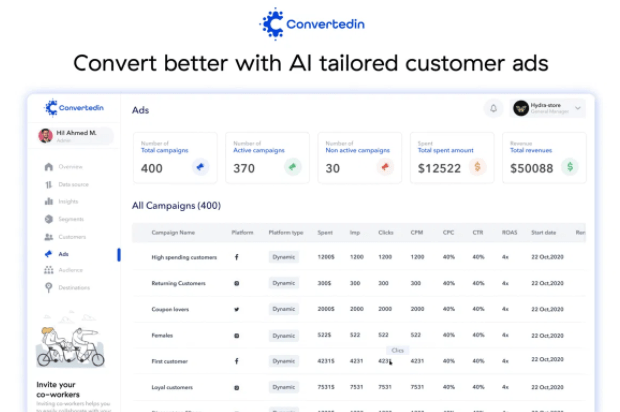 And yes, you can run hundreds of ads at the same time.
Let's say one of your customers was targeted with an ad campaign. They clicked the product or added it to their cart, but never purchased it.
In a retargeting campaign, this customer is at the top of the list. They are interested but need to see your ad a couple more times to make the purchase.
Using the hundreds and thousands of audiences the Convertedin tool has created, Convertedin takes on the targeting and ads creation.
No manual work or need to hire a team, which means saving time and money, not to mention sparing yourself a massive headache.
Convertedin generates all the data and enables you to run as many as 1,000 ad campaigns as you like.
What Types of Campaigns Are Supported by Convertedin?
Like everything to do with advertising, there are various types of campaigns your business can work with.
Here is a laydown of the campaigns, Convertedin works with:
1) Prospecting: This is a kind of cold reach. Basically, these are customers your business has never interacted with before.
This campaign is created based on a lookalike audience of people who previously purchased from your business.
In other words, you have an audience of buyers, these are new people but who are similar to your buyers.
2) Retargeting: Once people from lookalike audiences take action (such as clicking on a product), they become part of a retargeted audience.
In addition, customers from your current audiences are retargeted as an upsell.
They have previously purchased a product, so Convertedin shows them similar or related products that they are more likely to need and buy.
Moreover, any person who comes to your website, as long as you have included the Facebook Pixel, will be added to your audiences and retargeted automatically.
3) Dynamic Prospecting: This applies to Facebook. The social media platform checks who has entered your website or online store and creates an audience of people similar to them. It's like a dynamic lookalike audience but no one uses this term.
4) Dynamic Retargeting: Whenever a customer accesses an item on your product catalog, the moment they log in on Facebook, they will see an ad with the item they viewed in the catalog.
Once a customer enters your website or online store, they are automatically included in your audience lists and can easily be retargeted as a potential buyer.
What Is Facebook and Google Pixel?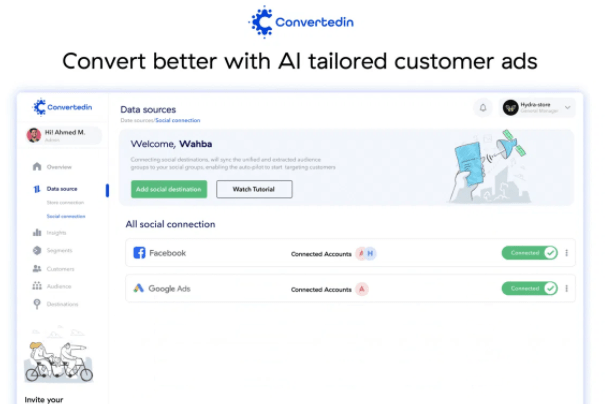 When you're advertising a product or business, it's important to track where your customers are coming from, where they are going (on your site or store), and what they are doing there.
The way to do this is using the Facebook Pixel and the Google Pixel.
A pixel is a piece of tracking software that you embed in your website or online store to track customer movement and engagements.
The pixel shows how your customers are moving about, acting, and reacting within your website.
It not only gives you more information about customer behavior, but also gives you insights on your customers.
Once you embed the pixel, Convertedin uses the data available on your website and creates audiences, lookalike audiences. It then retargets potential customers who are more likely to buy from you.
Depending on your business needs you can include the Facebook Pixel, the Google Pixel or both, and we recommend having both if you plan to use Google Ads.
What Is Catalog Automation?
A catalog is a list of your products with pictures and details for each product.
Creating a catalog for your business is a time-consuming task. Not to mention, it involves a significant amount of donkey work.
There's also the time and effort wasted when you need to update your catalog or worse edit parts of it.
If you've created a catalog before or uploaded one to Facebook, you probably know what we're talking about.
One of the top problems businesses struggle with when it comes to the catalog is syncing the product list on their website with Facebook.
Also, have you struggled with un-updated inventory? A customer adding a product to their cart but on checkout, they can't buy it because it's not there?
Have you had to review and make changes to your product catalog to ensure everything is where it should be?
By understanding all of these problems, Convertedin allows businesses to automate the entire catalog upload process.
How?
By connecting Convertedin with your website and inventory, the tool delivers data directly to Facebook and maintains inventory-related data.
You no longer have to worry about your inventory not syncing with Facebook or items missing.
This is Catalog Automation. It helps your business focus on more important things like pricing and driving sales.
You can call it magic!
What Is the Onboarding Process?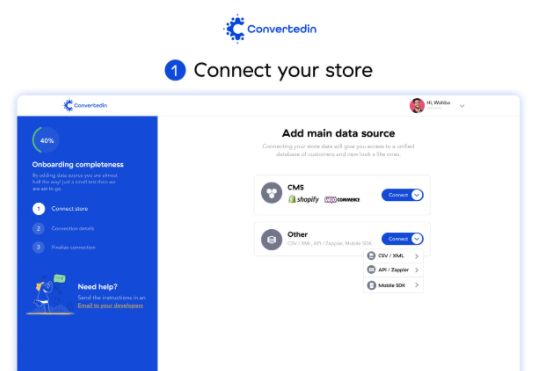 Last but certainly not least, Convertedin provides customers with an easy-to-follow-and-use guide. Also known as the onboarding process.
The onboarding process will take you step-by-step through all the information you need to fill in order to start generating audiences, segments, lookalike audiences, and create campaigns and ads.
It may sound complex but the truth is: it isn't.
Why create a complex process when the aim is to facilitate things for businesses?
The onboarding process shows you how to find the data you need, how to compare segments, results, campaigns,…etc.
Are you ready to get started with ads automation?
Sign up today and let Convertedin take away the headache and drive customers to your store.
Don't forget you can join Convertedin's Facebook Group The Ads Automation Family for more tips, insights, and conversations.