Best 10 Black Friday SMS Campaign Examples To Inspire You (+Tips)

By
Merna Helal
·
5 minute read
Although consumers eagerly wait for Black Friday offers and deals every year, that doesn't necessarily mean higher sales for you. In fact, if you don't play your cards right, you can easily miss out on the busiest shopping day of the year. But don't worry when you learn about the top Black Friday SMS campaign examples; dominating the day will be a piece of cake!
In this blog, we will help you kick off your SMS Black Friday campaign by shedding light on some of the best examples out there and telling you what they did right!
10 Black Friday SMS Campaigns Examples & Tips To Inspire You
For eCommerce businesses, the shopping frenzy known as Black Friday is either a great opportunity or a serious disappointment. All businesses compete that day with exclusive deals, great offers, and elaborate marketing campaigns.
So you don't just have to cut some prices or create some bundles; you also have to stand out from the crowd and reach as many existing and potential customers as possible to let them know about your Black Friday deals.
How can you do all that?
The answer is simple: launch the best Black Friday SMS campaign.
SMS campaigns help you reach customers in real time which is crucial when you are informing customers about the limited-time offers of Black Friday. In fact, there are previous successful SMS campaigns on Black Friday that have delivered 2000% ROI!
Also, Black Friday SMS campaigns can be a powerful tool for eCommerce businesses to engage with customers, increase sales, and create hype in that busy time! Needless to say, an SMS campaign on its own won't be sufficient, but you have to keep in mind that it is one of the most important channels.
With all this in mind, let's take a look at the top Black Friday SMS campaign examples to inspire your own.
Discover more in Black Friday SMS Marketing: Top Practices To Steal in 2023
1- Lulus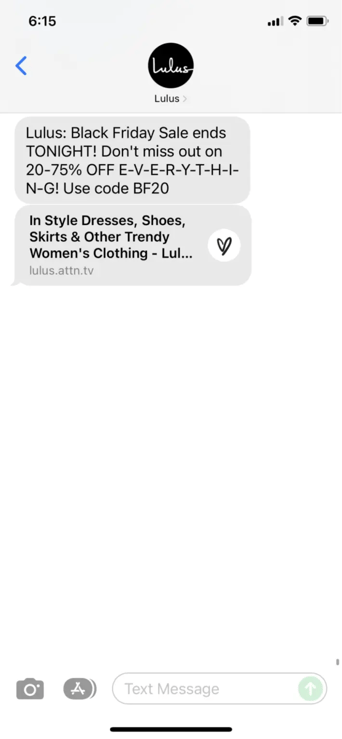 The online fashion retailer Lulus sent the following SMS to remind its customers about the end of the Black Friday sale. The message also includes a link so customers can add to their carts directly.
What did we learn here?
In this example, it is easy to see that the brand stayed true to its identity by having a friendly tone of voice.
But what truly makes this campaign stand out is how it creates urgency for customers to take action. By adding words like "sales end TONIGHT" and "Don't miss out" it gives customers that extra nudge they need to place an order.
2- Black Halo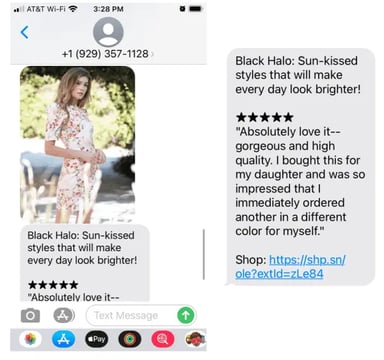 The iconic women's clothing brand, Black Halo, added a review and rating from a satisfied customer to their Black Friday SMS. The message also includes a product photo and a link so customers can order immediately.
Simply, this message can take a customer through all the sales funnel stages at once!
What did we learn here?
Including user-generated content in Black Friday SMS campaigns is simply genius. This can make your eCommerce brand truly stand out from all competitors. As everyone says, they have the best products, but showing that real customers also believe that is a game changer.
3- Hart Tools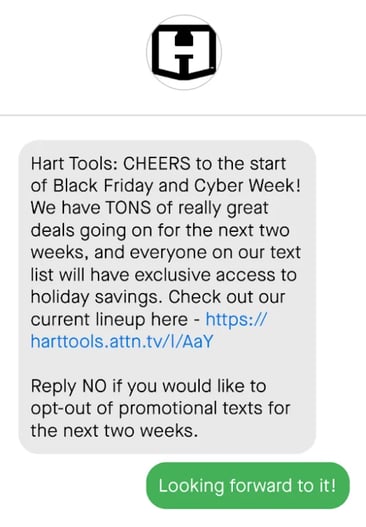 Hart Tools sent this SMS to inform customers in their text list that it created an exclusive chance for them to have first access to all Black Friday and Cyber Week deals. This personalized message builds excitement and helps in creating hype over the deals.
What did we learn here?
This is one of the best Black Friday SMS campaign examples simply because it is personalized. Don't underestimate the power of personalization and exclusive offers in your marketing efforts.
As you can see in this example, Hart Tools did not just offer an exclusive deal, but it also gave customers the chance to opt out of all Black Friday and Cyber Week messages. Many might see this as a lost opportunity to reach more customers, but if a customer already made up their mind, nagging them for two weeks can mean losing them forever.
4- Blume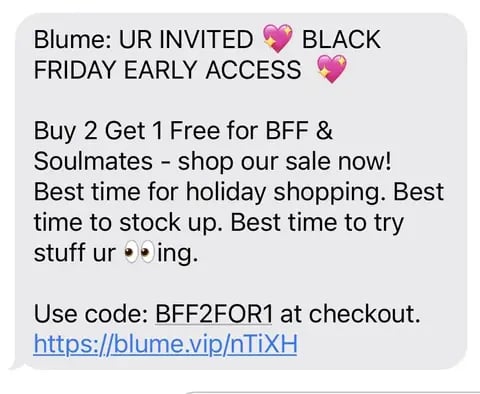 This is also a great example of a company sending an exclusive offer to its SMS list. Here, Blume kicks off Black Friday offers with early access to anyone who uses the code sent in the message.
What did we learn here?
Using cute emojis and the right words, this SMS message resonates with the company's target audience. In addition to sticking with its brand identity and tone of voice, Blume's message also focuses on creating a personalized experience for its customers during a very busy time.
5- LympheDivas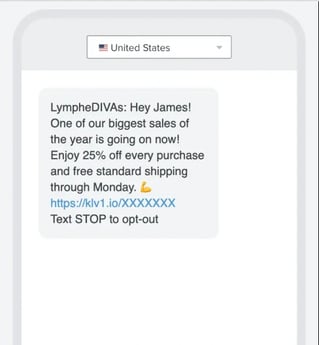 Offering tailored clothes to women dealing with lymphedema symptoms related to breast cancer, LympheDivas operates in a niche market which means that most customers usually don't expect discounts and offers. So, the company let its loyal customers know about its Black Friday deals through an SMS campaign.
The message has every piece of information the customer can need without being too long that they will get bored.
What did we learn here?
This example highlights the importance of telling customers everything they should know about a deal in a short and personalized message.
6- Outdoor Voices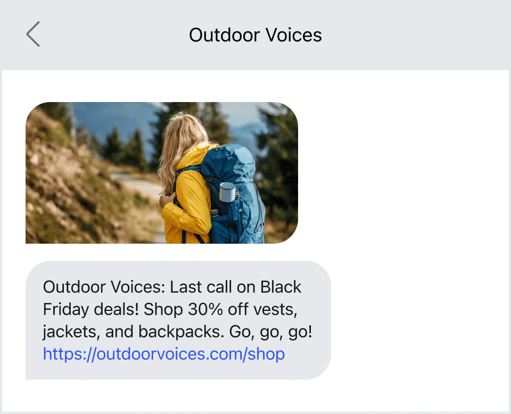 The clothing brand Outdoor Voices sent this SMS as a last reminder that its Black Friday deals will expire soon. This kind of message is crucial for getting customers to order from your online store at the last minute.
What did we learn here?
Timing is key, especially regarding the fleeting offers of Black Friday. That's why in this example Outdoor Voices urges customers to place an order before the sales end.
With the correct use of active words like "Go, go, go!", this is one of the best Black Friday SMS campaign examples for creating a sense of urgency.
7- Run Gum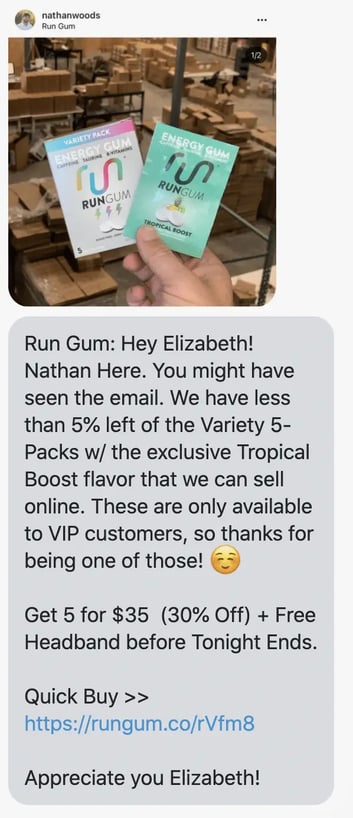 This SMS starts with a personalized greeting followed by an acknowledgment of the Black Friday promotional email previously sent to the same recipient. Then Run Gum went on to add the offer available and emphasized its exclusivity.
What did we learn here?
The most important take from this example is the integration of SMS and email marketing. By having an integrated marketing campaign, you ensure that customers get the message and don't get distracted by too many different things going on in your online store.
Don't underestimate how bothersome it is for customers to get a different message from you on each channel!
8- BH Cosmetics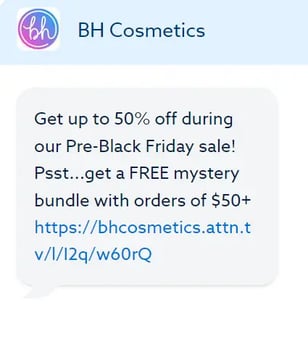 BH Cosmetics took its Black Friday deals to the next level by offering a gift for all customers who meet a certain price minimum. The SMS is short and to the point, as the company knows the offer speaks for itself.
What did we learn here?
This is a perfect example of leveraging FOMO in a fun way - the mystery giveaway. We can learn from this SMS to think outside of the box when it comes to creating the deal itself and that with the right deal and message, you can even increase order value per customer.
9- CROSSNET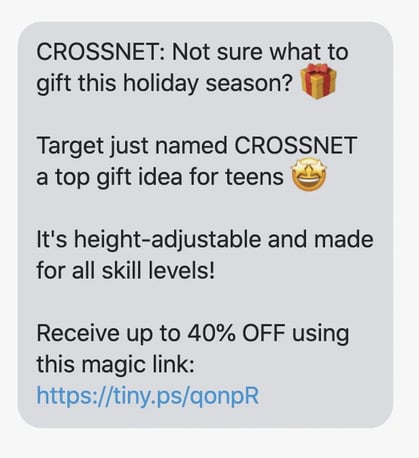 This is one of our favorite texts in Black Friday SMS campaign examples for its simplicity. CROSSNET starts by introducing a problem, then follows that with a solution, and ends with the deal.
What did we learn here?
All products tackle a pain point, so it is always smart to shed light on what your products can help with. Also, when that is followed with a Black Friday deal, your eCommerce store suddenly seems like a godsend.
10- Avenue

Ending on a high note, this Black Friday SMS campaign example stands out for including an image with its text. This is an easy yet effective way to stand out from competitors and have customers actually remember your deal.
What did we learn here?
The most important lesson found in this example is that SMS can include several elements besides the text itself. Through the festive image and the encouraging words, a high ROI for this campaign is a guarantee!
Final Thoughts
The key takeaways from these top Black Friday SMS campaign examples are the importance of personalization, creating a sense of urgency, and rewarding customer loyalty.
Double your sales this Black Friday with the best SMS campaign! Want to send the best Black Friday SMSs this year? ConvertedIn can help you with that.
Book a demo now with one of our eCommerce marketing experts to uplevel your game and grow your business.