Best 9 Customer Segmentation Tools for Online Sellers
Consumers prefer online-shopping experiences that are tailored to their specific needs and desires. As we all know, buyers in any market would be attracted to vendors who best meet their needs and forgo others who don't. The drastic shift in consumer purchasing habits has made marketing professionals adjust and effectively alter how they reach and connect with shoppers. But have you ever wondered, ''Am I deploying the right customer segmentation tools to target the right shoppers?''
Since the pandemic, previous customer segmentation techniques have failed to be effective and no longer yield results. Successful eCommerce firms are now deploying the latest customer segmentation tools to effectively engage with consumers to reward increased purchases and encourage greater customer retention.
Are you interested in increasing your customer base and company's revenue? Do you want to know the right tools to deploy when carrying out personalized or targeted campaigns? If yes, worry no more. This detailed article will uncover the best tools to utilize for customer segmentation and what to look out for in the tools.
What is a Customer Segmentation Tool?
Are you interested in increasing your customer base and company's revenue? Do you want to know the right tools to deploy when carrying out personalized or targeted campaigns? If yes, worry no more. This detailed article will uncover the best tools to utilize for customer segmentation and what to look out for in the tools.
Customer segmentation tools or audience segmentation tools are cloud-based software that groups customers (users) based on shared similarities (traits). These common traits can be based on income, demographics, purchasing habits, etc. The segmentation tools will help collect, analyze, and efficiently integrate collated data to provide a detailed overview of current clients, leads, and other essential insights.
Why should I use a customer Segmentation tool?
Even if your business has products designed for some specific audiences, it is vital to personalize offers that aid rewarding experiences for shoppers in different age groups or demographics. Therefore, segmentation tools assist you in tailoring the right solutions to meet dynamic customer needs.
While customer needs sporadically change with economic realities, segmentation tools will help you uncover changing purchasing trends of your customers on time, thereby helping you mitigate an unforeseen decline in customer patronage.
Read More: The Key Benefits Of Customer Segmentation for eCommerce
Limitations of Customer Segmentation Tools
While market segmentation tools can prove to be very effective when grouping
customers into segments, some of these tools come with limitations in that they only provide broad views of customer segments rather than giving detailed and accurate insights that will facilitate a highly personalized experience.
Note: The limitations can be significantly reduced by utilizing different consumer segmentation tools when carrying out the customer Segmentation process.
Important Features To Check In a Customer Segmentation Tool
A complex user segmentation tool will prove difficult for people to work with. While multinational companies might not have issues with a tool's complexity -since they have the financial capacity to hire professionals to handle it, small and medium scale business owners don't have the enormous resources and time to learn how a complex tool works.
Therefore, an ideal customer segmentation tool must be user-friendly and easy to navigate without difficulty.
A robust and efficient consumer segmentation tool must accurately organize all user data gathered in a synchronized manner. Without a doubt, well-organized customer data records save time during sorting and analysis. This way, a business owner can properly access sales insights.
An efficient customer segmentation tool should be highly customizable. Customizing a software-generated insight is vital, as it will help group consumers into appropriate segments based on the obtainable metrics in the software in use. For instance, a customizable option will enable retailers to know the demographics where their product is selling the most.
A robust customer segmentation tool must have modern chart tools for efficiently visualizing all collected data. It should be able to display available metrics in recognizable charts, e.g., A display of customers' total purchases in a bar chart or pie chart representation, for ease of interpretation by the user.
An effective audience segmentation tool should be very scalable without limitations. Ensure that all available features are accessible without a condition for an upgrade to access more options. Therefore, it is imperative to opt for tools that offer all the necessary features without additional requirements.
9 Best Customer Segmentation Tools
1. Adobe Analytics
Adobe Analytics is an integral part of the Adobe Experience Cloud Suite. It allows for detailed segmentation of different consumer segments. With the help of the Adobe Analytics tools, you will be able to carry out detailed Insights and analytics that cut across;
Attribution
Marketing Analytics
Predictive Analytics
Web Analytics
We will analyze each of these beneficial analytics obtainable via the Adobe suite for ease of understanding.
Attribution
An organization gathers data from various sources, both online and offline. With the help of the Adobe attribution insight, sellers can understand the importance of each display ad, email, and Ad view, during a marketing campaign. Through this means, you will be able to know what is bringing conversion and what's not.
Marketing Analytics
With Adobe marketing analytics, businesses will be able to extract data from multiple mobile sources and bring them together to uncover insights that are happening in real-time, thereby making it possible to make an informed decision.
Predictive Analytics
Most enterprises are not utilizing collated customer data effectively and profitably. After all, the main objective of collecting consumer data is to predict future occurrences or events. The Adobe suite's predictive analytics feature will help you understand profitable insights in data patterns.
Web Analytics
Web Analytics isn't all about knowing the total user visits daily. With the web Analytics feature of the Adobe package, you will be able to measure video interactions, content relevance, and detailed traffic sources of your e-commerce website.
Also, Adobe Analytics tools come with extra customer segmentation features like;
Excel integration
Tag Management
Video, mobile, and social analytics
Innovative reporting
Efficient dashboard
2. Google Analytics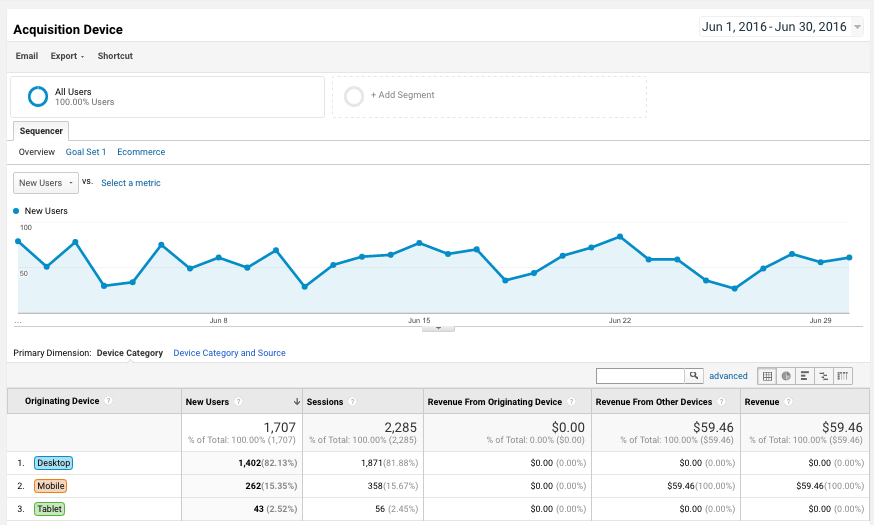 Google Analytics is a robust webmaster tool for monitoring all user traffic to a website. Aside from the fact that it's free, it is an invaluable audience segmentation tool for businesses looking for a cost-effective solution in areas of web-traffic monitoring. With the Google Analytics tool, you can determine how long users stay on your website and the nature of the content they are interacting with on the website.
However, the analytics tool is limited in scope. The software doesn't pull and analyze data from e-commerce transactions and doesn't give an overview of users' purchasing habits. Therefore, it is essential to synchronize the software with other customer segmentation tools to make informed marketing decisions.
Converted.in
Converted.in is another powerful customer segmentation tool that will be beneficial for most e-commerce vendors. With an intuitive dashboard to check the overall insights, Convertedin will help you segment online shoppers based on:
Past browsing behavior on your e-commerce store
Past purchasing habits of shoppers
Customer segments that prone to high shopping cart abandonment
Thereafter, the sophisticated AI feature in the Converted.in toolkit will start to analyze past consumer data in other to generate meaningful insights. With the detailed insights generated, you will be able to make an informed decision that will aid sales growth of your online store.
4. Kissmetrics
Kissmetrics is a powerful customer segmentation tool that is highly deployed on a wide range of e-commerce platforms. The tool allows you to segment customers based on specific characteristics and consumer behaviors. It provides a centralized dashboard for easy reporting, and it comes with user-friendly chart tools to visualize collected data.
5. Mailchimp
MailChimp makes it much easier for enterprises to send the right messages to a targetted audience that matters most for the marketing campaign. The software allows you to customize and filter your audience preference based on:
Sign up source
Location
Device type
The software comes with in-built tools to monitor purchase history and click-through rates on different devices (android, iPhone, and desktop). According to MailChimp reports, customer segmented email campaigns generate 48% click-through rates compared to unsegmented emails.
6. Sprout Social
Sprout Social is an efficient customer segmentation tool that utilizes generated insights from social media platforms. The software can segment users on social media platforms based on: Location, gender, education, marital status, interests, industry, and business size.
It is beneficial to know that the Sprout Social tool can be used to direct targeted ads to the audience segment created. The tool can be adopted by enterprises that are willing to aid the effectiveness of their social media campaigns
7. Qualtrics
Qualtrics is an excellent customer segmentation tool that can help enterprises make informed decisions. With the Qualtrics tool, you will be able to:
Segment users into distinctive groups
Analyze overall campaign performance
Deploy in-built machine learning (Artificial intelligence) feature to uncover new prospects and leads.
8. HubSpot
HubSpot is another customer segmentation tool that provides insights based on customer behaviors in different demographics. With the HubSpot tool, you will be able to:
Capitalize on event-based customer Segmentation strategies.
Create active contact lists and set up detailed contact scoring to segment customers.
Attract new visitors based on unique behaviors.
9. Brandwatch
There are millions of social conversations happening around the globe right now. Brandwatch customer segmentation tool - takes relevant information from those social conversations and turns it into usable insights that can be utilized by online retailers. With this tool, you can monitor what consumers say about your service offerings.
The Brandwatch segmentation tool tracks all social mentions about your brand, aggregates your firm's performance against competitors and suggests pending loopholes or risks before a brand crisis occurs.
Also, the software integrates perfectly with HubSpot, Google Analytics, etc.
What Next
Now that you have an in-depth understanding of the best customer segmentation tools to deploy in your eCommerce business, the "ball is in your court" to effectively utilize this piece of information and turn it into sales lead for your business.