7 Best Shopify Marketing and Ads Apps for Your Online Store
By
Nada Sobhi
·
5 minute read
Got an e-commerce store on Shopify? Great! But how do you measure the effectiveness of your ads?
Whether it's to grow traffic and revenues or divert customers to certain items, special offers or end-of-season sales, ads are essential for any Shopify store.
But it's important to find a Shopify ads app that delivers results and saves you time. This is what we're focusing on in this article.
We're going to highlight the best Shopify marketing and ads apps to ensure your store gets the attention it needs. Plus, we'll offer some tips to help you make the best of your ad experience.
Get the best ROI with your Shopify ads
When you create ads for your online store, you're making an investment.
To get the best return on investment (ROI) from your ads, you need to be aware of a few things.
1. Know who your audience is
The most important step in creating ads is knowing who your target audience is and where they are.
Sure, you can say "I target a wide range of customers."
That's great but you'll need to segment those customers into groups.
Don't target men aged 35 to 45 with women aged 20 to 30. There's a discrepancy in the audience and this will cost you money.
If your products are applicable to both age groups, targeting each group separately will save you marketing dollars and result in a higher return on ad spend (ROAS).
2. Make sure you're using the right platform
Now that you know who your audiences are, be sure you know which social media platforms they're using.
Are they on Facebook? Instagram? Snapchat? Or something else?
Or are they on all three?
Answering these questions helps you determine where you'll publish your ads.
Further reading: What You Need to Know about the Difference Between ROI and ROAS
3. Don't spread your budget too thin
Your ad budget will determine how much you can spend per month.
If you have a limited budget and scattered audiences, then you won't be able to advertise on all platforms.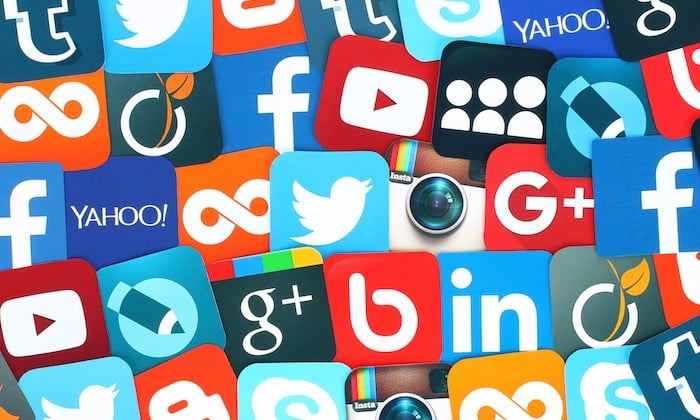 You'll be spreading your budget too thin, which means bad results and few conversions.
The best solution would be to choose the platform with the highest number of customers. This usually means Facebook. However, your research may show something else.
Further reading: Best Practices to Create a Shopify Sales Funnel
4. Make sure you connect platforms together
To get the highest results from your ads, make sure you're not creating ads without being able to track them.
If you're advertising on Facebook, make sure you connect the Facebook Pixel with your store. Similarly, if you're running Shopify ads on Snapchat, then you need to link your store with the Snapchat pixel. And so on.
If you're using other platforms, be sure to read their ad terms and conditions so you can have everything connected.
Also make sure you have Google Analytics embedded in your website to see where you're getting the highest organic and paid traffic.
5. Use relevant Shopify ads apps
Since it's a Shopify store after all, then in addition to the above, be sure to use Shopify ads apps to speed up the process.
Stay strong and learn more about your customers with 30+ E-commerce Quotes from top experts
There are Shopify apps for pretty much everything. From marketing and ads apps to loyalty program apps to email marketing to shipping to much more.
Continue reading to find out the best Shopify marketing and ads apps.
Best Shopify marketing and ads apps
Now let's look at the best Shopify marketing and ads apps.
This list isn't arranged in any specific order.
Free or Paid: Free plan available with paid options
InstaFeed is an Instagram-focused Shopify app. It helps store owners market their products via Instagram.
In addition, the app lets you showcase your customers' user generated content by publishing custom Instagram feeds on your Shopify store. You can also publish your store's Instagram feed in your gallery.
This acts as social proof for your current and potential customers.
Free or Paid: Free 14-day trial
Convertedin is a Shopify ads automation app. It specifically helps online store automate their social media ads across multiple platforms.
You can use Convertedin to create ads across Facebook, Instagram, Snapchat, Twitter, and Google ads.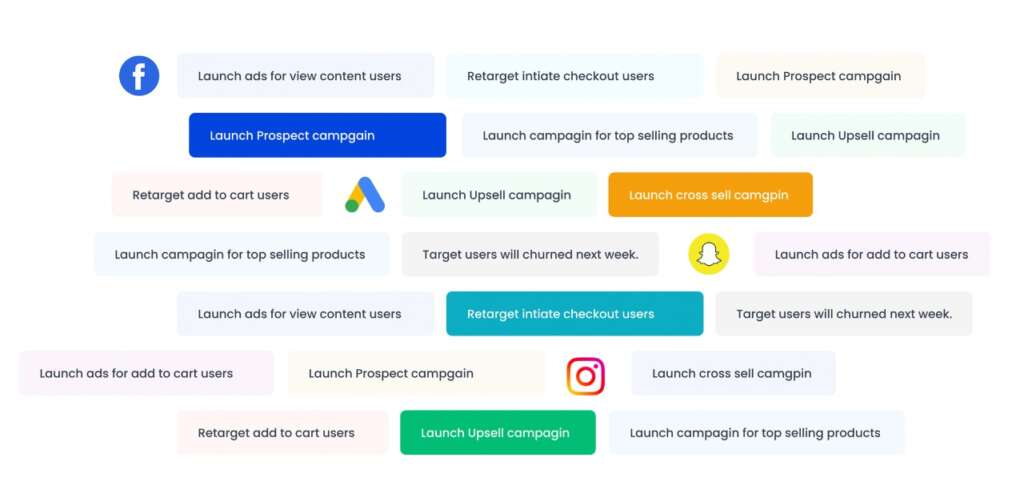 This Shopify app also helps you segment your customers across each of these platforms so you can get a better understanding of your customers and their buying habits.
With Convertedin, you can create and automate:
Facebook ads
Snapchat ads
Google ads
Retargeting campaigns
Personalization through ad targeting
Snapppt is another Instagram Shopify app that helps store owners turn their Instagram feed into a shopping experience.
Many customers go to Instagram for inspiration. When they find a product they like while scrolling, they may not find the pricing and getting to your store becomes a tedious task for them to find the product they liked on Instagram.
Snapppt changes that experience and allows customers to buy directly from Instagram.
Free or Paid: Free 28-day trial with pricing options that depend on your sales.
The Recart app is best used as a Shopify marketing app via Facebook Messenger.
Shopify stores using Recart can build a marketing list for Messenger and send a variety of notifications to customers.
These notifications include abandoned cart reminders, shipping notifications, order receipts, post-selling follow-up messages, among others.
Free or Paid: Free forever
Developed by Shopify itself, Messenger helps store owners have real-time conversations with their customers, particularly those scrolling through your store.
Messenger also includes a "Shop Now" button that lets customers shop directly from Messenger without ever having to go to your store. For this option, Shopify manages the process for you so you don't have to worry about lost sales or anything.
Free or Paid: Free to install
As its name suggests, SnapAds is a Shopify Snapchat ads app.
SnapAds helps store owners create ads on Snapchat, retargeting campaigns, and integrate their Shopify catalog with their Snapchat catalog.
Free or Paid: Free 90-day trial then paid options ranging from $9.99 to $59.99 per month
While this isn't a Shopify ads app, it helps increase a store's sales through upselling.
The app lets store owners create customized upsell offers that make sense to customers.
Upselling is presenting customers with products that are related to what they are buying. Is a customer buying a camera? Then they'll need camera batteries to go with that. Maybe suggest it for them? That's upselling.
New to upselling? Discover the 47 E-commerce Vocabulary, Metrics and Biz Terms You Need to Know
In Focus: What you get with the Convertedin Shopify app
As an ads automation platform, Convertedin's app on Shopify offers a host of benefits to store owners.
It not only allows you to create ads across multiple social platforms from a single dashboard but also lets you automate all these ads from that same dashboard.
Convertedin supports several social media platforms such as Facebook, Instagram, Snapchat, and Twitter. Shopify store owners can also use Convertedin to create and automate their Google ads.
But that's not all Convertedin does. We've mentioned how important it is to group or segment your customers. Convertedin helps you with segmentation too.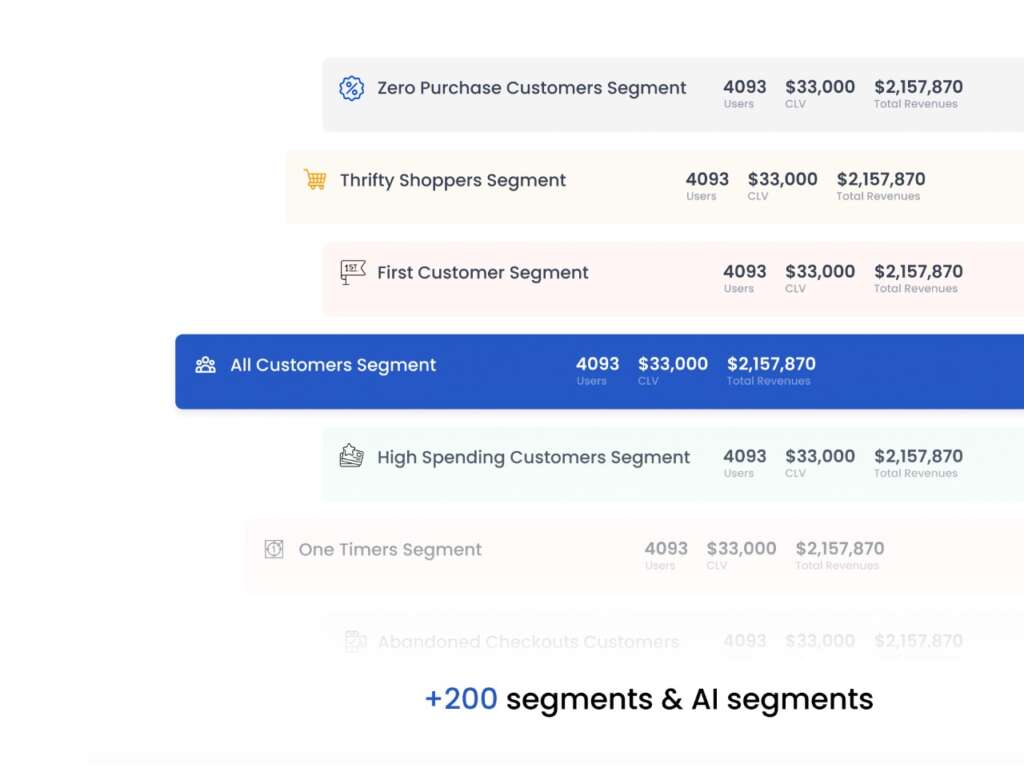 You can upload your custom audience to Convertedin and the app will create segments for your customers.
Segments can include age groups, geographical locations, or purchase qualities such as high-spending customers and monthly customers and so on.
As a Shopify ads app, Convertedin helps you create customer segments that you can then target and retarget through ads.
Convertedin also lets you create retargeting campaigns, personalized ad targeting for social media and Google ads. That's in addition to creating Facebook lookalike and dynamic audiences based on your custom audience.
Next steps
As a Shopify store owner, you're constantly looking for ways to increase your Shopify sales. Whether it's through apps or by optimizing your own efforts and store.
At the end of the day, you want to attract customer through customer acquisition and then work on retaining those customers through loyalty and carefully-targeted ads.
If you're looking to give a Shopify ads app a go, start your 14-day free trial with Convertedin.