E-commerce Automation: How to Save Time and Boost Revenues
By
Nada Sobhi
·
6 minute read
Did you know that by 2021 (yes, this year!) there will be roughly 2.14 billion (yes, billion!) online buyers? That's almost 27% of the world's population. (Oberlo)
What this means is: E-commerce is growing – fast!
But managing an online store isn't easy. And as more businesses move online, store owners and marketing managers will need to automate many processes so they can grow.
That's why e-commerce automation is big these days and is continuously growing.
But what is e-commerce automation exactly? And how can you use it to scale your business and keep it growing?
That's what this blog post is all about.
By the way, one of the e-commerce trends of 2021 is that businesses will be using AI for better and more personalized experiences. E-commerce automation is all about using AI-powered tools to support business growth.
What is e-commerce automation?
E-commerce automation is using technology to automate processes within an online business.
Here are a few forms of automation:
Business automation
Customer support automation
Marketing automation
Sales automation
Email automation
While these are the most commonly-used forms of automation, they're definitely not the only types out there. But they're the most widely-used among e-commerce businesses.
Through automation, online stores can reduce costs, save time for the business and employees, and deliver more customized experiences.
Using e-commerce automation means creating a series of actions and responses using configurations and triggers by your customers.
For example, if Fred signs up to your email newsletter, he'll get a 'Thank you' message with a link to check out the latest blog post or to grab a first-timer discount.
This 'thank you' email is an automation. Every person who signs up gets the same email. Add some personalization by including their name in the email.
Another example is when customer Marie adds a product to her cart but doesn't complete the purchase.
As a store owner, your online store is 'programmed' to send customers who abandon their cart an 'automated' email reminding them about it. Or you can tell them that those products are about to run out.
Marie triggered your abandoned cart email sequence to get her to come back to your store and complete her purchase.
E-commerce automation is about triggers. As a business owner, you need to define those triggers and create automations to spur your customer to take action.
The action can be completing a purchase, subscribing to a mailing list, clicking a link, following you on social media, among others.
Once the automation is in place, you won't need to intervene. The automation will reach out, connect with, and help your customers on your behalf. No more human intervention.
What can you automate?
There are a number of things you can automate as an e-commerce business.
We've mentioned them briefly but now it's time to get into more detail.
1. Business automation
This is where a business uses automation to support their business processes. This is the broader form and can include marketing and sales automations.
By automating actions within the business, e-commerce stores can:
Regulate and better control their inventory
Discover and address their supply chain problems
Offer fintech solutions to help their customers pay easily
Manage and automate delivery
Manage and automate returns for retail businesses
Physical stores too can use automation to increase the use of contactless payments and reduce the number of people in a queue. This can help physical businesses cut on operating costs, which will help their bottom line.
Artificial intelligence (AI) "provides the flexibility retailers need to meet changing demands and deliver operational efficiencies. By infusing intelligent automation across operations, retailers will survive 2021 and set themselves up for long-term success. Put simply, when it comes to AI in the retail sector, fortune favors the brave," notes test automation platform general manager Gareth Smith in an article.
2. Customer support automation
Did you know that you can automate some of your customer support processes?
This part of automation usually involves using a chatbot.
Chatbots have come a long way in the past few years and chatbot development is continuously growing.
By using a chatbot in your e-commerce store, you can save time and cost on customer support representatives and have them handle the tougher queries and problems that customers struggle with.
3. Marketing automation
This is where businesses use automation for marketing purposes, which usually involves creating automated ads across multiple platforms.
Email automation, which we will get to in a minute, is a sub-category of marketing automation.
Using marketing automation, businesses can target customers across multiple platforms with messages, email, social media, and in many cases text (SMS).
"Messages are sent automatically, according to sets of instructions called workflows. Workflows may be defined by templates, custom-built from scratch, or modified mid-campaign to achieve better results," explains Salesforce.
Marketing for e-commerce businesses is also known as e-commerce marketing automation.
An example of e-commerce marketing automation is what Convertedin does. Convertedin takes your Facebook custom audience and, using AI, segments your customers, creates lookalike audiences, and targets those segmented-audiences.
If you have the Facebook Pixel and Facebook product catalog, Convertedin will automatically create dynamic audiences and dynamic ads for you.
We've recently added more to options e-commerce businesses can get when using Convertedin, which are the dynamic and custom product sets and the dynamic product design. The latter is about automating the designs for your products.
As of the writing of this post, Convertedin offers ads automation for Facebook, Instagram, Snapchat, and Google.
By using e-commerce marketing automation, online businesses can reduce the time and effort needed to create effective ad campaigns and generate more revenues.
4. Sales automation
Automating sales is about streamlining the time-consuming tasks that prevent your sales team from focusing on what they do best: generating sales.
By using sales automation, online stores can save and free up time needed to do administrative (and data entry-related) tasks that sales people and managers have to do daily, weekly, or monthly.
Sales automation will help you increase productivity for your sales team, increase efficiency and accuracy, reduce response time, and increase customer satisfaction.
5. Email automation
Email automation is about automating your email marketing. Tools like GetResponse, MailChimp, and ActiveCampaign offer email automation to help you create automated sequences and drive your customers to take action.
Email automation works with the same triggers as any other form of automation.
Remember Fred, who signed up to your newsletter and got a 'thank you' email?
As a business using email automation, you'll set a number of triggers to entice Fred to take action. For example, if Fred, doesn't create an account within 2 days of getting the 'thank you' email, the automation sequence (created by you), will send another email to remind Fred to create an account.
If nothing happens still, the sequence will continue by sending Fred another email within 2 to 3 days to remind him of the benefits of creating an account on your platform. If Fred still doesn't sign up within 14 days, your final email might tell him that without an account you can't help them fulfill their goals.
However, if Fred signs up after the 'thank you' email, they'll be directed to another email sequence like onboarding or upselling.
With email automation, all you have to do is write the content of the sequence once and the automation will send all the emails on your behalf.
If you haven't noticed, all these forms of automation fall under the bigger umbrellas of e-commerce automation and e-commerce marketing automation.
Benefits of e-commerce automation
As you can see, e-commerce automation comes with a ton of benefits. Let's expand on them briefly.
1. Saves time, offers efficiency
Automation helps you cut down on repetitive tasks such as data entry and data processing, which saves time and reduces operating costs.
By saving time, your team will be able to focus on what matters, whether it's sales, marketing, connecting with customers, or anything else.
Plus, with email automation, you'll write the sequence once and let it work its magic. While automating your ads creation process can help you reach your customers through efficient targeting.
"With e-commerce automation, you can schedule sales promotions to go live at the right time, automate new product releases with their announcements, remove discontinued products, adjust prices, apply discounts, track purchases and provide rewards, etc," notes Neil Patel.
2. Reduces workload, helps employees
Depending on the size of your e-commerce store or business, e-commerce automation can help you reduce your employees' workload. Nor mundane tasks, which means more time to work happily and efficiently.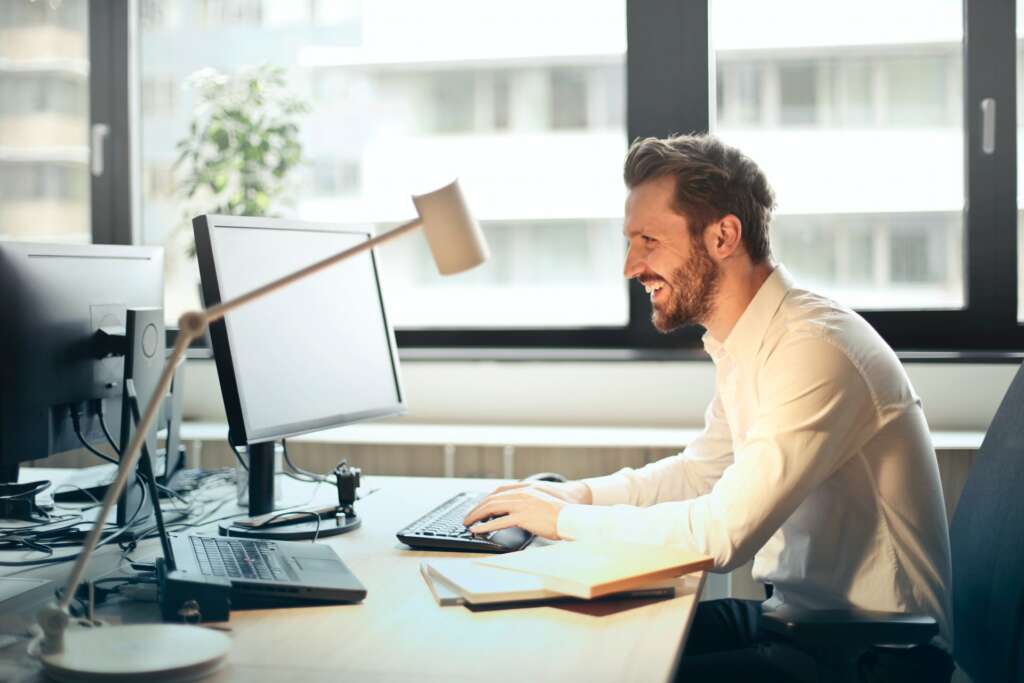 Business automation will make them happier and raise their efficiency and satisfaction.
Imagine telling your team "you no longer need to spend an hour doing data entry work!"
The number "Phews!" you'll get along with excitement will be better directed at more pressing requirements.
This helps you overall as a business.
3. Easier onboarding for suppliers and third parties
Your employees aren't the only ones benefiting from automation. Your suppliers and other third parties can also benefit through quicker onboarding processes and e-commerce automations.
"Vendors will appreciate the system moving quickly and seamlessly without relying on human intervention throughout the process. Since the vendors and suppliers are in charge of their orders and requests, nothing gets lost in translation," explains Neil Patel.
Marketing automation with Convertedin
You now have a general understanding of what e-commerce automation is and how it can help your business.
Here we'll be focusing more on the marketing automation for e-commerce businesses.
As mentioned, marketing automation helps you automate your ads to save time and offer accurate results and numbers. It can also help you generate more leads, and improve lead conversion.
As an ad-tech platform, Convertedin helps you do all that more. Our AI-powered ad automation platform takes your custom audiences and creates audiences for you.
Using AI, Convertedin takes your audiences and divides them into segments. This helps you understand who your customers are and reach each segment easily. It helps you target them with the products and services they are looking for.
With segmentation complete, Convertedin will start creating ads for your products and customers, who'll see the ads relevant to them.
For example, if Anna likes buying hair care products, ads for your store's hair care products will be the ones she sees when she logs onto her social media accounts.
The same with customer John, an athlete who regularly buys sports clothing. He won't be seeing Anna's hair care products but will see products similar to his previous purchases.
In addition, customers Andrew and Fred, who are lookalike audiences to John, will get the same ad.
This means that your customers will be seeing the products they need. You'll also be getting a higher return on your ad spend (ROAS) for your ad campaigns.
With Convertedin, you can create tons of ads on autopilot. Plus you no longer have to create audiences or generate designs for your ads.
Final words
When considering e-commerce automation, you first need to decide what you want to automate.
Look at your daily, weekly, and monthly tasks. Find out what are the most-time and money-consuming tasks and start with those.