8 Email Marketing Automation Best Practices to Drive Your Strategy
By
Nada Sobhi
·
7 minute read
Email marketing remains one of the most efficient ways to attract and retain customers in e-commerce. Add automation into the mix and you get more benefits and opportunities. But to get the best results, you'll need to explore email marketing automation best practices.
With over 4 billion daily email users, email marketing has much to offer for e-commerce and other businesses.
The secret is finding the balance between emailing customers and avoiding spamming them! (Which is what many businesses find themselves doing even if unintentionally.)
Nearly 87% of business-to-consumer (B2C) marketers report using email marketing automation tools as part of their email marketing strategy. (HubSpot)
Meanwhile, 50% of people – including customers – say they have made at least one monthly purchase after opening a marketing email. (Salecycle)
What this shows is that there's a growing need for email marketing. But to make the most of email marketing, you'll need to consider automation and follow best practices.
In this article, we'll be focusing on what email marketing automation is and its benefits. We'll also highlight several email marketing automation best practices for e-commerce to help you get the best results with your email campaign.
What is email automation?
Email automation is the process of automating all your emails to customers.
These emails can vary from newsletters to email marketing campaigns and special offers to standard operating emails.
Operating emails include your welcome email, order confirmation email, delivery status, among others.
Put simply, all you have to do is find a suitable email marketing software, add your customers to it, and connect it with your website. After that, write your emails, log them into your email software with triggers as to when these emails will be delivered and you're done.
With email automation, all you need to is write your emails once and set them up in an email work flow.
Further reading: The Best 5 eCommerce Email Marketing Examples to Inspire You
Email marketing stats
Before we dive into the benefits of email marketing automation and best practices, let's look at some statistics about email marketing.
Roughly 70% of brands have increased their email marketing efforts and workload; however, their budgets haven't changed. In 2022, 37% of companies reported increasing their email marketing budget.

Segmenting your subscriber list "is the most effective" strategy in email marketing campaigns. (HubSpot)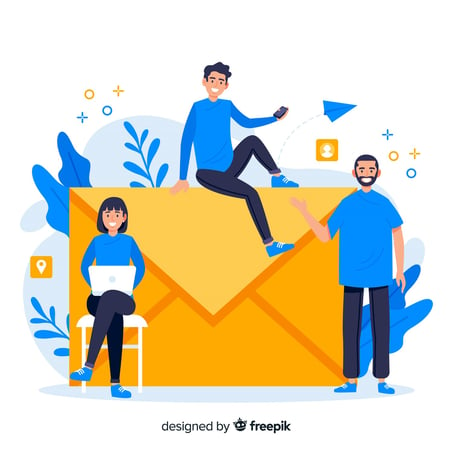 Benefits of email marketing automation
You can probably guess a few of these benefits of email automation. Let's look at each one in brief.
The top benefit of using email marketing automation tools is that they save time. You create the email or email sequence once, set it up in the email automation tool, and you're ready.
You can do this with any number of emails and campaigns. You can even schedule emails for seasonal campaigns.
According to BenchmarkOne, businesses can save anywhere from 8 to 25 hours per month using automation tools, including email automation.
Using email automation tools helps you nurture potential leads. You see, regardless of where your potential customers have signed up – such as getting a lead magnet or for a webinar – you can use email to introduce them to your brand and provide them with more benefits.
Helps you prepare for different situations
Email marketing automation is all about creating automating workflows. These are email sequences created for different scenarios, then added to your email marketing software, and sent to customers when they trigger a certain event.
Let's look at it with an example:
A potential customer signs up to your mailing list to download an ebook. In this case, your lead has triggered your 'Welcome sequence via lead magnet 1.' This sequence starts with a 'Thank you for downloading our ebook' email followed by an email offering additional helpful links from your brand's blog.
However, this sounds a lot more like a B2B email workflow. That said, email workflows can be similar in B2B and B2C, though the intention and buyer's journey are different.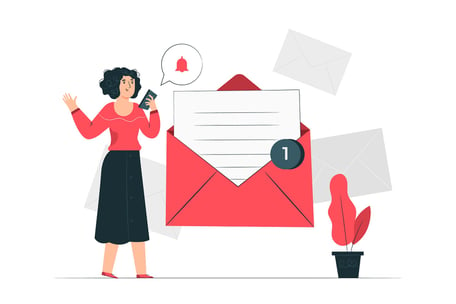 Let's look an automated email flow for an e-commerce business. Let's say you're an online store that sells sportswear and sports gear.
You welcome your customer with a 'welcome email' or a 'thank you' email if they sign up to your newsletter. You can use this opportunity to notify them about helpful links on your site or direct them to your FAQs page.

You follow that with an introduction to your loyalty program or referral program if you have one.

You follow that by asking them to provide you with more information so you can send them relevant content. This helps you segment your email list and create targeted and personalized emails.
In e-commerce, you can create various email flows to drive your customers to take action such as answer survey questions, leave reviews, or notify them of a special offer.
Here are a few common types of e-commerce email marketing sequences:
Welcome emails

Sign-up emails

Upselling and cross-selling emails

Order confirmation emails (Yes these can be a sales opportunity too)

Re-engagement emails

Sales emails

Special discount/loyalty emails
Marketing automation reduces costs for businesses regardless of industry or segment.
In addition to time saved, automation can help you cut costs because you only need to create an email campaign once, test it, and it's ready for your customers.
As your business grows so will the number of email campaigns you run. But you don't need an entire team writing emails to customers every day. Write once, test, and automate. And you're done.
Email marketing automation best practices for e-commerce
To get the most of your email marketing and automation efforts, there are a few best practices to follow.
Don't spam your customers
While email marketing automation is a great tool for getting into your customers' inboxes, you need to avoid spamming them with too many emails.
This is really important because if you overdo it with the emails you send, customers will stop reading and start sending you to their junk or spam folders.
Even if customers simply stop reading your emails and delete them as they arrive, email service providers will automatically send you to the junk or spam folder.
One of the most important email marketing automation best practices is to segment your email list.
Subscriber segmentation is one of the most effective strategies in email marketing because it helps you deliver personalized emails to the right customers.
Segmenting your email list also means that customers get those emails that are relevant and that matter to them – not everything.
Data by HubSpot has found that the top email marketing strategies are:
Subscriber segmentation (78%)

Personalized messages (72%)

Email automation campaigns (71%)
Offer subscription preferences
Let customers decide how often they'd like to receive emails from you.
You can include preferences like: once a week, monthly wrap-up, special offers only, news and updates, or all of the above.
You can add more options if you wish.
Plan ahead for your emails and sequences
One of the best practices when it comes to email marketing automation for e-commerce is to plan ahead. Like your social media calendar and other types of marketing, your emails should be planned ahead.
When you set up your social media marketing strategy for the year, be sure to include email marketing too.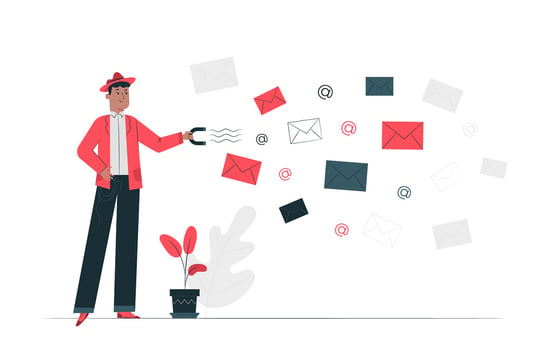 Use email personalization
Personalization means giving customers what they want. This includes sending them emails that are relevant to them. This means personalizing your e-commerce emails.
Personalization also includes sending emails addressing customers by their first name.
The best way to ensure you're doing e-commerce personalization across your emails, ads, and other forms of online marketing is to get customer to provide you with their basic data and to use segmentation.
Otherwise, you end up spamming customers with irrelevant emails, prompting customers to mark your emails as spam, opting out of your emails, or even stop doing business with you.
We've hit on this before. Email triggers are certain events or actions taken by your customers that trigger an email or sequence.
When a customer signs up to your newsletter, they trigger the welcome email.
When a customer leaves products in their cart for over a week, they trigger an abandoned cart email.
Email triggers allow you to engage with customers regularly and naturally. They take a certain action and your automated email workflow
While your customers' email inboxes aren't testing grounds, you do get a chance to experiment with email marketing automation to certain degree.
The best way to do this is to know what you're testing, avoid spamming customers, and learn from your mistakes.
Testing in marketing is known as A/B testing. Marketers use A/B testing with social media ads, PPC, email marketing, and any other types of marketing.
It's worth mentioning that research from the Litmus 2021 State of Email Report shows that 55% of marketers "are missing out by rarely or never" conducting A/B testing.
Determine your email marketing goals
Any marketing event requires goals. Email marketing is no exception. So make sure you set your goals for your different email marketing events and sequences.
You don't have to set over-the-top analytics and expectations just be clear about what your intention is for your email sequences. Are they meant to drive sales? Increase referrals? Join a loyalty program?
Create a successful email marketing strategy with Convertedin
To run a successful email marketing campaign, you need to have a broader email strategy. As you can see, using email automation saves you time and money and helps you target customers better.
Following the abovementioned email marketing automation best practices means you can avoid pitfalls like becoming spammy or sending customers irrelevant content.
But it's worth highlighting that email marketing is just one part or element in your marketing stack and efforts to improve and drive more sales to your e-commerce business.
Email marketing should be part of your biggest e-commerce marketing strategy. It should be coupled with social media marketing and automated ads.
But the biggest problem that e-commerce business owners and marketers struggle with is trying to combine email with social media and analytics… until it all becomes one BIG burden where data isn't clear and you're not sure where customers are coming from.
This is where Convertedin comes in.
Convertedin is a marketing operating system for e-commerce businesses. In other words, it's a one-stop-shop for all your marketing needs for an online store.
Do you want to automate your social media ads and improve your retargeting campaigns? Convertedin can help you.
Want to see which campaign – social media, or email, or PPC – helped boost your sales during Halloween? Convertedin can help you.
Wrapping it up
Marketing for your e-commerce business – or omnichannel business – is hard work. There's lots to do and many angles and elements to consider and keep tabs on.
Part of your e-commerce marketing efforts should include email marketing. This means strategy, email flows, automation, the whole deal.
Combining the best practices of email automation and email segmentation offers the best chances of success and growth.
Want to see what measuring your email marketing efforts along with your social media marketing? Sign up to Convertedin and see all your marketing efforts and analytics in one place.