Furniture eCommerce in 2023: Top Trends, Marketing Channels & Strategies
Since Covid-19, online shopping in all categories has been booming. According to research, online retail sales reached 14.8% in the United States in 2022. And when it comes to the furniture industry, it has continued to grow online since then.
Actually, in 2021, online furniture sales revenues in the US reached $132.7 billion and are expected to reach and exceed $208.2 billion by 2025.
For that reason, if you own an online furniture business, you need to be ahead, knowing all the new market trends and strategies that can help you boost your sales.
This article will help you know more about Furniture eCommerce in 2023, the latest statistics, top trends, and what marketing channels and strategies to be used to achieve the best results.
Read on!

Table of Content:
Furniture eCommerce 2023 Top 5 Trends
With social media influencers increasing and with Pinterest and Instagram invading people's lives, Consumers are paying more attention than ever to modern decorations, mood boards, and interior design. With the development of eCommerce and online shopping, trends have been emerging in the furniture eCommerce industry. Check some of the latest trends below:
1- AR and VR

People shopping for furniture online might need to check the fitting of the items they are buying. Maybe also the colors or the visualization of those items in their homes. Thanks to technology, this challenge has been solved. With the evolution of AR and VR, online furniture shopping has been transformed. Customers now can view their furniture true-to-scale with a 3D model. Hence, they can try before buying! Moreover, it is proven that nearly 66% of consumers would love to use AR while shopping online.
For example: check how IKEA used this for their customers to virtually place their furniture.


2- Personalized & Tailored Products

Personalization is crucial. Nowadays, personalization is something that all customers expect and if it is not there, they might not deal with your brand once more. According to research, nearly 91% of consumers say they are more likely to shop from businesses that offer and suggest relevant products they are interested in.
Personalization goes from tailoring an email with the customer's name all the way to suggesting the product he is searching for once he opens your website. People want to feel special; they want to feel that your products are tailored and targeted only for them and their needs.
To do this, you need to know your audience deeply and divide them into segments according to their behaviors or interests so that you can send more tailored messages.
3- "Buy Now Pay Later" or BNPL
Did you know that nearly 43% of millennials and 32% of Gen Zers are very concerned about their financial debts?
Well, online shoppers nowadays are not willing to pay large amounts of money at once. They actually favor splitting the total amounts into smaller amounts that they pay over a longer amount of time. The "Buy Now Pay Later" or BNPL strategy helps you offer your customers the option to pay in installments which will surely affect their decision and encourage them to purchase.
4- Direct-to-consumer (DTC)
Direct-to-consumer (DTC) is when your brand sells its own products to its end customers. No third party is included. The DTC strategy has grown so much recently. Customers tend to go away when they see obvious marketing trying to attract their attention. For that reason, the DTC approach encourages brands to create an emotional connection directly with their customers.
Understanding your customers can help you give your consumers what they are looking for directly. Hence, they will always come back for more. It will also provide you with more control over the whole selling process. Focus on your own site and avoid using third-party websites to sell your products so that you don't have to compete with other brands' prices.
5- Provide Modular Furniture


Brands that focus on customers' satisfaction and happiness are the ones that win! Modular furniture is the kind of furniture having separate pieces that are used together to form a final piece. This provides customers with flexibility, unlimited options of designs, comfort, and the ability to style the furniture piece differently according to their needs.
They are pre-made and can be personalized according to the need. Some brands design this type from recycled material, which gives products an edge, knowing they are eco–friendly. Moreover, modular furniture provides functionality helping customers save a lot of money.
Furniture eCommerce 2023 Statistics You Need To Know About
Knowing that online businesses and eCommerce businesses are booming and will continue to boom in the upcoming decade. Here are some of the latest trends in the furniture eCommerce industry that will blow your mind:
The eCommerce industry is expected to reach $6.3 trillion globally in 2023, while in 2026, it is expected to reach over $8.1 trillion.

The furniture eCommerce market revenue will reach $252 billion in 2023. Moreover, the furniture eCommerce market is likely to grow annually by 3.98% (CAGR 2023-2027).

The biggest segment in the furniture eCommerce market is living room furniture with a market volume of $70.61 billion in 2023.

As more people are working from home, sustainable and wellness-oriented office furniture is currently booming. The sustainable Furniture Market is expected to grow at a CAGR of 5% by 2027.

During the recent decade, furniture and home furnishing revenue accounted for 11.78 percent of total retail e-commerce sales in the United States. Moreover, it is likely to reach over 208.2 billion U.S. dollars in 2025.

The biggest online furniture purchasers reside in the USA and China. With that fact, the current global furniture revenue is at about $190 billion.
The Best Marketing Channels To Use For Growing Your Furniture eCommerce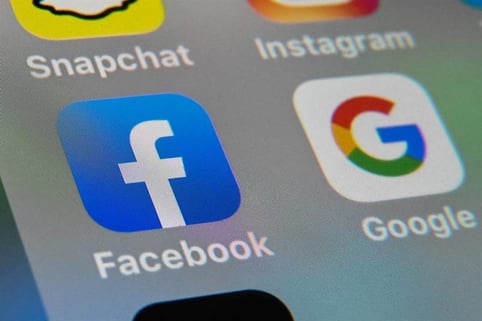 There are multiple marketing channels to use in order to boost your sales and maximize your revenue. Mainly you have two options, either paid marketing channels or organic ones. Here are some of the best ones you can use to boost your furniture brand:

This is one of the best and most effective channels for conversion. Also, it can be easily personalized and tailored to the customers' needs. Email marketing can take place at any stage of the buying journey. Moreover, it can be easily automated, it is cost-effective and effortless.
Needless to say, this is crucial for your marketing strategy and sales. Social media can be a great method to reach and engage your audiences via different formats and messages. You can use reels, videos, pictures, personalized direct messages, comments, and more. Moreover, you can use

social commerce

to boost your products' sales. You can use social media marketing organically or you can even use digital lead ads, which can boost your sales and create good brand positioning. Instagram, Facebook, TikTok, and Snapchat are currently booming.

Search Engine Marketing (SEM)
SEM will help immensely with your brand visibility on search engines. It has multiple advantages. You will appear first thing to the people searching for exactly what you have. It achieves brand awareness and visibility at no cost, as it works with the pay-per-click model. It can help you maximize your sales and website traffic.
Discover: Top 10 Digital Marketing Trends for eCommerce in 2023
Search Engine Optimization (SEO)
SEO is effective. However, it takes a longer time to achieve the results needed. Still, it is effective to bring your brand organically in front of people searching for it. However, it requires optimizing your website, text, content writing, and visuals so that you can appear higher in the search engines.
People trust other people. Actually, people trust their family and friends more than anything else. This form of marketing can boost trust and loyalty and improve your sales like crazy. Offer your customers certain offers and gifts when they refer you to a friend. Encouraging people to market your brand can help build an emotional connection and spread word of mouth about your brand, which directly results in boosting sales.
5 Marketing Strategies To Grow Your Furniture eCommerce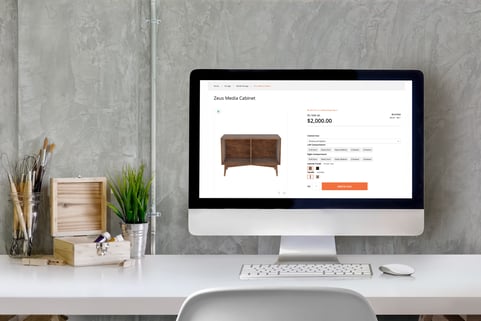 Image source

Now that you nearly know all about the latest furniture eCommerce trends and the best marketing channels. Check out these marketing strategies to boost your brand:


1- Update Your Website

Keep your website updated, optimized, and ready to leave a great first impression on your customers. Show off your furniture products in an appealing way, and give your customers all the information they might need. Have your product pages divided according to categories to make searching and navigation easier for consumers. You can even use 3D or VR, or AR, as we said.


2- Have a full Marketing Plan & Strategy

Before you start you need to have a plant in mind. What is the end result you want? Objectives, research, why you are doing what you are doing, what you will do, when you will do it, and how you will do it. Use paid and organic marketing tools, and don't forget to check what your competitors are doing. Most importantly, keep the satisfaction of your customers at the top of the list.


3- Build a relationship with your audience
Identifying and understanding your customers and their needs is the first step to starting your marketing on a solid ground. Providing them with what they want and need without asking can help you create and maintain an excellent brand image. Also, this can help you stay on top of their minds and help you engage with them on a deeper level. As well as letting them always come back to you.
4- Use Video Marketing
Video is the most consumed format of media. It makes up more than 82% of internet traffic. It is considered the future of marketing. It attracts the eyes and people like to watch short videos. You can use product review videos, demonstration videos, behind-the-scenes videos, influencers videos, and more.
5- Use Ads
Using the social media market is, of course, crucial. However, creating paid ads on search engines and lead ads on social media platforms can help you achieve faster and more sturdy results.
You can customize your copywriting and visuals to different segments of your audiences so that it can be personalized.

Now you can easily automate your ads and every other marketing activity with ConvertedIn.
Converted.in is a marketing operating system for e-commerce, which utilizes data and shoppers' insights to create personalized multi-channel marketing. Now you can easily target the right target audience and reach them with no effort. Boost your sales and maximize your revenue now.