5 Google Shopping Ads Best Practices That Convert

By
Merna Helal
·
3 minute read
The first step to running a successful business is putting yourself in your customers' shoes. So if you are a customer who wants to shop for a particular product, what will you do? The answer is quite simple; Google it.
To be 100% transparent with you, that's not always the case, but defiantly more often than not, people turn to Google to find anything they are looking for.
Now that we established the importance of Google in customers finding your products, the real question is how do you ensure they find your products, not your competitors'?
That's another simple question to answer; by using the Google shopping ads best practices, you can guarantee your products appear on the first slots and easily skyrocket your sales!
Table of Contents:
Why is it Essential to Create Google Shopping Ads?
Before we go into the Google shopping ads best practices, it's essential to know why you are doing this. Of course, being the top lister is a good enough motive, but what does that actually get you?
In other terms, is investing money, effort, and time in creating the best Google ads, worth it? We will present you with some facts and numbers, and you can decide for yourself!
Shopping Ads currently account for 85.3% of all Adwords, and Google Shopping campaign clicks combined.
The average CPC in the eCommerce industry is $6.75.
PPC ads generate 2x the clicks as organic SEO results.
On average, Google shopping ads have a 1.91% conversion rate.
The average CTR of Google ads is 2%.
Meanwhile, the average CTR for the ads placed in the first position is almost 8%.
Convinced? Great, then let's take a look at the Google shopping ads best practices!
5 Google Shopping Ads Best Practices
Google shopping ads allow customers to see numerous options with just one search, so yes, even when you are paying for an ad, you might lose all potential customers to competitors if you don't run the right ads.
So before running your ads, keep these 5 Google shopping ads best practices that can easily turn you into one of the most successful eCommerce brands!
1- Remember that first impressions last
Like anything in life, the first impression the customer will get from your product can last for a lifetime. So you need to ensure that you are leaving a good first impression. Before racking your brain thinking about how can a product leave an impression, let us tell you!
By using high-quality images that clearly show the product's features and adding engaging product titles, you ensure that from the very first moment, a customer sees your product, you catch their interest.
2- Keep a tight budget
One of the most beneficial Google shopping ads best practices is starting with a small budget. When you throw a lot of money into an ad campaign, your traffic will drastically increase, but that rarely means high conversion and lots of sales.
However, when you start with a small budget and focus on the quality of the ads, you will learn what works best for your products and eCommerce business. When that happens, you can start increasing your budget and you will get a higher ROI.
Discover more about How To Rank Products On Google Shopping Ads and Improve Your Ecommerce Sales.
3- Negative keywords are your best friend
This is one of the most common mistakes marketers do when conducting an ad campaign that can easily be turned into one of the Google shopping ads best practices. By using negative keywords, you ensure that the traffic you get can be converted.
In other words, the customers who will click on your ad are actually interested in your products.
If you are a bit confused about what negative keywords are, here's an example; if you sell luxurious items, then you can use negative words like cheap, bargains, and used.
Why are these negative words? Well, as a luxury brand, you won't have these types of products. Accordingly, if your products appear on these searches and people click on them, you will be paying for irrelevant traffic that will never convert.
4- Add customer ratings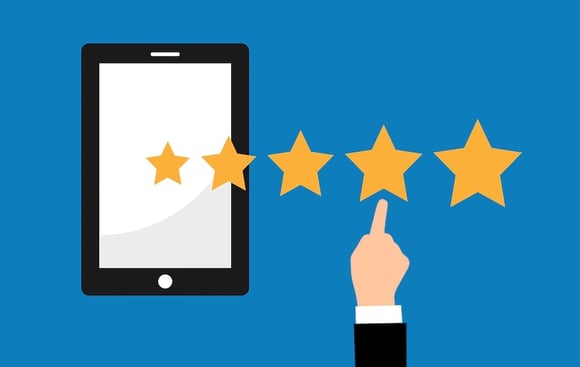 Did you know that around 97% of people read online customer reviews to search for businesses? That means when you add customer ratings to your Google shopping ads, you are guaranteed more clicks and a higher conversion rate.
Your ad will show how many customers left a rating for their experience with your online store and how many stars you have on average (from 1 to 5).
Read more about the benefits of ratings in User Generated Content For Ecommerce: Everything You Need To Know
5- Leave your unprofitable products behind
Unforunarlty, not all your products will be winners, so don't be afraid to leave some of the losers behind. Any product that is not particularly popular with your customers or ones that get traffic but have low conversion rates (compared to industry benchmarks and your other products).
If you don't want to leave any of your products behind, then you can use the unprofitable ones for A/B testing. As they offer a great opportunity for you to test the waters for your other cash cow products.
Final Thoughts
Through the 5 Google shopping ads best practices we discussed today you can ensure that your ads convert, your sales increase, and you become the number one online store! We know that utilizing Google shopping ads to skyrocket your sales is harder than it looks. That's why we are here to help!
Through marketing operating systems like ConvertedIn you can automate your Google ads and boast sales with personalized ads.
Book a demo now with one of our experts to learn more about our eCommerce business solutions and uplevel your marketing game!