How To Create a Win-Back Campaign Strategy to Reacquire Customers

By
Merna Helal
·
5 minute read
Did you lose a few customers? Hold back your tears, it's not too late to get them back. With the right win-back campaign strategy, you can easily decrease customer churn rate and hold on to as many customers as possible.
As an eCommerce business, you can entice old customers to come back in many ways. From email campaigns to discounts and loyalty programs, you can effortlessly give customers a nudge in the right direction.
So in this blog, we will help you learn everything you need to know about win-back campaigns for eCommerce.
Table of Contents:
What Is a Win-Back Campaign Strategy?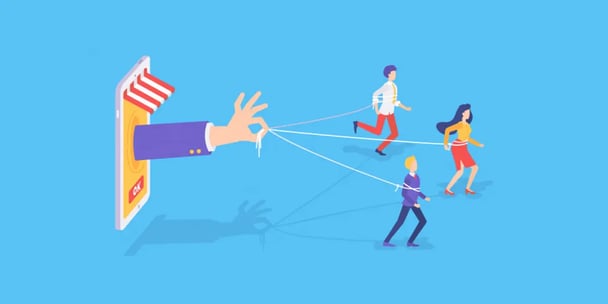 Source: medium.com
A win-back campaign strategy is a marketing technique that works on enticing lapsed customers to bring them back. This can be done through targeted ads, email campaigns, or any other form of personalized messages
The goal of any win-back campaign strategy is re-engaging old customers that you may have lost for a variety of reasons. This marketing technique focuses on offering customers the value they need.
In other words, there must be a reason why they left, so by personalizing their new experience accordingly, you can get them back!
These strategies mainly target loyal customers that you have lost. But they can also be used for potential customers who abandoned their carts and one-time customers.
In theory, this already seems important, however, you should know that even numbers highlight the importance of win-back campaigns. In fact, it's 5x more expensive to gain a new customer than to retain an old one.
With all this in mind, are you ready to kickstart your own win-back campaigns?
How To Create Effective Win-Back Campaigns?
To create the right win-back campaign strategy, you first need to answer a couple of questions, such as
Why did the customers leave in the first place?
By learning what made your customers stop ordering from your online store, you will be able to target them in the right way.
For instance, if a customer went to a competitor with cheaper products, you can send them exclusive deals, offer them bundles, or showcase your less-expensive options.
How loyal were those customers?
Of course, when you are speaking to a customer who's been ordering from you for years, it won't be the same as a customer who put in one order. From the tone of the voice to the familiarity, everything will be different in your message.
So to personalize their experience, you have to go back through your files and learn everything about their past purchases and how long they have been ordering from your store.
What message will work best with this type of customer?
While you got their files on hand, you can take a deep dive into the customer's segment. This will also help you in personalizing their win-back campaign.
For example, if the customer you are targeting works a 9-5 job, then you can send them re-engagement emails in the morning but focus your social media efforts at night. There are countless other ways, segmenting can help you win back customers, so we will say this is a crucial step.
Which channels should you use?
Also depending on their segment and their previous data, you can determine which are the best channels to reach them. Needless to say, you shouldn't only focus on one channel! As a matter of fact, it should be the complete opposite.
Your eCommerce business need to pop up in several channels to ensure that customers remember you at all time. But don't overdo it!
How effective are your win-back campaigns?
Like any campaign, the last step is a loop of you measuring all your efforts and reshaping the campaigns based on the results. If you skip this step, you can lose precious time, money, and effort without getting the best ROI possible.
To put it simply, in order to create an effective win-back campaign strategy, you have to learn why customers left, offer them a personalized experience accordingly, and entice them with the right message in the right place.
Best Tactics & Tricks For Using Win-Back Campaigns
Creating the best win-back campaign strategy that yields results can be a walk in the park if you follow these tactics and tips.
1- Remind them of what you have to offer
The most important thing for a successful win-back campaign strategy is showcasing your value and unique selling points. As an eCommerce business, you have a lot of local and global competition.
As a result, you will constantly be losing customers to the competition. So to get them back, you have to emphasize why they chose you in the first place.
2- Ask for their opinions
Customers love to be heard, that's why an email, a message, or even a phone call can go a long way with old customers. Ask about their input and why they stop ordering from your store.
If the customers have a specific problem, then you can fix it and quickly get back to them. Other than that, you can use their feedback to improve your operations and help win them back.
3- Personalize
As previously noted, you have to thoroughly go through all the data you have on old customers. And surely, you should be using this data for personalizing their experience with your eCommerce business.
Start small by adding their names in emails and go all the way up to create personalized vouchers and exclusive deals.
4- Offer incentives
While we are on the subject of deals and vouchers, it's important to note that incentives are the key to the best win-back campaign strategy. You can offer special coupons, loyalty programs, and cashback to entice old customers to order from you again.
It may seem like a long shot, but actually selling to an old customer has a likelihood of 60-70%, whereas selling to a new prospect has a probability of only 5% to 20%. And what can give them a better nudge, than some discounted products?
There's only one thing left for you now before creating your own win-back campaigns and getting your customer back - get inspired!
Top Examples of Win-Back Campaigns to Inspire You
Countless eCommerce brands all over the world have win-back campaigns working at all times. But to inspire you to create your own, let's take a look at the top examples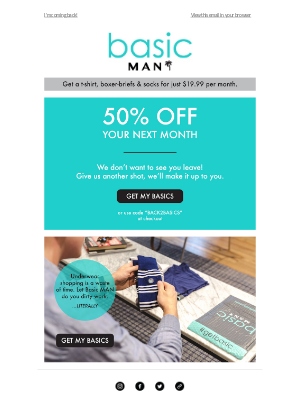 Right off the bat, this email offers an exclusive offer and focuses on the emotional appeal, which is clear in "We don't want to see you leave". Tapping into customers' emotions can yield great results, especially if they have been with you for a long period of time.
This campaign focuses on the value of the product. Through awe-inspiring designs, Shhhowercap highlights the unique selling points of its products and helps customers remember why they once bought them.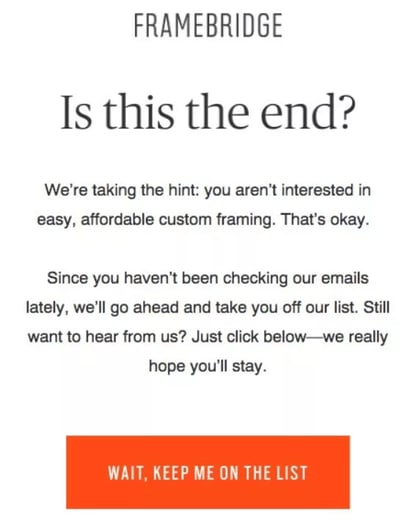 This one is surely the last email in a long re-engagement campaign. This example simply tells customers that if they are still interested, they can simply tap on that button.
The opting-out email or the "sorry, we took you out our mail list" email is your chance for one last hail mary, you can use these emails to give customers one more chance to stay with you.
The eCommerce tycoon, Amazon, of course, contributed to the best win-back examples list! In this example, Amazon asks for feedback on the last purchased item. This technique can help you learn the issue behind the loss of each particular customer.
Do you need some help in creating your own win-back campaign strategy? Our experts at ConvertedIn can help you out!
Book a demo now with one of our experts to win back your lost customers and uplevel your eCommerce marketing game.