Top 15 Strategies To Increase Customer Lifetime Value In eCommerce

By
Nada Gad
·
7 minute read
Acquiring a customer in such a competitive e-commerce landscape is not easy anymore. You must put so much effort into convincing customers of your products and online store.
Hence, if you successfully acquire a new customer, things won't stop at this point. You have to make sure to maximize your benefit from this new customer.
Here comes the vitality of Customer Lifetime Value (CLTV) or (CLV). CLV is an important metric in e-commerce that measures the total revenue you will earn from a customer over time. Therefore, measuring CLTV considers the total number of orders a client might place over time.
Accordingly, the more your customer orders over time, the higher the customer's lifetime value.
To calculate customer lifetime value, you have first to calculate customer value through the following equation:
The value of each order made by a customer / the number of orders
Then calculate customer lifetime value through:
Customer Value * Average Customer Lifespan
We have to say that higher CLTV is one of the key metrics to the success of your e-commerce. It indicates higher customer loyalty, engagement and leads to sustained growth for your e-commerce.
Strategies To Increase Customer Lifetime Value In e-Commerce
As we realize the considerable importance of CLV for e-commerce, we will tell you the best strategies to increase it in your online store.
1- Understand Your Customers
We won't stop telling you to understand your customers. It is a key strategy to almost all of your marketing efforts.
However, in this article, we want you to understand your customers to increase their lifetime value.
Segmenting your market and understanding your target audience makes you realize the products they value and intend to purchase.
In addition, your previous customers should be analyzed as well. You have to understand what type of products they might return back to purchase and offer it to them.
Simply comprehend the pain points of your previous shoppers so you can offer them suitable products.
This way, customers will return for additional purchases, and you will increase customer lifetime value in your store.
2- Listen To Your Customers' Feedback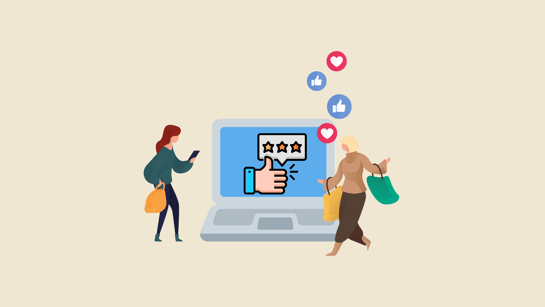 ABC, to increase CLV, is to listen to your customers' feedback. Your priority is encouraging them to return to your e-commerce and place further orders. And let's be honest; they won't return if they are unsatisfied.
Therefore, you have to know more about your customers' experiences, the positives and negatives, and everything they have encountered. Yet, there is a high chance that customers won't share their feedback independently.
You have to do whatever it takes to listen to your clients. Request their feedback and testimonials through emails, surveys, and messages.
As a result, you will be able to work on any deficiencies in your online store. Hence, encouraging further orders and increasing CLV.
3- Create Valuable Content
To increase your customer lifetime value in e-commerce, you have to increase customer engagement.
An engaged customer is more likely to be tied to your store rather than seeking another brand.
Accordingly, you must create valuable content for your customers to increase engagement. Your content can be posts that reflect customers' problems or informative blog posts.
The key is to deliver value through your content and not only push selling through merely emphasizing your product features.
4- Leverage Email Marketing
We have to say email marketing will never get obsolete. So, we admire email marketing.
To increase CLV in e-commerce, leverage email marketing. Maximize your benefits from such a thriving strategy. Email marketing has the ability to keep your brand on top of customers' minds by engaging active customers and reminding inactive ones.
We told you it's an undoubtedly winning strategy. So, the focal point of email marketing is to increase customer engagement. Accordingly, share the newsletter with your customers, and inform them of your upcoming campaigns, discounts, and offers.
Also, some behind the scene information won't hurt.
Simply put, use email marketing to engage customers while providing valuable content. Shoppers already receive tons of emails every day. So, you don't want to be lost in the bulk of emails.
We understand that handling email marketing might be a hassle for your online store. For that reason, Convertedin came to the rescue.
Converted.in is a marketing automation tool that builds and optimizes email marketing effortlessly to your e-commerce. Most importantly, it creates a campaign for each activity, so you don't have to carry the burden of your email marketing.
5- Develop A Loyalty Program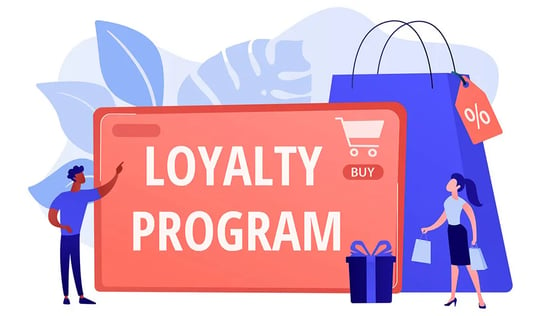 Image source: commbox.io
Just from its name, loyalty programs are one of the best ways to, of course, increase customer loyalty.
Generally, customers like to feel special. Therefore, a loyalty program that rewards frequent customers with exclusive offers or points to redeem or free shipping is certainly a successful strategy.
A loyal customer is undoubtedly someone with an extended lifetime value in your e-commerce.
All you have to do is to develop a loyalty program. It is like your own club composed of the most frequent buyers. Spice things up with some exclusivity in your loyalty program, and watch the magic.
6- Offer Customers A Personalized Shopping Experience
Generic marketing efforts and shopping experiences are things of the past. A study has shown that 80% of customers are more likely to purchase from companies that offer personalized experiences (StartupBonsai,2023).
In addition, 77% of shoppers mentioned that they are encouraged to spend more or recommend a brand that offers them personalized experiences.
Therefore, all signs indicate that offering customers a personalized shopping experience is essential to building a strong relationship with your customer. Such a relation is what will motivate shoppers to re-purchase from your online store.
Accordingly, delivering the right message at the right time will pave the way to increasing your CLTV.
7- Increase Average Order Value With Cross-selling And Upselling
Cross-selling is the process of selling products in addition to the primary purchase. For example, if a customer buys a pair of jeans, you can cross-sell by previewing a top that goes well with the pair of jeans.
While upselling is selling by encouraging customers to upgrade to a better and enhanced version of the initial product.
Therefore, through cross-selling, you are increasing the number of products sold in a single purchase. As for upselling, you increase the value of the placed order.
In both cases, you increase the average order value, which is the total amount of money paid in a transaction. Accordingly, you are maximizing your customer's lifetime value, which is your main goal.
8- Create Referral Programs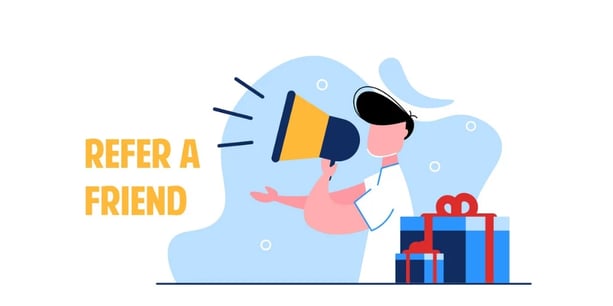 Image source: earn.g2.com
Creating referral programs is a successful tactic to increase your customer lifetime value.
You benefit from creating referral programs in two ways:
First, your current customers refer your brand to other potential buyers. Thus, positive word-of-mouth marketing is created for your store through referral programs. No doubt that online shoppers are highly influenced by their peers' recommendations.
Second, through referral programs, you incentivize your current customers to refer your products through points-based programs or discounts. So, the more customers refer products, the more they will receive discounts and be inclined to keep purchasing.
9- Offer Subscriptions
If you offer products that are not a one-time purchase and need to be replaced regularly, you can benefit from creating a subscription program.
In order to increase your customer lifetime value in e-commerce, you have to do what it takes to encourage shoppers to return for future purchases.
Thus, through subscription programs, you will guarantee that your customers will repeat their purchases through, for example, their monthly subscription.
As a result, subscriptions will increase your revenues and customer loyalty and will ensure repeated purchases. Most importantly, it will maximize your CLTV.
10- Optimize Your Customer Service
To increase CLV, you have to deliver an excellent customer experience. Speaking of which, a customer experience won't be satisfactory if shoppers have inquiries that are not dealt with by your online store.
Accordingly, to increase customer retention and customer lifetime value, optimize your customer service. Make sure to respond to customer inquiries in a timely manner.
You can use a chatbot to provide around-the-clock customer support. Alternatively, you can simply work on addressing issues facing shoppers rapidly.
In addition, you have to be present in all the channels your shoppers use. Thus, you will ensure offering optimal customer service.
11- Create A Brand Community
Human nature appreciates the sense of belonging. They like to feel that they belong to a certain group or community of like-minded people.
This might seem odd, but your online brand can benefit from such human traits. You can create a brand community to build strong customer relationships and increase engagement.
Your brand community will gather like-minded people to discuss their goals and ideas. You will be able to interact more with your customers and build a connection, which is something all online shoppers value.
The thing is, your customers won't be tied to your products just because they like them but because they are part of a bigger community that encourages them to do so.
12- Enhance The Customer Onboarding Process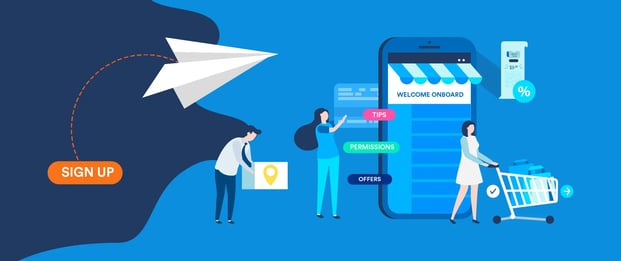 Image source: clevertap.com
Customer onboarding in e-commerce is the process of familiarizing new users with your online store, products, service, and navigation to successfully place an order.
Customer onboarding is the primary step users go through when facing your website. Therefore, the onboarding process has to be as smooth, short, and simple to encourage users to purchase.
For example, you can provide users with all the information they need to navigate through your website, use product filters, and identify their required items.
In addition, if your website requires signing up, such a process has to be quick and simple so shoppers don't get frustrated and leave.
A smooth onboarding process will encourage new shoppers to place orders. Additionally, there is going to be a high chance to return for future purchases, thus, increasing CLV.
13- Create Social Proof
By increasing CLTV, you are making sure that customers return back for future purchases. There is no better way to encourage customers to return than showing them real shoppers doing the same thing.
A little bit lost? Let us make this more clear.
To increase customer lifetime value in your e-commerce, you have to highlight how other customers are using your products and are satisfied with them. This can be done through showcasing customers' feedback and testimonials.
Accordingly, you create social proof, a psychological phenomenon through which customers tend to imitate others and seek confirmation.
Through social proof, customers are more convinced to get your products as they are already trusted by others.
Social proof can be created through plenty of practices like showing shoppers' ratings, feedback, reviews, or best-selling products.
14- Provide An Excellent Post Purchase Service
Realizing that the relationship with customers does not stop at the point of purchase is necessary to increase customer lifetime value in e-commerce.
Building a connection with customers through excellent post-purchase service will guarantee the return of buyers to your online store for repeated purchases. A clear and smooth exchange and return policy is crucial to your online store.
96% of surveyed US customers argued they would repeat purchasing from an online store if the return process was easy (Shippypro,2023).
Accordingly, engage with your previous shoppers through emails and messages. Also, share with them relevant content to stay on top of their minds.
15- Rely On Omnichannel Marketing
The e-commerce landscape is currently more connected than ever. Therefore, using an omnichannel approach should never be neglected.
Omnichannel marketing involves delivering a consistent message across all of your online and offline channels.
Nowadays, online shoppers might be scrolling through their social media accounts on their mobiles while checking their emails on their laptops.
Therefore, you have to be present across all platforms and deliver a consistent message to appeal to the dynamics of online shoppers and encourage them to keep on purchasing.
Online shoppers don't believe in the boundaries between channels; hence, you should be like them too.
Let's Increase Your Customer Lifetime Value
Now you are all set with 15 strategies to increase your customer lifetime value in e-commerce. CLTV guarantees the consistent growth of your e-commerce.
So, there are no excuses. Just start implementing our recommended strategies and witness the magic.
By using the strategies mentioned above, you can increase customer loyalty, boost customer retention rates, and ultimately increase your LTV. So get started today and see the difference it makes for your business!