How to Take Advantage of Instagram Shopping For Your E-commerce
Now is the time to fulfill your dream of starting your online shop for your e-commerce business. It is now easier than ever to begin selling your products online, reach more customers, get more sales, and have the exposure you need for your e-commerce business.
Are you thinking about how to do all of that?
Instagram shopping is one way to maximize your brand awareness and your e-commerce revenue! Instagram now lets users, shoppers, and businesses have a full shopping experience without leaving the app. Moreover, in some countries, such as the U.S., users can complete a full shopping transaction without leaving the app.
With more than 800,000 shoppers on Instagram every month, your e-commerce business has a tremendous chance of getting noticed and improving its sales. If your e-commerce is not on Instagram yet, get started now.
Table of Contents:
In this article, you have everything you need to know about Instagram Shopping to boost your e-commerce sales.
What is Instagram Shopping?
Being a free online application, Instagram is one of the most popular social media applications ranking number 4 worldwide. With the evolution and super-fast development happening in technology and because everything is now becoming online, Instagram has presented a shopping tab for individuals and businesses.

It is considered one way for shoppers and users to discover new brands and products through posts, videos, and stories.
Get to know how to set up your e-commerce shop on Instagram to boost your product sales.
How to Set up your Instagram and Facebook Shop For E-commerce
Let your audience know your brand name, visit your online shop and purchase your products. Before you start, your e-commerce business has to meet specific requirements to set up Instagram Shopping. Start your online shop now:
1- Switch to an Instagram business account and get Instagram approval on setting up your shop after meeting all the requirements.
2- Go to the Create your shop page:
If you're already selling your products on any online platform, you can create your Instagram/Facebook shop by importing and syncing your products by clicking "sync a partner platform" to complete your setup.
3- Choose your desired method of the three checkout methods.
4- Choose your Facebook page or create one if you want to sell on it. Or, if you're going to sell on Instagram, select your Instagram business account.
5- Pick your Meta Business Manager account or create a new one.
6- Select the product catalog you want to use for your shop. However, make sure it meets catalog eligibility requirements for shops. You can't change this catalog later.
Bear in mind that you won't see that step if you don't have one; hence, one is created automatically in the Commerce Manager called "Items for (name and ID of your Page)". You can add your products later on.
7- Take a look, review, and agree to the Seller Agreement and finalize.
Now that your shop is created, start doing the following:
Manage your catalog by adding the products you want your audience to purchase. All your products are included in your shop by default from your product catalog. However, you can manage and change which items appear.
Create your collection, a set of the products you want to feature in your shop.
Create the look and feel that will aesthetically please your shoppers.
Publish your Instagram/Facebook shop and grab the attention of your audience

.
Is Instagram Shopping Effective for E-commerce?
Grow your e-commerce website by 1,416% and your revenue by 20%!
According to BigCommerce research on 50 brands, Instagram Shopping increased website traffic for these brands by nearly 1,416%. Remember that 60% of people said they discovered new products through Instagram.
On the other side, Instagram clearly states that they're prioritizing online shops for e-commerce. This shows by prioritizing the shop icon to be at the bottom of the screen to make it as easy and accessible as possible for shoppers.
10 Benefits of Instagram Shopping for E-commerce
Attract your current and potential consumers with eye-catching pictures and videos for your products and enjoy the endless benefits of Instagram Shopping:
1- Increase the chances of people discovering your products as 70% of shoppers turn to Instagram as products are easily discoverable with the tags option.
2- It's an ideal option for visual marketing
3- You can create an easy alluring shopping experience with real-time and pre-made content.
4- Have a full shopping experience without leaving Instagram, which is the perfect situation for millennials nowadays.
5- Get valuable insights and know how your e-commerce sales are performing.
6- Easier communication with your audience and potential clients, as they can contact you directly through messages or any other preferred way. Let them ask you questions, track deliveries, and more. Build stronger relations with them.
7- Instagram shopping allows your e-commerce business to meet customers where they are and when it is convenient for them and encourages them to take action.
8- Drive way more traffic to your website or app.
9- The usage of Discovery Feeds and Instagram Explore helps you find the exact targeted people for your e-commerce brand and products, as well as allows shoppers to find relatable content and the exact shopping items they are searching for.
10- Savor the perks of Facebook Pay. Facebook pay grants consumers to set up their favored payment method for Instagram only or across all Meta products, where applicable. This will let transactions be way smoother for both your e-commerce business as well as your shoppers and will relieve stress on your personal customer support.
Last but not least, Instagram is a perfect place for small businesses and startups with its user-friendly interface and creative tools.
The Latest & Best Instagram Shopping Strategies and practices For E-commerce
Grow your e-commerce business and drive more sales by using the trendiest Instagram shopping strategies and best practices:
1- Set up your online shop
The first step in maximizing your e-commerce sales through Instagram shopping is to create your product catalog. Product catalogs enclose all your products' information that influences your shop along with Product Detail Pages on Instagram.
2- Start adding your products
Your product catalog should include all the information related to each and every product you want to sell on Instagram.
3- Use one Catalog
Add all your products into one catalog on Instagram and Facebook shop, if you have a shop on both platforms.
4- Update your product catalog regularly
You need to update all your product details with their pricing, name, description, category, and availability, removing any out-of-stock items. Manage your catalog in the right way.
5- Include alluring images and videos
Write catchy descriptions for your products, adding at least three product features such as color, size, material, or price. Moreover, add at least four high-resolution captivating images with vivid attractive colors.
6- Use product tags to help your target audience find you easily
Using product tags or shopping tags on your videos, posts, or stories aid you in highlighting items from your product catalog. Hence, people can click on the tag and know the information you are providing about your products.
Tagging your products will let them appear directly in the Instagram Shop Tab, where they have a better chance of being viewed by shoppers. Product tags can be used on your feed, stories, reels, mentions, videos, and Instagram live.
Let your e-commerce business boom by using tags in multiple formats.
Learn more about Live Shopping For E-commerce
7- Usage of Stories with product tags for e-commerce
Stories are a great way to drive more traffic to your e-commerce store and boost your sales. Moreover, if you have the swipe-up feature, that would be a great option to use.
According to Instagram research, 58% percent of people said they've become more interested in a brand or product after seeing it in Stories. Adding your products and content to your story highlights can be a great way for new visitors to learn more about your offerings and maybe purchase a product from the first time they visit your profile.
8- Usage of videos with product tags for e-commerce
Share videos that your audience will like along with your product tags. Shoot behind the scenes videos and how-to videos. Show how people can use your products or answer the most frequently asked questions.
9- Add Alt Text to your Instagram posts
Alt text is a short sentence used to identify images, typically on web pages. It is mainly used to help the visually impaired. However, as social media evolves, alt text can now be added to your Instagram posts as well, which will also let you rank better in search engines. Hence, you should try to include it in your marketing strategy, whether on your website or on social media. This is how you add alt text to your Instagram product posts:
8- Reach new and potential customers by
creating ads
with product tags
Convert your profile to a creator account to be able to use product tags. Using product tags will enhance the chance of your target audience finding and viewing your products which consequently will result in driving more sales.
Discover How To Turn Instagram Ads Into Sales
9- Use Checkout on Instagram, if your business is in the US
Letting your shoppers add to their cart directly while they are scrolling down on Instagram is an ideal way to ease their shopping and purchasing process and make it way more enjoyable. One of the perks of using checkout on Instagram is to reduce costs for e-commerce businesses.
10- Launch your new products on Instagram
You have the ability to let people know you are launching a new product soon, count down for it, and tease with the right media.
11- Shopping Partner Permissions using Influencer marketing
Influencers can be a great pathway to your audience. Partner up with the right influencer to tag your products or use links to your e-commerce shops to increase your reach.
12- Live shopping is soon to be on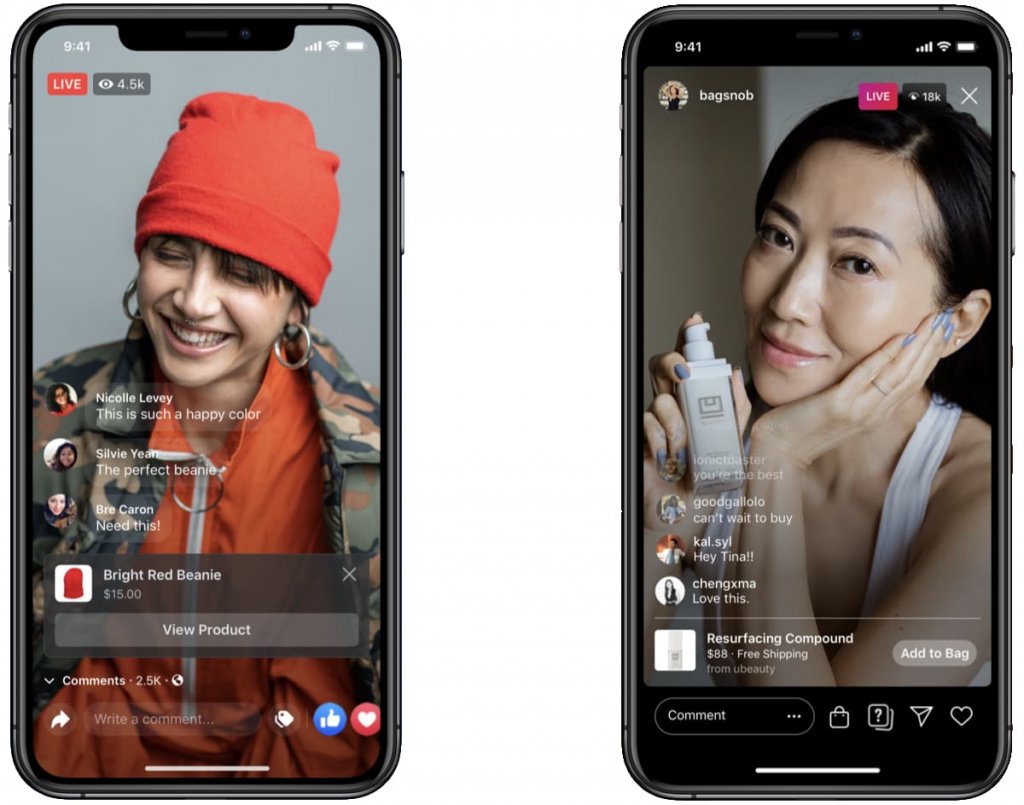 All checkout-enabled businesses will be able to sell products through Instagram live in real time. This is a whole new experience for shoppers and businesses that will surely facilitate the buying journey of the clients and reduce the effort and costs for the e-commerce business.
13- Measure your results with Instagram Insights
E-commerce businesses can measure results in a better way with new Instagram Shops insights in Commerce Manager.
The Best Tool For Automating All Your E-commerce Business Marketing
Forget the hassle of taking care of the smallest detail in your e-commerce business, starting from the smallest task to your clients' purchasing. Convertedin is the go-to place for all e-commerce businesses and the most powerful tool to scale your business. Now you can easily automate your Instagram ads, build your Instagram shop, attract the right customers, maximize your sales, drive traffic to your website, and know the precise insights to guide your business plan.
Ready to level up your e-commerce marketing plan?