Instagram Stories Ads For E-commerce: How To Get The Maximum ROI
44% higher reach, 78% more clicks, and 45% lower cost per click (CPC)
That's what Instagram story ads can do to your e-commerce business.
With one billion monthly active users, Instagram is becoming an extremely powerful marketing tool for e-commerce businesses all over the globe. With the great development in social media marketing, Instagram is becoming one with great sales potential for eCommerce businesses.
Did you know that 70% of Instagram users use this platform for product discovery? Moreover, can you imagine that 25 million businesses showcase and advertise their products on Instagram?
Instagram is a must-include in your marketing strategy and to be more detailed, Instagram stories feature is one thing you can not let go off! According to Business Instagram, 50% of businesses publish at least one Instagram story a month. If you want to boost your e-commerce sales and drive more traffic via using Instagram stories, proceed on with this article.
Table of Contents
Instagram Stories & What's Behind It?
In 2013 Snapchat was the first to launch its "My Story" feature. After gaining huge popularity among the youth, Instagram created a similar feature that allows you to share as many images or videos of your day as you want, with no limit to the number of stories you can share bearing in mind that it will disappear after 24 hours.
After Instagram created this feature, time spent on Instagram grew from 15 minutes to 32 minutes per day. Instagram has three areas where you can advertise your products: Stories, Feed, and Explore.
Nowadays, Instagram Stories has over 500 million daily active users using the stories feature daily, which means that it has exceeded Snapchat's Stories by 2.5x more users.
Instagram Story Ads For E-commerce: The Perfect Know-how
Did you know Instagram stories are consumed by more than 500 million people, and 1/3 of the most-viewed Stories are generated from brands.
Stories ads have no time limit, you can keep them running for as long as you want and optimize them to meet your exact e-commerce business objectives.
To create an Instagram story ad, you would need your ads manager along with the following steps:
1- Open Ads Manager and choose from guided creation or quick creation to create an ad. Press on create.
2- Choose your goal, whether it is Brand Awareness, Reach, Video Views, Conversions, App Installs, Lead Generation, or Traffic objective.
3- After filling in the details, press on automatic placements or edit placements in the placements section.
4- Set your ad's budget and schedule.
5- Choose your preferred ad format whether it is a single image, single video, or Carousel. Check all the requirements from here.
6- Follow the remaining steps to finish building your ad campaign. When you're done, click confirm.
Benefits of Instagram Stories Ads For Your E-commerce
Besides driving more sales from your Instagram stories, here are a bunch of extra benefits that can boost your e-commerce:
1- Increase Your E-commerce Brand Awareness
Instagram is crucial for your e-commerce brand visibility, exposure, and awareness. It works perfectly for startups as well as big businesses. You can still use Instagram even with our sales to generate sales organically. Additionally, awareness and exposure is the thing that leads directly to sales later on. Instagram ads can lead to global and local reach. Instagram is a great way to reach potential customers.
2- Boost More Sales and Leads For E-commerce
Instagram story ads can work perfectly for your e-commerce brand to let your customers directly purchase products without leaving Instagram. Or you can also use it to generate more traffic to your website by adding the link to your story ad. Use call to action buttons to help direct the audience to take the action you want them to take.
3- Perfect For Business Starters
To use or create Instagram Ads, you don't need to have any technical skills. It doesn't have any complex features, hence, it is more than perfect to start with in advertising your e-commerce on social media.
4- Advanced Targeting Options
Meta (Facebook) now owns Instagram as well, and so it enables Instagram Ads to access the same advanced targeting options. Hence, you can reach your audience based on their location, behavior, interests, and age which is quite similar to Facebook ads. Moreover, you can still access features like retargeting the audience that has previously seen your brand. in addition to the ability to customize your audience by setting up your Facebook Pixel so that your products can be in link with your e-commerce website.
5- Track Your Instagram Story Ad Results
This is essential to be able to measure your ROI and know how your campaign is performing and if you should change any part of it. Track your performance to know what your audience likes and doesn't like. You can also check CPC on any campaign you've run, including link clicks to lead to conversions.
Things To Keep in Mind While Using Instagram Stories Ads For E-commerce
Instagram story ad format can be a video, a photo, or a

carousel

.
Stories support all dimensions of feed photo and video (anywhere from 1:91 to 4:5). However, it is best advised to use the 9:16 ratio to fit the full-screen, vertical format of Stories.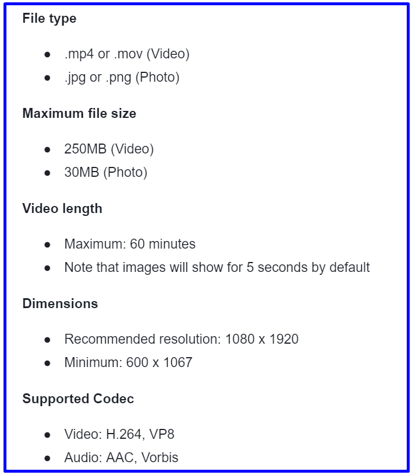 It is recommended to use mp4 or .mov for video ads, and .jpg or .png file type for photo ads. Also for the sizes, you should use 4GB file size for videos and 30MG file size for a photo.
The maximum time limit for a video ad in stories is 120 seconds. For a photo ad, the time default is five seconds.
To get the best result, the resolution should be 1080 x 1920, with a minimum dimension of 600 x 1067.
As for the budget, you have total control over the budget you want to allocate for your e-commerce Instagram story ads. Set a planned budget based on your e-commerce business daily budget, or the total cost you're willing to spend during your campaign.
The most ideal Instagram Stories ads are ones that look and feel like normal stories and not ads. Ones that customers can relate to and get influenced by just like their friends' and family's stories.
Instagram has the

second-highest performing platform

among marketers.
Instagram video ads in stories get 21.2% more interactions than images and 18.6% more interactions than carousels.
Instagram Stories Ads: The Best Practices to Generate More Sales For Your E-commerce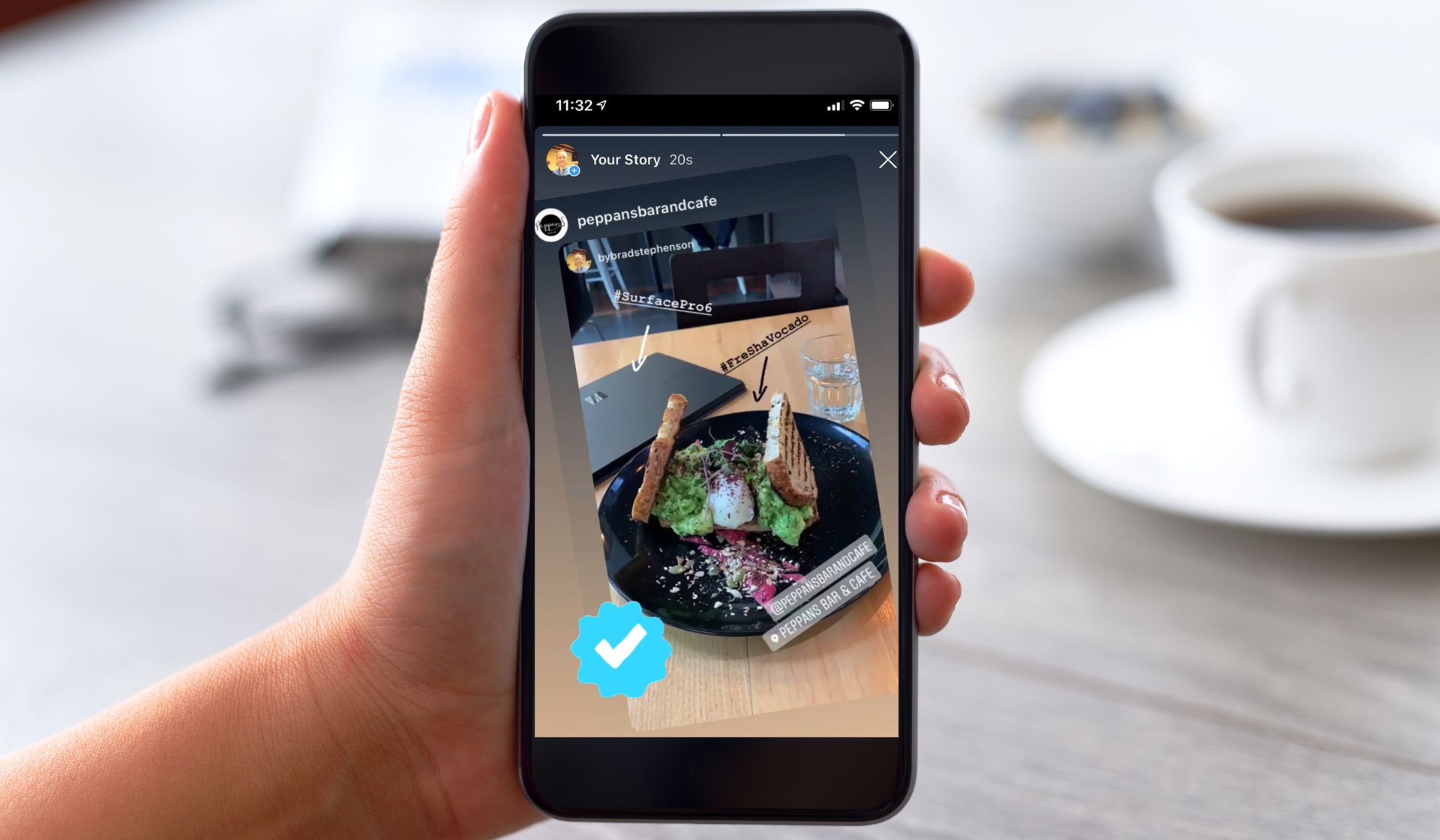 Instagram Stories are so inspirational, influential, and powerful for e-commerce. They can boost your engagement as well as humanize your brand. The more relevant, eye-catching, and authentic your stories are, the more sales and exposure they can drive. Here are some easy and applicable ways to practice to generate way more sales for your e-commerce through Instagram stories:
1- Use Stories For Your E-commerce Product Launches
Your loyal customers as well as your potential ones are always looking for new, interesting, and relevant products from alluring brands they love. Launching new products is a great method to drive more traffic and sales to your e-commerce. You can start teasing people about your products early enough to build anticipation and thrill!
Generate a unique hashtag and start using it in your teasers and during your launch. Maybe you can also give special promotions for newbies or first ones who will purchase your new product.
It would be an excellent thing to post the announcement and then share it with your stories with engaging stickers, music, and hashtag, exactly like what H&M did.
2- Use product tags and clickable links in Your Stories ads
Using product tags, a swipe-up button if you have more than 10K, and clickable links that lead to your product catalog page or website can be great tools in your Instagram stories ads to boost your traffic and instant e-commerce sales.
3- Advertise user-generated content
92% of consumers trust word of mouth, also customers get influenced by brands their friends choose. Hence, it's about time you encouraged your loyal consumers to share photos with your products and reviews to be shared.
4- Feature customer reviews
82% of people read online reviews before buying from a brand. Why? Reading authentic reviews gives potential customers an opportunity to understand whether your product can fit their needs and wants.
5- Use the Instagram stories analytics
After making sure that your account is a professional or business account, you can access Instagram analytics on your story to better know how your content is performing.
Number of Instagram users your story has reached
Number of persons who interacted with your Story (i.e., tap next, finish the story, go back, tap a sticker, exit)
Number of Instagram story views you received
Number of people who followed you after viewing that Story
6-

Improve Instagram Shopping Experience
Generate more sales via Instagram stories by taking good care of your shopping experience. Customer experience is extremely important for consumers to trust and love your brand. Instagram shopping is one great way to boost your sales and share your product descriptions, and link to your Instagram stories ads.
7- Give the consumer enough information & satisfying products descriptions
Use your 15-second limit of the Instagram story in the smartest way by writing the right and efficient details for your products that will let your consumers press on the ad. Giving sufficient information is one great way to generate more sales for your e-commerce. According to one report, missing or unclear product information leads to 20% of purchase failures.
8- Add product stickers to your Instagram story ads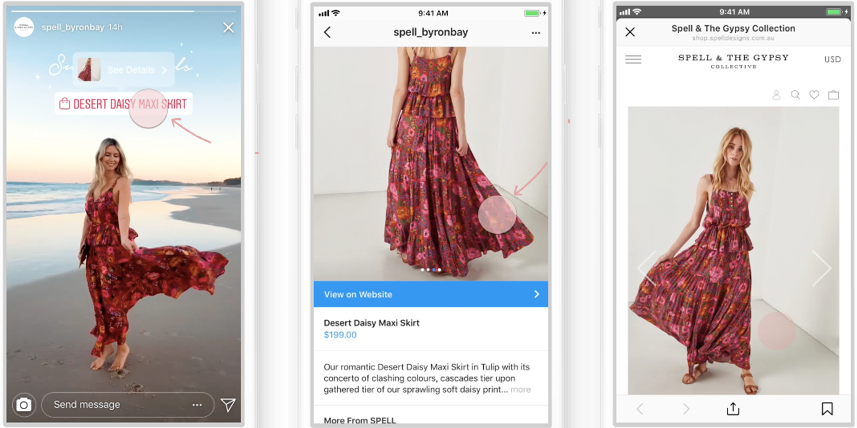 Did you know that 130 million people click on product stickers monthly?
Product stickers are clickable, they lead your customers to view your product descriptions or product pages, or your website.
This method is considered as a great engaging one to drive sales to your e-commerce. It helps people learn more about your products and prices which will lead to having a better customer experience.
9- Create and Group Your Products in Highlights
With the Instagram Highlights feature, Businesses can save, group, and make the best stories stay forever. Appearing under your bio section is one smart way of letting people check and purchase your products as soon as they open your profile.
Check out what Sephora did with their Highlights:
10- Give the consumer enough information & satisfying products' descriptions
Use your 15-second limit of Instagram story in the smartest way by writing the right and efficient details for your products that will let your consumers press on the ad. Giving sufficient information is one great way to generate more sales for your e-commerce. According to one report, missing or having unclear product information leads to 20% of purchase failures.
Discover:

10 Best Instagram Ad Examples for Ecommerce Will Inspire you
Automate Your Instagram Story Ads with One Click
Get all what you need, with only one click with Convertedin. Convertedin allows you to have a full marketing operating system for e-commerce. Target the right customers, engage shoppers, and save time with ready-made automation templates.

Boost and maximize your sales on Instagram with personalized ads. No need to filter and analyze customer segments on your own anymore. Convertedin will do it all for you. No need to worry. Request your demo now and savor the best results and maximum ROI for your e-commerce on your Instagram story ads.