8 Marketing Automation Trends You Need to know
By
Nada Sobhi
·
10 minute read
The world is making major shifts in the areas of retail, marketing, and digital transformation and information.
E-commerce businesses are constantly looking for ways to engage their customers, appeal to them, while also trying to save time and money, which brings to the forefront the idea of marketing automation.
In the past few years, artificial intelligence (AI) has been gaining headway and making strides in sales and marketing.
A growing convenience, marketing automation has been one of those AI-powered opportunities that businesses in general and e-commerce brands specifically have been making major use of.
Businesses across the globe are using automation as a means of coping with the fast-paced growth and changing consumer trends and behavior.
That's why, in this article, we're going to focus on the marketing automation trends that are shaping 2021 and the years to come.
What is marketing automation?
Marketing automation is using software to automate your marketing activities. This can include automating things like your social media posts and scheduling, email marketing, ads, analytics, among other things.
Companies use marketing automation for various reasons. The top three are:
Saving time
Efficiency
Being able to offer a personalized experience
It's important to note though that marketing automation isn't just about tools you use, but rather it's about creating an opportunity to build a stronger relationship with your customers.
"With good marketing automation, it's easier to nurture leads (the seedlings) well enough to produce paying customers (a lush, full-grown plant)," explains HubSpot.
It's worth mentioning that when we're talking about marketing automation, we're also talking about the broader e-commerce automation.
Types of marketing automation
There are several types of automation opportunities that fall under the bigger marketing automation umbrella.
These are:
Social media automation
Ads automation
CRM automation
Landing page automation
Marketing analytics automation
Sales automation
Mobile marketing automation
Let's tackle each of these in brief.
Social media automation
Possibly one of the most widely-used forms of automation is social media automation. These tools help marketers create calendars and schedule posts across various social media platforms.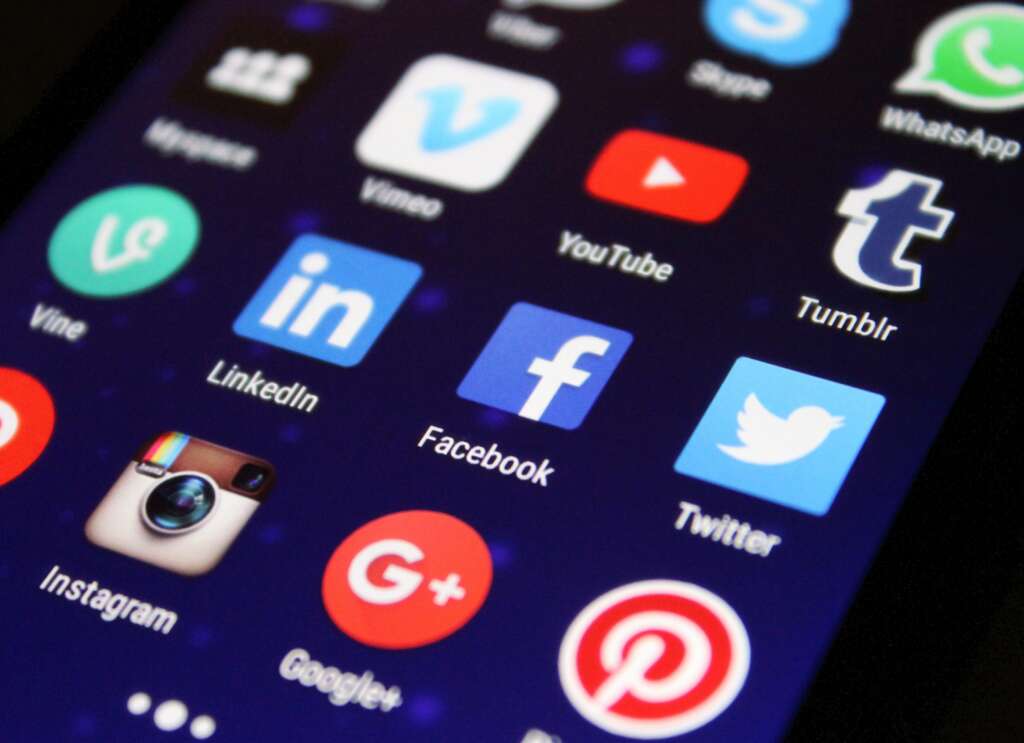 Social media automation tools include: Sprout Social, HubSpot, Hootsuite, Buffer, among others.
E-mail automation
To create e-mail campaigns for your customers or for lead generation purposes, you'll need an email marketing tool.
These tools allow you to measure and understand various aspects in your email campaign including: open rate, click-through-rate (CTR), email opt-in rate, among other metrics.
Email automation tools help you create personalized emails with fun images and without having to struggle with any coding.
Discover the 47 e-commerce vocabulary including e-mail marketing-related terms via Convertedin
Some email marketing automation tools include: MailChimp, Zapier, ActiveCampaign, Get Response, HubSpot, among others.
Marketing analytics automation
Not only can you automate your marketing process but also the process of generating marketing-related analytics.
Marketing analytics involve data and reporting, allowing marketers to view statistics and data easily without having to sift through tons of excel sheets or various data end-points.
Automating your marketing analytics can help you track various aspects of your overall marketing strategy. This may include your email campaigns, social media, blog posts, ads, among options.
Marketing analytics automation tools include: SharpSpring.
Sales automation
Did you know that sales people rely on automation tools too?
According to data by McKinsey, over 30% of sales-related activities can be automated.
"Sales automation holds the potential to reduce the cost of sales by freeing up time spent on administration and reporting and to unlock additional revenue by automating outreach to customers in the sales funnel," says McKinsey in its Sales Automation report.
It adds that many sales executives and decision-makers aren't taking advantage of sales automation opportunities.
In the same vein, Hinge Research reports that companies that use a high-level of automation in their sales processes enjoy 16% more leads than those who use low-level automation or don't use automation at all.
Data from HubSpot's Sales Enablement Report shows that 61% of businesses who used sales automation tools were able to exceed their revenue targets in 2020.
Ads automation
Ad campaign automation or ads automation tools help you automate your ad-creation process, saving you time, and helping you create more ads, fast.
Convertedin is an ads automation software that helps e-commerce businesses segment their customers and users and create ads on autopilot to attract and retain customers.
Find out how you can Create a Customer Segmentation Strategy and Boost Your Sales
And as a customer ads platform, Convertedin helps online businesses divide their customers into segments so they can target them with better and more focused ads.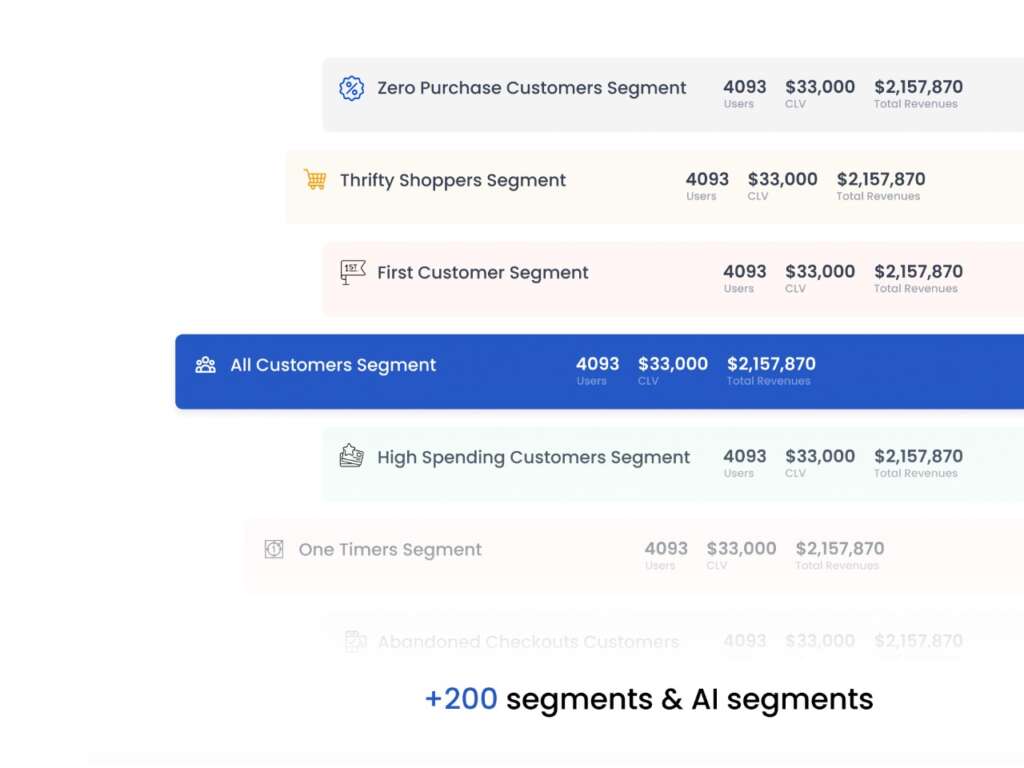 CRM automation
The automation type gives you the ability to automate your client relationship management (CRM) process.
A CRM provides customer data via a dashboard allowing marketing executives and teams to access the information, including emails, phone numbers, locations, and other data, and use it in their campaigns.
CRM programs enable marketers to see where their leads are in the sales funnel, helping them convert those potential customers.
Using a CRM automation platform helps teams communicate with customers and track their interactions.
Landing page automation
As a marketer, you've probably had to create a landing page at some point. While the process can be difficult with multiple people or departments taking part in creating your landing page, there are tools that can help you create such a page in minutes. The simple kind at least.
Landing pages help businesses attract customers and increase their conversion rates.
Automation software for landing pages allows marketers to create landing pages using pre-made templates and layouts with customizable call-to-actions, without the hassle of coding.
Mobile marketing automation
With more people relying on their mobile phones every day and with many using it as a laptop or desktop alternative, mobile marketing automation tools offer a good opportunity for e-commerce businesses.
Because business owners, marketing and sales executives, along with many working people use their mobile phones to conclude business.
"Mobile marketing automation takes the capabilities of traditional marketing automation and applies them to the mobile era," explains Salesforce.
Features for mobile marketing automation include "personalized, real-time messaging, analytics and A/B testing of content, [and] integration with apps and other data sources coming from the user's mobile device," according to Salesforce.
How marketing automation helps businesses
To understand how this type of automation works and how it helps business owners and marketing and operations managers, let's look at some statistics.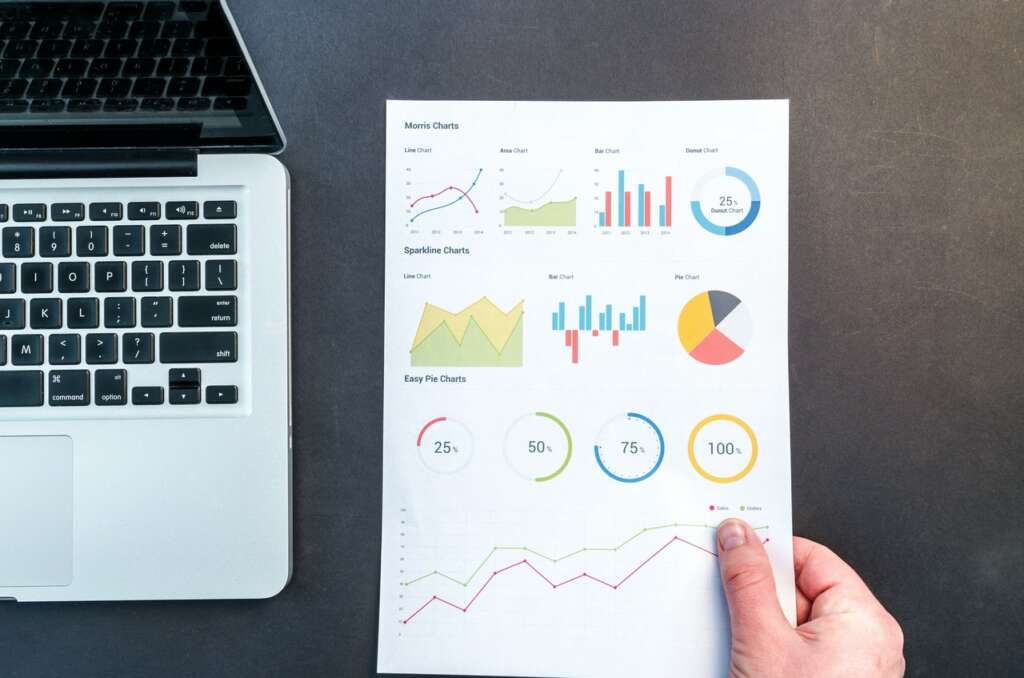 A 2018 Forrester report expects global spending on marketing automation tools to exceed $25 billion by 2023, registering an annual growth rate of 14%.
The Forrester report titled Marketing Automation Technology Forecast 2017 to 2023 covered 6 marketing automation categories, namely: cross-channel campaign management software, content marketing platforms, lead-to-revenue management automation platforms, marketing resource management software, real-time interaction management solutions, and through-channel marketing automation platforms.
Email marketing automation is considered one of the top 3 tactics email marketers use to measure and improve the performance of their email campaigns. In addition, roughly 20% of marketers are automating their email campaigns. (HubSpot State of Marketing Survey 2020)
More marketing agencies are using and investing in marketing automation software including email and social media automation software. (MarketingProfs, 2019).
Around 60% of businesses were found to have used some form of automation. (HubSpot State of Marketing Survey 2020)
Marketing automation can increase sales productivity by 14.5% and reduce marketing overhead fees by 12.2%. (Nucleus Research)
Around 63% of survey respondents were able to 'set measurable objectives' for their campaigns using marketing automation. (Gleanster)
Roughly 92% of B2B marketers now have an [Account-Based Marketing (ABM)] program, and 68% of them use automation. (Salesforce, 2020)
Marketing automation trends
So what are the marketing automation trends that e-commerce businesses and marketers should be aware of for 2021 and beyond?
1. Personalization is the future
You've probably heard this before: customers love personalization.
So it's no surprise that personalization is among the top marketing automation trends for years to come.
Using customer data, brands can personalize their interactions with customers, their emails, even their ads.
For example, if you're using Convertedin to automate your ads creation process, you'll be able to personalize your ads so that your segmented customers get ads for products that are relevant to their buying habits.
Similarly, if you're using email automation software, you can address the customer by name and send them offers, discounts, and content based on their preferences.
"Organizations spend millions of marketing dollars every year on acquiring customer data from first, second, and third-party sources with a single aim of achieving personalization," notes Toolbox.com.
Marketers believe that personalization is the future of marketing campaigns, it adds.
Personalization in 2021 shouldn't rely on cookies and third-party data. It shouldn't be just "merchandising or guesswork," notes Richard Jones, CMO at Cheetah Digital in a post via Total Retail.
"This new generation of personalization will unlock the power of first- and zero-party data through machine learning. It will help retailers provide a value exchange in the moment with consumers right on their mobile app, website or in-store," he adds.
2. Better alignment between sales and marketing
To enjoy strong revenues, your sales and marketing teams need to be on the same page. By using marketing automation tools, you can create this alignment and improve the flow between your two departments.
How? Using automation tools, sales and marketing teams can "trigger sales flows based on marketing efforts and the steps a lead takes. With automation, both teams will be able to attribute what marketing efforts led to sales accurately," explains ToolBox.com.
3. Email is still big
As a form of marketing automation, e-mail marketing will continue to help e-commerce businesses drive more engagement and sales.
An early 2020 joint study by Cheetah Digital and E-consultancy about consumer behavior found that 3 out of 4 people in the US made a purchase from an email they received.
Moreover, email marketing helped increase sales by 180% compared to display ads, the survey showed.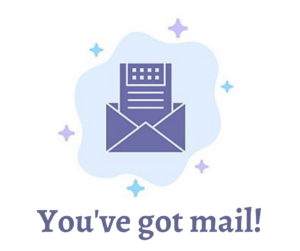 With billions of emails sent daily, there's a massive opportunity for email marketing.
Data by Statista shows that in 2020, around 293.6 billion emails were sent and received each day. This number is expected to surge to 347.3 billion emails per day by 2022 and to 376.4 billion by 2025.
These figures put email marketing among the top marketing automation trends on this list.
4. Customer experience to grow on AI-powered conversational marketing
Conversational marketing has been a marketing trend for some time. Primarily in the content marketing field.
But that's not the only are where it's used. Especially where AI is involved.
In the coming years, AI will play a major role in various marketing automation trends.
One of those trends is the rise in voice search among customers.
Around "91% of organizations plan to deploy voice and other AI-powered technologies such as chatbots to provide an effortless experience to consumers by 2022," notes Toolbox.com, citing data by Gartner.
This brings to the forefront the fact that chats, boosted by AI-powered conversational chatbots, are one of the many marketing automation opportunities brands are using to enhance customer experience and drive sales.
The way chatbots operate has improved significantly in recent years. In fact, it's becoming harder for people to determine whether they're talking to a chatbot or a real person.
Chatbots are now able to "gather customer data for future marketing efforts [and] help businesses reach their sales goals," notes Chad Ruff, CTO at marketing automation platform Act in a post via Total Retail.
He adds that chatbots offer customers instant replies to their questions and are able "to send links to purchase or transfer the customer to a live associate if needed."
That's why, ranking among our marketing automation trends, is conversational marketing through AI-powered chatbots.
5. AI to help businesses save time, connect more
With AI-powered marketing automation tools businesses can save time and money. This will allow them to focus more on other parts of their marketing and sales funnels.
This, in turn, will result in higher demand for marketing and other automation tools.
"There is a desire for automation and the use of AI to save time and money across all generations and use cases, however Generation Z (those born between 1995 and 2009) is the most amenable to using these technologies to make their lives easier," notes Gartner in a report.
By 2030, the largest customer base will be formed of Generation Z. This, Gartner expects, "will lead in the use of customer-directed automation technologies to obtain support and value from the organizations they choose to interact with."
"Marketing automation not only provides important opportunities for interaction with the customer, but it can also save time. It's no secret that time is a valuable resource, and that's especially true when running a small business. Time saved on marketing means being able to capture new business and have more time to commit to other vital tasks." – Chad Ruff, CTO at ACT.
6. Loyalty marketing gains traction
Customer loyalty programs have been around for years but they're expected to gain heavier traction in 2021 and beyond.
This comes amid shifts in customer behavior and a growing need and opportunity for personalization, making these programs among our marketing automation trends and opportunities.
Attracting a new customer is 5 to 25 times more expensive than retaining a current customer. That's why businesses in 2021 will focus on getting more revenue from their existing and loyal customers.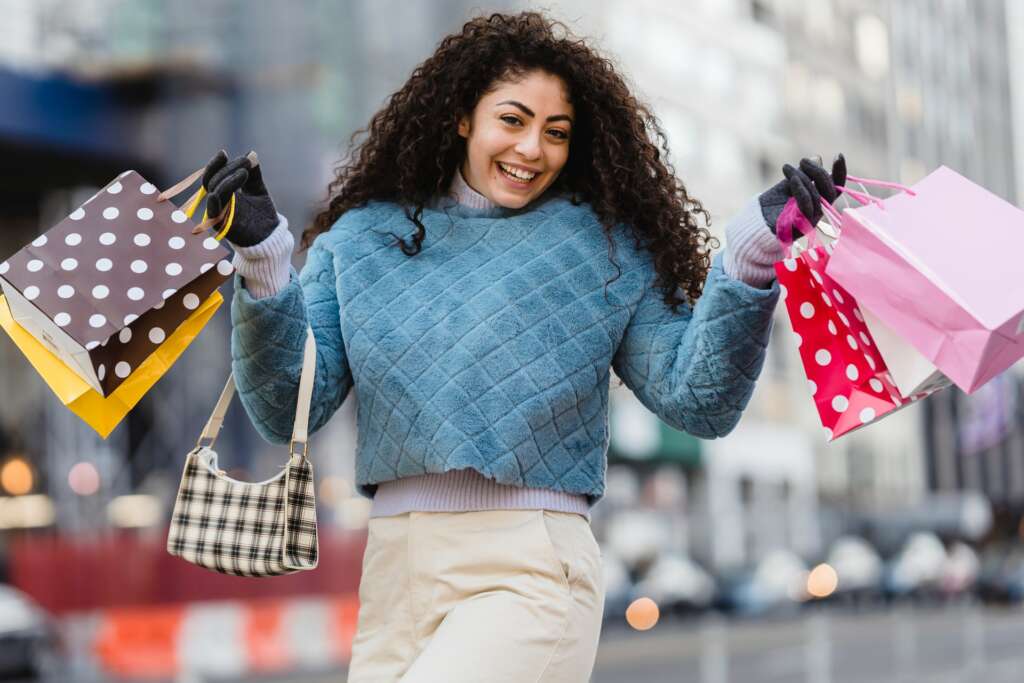 Using loyalty apps, businesses can create loyalty programs, automate their operation, and then use them to grow their customer base and retain customers.
There are many industries where loyalty programs can support a business, allowing for personalization, customer loyalty, and higher revenues.
7. More marketing automation via mobile phones
Website traffic coming from mobile phones has been growing in the past few years. This means that mobile marketing and automation for it will continue to be a marketing automation trend for the foreseeable future.
Traffic via mobile accounts currently makes up "approximately half of web traffic worldwide," according to data by Statista. In the first quarter of 2021, web traffic coming from mobile devices (excluding tablets) reached 54.8%.
The figure has been "consistently hovering around the 50% mark since the beginning of 2017," Statista adds.
This means e-commerce brands have a bigger opportunity to reach their customers via mobile phones using push notifications or triggered pop-ups, SMS, and accelerated mobile pages (AMPs).
All of these options fall under marketing automation because they can be easily automated either internally or using third-party apps.
It's also why marketers now need to focus on creating a mobile-first approach and strategy to engage their customers, retain them, and offer more mobile-based personalized experiences.
"By understanding user behavior, marketers can optimize their mobile strategies and deliver automated content," notes Toolbox.com.
8. Understanding customers through AI and machine learning
AI and machine learning (ML) are two benefits in almost every CRM tool now. However, it's important to note that they play a major role in helping businesses better understand their customers and their behaviors.
By using AI and ML, brands can see what kind of digital channels (social media, emails, mobile) their customers are using. They can then use those same channels to deliver content to these customers.
They'll also help them understand the customer journey better and improve engagement and conversion between the brand and its customers.
Convertedin as your marketing automation tool
As an e-commerce business, part if your marketing strategy is to constantly create and run social media ads.
This is often a time-consuming and headache-inducing process, especially if your marketing team is just one person or a single media buyer. Or if you're doing everything yourself.
But it doesn't have to be this way. You can automate the ads creation process and save tons of time and money.
How? By using Convertedin.
Convertedin is a marketing automation tool that segments your customers and then creates ads for them – automatically.
For example, if you're running Facebook ads for your audience, you can upload your custom audience to Convertedin and watch the platform create lookalike audiences for them.
If you have the Facebook Pixel installed in your website and a Facebook product catalog, Convertedin can create dynamic audiences and dynamic ads for your store in a matter of minutes.
For more information, visit Convertedin's Ads Automation Guide.
Next steps
By now, it should be clear that marketing automation trends don't just focus on marketing but encompass sales, customer experience, and more.
As the worlds of e-commerce and marketing grow and evolve, so will the many opportunities for AI and automation.
As a business owner, marketer, or marketing and operations manager, staying ahead of the e-commerce game and the market will help you stand out. But that's not all you want.
You want to constantly build connections with customers and retain them so they buy more from you. This means personalization, email, loyalty, and relatable effective ads should be in your arsenal.
Stay on top of these marketing automation trends by personalizing the ad experience with Convertedin. Register for your 14-day free trial.