Omnichannel E-commerce: What Is It? Advantages and Disadvantages
Due to the explosive growth in internet communication across different countries from all over the globe, the ways by which consumers (customers) interact with online businesses as significantly changed. As we all know, individuals' preferences for different products are not the same when making buying decisions.

The drastic shift in consumers buying behaviors makes it more difficult for brands to adopt the "one-fits-for-all" strategy. To function effectively as an online seller, you must embrace the eCommerce omnichannel marketing approach.
Table of content:
e-commerce Omnichannel marketing has now become the latest trend to help online sellers. This concept encourages buying relationships and enables entrepreneurs to increase sales. Therefore, the main focus of all e-commerce firms should be centered on how to create an effective omnichannel strategy.

By utilizing the benefits of multiple marketing channels, you can unlock buyers who would otherwise be unreachable, thereby increasing sales, customer reach, and brand awareness.
So what exactly is omnichannel marketing? And what makes it essential to businesses and brands around the globe? To know more, let's explore this essential guide together.
What Is Omnichannel For
eCommerce?
To be successful in an omnichannel sales approach, you must provide a seamless experience for your customers across the touchpoints you may decide to market through. eCommerce Omnichannel is an online sales strategy that integrates multiple channels to allow customers to make purchases while providing a uniform and personalized experience across all the available channels.
Why is omnichannel important for e-commerce brands?
No matter the mobile device or platform your customers use, commerce omnichannel will always provide a unified shopping experience for them. The omnichannel marketing approach allows buyers to purchase from any location at a given time. According to recent research, 73% of online buyers use different purchasing channels.
From checking available merchandise to viewing the status of their pending orders, the omnichannel approach allows customers to control their shopping experience based on their preferences, needs, and schedule.
e-commerce omnichannel examples
- Sephora's seamless integration of product reordering functionality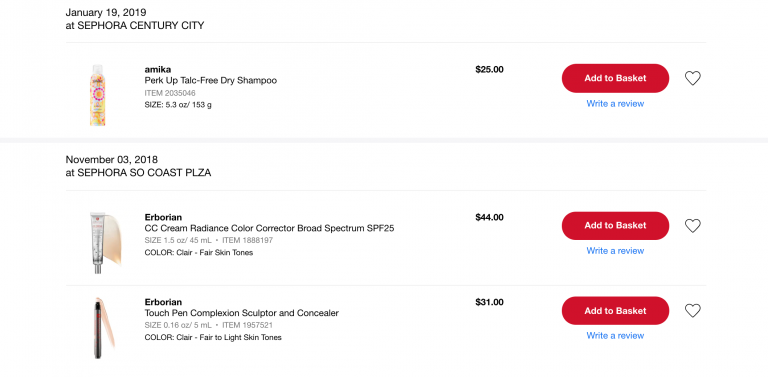 Since its inception, Sephora has always been an omnichannel brand, allowing customers to purchase through online and traditional channels. One beneficial concept implemented by Sephora is providing customers with greater accessibility to their past buying history.
Due to its vast collection of products, the Sephora brand makes it easier for customers to repurchase through the "Buying History page," which records all of the items that the consumer previously bought, as well as the time frame of purchase and the location of the payment (i.e., in-store or online).
Also, it integrates an "Add to Cart" functionality beside each product to give customers a detailed view of all the purchased items in the online shopping basket.
- Nordstrom's product returns policy and mechanism
Allowing customers to purchase across multiple channels is not the only aspect of an excellent omnichannel retail strategy. How efficient you process returns (product returns) is a significant component of developing a positive consumer experience. Nothing irritates buyers more than adhering to different protocols when returning a product.
While it's vital to double-check the transaction details of an order before approving a return, you must also try to make the process as comfortable as possible. Allowing customers to return the product through the most favorable channel for them is the most effective method to implement in this era of omnichannel ecommerce.
From positive reviews by customers, Nordstrom truly excels in this area. Practically, customers can return merchandise to any outlet in the retail store -thanks to a simple return process. Those who prefer to return a product by mail can do that by quickly initiating a product-return process online.
3- Starbucks loyalty reward programs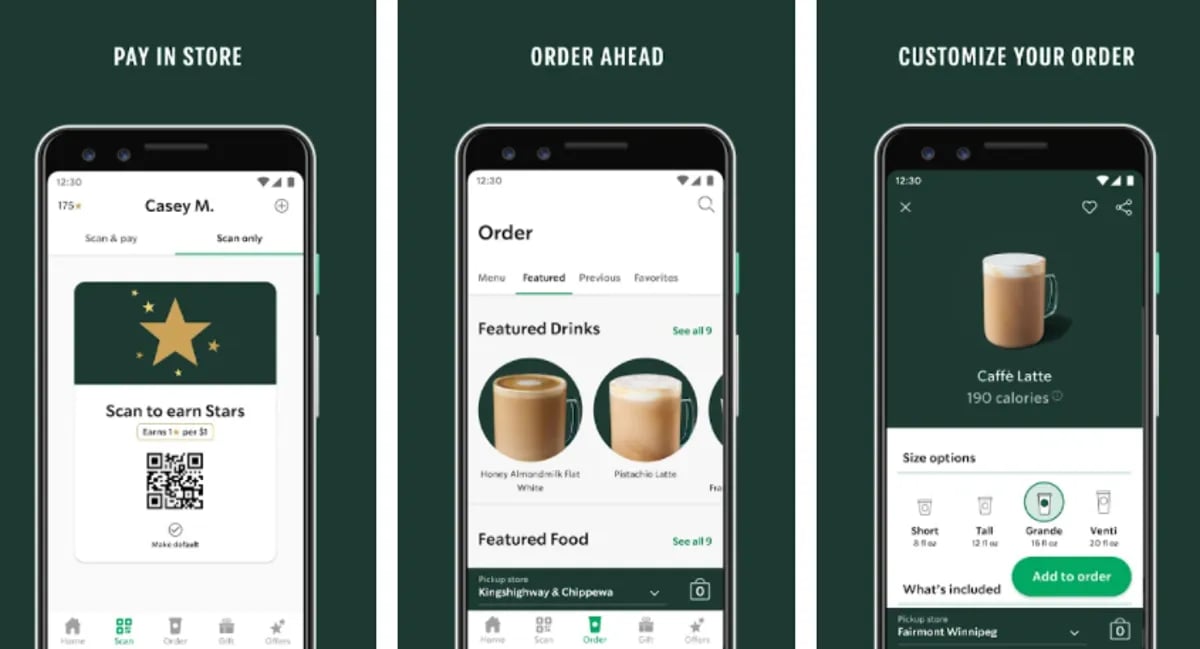 Most shoppers rated the "Starbucks rewards mobile app" among the best omnichannel personalized experiences. During signups, customers receive a complimentary reward card that can be used during purchase. Surprisingly, Starbucks allows users to reload a loyalty card via the app, website, or in-store. This flexibility isn't available in most loyalty programs.
Some recurring situations are peculiar amongst most shoppers, especially when making purchases with a card that has an insufficient balance. With the Starbucks card, customers can reload the card via the smartphone, and the balance will update immediately at the cashier's end. Such a concept is fantastic, as it aids a seamless shopping experience on mobile devices.
See more Omnichannel Marketing Examples for eCommerce
What are the Advantages of omnichannel ecommerce?
Implementing an omnichannel ecommerce approach in sales and marketing strategies has tremendous advantages. The benefits are:
Increased customer satisfaction
Creating multiple channels for your users to reach out to the customer support and sales representative will benefit customers. Making it possible for consumers to purchase your products on any platform or device will be of great advantage. After all, customer loyalty is vital for retaining buyers.
Once your customers are prepared to buy, they will be more likely to do so if they can find your goods on different channels and platforms. Providing a multi-channel retail experience also makes it easier for them to renew their subscription plans, thereby increasing the overall company's revenue.
When implemented correctly, you can reach more customers wherever they are with an omnichannel ecommerce or retail strategy. Due to the structure of this strategy, users don't have to spend much time purchasing products from your store since the goods are just a click away from their doorsteps.
Read more:
Top 10 Omnichannel Marketing Strategies For eCommerce
What are the disadvantages of
e-commerce
omnichannel?
Omnichannel ecommerce relies on open communication
While it's great for companies to have open lines of communication, the challenging aspect cannot be ignored. An omnichannel strategy can't function if different segments do not communicate. Therefore, It becomes challenging to develop a communication strategy that integrates IT systems across all channels.
It leads to weaker margins
Judging from its tremendous benefits, no one can unrealistically say that an omnichannel ecommerce strategy doesn't aid in increased profit margins. Due to the multi-channel approach, more money will be spent to keep all the channels running. The delivery of goods from multiple locations will also cost money, thereby weakening the overall profit margins.
What is the difference between omnichannel and multi-channel eCommerce?
The primary objective of omnichannel ecommerce is to make the entire shopping experience as seamless as possible across various channels. Companies that can provide a personalized buying experience in omnichannel retailing stand to benefit the most.
While for a multi-channel ecommerce approach, the goal is to get as many customers as possible through different channels. Also, the multi-channel approach aims to increase brand exposure and drive traffic to the company's channels.
What brands are omnichannel?
To name a few, the list of brands below falls in the category of an omnichannel brand:
Starbucks
Walgreens
Amazon
Spotify
Google
Virgin Atlantic
Barnes and Noble
Final Note
Understanding your customers' needs and then offering solutions that satisfy these needs is vital in achieving excellent results in omnichannel ecommerce. Therefore, plan right and start your ecommerce journey today.