8 Product Recommendation Email Ideas To Boost Your Sales

By
Merna Helal
·
4 minute read
Instead of sending pushy promotion emails that customers hate, you can turn every single email you send into a product recommendation email that customers actually wait for.
Why do customers prefer product recommendation emails over promotional emails? Simply because they include something they actually need or want. Of course, that's only the case if you are sending personalized emails. To help you send out the best-personalized product recommendation emails, in this article, we will go over some of the best practices and examples!
Table of Contents
8 product recommendation emails ideas (with examples):
What Is The Ideal Product Recommendation Email?
It is easy to send out a bunch of emails, but sending actual good emails that convert is no piece of cake. The ideal product recommendation emails are not merely about recommendations. To grab customers' attention, you should include relevant information (depending on their buyer journey) and then add a couple of recommendations.
If you just add your top sellers, you might get some clicks and purchases. However, if you use the data you have on a customer, like demographics, previous orders, and abandoned carts, to personalize the product recommendations, your numbers will be much higher! In fact, over 90% of customers say they are more likely to purchase from brands that offer personalized recommendations.
In a nutshell, the ideal product recommendation email is personalized to each individual customer or segment and is not solely about the products! With this in mind, let's take a deep dive into the top email ideas and outstanding examples to inspire you.
8 Product Recommendation Emails Ideas (With Examples)
You are probably already sending all of these emails, but just by throwing some personalized product recommendations in the mix, you will turn your opens into clicks and your clicks into purchases!
1- Abandoned cart emails
This is one of the easiest emails to recommend products in. You get a customer who abandoned their cart, so you send them an email encouraging them to finish shopping.
This abandoned cart email has to include the products they left behind, and it can also include some complementary products. By doing this, you are not only pushing them to complete their purchase, but you are also increasing the average order value.
MCM sent a perfect example of this email; it's simple and straightforward. Its only target is encouraging customers to get the products in their carts and check out other items

2- Order confirmation emails
An order confirmation email is a perfect opportunity to recommend some products. As customers are actually excited about this email, and you already know this customer is willing to make a purchase from your eCommerce business.
Like abandoned cart emails, you can also try cross-selling in this scenario. Instead of just recommending products that they might like, you can add products complementing the ones they already bought.
In the following example, iHerb send the order confirmation data and immediately follow it with a "you might also like" section. This creates a sense of urgency. You can even take it a step further and offer the option of adding the recommended products to their order.
3- Welcome emails
Welcome emails might be a bit tricky to turn into product recommendation emails because usually, you won't have enough data on the customer at this point. However, it's vital to add some recommendations. What should you do in this situation? You can simply add any items they browsed on your website alongside some best sellers.
In this example, Lush welcomes its new customer with an upbeat and exciting tone, tell them what they should expect from these emails, then jump right into some product recommendations.

4- Loyalty programs emails
One of the best product recommendation emails you can send is those that contain exciting information about your eCommerce business' loyalty programs. You can simply show the customer their progress on your loyalty program and recommend some products that they will like. For example, "only 2 purchases left till your free item; take a look at some of the products we know you'll love!"
A real-life example is the email of the online cosmetic and fashion retailer ASOS. In this email, the company highlights how close the customer is to reaching a new level in their loyalty program, some recommendations, and ends with a strong CTA.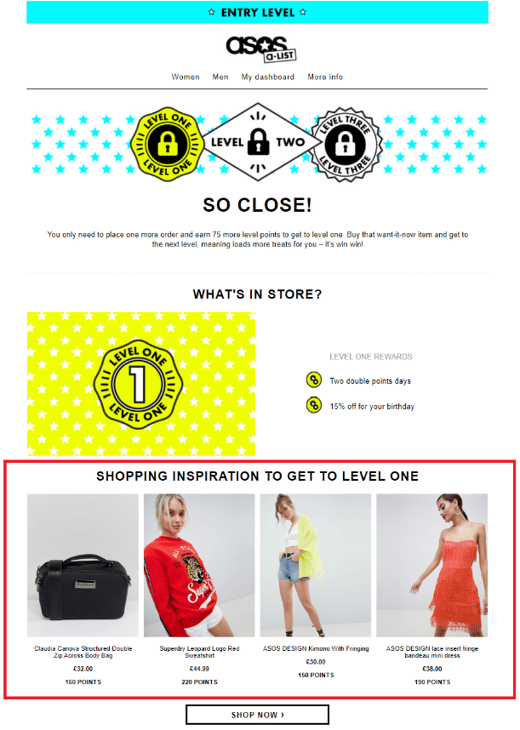 5- Re-engagement emails
Did you lose a customer? No big deal; every eCommerce business goes through that. You can retarget the customers you lost with an enticing email that focuses on showcasing personalized product recommendations.
In the following example, the lifestyle subscription company, FabFitFun, urges the customer to return by enticing them with the great perks they will get.

6- Special occasions
Sending an email on your customers' special days like birthdays makes them feel you actually care and they are not just a faceless transaction to you. Capitalizing on that strong relationship, you can add a section with some product recommendations.
Here we see, Rachel Jackson, sending a happy birthday email that contains a gift voucher and 2 sections for product recommendations. They even went the extra mile to give the customer that extra nudge and chose extremely relevant options to the occasion (birthstone and zodiac sign).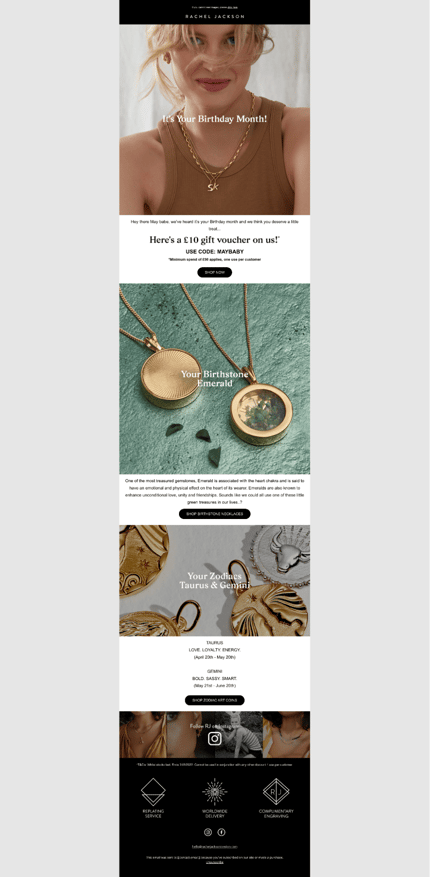 7- Post-purchase emails
An order arrived, and you send a post purchase email asking the customer for their feedback. Is that it? Of course not; the post-purchase emails represent a perfect opportunity to recommend products based on their previous purchases.
Crate & Barrel sends a perfect example of a simple post-purchase email that starts by showing gratitude, gives customers a clear way to contact customer support, and offers some personalized product recommendations.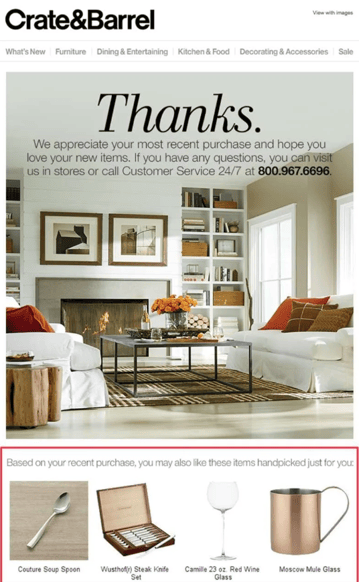 8- Newsletters
If a customer opted-in to your newsletter, then you surely caught their attention, as no one would want a random eCommerce business spamming their inbox. You can subtly use your newsletter email to recommend some products. But that's a very easy line to cross, so ensure your newsletter doesn't turn into a promotional email.
In this example, Barilla smartly uses their products as part of its appetizing recipes. By that, it's not only recommending products, but it's showcasing how they can give value to the customer.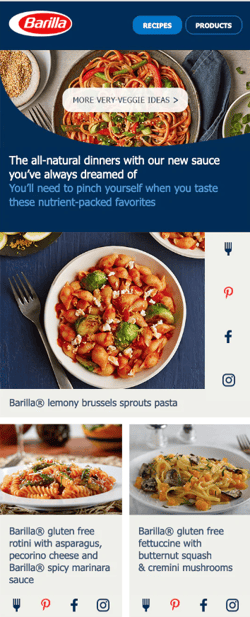 Send The Best Product Recommendation Emails With Marketing Automation
Instead of spending hours and hours researching, you can use marketing automation systems like ConvertedIn and, within minutes, have personalized product recommendations ready for your emails. Not only that, but it can also help you in:
Sending automated product recommendation emails
Create triggered workflows
Auto segment your customer base
Integrate emails with SMS
Book a demo now to send the best personalized product recommendation emails and grow your eCommerce business!