Snapchat For Ecommerce: How To Use Effectively For Your Business
Snapchat is one of the most popular social media platforms and is used by millions of people every day. Many brands have used it successfully to engage with their audience, generate leads, and increase sales. The platform has a younger demographic than Facebook or Instagram, which makes it an ideal place for your eCommerce store to reach out to young consumers.
Snapchat is also popular among influencers, which can be a good source of traffic for your store. If you want to grow your eCommerce business on Snapchat and get more sales, then you need to know what works and how to do it right.
With the right strategy, you can use Snapchat to drive sales and boost your brand's exposure. You can use Snapchat to share exclusive discounts, offers, or product launches on this platform. This post will cover how to use Snapchat for eCommerce and some of the best ways to get started.
Table of contents:
Why Use Snapchat For Ecommerce?
Snapchat is a popular platform among millennials, and you can use it to reach this demographic. A recent study found that Snapchat is the most popular social media app among people aged 18-34, with 65% of respondents using it regularly.
This huge demography allows you to promote your eCommerce store on this platform and get in front of young consumers looking for new brands or products to buy.
Reaching the millennials is essential in today's eCommerce world because they are the most significant generation of shoppers and will continue to be in the future. To capitalize on this trend, it's essential to use social media platforms millennials use regularly. Snapchat is one platform that can help you reach millennials looking for new brands to try out.
Recently, Snapchat has added new features like video ads and stories to make the app more appealing to e-commerce companies. We are going to talk about some of those features in this post.
Features of Snapchat For Ecommerce Marketing
What makes Snapchat so popular is how it brings together inspiration, shopping, and community. These are core values that have become ingrained in their features.
As an e-commerce store owner, you can leverage these inspirational features for marketing purposes at the three primary levels of the marketing funnel:
Awareness
consideration
Conversion.
Snapchat's features make it a powerful marketing tool. Its filters, search abilities, and augmented reality are just some ways to use Snapchat at in-camera events and create content.
Let's discuss some of these features and how they can be used to boost marketing at different stages of the marketing funnel.
Feature 1: Augmented Reality (AR)
Awareness is a crucial stage of e-commerce marketing. Snapchat AR features will expose your product to the right customers. The AR feature is a perfect tool to put a product into a user's hands and let them experience it in real life.
You can show how your product works or what it looks like, which makes people feel more confident about making a purchase. This can be especially helpful if you sell an expensive item or have many options (like sunglasses). In this case, Snapchatters can virtually try on your products, seeing how an item will appear when worn.
For example, they can clip a pair of sunglasses to their face and see themselves in the reflection—all with AR filters. When they like the product, they can quickly swipe to access your webshop to buy within a few steps.
Another benefit of the AR feature on Snapchat is that it boosts repeat purchasing. Customers can quickly revisit content in stories and more without having to search again for your brand.
Feature 2: Collection Ads
This feature on Snapchat allows you to showcase various products within a style or collection. You can use this feature to display your products in a way that's similar to a collage.
Users are then persuaded to go to the subproduct sites for those particular products where they can make purchases by the tiles photos at the bottom.
Collections allow you to showcase multiple styles and colors of an item, which is great for fashion brands with many options.
You can also use this feature on Snapchat as part of your marketing strategy by running collection ads during special events or holidays. For example, suppose it's Valentine's Day or Mother's Day. In that case, you could run a collection ad with various gift ideas featuring items from your webshop.
Feature 3: Story Ads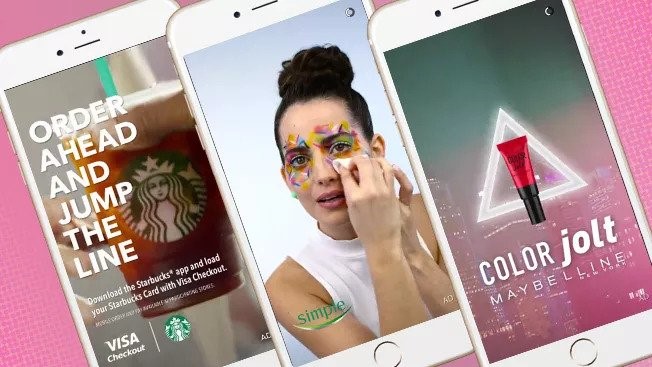 Story ads are located in Discover, the section of Snapchat that functions as a feed for showcasing inspiring or informative content.
These ads do not simply appear within Discover; users must click on an ad title, and the small images below Snaps to launch an advertiser's entire story.
Story ads allow you to tell a longer-form story than standard ad formats. Ecommerce stores are exceptionally well suited for this format because they have so much product information that needs to be conveyed.
For example, a clothing retailer can create a story ad that shows the entire process of designing and making a garment. The user can scroll through the story and view details about each step in the manufacturing process. This provides valuable insight into the brand's ethos and makes it more relatable than standard ads.
Feature 4: Snapchat ScreenShop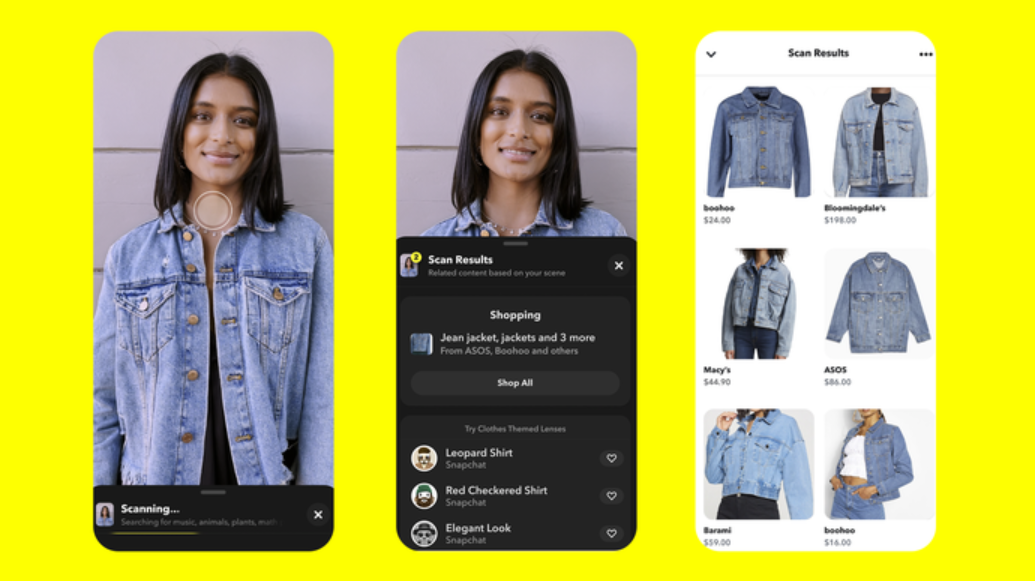 The new Screenshop feature in Snapchat allows users to snap and shop products by simply scanning them. For example, a Snapchatter can scan a piece of footwear or upload it from the saved gallery—and automatically receive recommendations for similar styles from hundreds of brands.
The upgraded Scan feature for Snapchatters can now go further to purchase the product directly from the app. This is a great way to attract shoppers, especially millennials who are always on the go and want to shop on their phones.
The Screenshop feature is a great way to try and convert shoppers into buyers by making it easy for them to find what they need. It's also a great way to get your brand in front of customers who may not have heard of you before.
9 Tips and Strategies for Marketing Your Ecommerce Brand on Snapchat
Snapchat is a great platform to help you amplify your brand and reach new customers. Here are nine tips to help you get started:
1- Create a visual hook
Snapchat is a visual platform, so creating eye-catching and engaging ads is vital. Use bright colors, large text, and fun graphics to help draw users in. Be sure to include an interactive element (like a clickable link) in your ad so people can learn more about your product or service after viewing the ad.
2- Offer Exclusive Deals
Offer exclusive deals or discounts to Snapchat users. This tactic is a great way to leverage the platform's "disappearing" feature. People will be more likely to act on your offer if they know it won't be available for long.
3- Give Sneak Peeks to Forthcoming Products
People love to be the first to know about something; this tactic is a great way to build excitement around your brand. Create Snapchats that give your audience a sneak peek of what's new in-store—you can even ask them for feedback or ideas on how they might use the product.
4- Host a Q&A or Interview Sessions With Influencers
Letting your audience know that you're taking their advice seriously is a great way to build trust and loyalty. Hosting a Q&A session or interview with an influencer who uses your product is another way to show people how they can benefit from it.
5- #TBT - Throwback Thursday
People love nostalgia, so a Throwback Thursday is a great way to show people how your products have evolved over time. Show people how their favorite product was used in the past and how it can be used today.
6- Create How-to videos
How-to videos are a great way to educate your audience and show them the many ways they can use your product. You can create videos that show people how to do something new with your product or how to do something old in a new way.
7- Give a quick virtual tour of your store
Giving your audience a quick virtual tour of your store can be a great way to show them what you have to offer. This can be as simple as showing off new products or highlighting popular items that customers love.
8- Make the first Ads second counts
Snapchat is all about the first impression, so make sure your first ad is clean, clear, and straightforward. Don't get too complicated with your ad on Snapchat. It's about the premise and the call to action, not the design.
9- Use Early Branding
Snapchat is a great platform to help you get your brand in front of new customers. Use the first ad to introduce your brand and set expectations for what will come next. Make sure you use a consistent design style for your ads so that users can quickly identify the source.
How To Automate Snapchat Ads And Get More Sales
All of the Snapchat features listed above allow you to link directly to your webshop or product shop sites. But for this strategy to be successful, you would need to automate and optimize your marketing efforts so that they generate sales with minimum effort. Here are ways to do that:
Set Up A Snap Chat Business Account
Setting up a business account will allow you access to more features and tools to help you automate your Snapchat marketing efforts. You can create a custom profile for your brand and manage multiple accounts from one place. It also allows you to get insights into your campaigns' performance, measure conversions from ads and stories, etc.
The MMP or mobile marketing provider is a third-party platform that allows you to create, manage and run rewarded video ads on Snapchat. It also helps you track the performance of your campaigns by providing insights such as ROI and campaign duration. Implementing this tool in your marketing strategy can improve your ROI by getting more leads from Snapchat ads.
Once you have set up the MMP, create a campaign for your business by entering the details such as ad type, audience targeting, and budget. Then, select what kind of content you want to be displayed in your ads from several options like video, text, and images. Once done with this, you can create your first ad on Snapchat!
By using dynamic ads, you can create personalized content that is relevant to your audience. This will help in improving the engagement and click-through rate of your ads. You can use this tool to personalize your ad by inserting user data such as name, age, and gender.
To effectively leverage dynamic ads for Snapchat eCommerce marketing, you need a tool like ConvertedIn. This artificial intelligence tool allows you to automate your Ads on Snapchat and is specially designed for eCommerce stores.
With this platform, advertisers can create product recommendations based on customer preferences—and segment customers into targeted groups that match the look of their brand's ideal buyer persona.
Integrate Your Mobile Analytics Partner
Your mobile analytics partner can help you monitor the performance of your Snapchat ads. You need to integrate them with Snapchat, enabling you to track KPIs like impressions, clicks, and conversions. This will help you improve your campaigns' ROI by making changes accordingly.
Let's Summarize
So, there you have it! You now know what Snapchat is, why it's crucial to your eCommerce store, and how to sell on the platform. With the right strategy, you can use Snapchat to drive sales and boost your brand's exposure. The best way to start using Snapchat for eCommerce is by creating an account on this platform and setting up your profile page. Once you have done this, you can start promoting your products with fun stories or exclusive discounts/offers.