Social Listening For eCommerce: What Is It & Why And How To Use
How much do you think people's opinions on your products and brands matter?
Well, it is exactly what you thought about. It is invaluable. You can't proceed on with your business and success without people's opinions. What people say about your brand and how they act and react towards your brand is what can help your business bloom or kill it.
Social listening is one priceless strategy for your eCommerce. If you miss it out, your business might suffer. Social listening allows you to perfectly understand your audience as well as your competitors. Social listening can act like real-time research that you can use to better serve your audience.
Read this article to learn all about social listening for eCommerce.
Table of Content:
What is Social Listening For eCommerce?
Image Source
Social Listening is all about monitoring your audience on social media channels. It analyzes their conversations and actions on the Internet to know how they are acting and reacting towards your brand, your competitors, new trends, and related keywords.
Social Listening allows your business to track every single thing related to your brand on social media in real time. This can give sufficient information about how your customers perceive and feel toward your brand and products. As well as, what you can enhance in your products to do better and sell more, what are your audience's pain points and what they love about your business. It can also help you monitor your competition and how people are reacting toward them as well.
Social listening will definitely have a positive impact on your business.
Social Listening & Social Monitoring, Is There A Difference?
Some people might mix up those two terms, while there are a lot of similarities, they are quite different.

- Social media listening allows your business to track and analyze its audiences' online conversations proactively. It determines your brand mentions on a macro scale to see how your audience is talking about your brand, products, and industry; this also includes competitors. Social listening checks the brand mentions within entire categories, industries, and occasions. This will surely give you a bigger-picture view of what people feel and think about your brand or industry.
-Social media monitoring is reactive. It determines brand mentions on a micro-scale. It focuses on a specific company, brand, product, or campaign and sends alerts whenever your brand is mentioned online.

It is sometimes referred to as brand monitoring. It can be useful for quickly responding to any negative sentiment or complaints, but it doesn't give you a big-picture view of what people are saying about your brand or industry.
10 Benefits of Social Listening For eCommerce
Image source: klyp.co
Social Listening is crucial for businesses to know how their products and services are performing and what they need to change to appeal more to their target audience. It can be of great help to maximize your sales and it can benefit your business in so many other ways. Below are some of them for you to explore:
Understand Your Audience Better

Social listening allows you to get in your customers' heads, know them better, and know what they like and what they don't like, what they want and what they don't want. Also, how they perceive you amongst your competitors. Are you top of mind? How can you better serve them? What do they need or want in order to purchase your products?

Count The Negatives

Reading and analyzing any negative feedback from your audience can be a great way to take action on the spot or even in the future. Negative feedback is an effective way of boosting your sales.

Get More Sales

If you know what your potential customers want, you will be able to give it to them. Feeling that your business can understand their needs perfectly would be a great way to boost word-of-mouth and generate sales leads from those with a positive perception. Hence, you can achieve a higher conversion rate.

Have a Deepen, More Emotional Relationship With Your Customers

People can develop a very deep and emotional connection with your brand if they feel that they are really being heard by you and that their opinions are being taken into consideration. Engaging with them in direct conversation to know their concerns can be a great way to do this.

Allocate Your Budget Right

Having deep insights into what your audience exactly wants and what works perfectly for them can help you know the do's and don'ts in your marketing plan, which directly leads to allocating the budget in the right places. This can help you be cost-effective and super-efficient.

Create a Better Brand Image & Perception

All of the previous points will surely lead to enhancing your brand image and perception in the mind of your audience.

Did you know that while 30% of customers share their negative experiences on social media, 49% share positive ones? Hence, through social media listening you can always monitor and track the negatives to be able to stop them as soon as you can, as well as the positive ones on which you can also react positively and show gratitude for your customers. Doing this can help you maintain a better brand image and perception and let you stay TOM (top of mind) of your consumers.

Create Better Future Campaigns

Social listening can help you plan more effective and highly targeted social media marketing campaigns in the future so that you can meet and exceed the expectations of your customers. Moreover, this can lead to more sales and higher conversion rates

Monitoring Launched Campaigns

Social media listening can be a great help for you to monitor, analyze and assess the performance and success of each marketing campaign you have launched and how you can enhance your upcoming ones.

Having Your Own Brand Ambassadors

Having a good emotional relationship with your audience can lead to you having loyal customers as well as brand ambassadors who can talk and boost your brand, and this can improve the trust and loyalty of potential and existing customers.

Analyzing Your Competitors

Social media listening can help you get very deep insights and a better view of how your competitors are doing in marketing. What are their mistakes that you can avoid and what are the booming trendy campaigns that they are doing to get more sales, and how the audience is reacting to them.
Most Powerful Social Listening Strategies For eCommerce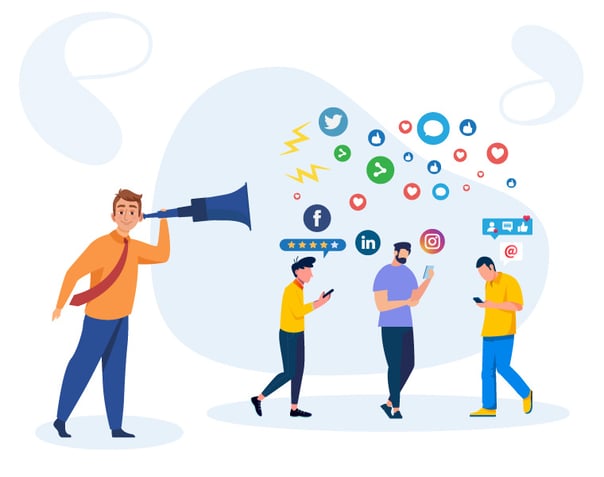 Image source: simplify360
By following the right social media listening strategy for your business, you can achieve exactly what you are looking for, be more efficient, and, most importantly, have loyal and satisfied clients. Here are some social media listening strategies that you can explore and choose from what suits you:
Check For Potential Clients

Start tracking relatable hashtags and keywords can lead you to people interested in your field and industry; however, they don't know or follow your business. Anyone who comments or posts with those relatable hashtags or keywords are considered a prospect and potential.

Later on, you can start having a conversation by replying to them or sending them an offer, a gift card, or anything from your brand that might relate to them. This can lead you to increase your fan base and boost your sales.

Search For Dissatisfied Competitor Customers

Tracking hashtags, keywords, and people's comments about your industry or about other competitors can lead you to discover dissatisfied clients from other businesses. This can be a great catch for your brand because you can target them by offering them the solution to the problem they are facing.

Always Be Super Fast

You need to always analyze and track negative comments and always be in a hurry to solve your audience's problems or any issues they might be facing before they escalate. Always change what you can, people will see it and they will appreciate it.

Build Detailed Buyer Personas

Tracking and analyzing the profiles of people posting about your brand can give you way deeper insights into the buyer personas of each person in your audience.

This will help you a lot in personalizing and tailoring an experience for each targeted group giving them exactly what they are looking for. You can start a sheet where you can fill in all the detailed information about your audience to be able to track and segment them right in the future.

Monitor What Your Competitors are Publishing

The content of other competitor brands and how people are reacting towards it can be super insightful for your content generation. Also, you can track the keywords, phrases, visuals, and hashtags that will work best for your brand and audience.

Know the Language of Your Audience

Speaking your audience's language can help you present relatable content, ads, emails, and more that will sound way more tailored and customized. What keywords are they using? Phrases? Secondary Keywords?
You can even use A/B testing to check what works best with them.

Be on Top of the Newest Trends

Monitoring and tracking the newest trends and news on the web can give you the information you need about topics and news that might interest your audience and attract them.

Know what are the newest trends and start creating your

content strategy

accordingly. More importantly, set alerts to get the newest topics and trends.

Integrate Your CRM

To get the full picture of social listening, you need to integrate your CRM system. With all the big data coming from social media listening, CRM can help you organize, structure, and analyze your data in a better way to achieve better and more results.

Have Your List of Influencers

Identify and have a list of influencers, bloggers, and brand ambassadors. This can help with crisis management. You can use this list whenever you want to send messages to your audiences on certain occasions to push sales or influence a purchase or find a solution for a problem.



Track, Measure, & Analyze

You need to track, measure, and analyze every single activity you do and every marketing campaign you do so that you can study and know what you should be doing or not in the future. Keep in mind many social media listening tools have analytics suites that can help you track your data.
The Best 6 Social Media Listening Tools For eCommerce
To help you out with that, here are some tools that can help you out with your eCommerce social listening: