The Best 9 Advertising Platforms To Grow Your eCommerce Business
We are all searching for the best revenue for our eCommerce businesses; it might be a little overwhelming when you are planning, not knowing which platform works perfectly with your brand.
Multiple ad channels, social media accounts, emails, tracking, analysis, and testing, are frequently simply too much for one marketer to handle given the intense competition in today's eCommerce market. The ability to concentrate on numerous campaigns at once is necessary for success in the realm of e-commerce marketing, as is the utilization of data to continuously improve creative decisions and overall strategy.
This is why so many e-commerce marketers use digital advertising platforms, which can consolidate all these duties into a single location and make it simpler to evaluate the success of a campaign.
For instance, paid advertisements are one of the most effective short- and long-term strategies for increasing your online sales and brand recognition.
Which eCommerce advertising platform, though, is best for your marketing plan?
The top 10 eCommerce advertising platforms are listed in this article along with their benefits and drawbacks, so you can decide which is best for your products.
Table of content:
The Top 10 eCommerce Advertising Platforms For eCommerce
1- Google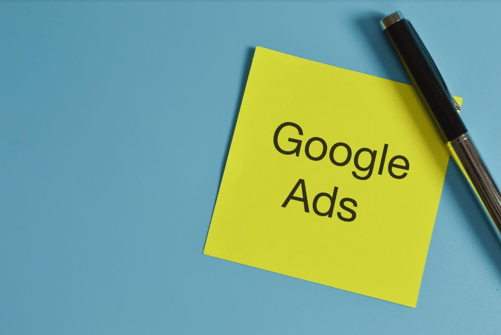 One of the best ad networks available is Google Ads; on Google's search engine results pages (SERPs), you can display paid search advertisements using Google Ads (formerly known as Google Adwords).

Google is an excellent platform for both search and display ads, whether you want to increase brand awareness or attract new customers. You may utilize the Google Display Network (GDN) to advertise on famous websites.

Advantages:
Broad Reach: With over 9 billion searches every day,

Google is the largest search engine available. To get results for your eCommerce firm, you can make use of the search engine's enormous reach.
High ROAS: According to estimates, the average return on advertising expenditure (ROAS) for Google Ads is 2:1, and for the Google Search Network, it is 800%, which represents an enormous potential for your online store.
Cost-effective for SMBs: For small and medium publishers with constrained resources and lower budgets, online advertising is more economical.
Disadvantages:
Can be expensive: Larger businesses may pay up to $150,000 a year or more because pricing goes up quickly; you must be certain you're receiving a good return on your advertising investment.

Poor/limited client service.

Increased competition: Although Google may give you access to the biggest networks, the increased competition from additional advertisers will increase the cost of your advertising campaigns.
Strict Ads Criteria: Google tends to be significantly tighter regarding the terms of service compared to other search advertising platforms.
2- Bing
Image Source
Bing has grown significantly in recent years, but Google still has a distinct advantage over the competition.
Microsoft estimates that Bing continues to hold a 14.5% global market share for PC desktop search engines. On the Bing Network, 14.5 billion PC searches are performed each month by 687 million different PC searchers.
The most shocking statistic is that all users of the Microsoft Search Network made an online purchase in the previous week.
In order to reach this shopping population, Bing Ads should be a component of your marketing plan. Bing Shopping, which functions similarly to Google Shopping Ads, is another option.

Advantages:
Less competition: You'll get greater value out of your digital marketing strategy because there are less advertisers on Bing. According to reports by Search Engine People, the average CPC (cost-per-click) for a Bing Ad is 70% lower than that of a Google Ad.
Reach a wider range of audiences: If you advertise on Bing, you will also be advertising on Yahoo, AOL, and other partner websites. As a result, you will reach users who you would otherwise miss out on if you solely ran Google Ad campaigns.
Disadvantages:
Reduced reach: It is undeniable that Bing has a smaller audience reach and a lower search volume than Google Ads.
Less sophisticated features: Bing Ads typically lags behind Google in terms of new feature rollouts, which results in less thorough reporting.
3- Taboola

Taboola is one of the most well-liked native advertising platforms which is a regular tool for e-commerce companies. For those who are unfamiliar, native advertising refers to the placement of ads by brands alongside other relevant material. These are typically extremely inventive advertisements, frequently taking the form of advertorials or other educational materials that fit in with the website where they are being published. The key is that they don't look as commercial as typical adverts.

Advantages:
Responsive, Good Customer Service
Simple user interface for simple creation of campaigns
Simple to build marketing reports and analyze key performance indicators
Disadvantage:
Taboola's requirements for approving advertorial content can be stringent, and the content clearance process can be slow.
Inability to access data at the level of specific native advertisements.
4- Facebook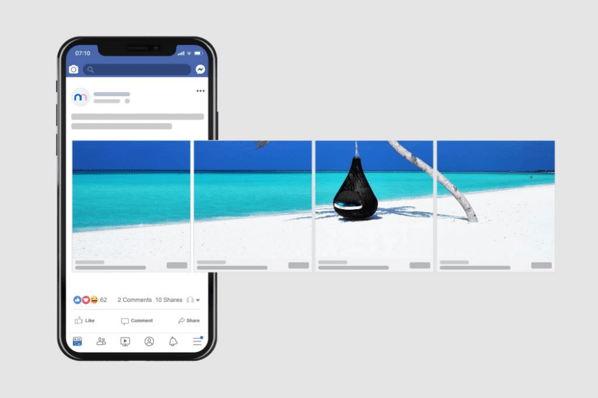 The single most crucial reason to incorporate Facebook Ads into your digital marketing campaigns is to be visible to hundreds of millions of people—potential clients—every day.
Facebook provides a variety of ads for online advertising to assist you in achieving your campaign objectives. By expanding your reach and placing your items in front of your target market, you may increase brand awareness. Alternatively, Collection advertising can be used to bring the purchasing process directly to Facebook, allowing users to go from "discovery" to "purchase" without any interruptions.
Want to make more purchases? Utilize Facebook's intelligent targeting to encourage both new and existing customers.

Advantages:
Reach billions: With billions of active accounts, Facebook has the largest user base of any social media network. You have access to a nearly limitless potential audience when you advertise on Facebook.
Find your audience: Facebook has a huge following across all age groups and genders, so there is a significant potential for connecting with your target market.
A Facebook ad can be targeted exceptionally using a variety of criteria, including location, occupation, interests, past behavior, and other data factors.
Easy to regulate spending: Facebook ads are simple to budget for, and you can quickly keep track of your spending and stop it when your maximum budget has been reached.

Improve user interaction with

video ads

:

Publishers can leverage original content on Facebook, one of the best video ad networks available.
Disadvantages:
Getting more expensive: Due to increased competition, Facebook advertising is getting more and more expensive. Despite this, Facebook advertising is still reasonably priced in comparison to other ad networks.
Can be difficult to master: Many small eCommerce businesses lack the time and money to manage Facebook marketing properly because it takes a lot of practice.
5- Instagram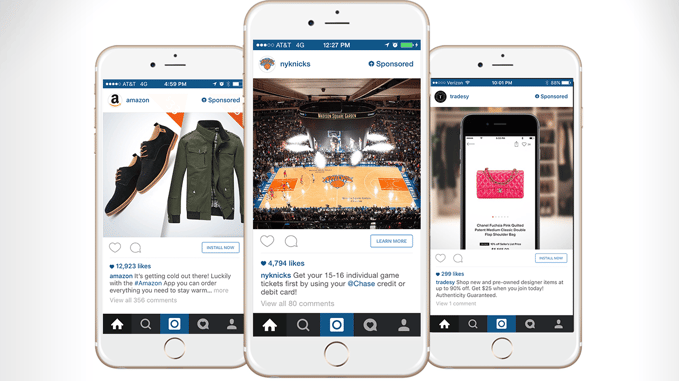 Although it's crucial to recognize that Instagram is primarily a platform for visual advertisements, it's another hugely popular advertising platform that publishers should take into account.

Instagram is a social media network with a strong focus on brands.
The majority of Instagram users (81%) use the app to look up products and services. Every month, 130 million Instagram users click on posts about shopping.
To promote their products and get in touch with their target market, advertisers can make image-based advertising, video reels, and use Instagram stories. Users can easily interact with your products through Instagram advertisements by clicking a direct link to your product page or another landing page.

Advantages:
Highly engaged users: Instagram is the best medium for reaching your audience and getting your business in front of them because more than half of its users log on daily.

High-intent users:

Nearly

130 million people click on an Instagram Shopping post

and use Instagram Checkout every month. You may increase sales by creating powerful paid ads as a part of a focused Instagram advertising plan.
In-depth targeting is possible with Instagram advertising since the social media behemoth Facebook owns the platform.
Numerous ad formats to choose from: Test them out to determine which one generates the most clicks and conversions, such as stories, IGTV, videos, and shopping advertising.
Increasing platform sales: Customers can make purchases without ever leaving Instagram, thanks to features like Collection advertisements (available only on mobile ad platforms).
Discover more about How to turn Instagram ads into sales for e-commerce.
Disadvantages:
It takes time to master: Just like Facebook, good marketing requires a lot of practice and may call for professional assistance.
Requires high-quality visual assets: Instagram is a very visual medium; therefore if you want to stand out, you must invest in high-quality content.
6- TikTok

TikTok Ads, one of the most recent ad networks, provides a special chance to advertise your goods to a young, very interested audience. The app is used by users for 476 minutes every month, second only to Facebook advertisements. With more than 50 million active users in the US alone, TikTok has more than 1 billion users worldwide.
Similar to Instagram, TikTok provides potential for influencer marketing as you may collaborate with well-known influencers to promote your products to their audience. TikTok created the Creator Marketplace to make it easier for marketers to partner with influencers.

Advantages:
Highly engaged audience: One of the best things about TikTok is how publishers can interact with their target audience.
Get inventive: You may be quite inventive with your advertising and engage users for the highest level of engagement. A hashtag challenge is a key component of some of TikTok's top marketing campaigns. As a result, when a user touches on a hashtag, it directs them to the brand's landing page where they can view further handpicked videos using the same hashtag. According to TikTok, these challenges have an average interaction rate of 8.5%.
Integrate platforms for eCommerce: To apply the pixel and create new posts without leaving your Shopify dashboard, add the TikTok app to your store.
Getting into new markets: The rapidly expanding worldwide reach of TikTok opens up new marketing chances.
Disadvantages:
High cost of advertising: TikTok ads start at $10 per CPM (cost per 1,000 views), which is more expensive than the other platforms.
Lack of ad placements: The majority of brands are only able to use in-feed ads, which means that users must endure disruptive advertisements as they scroll through their For You page.
Must be native content: If you want to stop users from swiping away, you can't employ ad creatives from other platforms. It must be a native TikTok approach.
Videos are important: You will constantly need to create movies, which can be expensive, so you can't just publish advertising as static pictures.
7- Media.Net
Consider using Media.net, which offers exclusive access to the Yahoo/Bing search and display networks, if your company wants to break out of the Google environment. If your company can produce excellent content, Media.net, a contextual advertiser with a broad portfolio of ad hosts that includes reputable websites and newspapers, is a terrific approach to obtaining high-value traffic.
Brands who invest in high-quality content development find Media.net to be appealing because it offers a variety of ad formats including mobile, display, video, native, and search. However, it also implies that Media.net has strict standards, and advertisers' commercials may be rejected for a number of different reasons.
Advantages:
Entire range of ad types is supported.
Access to the networks of Yahoo! and Bing.
Connecting companies with publications that will influence their clients, there is a large marketplace with detailed pricing.
Disadvantages:
-Due to competitive criteria, brands risk having their advertising blocked if they don't produce high-quality content from Tier 1 nations.
8- Amazon
Brands may engage with potential customers on a platform specifically created for shopping by using Amazon advertising. A larger audience of people who are explicitly searching for what you sell can see your products by using Amazon's ability to bid on certain keywords and placements to appear higher in search results for your products.
Advantages:
Consumers are prepared to buy: Amazon is a top destination for consumers who are prepared to buy, and it has developed consumer trust that brands can take advantage of.
Low entry threshold: The entry threshold is so low that publishers can advertise on Amazon without even having a website.
Requires minutes: Publishers may choose products to advertise and begin exposing products to clients in minutes, thanks to the straightforward ad setup and interface.
A variety of campaign kinds Select a campaign type, such as Sponsored Products, Automatic Targeting Campaigns, Manual Targeting Campaigns, and others, that best serves your objectives.
Disadvantages:
Higher costs: Depending on the product category, Amazon may charge a referral fee in addition to advertising fees that can range from 1% to 15% of the sale. For some suppliers, this may be prohibitive.
Strict standards: Amazon holds sellers accountable for adhering to strict criteria, which cover things like shipment timelines, email confirmation rates, and more.
9- Google Shopping

With the help of the specialized marketing tool known as Google Shopping, publishers may present enticing visual product advertisements to Google searchers.
Shopping ads are image-based product advertisements that are set up in the Google Merchant Centre and display a photo of your product together with its title, price, and shop name. In the SERPs, product listings are displayed first.
If a user clicks on your advertisement, Google will link them to your eCommerce store's product page, where they may make a purchase. You pay every time someone clicks on your Shopping ad, just like with paid search advertisements.
Advantages:
High potential for conversion: Since many people still begin their product searches on Google, Google Shopping advertisements are fantastic for creating traffic that converts.
Simple to operate: With algorithms that automatically gather product information from your store, create adverts for your products, and match them with pertinent search queries, Google performs a lot of the work for you.
Strong visual appeal: Shopping ads are given top SERP placement and use a visual approach to entice clicks.
Disadvantages:
Setting up Google Shopping campaigns takes more time, but once everything is configured in Google Merchant Centre, it is easier.
Discover: 5 Google Shopping Ads Best Practices That Convert
Now you can choose which one or more works perfectly for your brand. You can also easily automate your ads and marketing efforts using Convertedin.
Automate Your Ads Now With Only One Click; Now, you can get the best results out of your eCommerce ads when you use Convertedin. Have everything automated, less efforts, less time and no wasted money!

Convertedin is one of the best marketing operating systems for e-commerce, which utilizes data and shoppers' insights to create personalized multi-channel marketing that boosts customer engagement and maximizes ROI.

Try it out: Request a Demo Now!