The Ultimate Guide To Live Shopping For E-commerce: Why & How To Use

By
Nada Gad
·
7 minute read
Shopping in the past involved taking a car to visit a retail store to purchase your products. There you will have to deal with a sales representative to fill you in on the product features. However, it involves exerting efforts to purchase a certain product. Eventually, things changed and shopping became online. The good thing about online shopping is that you can purchase your products from the comfort of your home yet with minimal interaction with your brand. So, how about combining the best of both worlds?
Well, here comes live shopping to combine the benefits of shopping in the past and the benefits of online shopping. Keep going through this article to understand what live shopping is, why you should consider it as an e-commerce store, the benefits of live shopping, and the best platforms to be used for online shopping.
Table of content:
What Is Live Shopping?
Image source: Meta.com
Live shopping is a global trend that is currently taking over the e-commerce market. I believe you can recall QVC, the TV channel that used to show products and try to sell them live to their audiences. Well, since everything is going online now, shopping won't be left behind, right?!
Live shopping is simply promoting and selling your product or service through a live video streamed through websites or applications. In live shopping, customers can interact and buy your product or service in real time. E-commerce businesses might use influencers, celebrities, or sellers to host the live stream.
What Is The Difference Between Online Shopping And Live Shopping?
So, you might wonder by now, what differentiates between online shopping and live shopping?
What makes the difference is the human factor that has been taken away in online shopping. In online shopping, customers only get to see pictures of the products without any kind of interaction.

As for live shopping, it involves someone, the human factor we were talking about, who shows the customers the product in real life while encouraging consumer interaction. Also, customers have the chance to buy the product or service during the live stream instantly. The good thing about live-stream shopping is the fact that it offers unedited, authentic content. Accordingly, it becomes more trusted by customers and less subject to skepticism.
Why Use Live Shopping For E-commerce Business?
Retail e-commerce is constantly witnessing several changes. So, as an e-commerce store, you must keep up with these alterations. Live stream shopping has proved to be a turning point in e-commerce. For instance, in China, live shopping on Alibaba's singles day generated 7.5 billion dollars in the first 30 minutes (Mckinsey, 2021). I bet we just dropped a bombshell right now.
As for the US market, live shopping is less advanced than in the Chinese market. However, it is anticipated to witness a boom in the upcoming years. For instance, it is expected that by 2026, revenues generated by live stream shopping in the US will triple to reach $55 billion (Statista, 2022).

This is compatible with studies that showed that American consumers are becoming interested in live-stream shopping, with about 15% of American consumers expressing their interests (fit small business, 2022). Similarly, researchers found that 17% of American consumers watch and engage with live streams hosted by influencers (fit small business, 2022).
Live shopping started to grab marketers' attention as well. Around 80% of marketers perceive live stream shopping as becoming an integral part of customers' engagement in the upcoming 10 years (fit small business, 2022).
The previously mentioned insights prove one crucial thing: Live shopping is the future of e-commerce. Ignoring such an important trend will make an e-commerce business left behind.
Not completely convinced? Well, let's see the benefits of live shopping. (We won't stop until you are 100% persuaded).
Benefits Of Live Shopping For E-commerce
The strong emergence of live shopping is not out of the blue. There are several benefits accompanying live-stream shopping.
1. Increases Brand Awareness:
Live shopping helps e-commerce business to reach a wider target audience; this means increased brand awareness. In fact, some tactics can be used by e-commerce stores during their live stream and will lead to more brand awareness. For example, an influencer or celebrity hosting your live stream means better reach, more popularity, and increased brand awareness.
2. Increases Sales
As an e-commerce business, you certainly figured out by now that live shopping leads to more sales. Let's break down the situation during the live shopping.
On one side, your products as an e-commerce store reach large groups of target customers during a live stream shopping. On the other side, customers are exposed to unedited content showing your products and their features. Additionally, there is interaction with a sales representative who can be an influencer or a celebrity. Not to mention the constant call-to-action phrases shown to the consumer. All of these factors combined will certainly lead to increased sales.
A study by Statista (2022) showed that sales through live stream shopping accounted for 17 billion dollars in the US.
An American brand specializing in coffee, known as Quivr witnessed a 150% increase in sales after 24 hours of hosting a live shopping (CNBC, 2021)
3. Encourages impulsive buying
As previously mentioned, during live shopping, customers become part of a live stream with continuous interactions, exposure to products, and continuous call to action (CTA) phrases. As a result, customers have the urge to buy stuff even if they do not plan to do so. This phenomenon is known as impulsive buying.
During live shopping, businesses can rely on a marketing tactic known as fear of missing out, widely known as FOMO. FOMO is a marketing tactic used to encourage customers to purchase a product immediately because if they do not, they will lose an amazing deal. So, how is FOMO used during live shopping?
The answer is simple. As an e-commerce business, you have to constantly create a feeling of urgency and scarcity for the consumers. This can be done by offering discounts only during the time of the live stream. Also, you can show on the screen how many times this product has been purchased while stressing about the limited stock. This enforces the previous point which says that live shopping leads to more sales.
4. Lower return rates
Another benefit of live shopping is the lower return rates. A study showed that 40% of live shoppers are less likely to return a purchased product (Shopify, 2022). This is actually reasonable as, during live shopping, customers witness everything about the product and all of its features. So, there is no place for surprises upon delivery, unlike online shopping.
5. Higher engagement
The key to the success of live shopping is the interaction it offers between the customers and the business, which is missing in online shopping. Accordingly, more interaction means higher customer engagement. Moreover, live shopping provides a personalized experience to customers, which is required by customers, especially with the massive amount of content they are exposed to every day.
Higher engagement extends even after the live shopping. E-commerce businesses argued that after live shopping, they witnessed an increase of 20% in the number of their younger audiences (Mckinsey, 2021). Similarly, a study showed that live shopping leads to a 35% engagement rate (Live scale academy, 2020)
6. A chance to sell your least-selling products
As an e-commerce business, you certainly have some products whose sales are not performing so well. At this point, live shopping comes to the rescue. You can rely on live shopping to display your product and its features to the customers, hence, convincing them and increasing its sales. However, you should know that live shopping is certainly not the magical genie. If your product is excessively expensive compared to competitors or has deficiencies hindering its sales, then live shopping won't be able to solve this issue.
Best Channels And Platforms For Live Shopping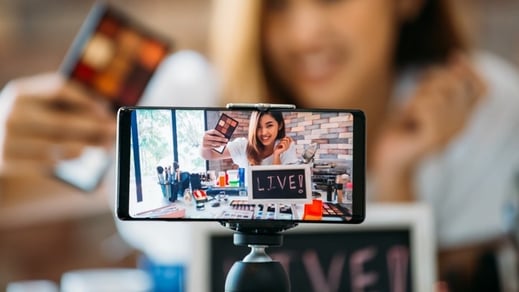 After discussing the benefits of live shopping, we think that you are convinced enough by now. So, it is time to choose the platform on which you will hold your live-stream shopping. There are plenty of platforms that offer live shopping. This makes the choice of the right platform a little bit challenging.

As an e-commerce store, you should be aware that the success of your live shopping is strongly linked to your choice of the right platform. Accordingly, we will discuss with you the best apps for your upcoming live shopping.
1. Instagram live shopping
In the past years, Instagram has proved its success as one of the most popular social media platforms with 1 billion active users per month (Smperth, 2022). In addition, it has become a vital app used for e-commerce. However, Instagram went the extra mile by including the live shopping option in its application.
The live shopping feature on Instagram allows businesses to tag their products so they can appear to the customers during the live stream. Additionally, it offers customers the option to interact with the business by asking questions, writing a comment, and placing an order during live shopping. Thus, it offers the option for a personalized experience for all customers joining the live shopping.
Instagram live shopping allows e-commerce stores to place their live stream for 24 hours on their page to ensure even more exposure and engagement. Also, it gives a chance to invite multiple hosts to the live stream. Accordingly, you have the chance to invite several influencers or celebrities to host your live shopping. (Your engagement will rocket or what?!)
Instagram live shopping is only available in the U.S. at the time. Yet, with the increasing importance of live shopping, Instagram will certainly consider expanding.
2. Amazon live shopping
Amazon, one of the top e-commerce platforms in the world established its platform for live-stream shopping. In 2021, 98 million used Amazon in the US (Statista, 2021). This makes Amazon live shopping one of the primary alternatives for any e-commerce business. Amazon live gives you a chance to sell your products to billions of active users through a personalized experience; hence, ensuring more sales. In addition, there is an option to collaborate with Amazon influencers to host your live shopping.
Utilizing your live shopping through Amazon live stream is an easy process. First, you have to be registered as an Amazon seller. Second, you will download Amazon live creator app to start your live shopping experience. However, the app only works on IOS which is considered a limitation.

After following the previous steps, you are ready to start your live shopping. You have the option to highlight your products during the live stream, receive customer feedback, chat with customers and sell your products on the spot. Amazon live shopping is currently functioning only in the US.
3. YouTube live shopping
In the United States, around 89% of customers trust recommendations by YouTube creators (influencers marketing hub, 2022). YouTube has initiated YouTube live which enables the live shopping feature. Therefore, e-commerce businesses have to benefit from such an option.
Live shopping on YouTube enables e-commerce businesses to preview their products live, chat with potential customers and sell products instantly. YouTube live is an opportunity that cannot be missed by any e-commerce business as it ensures market reach, especially with the huge number of YouTube users.
4.
Pinterest TV
Image source: TechCrunch
For years, Pinterest has ranked as the 14th largest social network in the world, with 431 million active users monthly (Hootsuite, 2022). Pinterest is a platform that involves showing ideas and products that users might want to buy. Accordingly, Pinterest started to transform from merely a platform that shows products to one that includes shopping as well.
Pinterest TV enables live shopping by including Pinterest hosts who display product details, prices, and even discounts to encourage purchases. In addition, customers have the chance to ask questions and interact with the brand.
5. Bambuser live shopping
Bambuser is a live shopping app that was initiated in 2019. As an e-commerce business, your live shopping using Bambuser can be displayed to a wide range of people through a global live stream or it can be displayed to a limited number of people through a private live stream. Bambuser offers businesses the option to highlight products during their live shopping, live chat, and premium video quality. Bambuser contributes with a 24% engagement rate and a 31% add-to-cart rate (Bambuser, 2022).
Final thoughts:
Live shopping has started to prove its strong presence in the past few years. It became apparent that live shopping is highly beneficial to all e-commerce businesses. Accordingly, it is essential to keep up with this bandwagon to avoid being left out in the e-commerce market.
If you need support in carrying out your live shopping, Convertedin is here to help. Convertedin is an automating tool that will assist in automating ads across different social media platforms; in addition to getting a complete view of your ads. Also, Convertedin will assist in automating email campaigns and auto-segmenting customers.