Top 10 eCommerce Content Marketing Strategies to 2x Your Sales

By
Merna Helal
·
6 minute read
The best salesman is the one who offers actual value to a customer. In other words, people love to buy from those who care. But how can you achieve that as an eCommerce business? The answer is right in front of you - content marketing.
Through this inbound marketing strategy, you will get to show potential and existing customers that you want to help them out and not just looking to make a sale. Don't know where and how to start? No worries, we have your back!
In this blog, we will present you with the top 10 eCommerce content marketing strategies (+ real examples) that will elevate your marketing game and 2x your sales.
Table of Contents:
Let your customers speak
What is Content Marketing?
First thing first, what is content marketing, and why is it important for the success of your eCommerce business?
Content marketing is an inbound strategy that works on pulling customers to you by offering them value. The main goal of content marketing is raising brand awareness and becoming a household name by offering customers helpful, engaging, and relevant content.
Needless to say, content marketing has countless other advantages besides raising brand awareness. In fact, by choosing the right eCommerce content marketing strategies, you can:
Build a loyal customer base
Drive traffic
Increase engagement
Improve ranking (SEO performance)
Differentiate your brand
Double (or more!) sales
Still not convinced? We know what you want to hear; facts and numbers! Let's take a look at some important eCommerce content marketing statistics that will get you on board.
Important eCommerce Content Marketing Statistics
Planning and implementing new marketing strategies is no walk in the park, so let's see why it's vital for your eCommerce business to use content marketing.
Content marketing can generate

3x more leads

than other marketing methods.
Blogging can skyrocket monthly

lead generation by 126%.

Using content marketing can lead to a

53% increase in engagement rate

and a 49% increase in rankings and traffic.

Almost 90%

of customers check reviews before they shop, and around

50% view

at least 3 to 5 pieces of content.
Over

70% of marketers

say that content marketing increases engagement
Since 2020, content usage increased

by 207%

.
Around

90% of customers

surveyed said that they benefit from content marketing.

Content marketing costs 62%

less than traditional marketing.
Convinced yet? Great, then let's take a look at the top eCommerce content marketing strategies, so you can get inspired and create your own!
Top 10 eCommerce Content Marketing Strategies (With Examples)
There is no right or wrong content strategy for eCommerce, as it differs depending on each customer base and each market. However, with these provenly successful eCommerce content marketing strategies, you will definitely start on the right track.
1- Learn how to choose and mix your content
How to choose the content? This is the first question you need to ask yourself, and the answer can be easily found in your customer's data. Through researching your existing customer base, you can learn which type of content works best with them.
However, it is important to mix your content and offer various types; you never know what can hit the jackpot!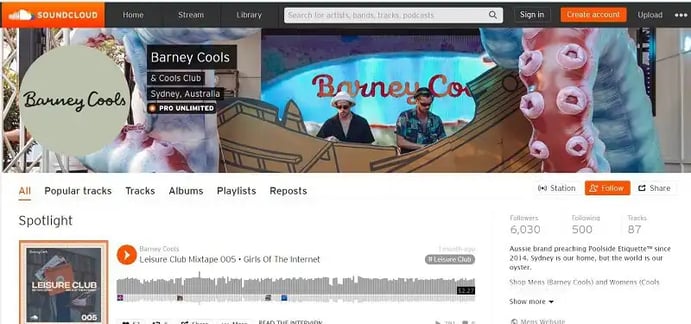 Image source: brevo.com
This fashion brand, Barney Cools, is the perfect example of stepping out of the box and meeting customers where they are. Barney Cools has an active Soundcloud account that has over 6,000 followers.
2- Optimize your content (SEO is your best friend)
Created your content? Now it's time to optimize it for search engines! Did you know that around 70% of online experiences begin with a search engine? Basically, this means that it is a vital step for the success of any content marketing campaign.
Your SEO journey starts with knowing what your customers are searching for and targeting those keywords with different types of content. This will help customers easily find your online store when they are searching for the products they need.
It is also worth noting that a big part of the success of your SEO efforts is the technical part of your website. You can track that through Google's Core Web Vitals. Lastly, don't forget to optimize your website itself!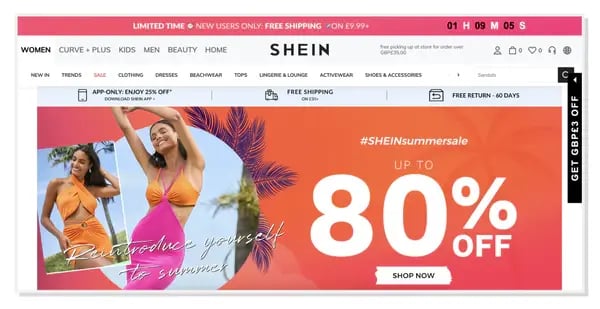 The eCommerce guru, SHEIN, is an excellent SEO example. As the company's content team researches trends, targets upcoming keywords, and develops specific product lines to capitalize on that traffic.
3- Double down on your most effective channels
Nowadays, most types of content can be shared on all platforms; here raises an important question; which platforms to focus on?
Despite what many people believe, it's important to share your content on all platforms. However, real effort should always be spent on the most effective channels. In simpler terms, you should post everywhere but constantly post on your top-performing channels.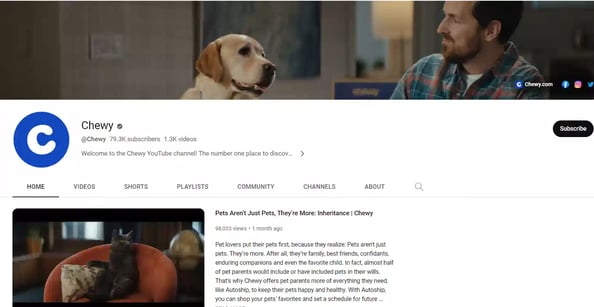 With 1.3k uploaded videos and almost 80k subscribers on youtube, it's obvious what Chewy thinks is its most effective channel.
4- Shoot for the moon (or just shoot some videos)
With the rise of TikTok, reels, and YouTube Shorts, videos have become the number one content format performer. So, by shooting, editing, and publishing high-quality videos, you will effortlessly land on the moon.
Keep in mind that by high-quality videos, we are not just talking about the quality of the lens. By high quality, we mean informative, engaging, and captivating content.
Through this short video, MADE showcased its product and gave customers a laugh!
Checkout: The Ultimate Guide for E-commerce Content Strategy.5- Step into the 21st century and introduce lookbooks
Many eCommerce businesses still didn't step into the new era. How can you do that? Simply start showcasing your products through lookbooks. This is the digital era's recreation of printed promotional catalogs.
This is one of the top eCommerce content marketing strategies that can be utilized in many forms. You can create these lookbooks as scrollable carousels, short videos, and even live videos of people using your products.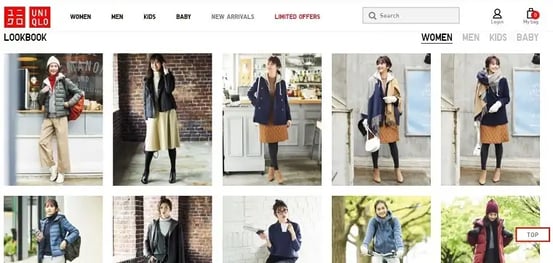 Image source: econsultancy.com
Thanks to this uniformed grid, Uniqlo offers one of the most aesthetically pleasing and easy-to-navigate lookbooks.
6- Stand for what you believe in and advocate for the right causes
Each content creator has a vision that may not align with other creators. But rest assured that if you ask any professional out there about the results of advocating for causes, you will get the same answer.
It is important to show through your content that you actually care, whether it's about the community, the environment, or any other cause your eCommerce business stands for.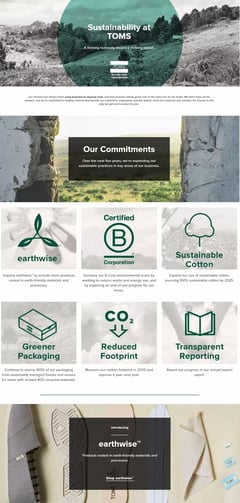 Image source: sendpulse.com
TOMS is constantly working on expanding its sustainable practices by using environmentally-friendly products. This is clearly explained on the website's home page, so customers won't miss it!
7- Let your customers speak
The best eCommerce content marketing strategies include user-generated content. This can be as simple as product reviews and ratings or as complex as videos and contests your customers partake in.
This strategy helps with the authenticity of your brand and drastically raises the level of trust you have with potential customers.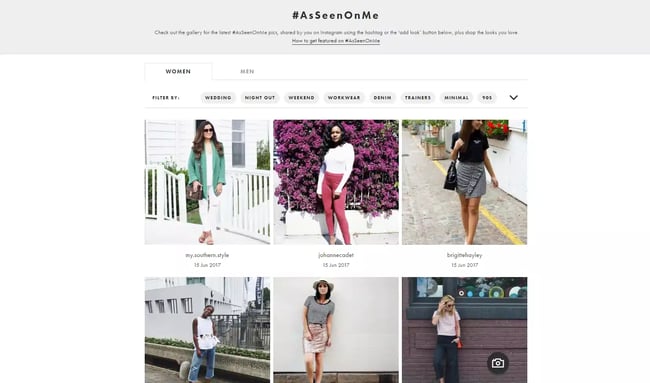 Image source: meltwater.com
The eCommerce fashion brand, ASOS, capitalized on the "#OOTD" (outfit of the day) trend and created its own hashtag. Upon customers using the hashtag with photos of them wearing ASOS clothes, their photos are shared in a section on the website.
8- Offer content for each stage in the buyer's journey
Think of the customer as someone lost on an island that you need to guide through each step. To be more precise, there are 3 stages to the buyer's journey (awareness, consideration, and decision), your plan should include distinctive content for each step.
For instance, if your online store sells skin care products, you can have some blogs for the awareness stage that focuses on skin types.
Simultaneously, you should be creating other blogs for the consideration stage, tackling how to choose the best product for your skin. As well as blogs for the decisions phase showcasing your products' unique selling points.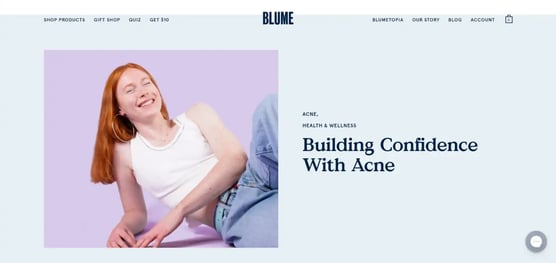 Image source: ecommerceguide.com
A perfect example of this is the blog of Blume - a skin care product brand, which creates blogs tackling the pain points of customers, followed by others helping them learn how to use their products to solve these problems.
9- Educate with a glossary of terms
Every industry has its own lingo that is commonly known among professionals. Having said that, it's important to note that there is a high probability that your potential customers won't understand what you are talking about.
This is one of the simplest eCommerce content marketing strategies. All you gotta do is add a website page that serves as a glossary of terms.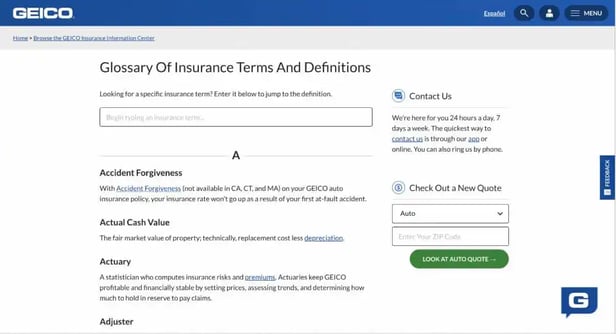 In this example, GEICO has a glossary on its website that teaches visitors industry jargon. This also helps advance your SEO efforts.
10- Be the one to answer the most frequently asked questions
Just like the previous strategy, this can be considered one of the easiest eCommerce content marketing strategies. You just have to collect the most frequently asked questions about your industry, products, and personal brand, and answer them in one page.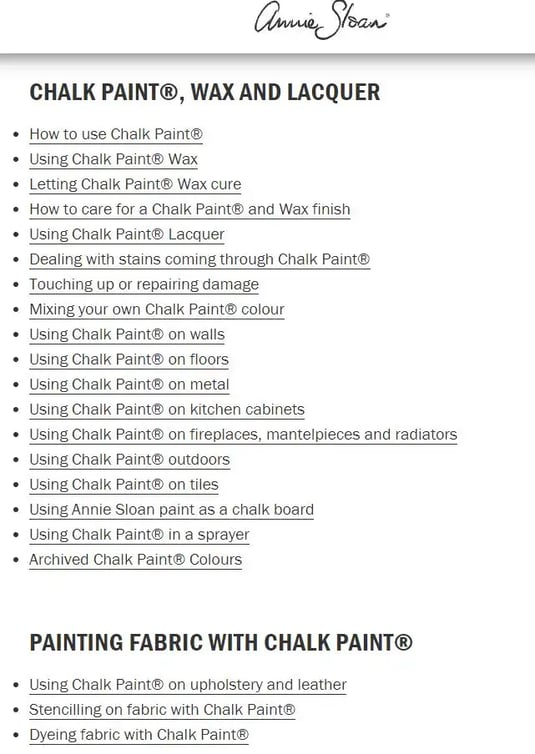 Annie Sloan, a paint brand, offers a significant FAQ page that covers every aspect customers might be worried about.