Top eCommerce Trends For 2023
With the immense growth in 2022, it is expected that eCommerce will continue to boom in 2023. No doubt that the previous year has been challenging for many eCommerce businesses, but the upcoming year will offer a shift in the eCommerce business world.
According to research, retail e-commerce sales will massively increase from 5 trillion USD to 8 trillion USD in 2026.
Was your eCommerce business facing a lot of challenges in 2022?
It's about time you fixed everything for the new year! Maximize your sales, fix your bugs, attract new customers, and boost your brand awareness and engagement with the newest eCommerce trends.
Read the article below to know everything you need about the upcoming eCommerce trends in 2023 and let your business boom!
Table of Content:
Top 2023 eCommerce Trends:
Top eCommerce Trends For 2023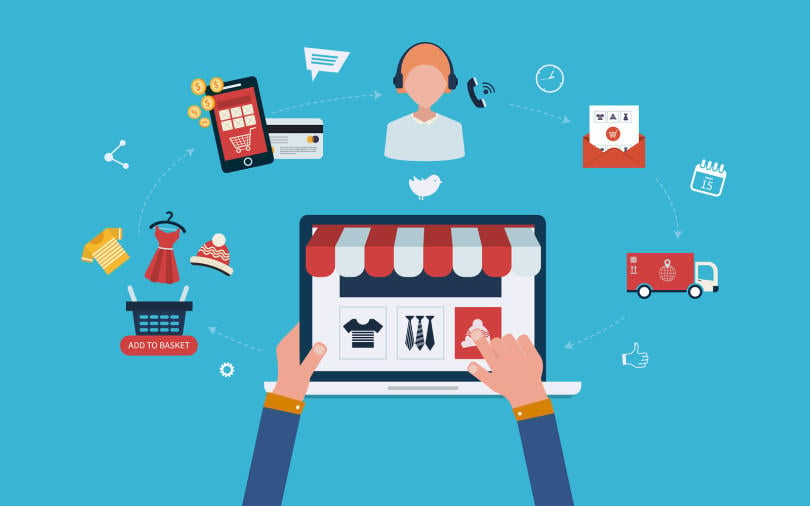 Stay away from the market's competition by monitoring and studying the latest trends in the eCommerce world. Be ahead of others by knowing the following eCommerce trends:
1- Omnichannel Marketing
In 2022, some businesses have been using multiple channels, however, omnichannel marketing is coming powerfully in 2023. Using various channels can help boost your business and can help build a strong relationship with your customers. However, you need to be flexible enough with customers across different channels to give them the option to return items or exchange them.

Consider using AR in your online shopping to boost your customers' experience. Make sure that all your channels are integrated and that even your customers' data in-store will be saved online as well.

"Nearly 75% of buyers use multiple channels before purchasing, and 73% of e-commerce consumers report using various channels during their customer journey."

If your brand delivers effective omnichannel marketing, be assured that it will be a success in 2023.

Pro Tip: knowing how your customers like to shop and understanding their needs is crucial and it can help you know what are the best channels to use and integrate in your plan and how to provide the best shopping experience for them.
Discover: Top 10 Omnichannel Marketing Strategies For eCommerce You Should Adopt
2- Going Green
Yes! Did you know that 73% of consumers worldwide said they are willing to change their purchasing behavior to reduce their impact on the environment?
The world is actually going green and brands that are using eco-friendly materials and sustainable products are expected to continue and prosper. If your brand didn't consider doing this, then probably it is time!
Study how to have a sustainable business and start applying it as soon as you can. Moreover, you need to start letting your customers know you are going green and promoting it in your ads as well.



Image Source

Pro Tip: To own a sustainable eCommerce business, you will need to start analyzing the effect of your product manufacturing and process on society, the environment, and human well-being.
3- Using Mobile Shopping (M-commerce)
While we have seen this trend massively in 2022, we are quite sure mobile marketing will boom in 2023. It is actually expected that 8% of all retail transactions will happen through mobiles in 2023. With QR codes, social commerce, mobile applications, and online shopping, taking care of mobile shopping is a must!
According to Statista, mobile devices account for 71% of retail traffic and generate 61% of online shopping orders.

57% of customers won't recommend a business with a poorly designed mobile website. Hence, you need to have a mobile-friendly, easily navigated website. This will lead to a better customer experience.

Pro Tip: Adjust your 2023 marketing strategy depending on M-commerce and make sure all your channels are mobile-friendly and have responsive designs.
Check the ultimate guide for m-commerce
4- Third-party Cookies
Did you know Google is right now focusing on stepping away from third-party cookies in Google Chrome. As more than 65% of the world's population uses Chrome, then you need to know that.
If third-party cookies got eliminated, this might lead to eCommerce businesses not being able to track their consumers' data. But, don't worry you can use first-party cookies instead or Google Publisher Provided Identifier or Digital Fingerprinting.

Pro Tip: You can try to use Google Sandbox, a bundle of new technologies meant to protect people's online privacy while still giving companies the tools they need to analyze and monitor their consumers effectively.
5- Cross-border Commerce
Have you considered invading new markets? Are you in the red ocean or blue ocean? If not, then you can probably start considering distribution in new markets whether locally or globally! This can allow you to grow your sales and have new products to satisfy other needs.
However, bear in mind this point might not be good for startups; this can work perfectly for well-established eCommerce businesses.

Pro Tip: To be able to do this, you need to study closely the market place that you are trying to invade, for example the culture, the audience, the language, the delivery methods, the logistics, and more.
6- New Payment Models
As technology and marketing are widely evolving, consumers' shopping behaviors are changing and they are searching for frictionless payment methods. Hence, you can start using mobile and digital wallets, one-click payments, auto-renewing subscriptions, and in-app payments. More methods can be:
Digital wallets like (PayPal, Google Pay, Amazon Pay, Mobilepay)
Cards like (Visa, Mastercard, Dankort, Maestro)
Buy now pay later like (Klarna "available in Sweden, Norway, Finland, Denmark, Germany, Austria, the Netherlands, Belgium, Switzerland, France, Italy, Poland, Spain, Great Britain, the USA, Canada and Australia" - AfterPay "available in a number of countries, including the United Kingdom, Australia, the United States, and Canada" - ClearPay "available in the following countries in Europe: UK, France, Spain, and Italy".)
Vouchers like (PaySafeCard, available in over 600,000 outlets in nearly 50 countries worldwide)
Online banking
Pro Tip: try including installment plans for your customers; if this suits your brand identity, then it can have a greatly positive effect on your business.
7- AI & Machine Learning
AI is currently invading the world and we believe that it will thrive in the upcoming period. If your brand is not using any AI features yet, then you are probably missing a lot! AI & machine learning include voice search and voice-enabled shopping, AR virtual try-on, AI upselling & cross-selling, AI mobile shopping tools, chatbots, and more.
AI has made it way simpler to personalize every angle of your customer journey. 49% of consumers have purchased a product they did not intend to buy after receiving a personalized product recommendation.
Pro Tip: Start using specialized AI Tools to boost your sales in 2023. Convertedin is actually one of the best fully automated marketing operating systems that will allow you to ​​target the right customers, engage shoppers, and save time with ready-made automation templates.
Machine Learning in E-Commerce: Benefits & challenges And How to Use
8- Re-commerce
All the re-commerce businesses are growing and expanding 20 times faster than the broader retail market and five times faster than off-price retailers, according to Coresight Research. Although the re-commerce concept is not new, more and more people are following this trend and trying to support sustainability in shopping. 44% of consumers will sell their unwanted goods, meaning the pre-loved market could be booming next year.

Did you know that Electronic waste is a sore point on the global and European sustainability credentials? Statistics estimate this waste is 575 million tons per year and expect this number to reach nearly 75 million tons by 2030.

Pro Tip: If your brand's identity allows this, you can try to re-commerce by reselling old products, used products, or sustainable ones, or you can also buy your old products from clients and recycle them. This can boost brand loyalty and image.
9- Live Shopping

Did you know live shopping sales may make up 20% of all eCommerce sales by 2026?
Most shoppers now are looking for brands online and they expect to find you with an online store. That's the reason why live shopping is used by 78% of businesses to build deeper connections with their audience and to boost their brand engagement. You can do it using influencer marketing, live product launch, AR & VR shopping, and more.

Pro Tip: Integrate live shopping with your social commerce in your strategy; this should boost your revenue and maximize your sales, and might attract new potential customers as well.
10- BOPIS!

Buy Online, Pick-up In Store retail is a new strategy that businesses are using around the world to meet up customers' expectations. It is a method that can boost your physical store traffic and bridge the gap between online and offline shopping.

It can also reduce shipping costs and can give the customer an easier and quicker option to exchange or return. This has been accelerating since the pandemic and we do believe this will be a massive trend for 2023. If your brand has a physical and online presence, then you have to adopt this strategy to boost your online and in-store traffic and boost your ROI.

Pro Tip: offer a convenient online shopping on your website for your customers, let them finish their full shopping journey and at the checkout, make sure you are giving them all the options whether to have it delivered or picked up from the store. Also, make sure you are providing them with all your store locations and opening times so that they can find the most convenient option and location for them.



After having a complete guide to 2023 trends, one thing we are sure of is that eCommerce will have a lot of changes and will boom worldwide!

Now you can take action to eliminate all your marketing efforts by automating everything! Complete your reading to know how.

Automate Your 2023 Marketing Efforts

Do you know that now you can have all your marketing activities planned out and executed automatically?
Well, yes! Convertedin offers a fully automated marketing operating system for your eCommerce where you can utilize customers' data and shoppers' insights to create personalized multi-channel marketing that boosts customer engagement and maximizes ROI.

Save your time and efforts in the new upcoming year and enjoy a prosperous, successful year for your brand.