Video Marketing For e-Commerce: Benefits, Types, And How To Create It
Customers interested in online shopping go through a kind of reality-expectation dilemma. Products might seem perfect in pictures, but in reality, they turn out to be otherwise.
Therefore, video marketing for e-commerce comes to the rescue. Video marketing is the incorporation of videos into your marketing strategy to promote your products and inform your customers about your brand.
Generally, videos are more effective in delivering information and showcasing products to customers than text or even images.
Hence, video marketing for e-commerce delivers real-time shots to customers to avoid any surprises after purchasing. Thus, video marketing for e-commerce encourages customers to convert and purchase products. Accordingly, it leads to more sales and revenues for online stores.
It can be said that video marketing for e-commerce is worth every penny. So, now is the time to start working on your video marketing strategy. Using video marketing can help you in sending your message in the most attractive way. In other words, with the right videos, you can skyrocket sales and gain new customers.
Keep on reading this article for everything you need to know about video marketing for e-commerce, its benefits, types, and how to create one
Table Of Content:
Statistics On Video Marketing For e-Commerce
Let's start with some numbers and statistics on video marketing for e-commerce to warm you up.
A study has shown that 91% of businesses rely on videos as part of their marketing efforts (Wyzowl,2023).
96% of video marketers have shown that video marketing increases users' understanding of their products and increases brand awareness.
Around 80% of video marketers said that videos helped them directly increase sales.
As for users, 89% of viewers claimed that watching a video has convinced them to buy a specific product or service.
Another study showed that 96% of users find videos helpful when purchasing online (Lunio,2023).
54% of customers prefer to see more video content from the brands they support (Hubspot, 2022)
60% of businesses use video marketing to increase user engagement (

G2

,2022)

Short-form videos are the most engaging type of material on social media, according to 66% of consumers.
The average consumer watches around 17 hours of videos online per week.
Businesses that use video generate 49% more revenue than non-video users.
In the past year, more than 80% of global online traffic came from video streaming and downloads.
Video accounts for 69% of mobile data traffic and is expected to increase to 79% by 2027.

The Importance of Video Marketing for eCommerce
We already established that as an eCommerce business, it's vital to add videos to your campaigns and marketing efforts, but why?
Every decision you make will cost you money, time, and effort, so we are not offended that you are not taking our word for it and need proof that video marketing for eCommerce is really that important.
To keep it simple and to the point, video marketing can help you in:
1- Provides Better Explanation For Products

Image source
If customers have the choice to know about a product in a written format or a video, what do you think they will choose?
Yes, you got it right.
Definitely, customers will prefer to know more about a particular product by watching a video rather than reading long descriptive paragraphs. Customers are ten times more likely to interact with a video than text (Webfx, 2021).
Videos are more informative and expressive than paragraphs and images, which customers desire during their online shopping experience.
Customers shopping online get the chance only to see the product. Therefore, you must exert all the needed efforts to invest in the visual aspect, manifesting in video marketing.
2- Generate Leads
Trust us, the more views for your videos, the more leads generated.
Whenever users engage with your videos, they are more likely to turn to potential leads. Every second of your videos can contribute to lead generation.
According to Hubspot (2022), 83% of marketers agreed that video marketing helps them generate leads.
Video marketing for e-commerce is like a lead-generating plant. Hence, you should take advantage of that opportunity.
3- Increases Conversion Rate
One of the first reasons you should include video marketing in your e-commerce is the increase in conversion rates.
Regardless of the math and the numbers, the more leads you get, the higher the conversion rates. It's that simple.
Video marketing can increase the conversion rate by 86% (Webfx, 2021).
Users watching videos of your products are more likely to convert from just being viewers to customers. Video marketing for e-commerce previews the products in a more precise way, even better than images do. Hence, it removes any obstacles that prevent customers from purchasing.
Incorporating videos is not only done on your social media platforms but also on your product page and landing page. A study has shown that landing pages with videos convert 86% better (Dash,2022).
4- Videos are captivating

Graphics capture people's attention, but videos are more effective. Much more than the excitement the videos bring, it helps viewers to learn and retain the accompanying message. Survey boasts a 95% retention level for video viewers compared to 10% of text readers.
Similarly, it is easier to convince a person using a video. Of course, you cannot engage every potential buyer physically. Videos help to captivate the viewers' attention as they convey sufficient details about your brand.
5- Increases Brand Awareness
One of the easiest ways to introduce your brand is through video. You can create campaigns revolving around telling your brand's story. And of course, you know what the power of a good story can do to your sales!
There are millions of videos played every day. For example, Youtube has 2 billion monthly active users (EarthWeb,2023) in addition to the other platforms enabling video marketing.
Therefore, the chances that your video content is seen and shared are huge compared to the chances of text. Videos are more likely to attract people, hence, increasing your brand awareness.
It is worth mentioning that of users watching a video, 92% of them are likely to share the video (Webfx, 2021). If this won't increase your brand awareness, we are unsure what else will.
6-
Increases Search Engine Visibility
When customers are looking for a certain product, they probably go to search engines like Google. However, you are undoubtedly wrong if you think that search engines provide a high ranking for blogs and texts only.
Search engines understand that customers might prefer video content compared to written content. Therefore, videos are highly ranked on SERPs and even have their section.
Additionally, websites that include videos on their pages are more likely to be ranked higher on SERPs. A website with a video is 53 times more likely to reach Google's first page (Sprout video,2022). Thus, videos make websites SEO-friendly.
Such a higher ranking on SERPs will contribute to more awareness of your e-commerce, more leads, and higher conversion rates.
Types Of Videos For e-Commerce
At this point, you have to be familiarized with the different types of videos that you can use for your e-commerce. So, we will take you through the types of videos you have to start working on.
1-
Product Tutorials Videos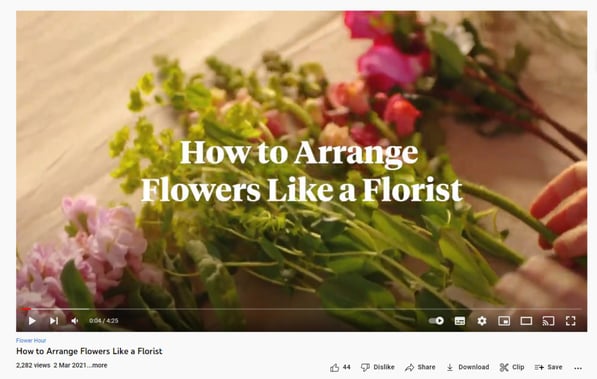 t is not just about showing your products and their features to customers but also how they are used in real life.
Product tutorials videos provide customers with tips and precious information that your customers value.
Always keep in mind that customers appreciate valuable content. So, product tutorial videos will deliver such a message and position your e-commerce as one of the industry experts.
For example, Bloom and Wild, an online florist, started its product tutorial videos on how to arrange flowers like a florist. It provided its customers with valuable information and solutions to problems they encountered. Also, it incorporated some of its benefits and didn't forget to add a clear call to action.
We bet that we have talked about testimonials a hundred times before. But trust us; they are that important.
2- Testimonials Videos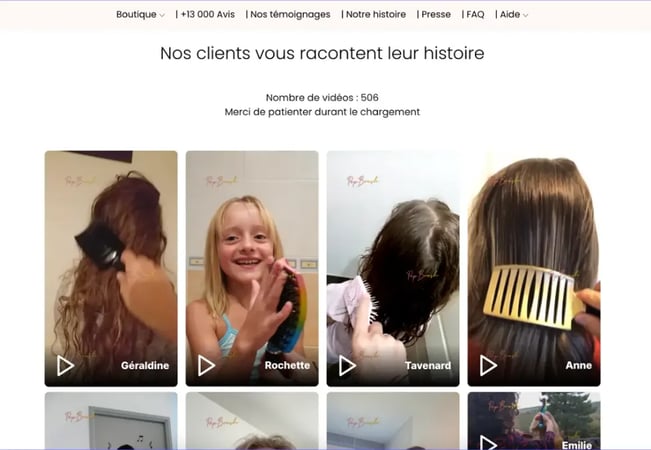 Source
Video marketing is essential for e-commerce too. So, that's why we encourage you to work on such a type of video: customer testimonials.
There is no better way to convince customers of your products than showing them the feedback and testimonials of previous buyers, a perfect indicator of social proof.
Customers generally seek others' confirmation, which is what you are exactly doing in video content as well.
Simply, you are hitting two birds with one stone.
Popbrush is an e-commerce store specializing in kids' hair brushes. It relies on testimonials in video formats to show how children benefit from using its brushes.
3- Live Videos
Live videos are one of the best types of videos you can include in your e-commerce. Several social media platforms started to offer live video features.
Live videos deliver unfiltered, genuine, and real content for your customers. Hence, they enhance customer engagement and interaction.
In addition, it gives customers the opportunity to ask questions and receive instant answers to remove any doubts regarding your products.
4- User-Generated Content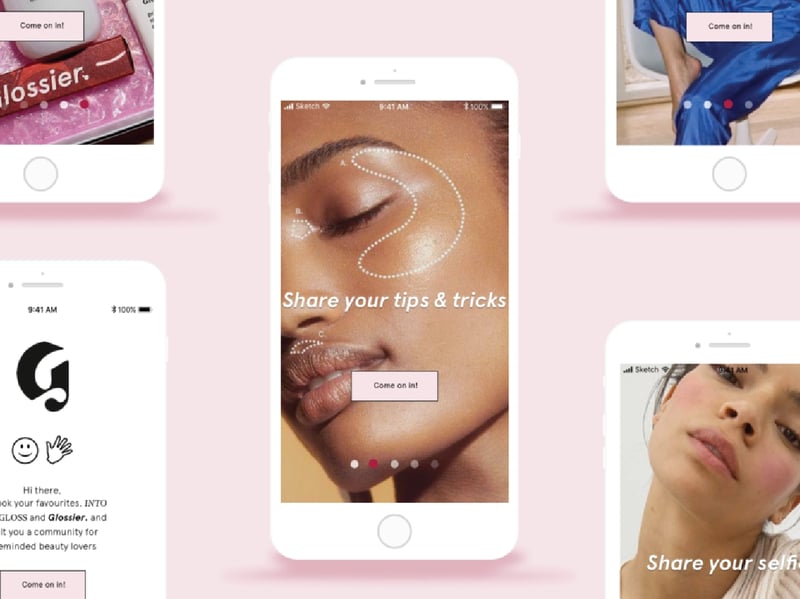 User-generated content (UGC) is any type of content created and shared by customers on social media platforms. So, with the massive amount of time customers spend on social media platforms, your e-commerce can benefit from the created content.
At this point, we are focusing on the video content created by your customers which is relevant to your e-commerce.
The video content created by customers requires a minimum amount of time and resources from your side yet, achieves astonishing results.
Hence, all you have to do is to encourage your customers to share videos about your products. These videos might be testimonials, tutorials, or how-to videos. Just incentivize customers to share product-related videos and watch the magic.
Glossier leverages UGC by sharing a real-life customer using its facial mask while adding a fun twist to the video of things to do while masking.
5- Unboxing videos
While we are on the subject of influencer marketing, did you know that unboxing videos are not only for influencers?
This type of video marketing for eCommerce focuses on packaging and what customers should expect when their shipment arrives. Bear in mind that unboxing videos is one of the easiest to shoot and it can be done in a fun and engaging way.
6- How to videos
Whether you sell complicated products or not, how-to videos can be a great addition to your video marketing efforts. This video type takes a deep dive into every aspect of the product and teaches customers how to benefit from every feature.
In a nutshell, how-to videos are product demos where you show customers how they can maximize the benefits of your products.
7- FAQ videos
Have a frequently-asked section? Why not repurpose it in some fun videos that answer customers' questions and promote your products simultaneously!
You can also go live on your social media accounts and answer customers' questions, this will help you better connect with your clientele and increase engagement.
It is also worth noting that there is no right or wrong type of video, it all depends on your branding and customer base. So don't be afraid to try out many types and include them in different campaigns til you find the best ones for your videos.
Of course, we don't mean just creating many videos until you find something that works. Every step of the way should be carefully calculated!
How To Create a Video Marketing Strategy That Converts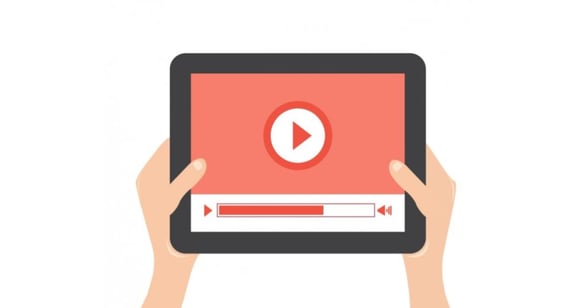 1- Figure out the goal
Always keep in mind that your videos should have a goal. It is either to spread awareness, ignite interest, provoke desire, or encourage action. In other words, your videos have to reflect in one of the stages of the conversion funnel to witness desirable results.
A video created with the sole goal of selling is an ineffective one. Thus, doing some research is necessary before formulating your videos. You have to identify your goals and start working on them.
For example, if you aim to spread awareness, you can provide informative videos or collaborative videos to reach the largest number of potential customers.
Putting this in mind, you will be able to develop the right message suitable for each goal and each stage of your conversion funnel.
2-
Identify Your Target Audience
Just imagine exerting so much effort on your video marketing strategy, yet it is delivered to the wrong audience.
This is a scenario you won't wish to happen to your worst enemy.
Video content delivered to the wrong target audience is worthless. Therefore, to avoid such a scenario, you have to create a customer persona.
A customer persona is a fictional representation of your target audience, their demographics, hobbies, and interests.
Hence, by developing a customer persona, you will understand the needs and interests of your target audience to start getting the job done. In addition, you will understand the content that suits your target audience and resonates with them.
If you need an extra hand in segmenting your market and identifying your target audience, you have to check Convertedin. It is a marketing automation tool that offers auto-segmentation features to effortlessly handle the segmentation hassle for your e-commerce.
3- Pick a platform
Where are you posting this video? Is it on your website? Instagram? Snapchat? Youtube?
Thanks to several technological advancements, you are now exposed to plenty of platforms suitable for video content. Each of these platforms has its audience and its different video formats.
So, the options are vast, and the choice is tough.
Your choice of the right platform contributes to the success of your video marketing strategy and increases the chances of conversion.
If you are not sure about the right platform, start with the one in which you have the largest audience. Hence, you will ensure that your videos reach the largest number of potential customers.
Also, you have to be familiarized with the right type of content and the time frame required by each platform. For example, if you are considering TikTok, your videos have to be short to fit the platform's time frame. However, Youtube provides you with a longer time frame that you can benefit from.
Never forget to include your videos on your website as well to fully benefit from them.
4-Include A Clear Call To Action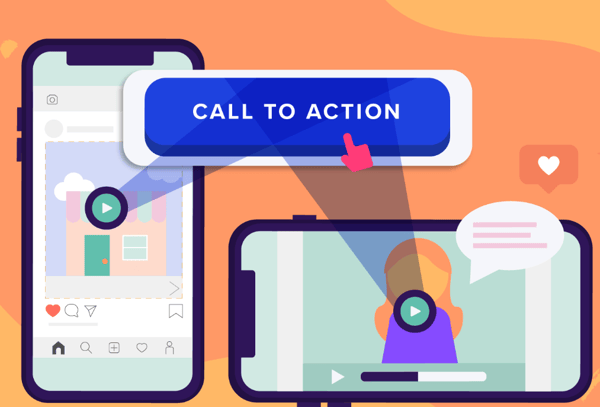 Source
At the end of the day, your video marketing strategy aims to convert. Thus, you can't miss including a clear CTA in your videos.
Despite the creativity of your videos, the different types of videos you can utilize, and the outstanding product features you will discuss, if you don't add a clear CTA, you are less likely to witness your aimed results.
Customers always need a push to keep going through the conversion funnel. In your video marketing strategy, your CTA is the push your customers need.
5- Focus on your selling point
Each brand and each product has its own unique selling point, so always circle back in your video to that unique point. By that, you will be making your selling point the thing a customer remembers the most after they are done with the video.
6- Keep your customers engaged
Fast cuts and short videos are a great way to maintain the attention of viewers but they are not enough to keep them engaged. You can get them to engage with your eCommerce business through the message itself.
The content of your video should always stay true to your branding, have the right tone of voice for your target audience, and send the message in the most engaging and creative way.
7- Measure Your Video Success
So, what is a successful video marketing strategy for e-commerce?
We are sure this is a tough question to answer. However, when you identify the right metrics for your videos, you can easily answer such a question.
You won't know the success of your video marketing strategy and its ability to convert until you take a look at the statistics associated with it.
Therefore, this is a crucial step you have to focus on to create a video marketing strategy that converts. You have to monitor the number of comments, likes, shares, engagement rate, views, average watch time, and conversion rates.
However, ensure your chosen metrics align with your primary objectives. If your goal is encouraging customers to take action on purchasing, your metrics can't be the number of views.
Analyzing your video marketing strategy using the right metrics helps you pinpoint the points of weakness that stand in the way of converting. Hence, you can work on such weaknesses to attain better results.