What Is Ecommerce Remarketing & Why To Use For Your Business?
In a world where all brands and businesses are fighting for the attention of consumers, some businesses find it hard to maintain their success amongst this competition. In this article, you will let you know all about e-commerce remarketing which is considered one of the most important tools that you will need in marketing strategy.
Did you know that only 3% are likely to buy from an eCommerce website on the first visit? That's what remarketing is all about, getting the 97% to purchase from your products.
Get to know what remarketing is, how it works, the best strategies, and more. Read on!
Table of Content:
What is the difference between Remarketing & Retargeting?
What is E-commerce Remarketing & How Does It Work?
E-commerce remarketing is an online marketing technique that influences and pushes online shoppers to revisit your website to finish the purchase they started but didn't check out. So, basically, it happens when online shoppers abandon their cart, and it is considered a responsive marketing technique that works on enforcing a certain reaction from consumers.
E-commerce Remarketing uses tactics such as a pop-up box asking shoppers if they are sure of leaving the site before finalizing their purchase or checking out. Cart abandonment in online stores usually takes place right before checking out. When this happens, you can still follow up through automated email marketing.
The primary objective of e-commerce remarketing is to turn shoppers who abandon their carts into actual purchasers. You need to keep in mind that e-commerce remarketing is most effective when there is no time between the consumer's cart abandonment and your marketing activities and reminders.
You can depend on behavioral email marketing and Web analytics to track and analyze consumers' or potential consumers' online shopping behaviors.
Communicate with your audience who have already shown interest in your brand and encourage them to take the desired action by purchasing your online products.
What is the difference between Remarketing & Retargeting?
E-commerce retargeting and remarketing are both used to generate leads or make sales, and they are quite similar. Most people can get confused between the two. However, they have core differences:
Retargeting targets a wide range of potential customers. It works mostly with ads like: online ad placement or display ads targeting customers who have been on your website before but didn't complete their purchase.
The focus point here is paid ads. These ads target customers once they leave the website. Ads are done by third parties, such as the Google Display Network or Facebook. Retargeting campaigns almost always result in higher engagement and conversions rate than non-retargeting campaigns.
Remarketing targets individuals who have previously shown interest in your brand by re-engaging them through using email marketing to facilitate upselling or reduce cart abandonment. Remarketing can also be considered as reminding your customers to purchase the product they interacted with by using information about their purchase history. The focus point here is email campaigns.
However, they both share the same goal, which is to increase conversions.
Why is E-commerce Remarketing Important?
A consumer's journey can take some time. Shoppers might not complete the shopping cycle all at once, and your potential customers can take a while to consider your brand and products. They can check competitors' websites or read other customers' reviews. Hence, you must remind them of your brand to be top of mind! E-commerce remarketing is crucial for your audience to make the desired purchasing decision.
Here are some reasons why it is so important for your eCommerce brand:
1- Spreading Your Brand Awareness and Exposure
E-commerce remarketing can also help with brand awareness, consideration, and loyalty. It helps you reach new and potential customers, as well as keeps your brand top of mind for your existing customers. You can use remarketing to acquire a new audience or remind your current audience of what you can offer.
2- Higher Conversion Rate
Research shows that online shoppers, who return to your website through a remarketing email, tend to convert more than those who visit your website for the first time. Remarketing is one of the most efficient ways to reach shoppers who left your site before making a purchase, and it is proven that it can help boost your conversion rates. Remarketing gives your potential shoppers a push to revisit your site and complete their purchase.
3- Increasing CTRs
Did you know that the average CTR for display ads is 0.07 percent and remarketing ads can improve your CTR to around 0.7 percent? This can have a huge impact on your sales and leads. People who have visited your site before are more likely to click on your ads when they see it.
4- Reach the Exact Relevant Audience
Remarketing helps you reach the audience who are already interested in your brand and products and the ones who have already visited your site and searched for what you are selling. There is no better targeting than reaching out to those people who are interested.
5- Timing is Everything
Remarketing provides the perfect timing to reach your audience. Remarketing helps you reach the exact people who have shown they need your product in excellent timing while they are most probably still considering buying from your brand. This can lead to amazing and fast results and other marketing activities.
6- No Need to Worry About Cart Abandonment
This is the main and most important benefit of remarketing. It reduces cart abandonment which is a common cause of reduced conversions on your website. Sending them an email as soon as they leave your website is a great way to remind and influence them to complete their purchase.
7- Get a High ROAS
Remarketing allows you to push your return on ad spend (ROAS), which is basically your profit or the money you make relative to the money you spend on your ad campaign. Remarketing is proven to double your ROAS.
8- Get the Chance to Upsell & Cross-sell
Remarketing offers you the chance to communicate with your audience, which is a great way to upsell or cross-sell your products. You can always recommend to your audience other relevant products either in the same category, with the same price or higher.
You can also use cross-selling with someone who purchased a product, as they would have built trust in your brand already and might be willing to purchase other relevant items.
9- Save Your Money, Save Your Time
Yes, remarketing is a cost-effective marketing technique. You can cut costs by just doing the follow-up email marketing. You can also save your time and money following up on interested customers only.
6 Strategies to Succeed In Your E-commerce Remarketing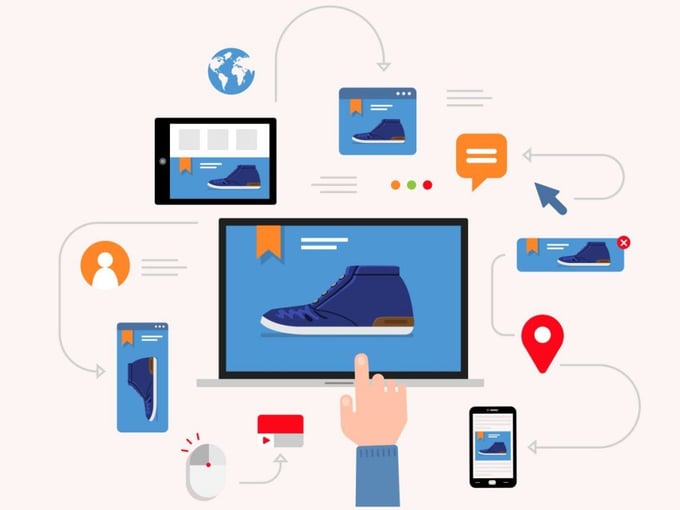 Maximize the results of your e-commerce marketing and double your ROI with the following tips and tricks:
1- Create Relevant, Attractive Personalized Messages
People love to feel that they are getting personalized and customized messages. Your message needs to answer this customer's question: "What's in it for me?". Focus on your customer's pain points. Write compelling subject lines and descriptions.
This will get your audience to proceed with their shopping journey to checkout. Moreover, it will help increase email open rates. Try adding user-generated content, such as product reviews written by other customers, this might build trust and increase sales.
2- Always Segment Your Audience
Customer segmentation helps you in dividing your audience, hence personalizing the message sent to them later on in the remarketing campaigns. So, you need to identify each group and categorize the audience according to many aspects like: demographics, buying behavior, and campaign engagement. Most importantly, you need to pay close attention to your audience's position in the customer journey.
3- Use Compelling CTA
Adding a strong call-to-action (CTA) button in your campaign will influence your customers to take the desired action and go back to your website to purchase the product they left. Create a sense of urgency. Let your copy be short, concise, and convincing. And always use captivating designs, visually appealing coloring, and images that match your brand. Make sure your logo is there.
4- Use A Responsive Email Design
Did you know that if your email is not optimized for mobile, over 80% of recipients will delete it, and another 30% will press unsubscribe? Moreover, 63% of consumers will proceed to make a purchase, only if the email looks good on their mobile devices.
Using a responsive email template will allow shoppers to check your email wherever they are on their phones.
5- Mix & Match
E-commerce remarketing should be a part of your whole marketing strategy. Along with mixing your remarketing technique with other marketing activities, like retargeting ads and social media ads, you also need to mix up your remarketing channels.
Consumers aren't on just one channel, and it is important to reach them where they are. Do your research and know what your competitors are doing and what your audience needs to act accordingly.
6- Try, Test & Fail
It is totally fine to try out new things and see what works best for your audience and brand. Try out different images, texts, videos, and call-to-action. Test and know what boosts your click-through rates.
This is called A/B testing. For example, you can use Copy A and Visual A for one test, then Copy B and Visual A for the next test. So that you can indicate what is working and what is not.
To sum up, e-commerce remarketing helps you reach the perfect audience for your brand, drive higher conversion rates than many other strategies, which results in more purchases and more revenue. Remarketing is 100% worth the investment when you do it right.
Automate Your E-commerce Remarketing Campaign Now!
Convertedin is your safe place when it comes to automating your marketing activities. It will help you target the right customers, engage shoppers, and save time with ready-made automation templates. Drive top-tier results, boost sales, and entice shoppers with personalized ads across multiple channels now with convertedin.
Get started today, request a demo!