Your Full Guide On AMP Emails For E-commerce

By
Nada Gad
·
5 minute read
With the continuously evolving e-commerce landscape, technological advancements take place so online businesses can stand out among competitors. One of the main marketing tools for any e-commerce is email marketing.
Yet, a drawback of email marketing is that emails drown in hundreds of other emails that customers receive daily. Hence, your emails have to be different, unique, and, most importantly interactive.
Therefore, AMP emails for e-commerce are the perfect choice for any online store that wants to enhance its shopping experience and increase conversions and customer engagement.
Interested to know more about this exceptional feature?
Well, keep reading our article to know everything about AMP emails for e-commerce, why, and how to use them while shedding light on the difference between traditional emails and AMP emails.
Get ready!
Table Of Contents:
What Are AMP Emails For E-commerce?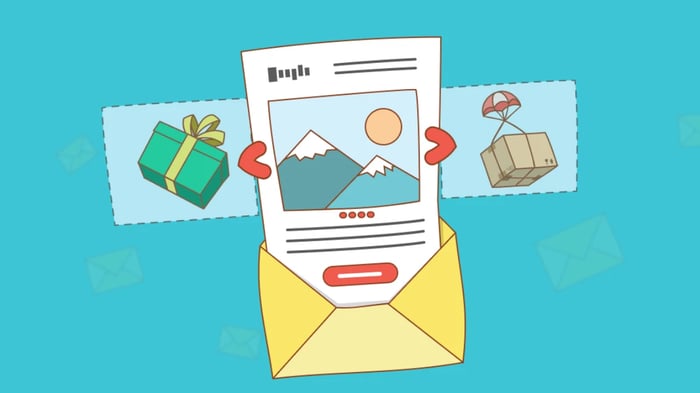 Image source: spcdn.org
AMP stands for accelerated mobile pages. It's a feature created by Google to accelerate the load time of mobile pages.
AMP emails for e-commerce involve adding more interactive features to your emails for a more dynamic experience. This means that recipients of AMP emails can take direct actions through your emails rather than navigating to another landing page.
Accordingly, shoppers can purchase products, fill out forms, and write reviews through their emails without leaving their inboxes.
Why To Use AMP Emails In E-commerce?
You are probably wondering by now what reasons to start using AMP emails in your e-commerce marketing strategy. So, let's see and decide for yourself.
1- Higher Engagement
It goes without saying that an interactive and dynamic email undoubtedly drives more engagement to your email and online business.
Recipient of AMP emails can share their thoughts about a product, write a comment, and reply to comments. Therefore, it's more likely that customers will be more engaged with your AMP emails as they are not forced to click on links or leave their inboxes.
A study showed that emails for e-commerce increased customer engagement by 225% (NetCore,2021). This will eventually lead to higher conversion rates and the ability to generate and nurture leads.
Well, that's a huge number.
2- More Secure
One of the main reasons to use AMP emails for e-commerce is the high levels of security it offers.
AMP emails limit the usage of data from 3rd party services to ensure higher levels of security for customers. In addition, ad components are not allowed in AMP emails to deliver higher security.
3- Enable Dynamic, Updated Information
One of the main benefits of AMP emails is providing dynamic, up-to-date information. Hence, AMP emails show real-time information regarding product availability and pricing, which can be easily updated from your side.
This is a good opportunity to constantly show product updates, trends, statistics, or promotional updates.
Therefore, you don't have to send continuous emails to customers, as information in your AMP emails can be effortlessly updated. As a result, your plenty of emails won't get lost in customers' inboxes. Also, you won't risk being unsubscribed by recipients.
4- Reduce Cart Abandonment
The interactive and dynamic nature of AMP emails for e-commerce highly contributes to reducing cart abandonment rates.
Traditional emails allow sending only images of the desired products left in the cart. However, in AMP emails, customers can place an order through their emails without having to leave their inbox. Hence, it facilitates the checkout process, which in return reduces cart abandonment.
So, through AMP emails, customers tend to make faster decisions to place an order, which is exactly what your e-commerce wants.
5- Easily Enable E-commerce Gamification
E-commerce gamification involves applying gaming elements to a customer's shopping experience. Who doesn't like playing a game and getting rewarded for it?
This makes the shopping experience more attractive and entertaining. In addition, it increases customer engagement, brand awareness, and sales.
One of the main benefits of AMP emails is allowing online businesses to include games in their emails. Accordingly, by facilitating e-commerce gamification, AMP emails allow your e-commerce to enjoy all the previously mentioned benefits.
Traditional Emails VS AMP Emails
The difference between traditional HTML emails and AMP emails is starting to become clear. However, we are going to make a simple comparison between the two types of emails to highlight the differences.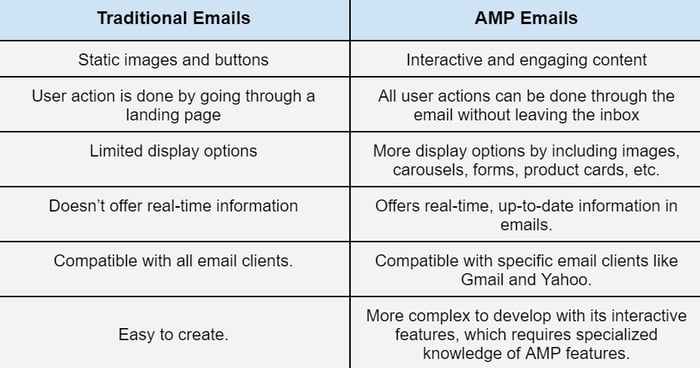 How To Use AMP Emails For E-commerce Brands (With Examples)
1- NPS Survey
Net Promoter Score (NPS) measures how likely your customers are to recommend your e-commerce to others. Accordingly, one of the primary ways you can use AMP emails for your e-commerce is through incorporating NPS.
After customers place their order, you can send an NPS survey asking, on a scale of 1 to 10, how likely they would recommend your products.
Therefore, you can gather feedback while at the same time, recipients won't have to go through plenty of links which hinders the process.
2- Quizzes

Quizzes are also one of the ways you can start using AMP emails for e-commerce. They are highly interactive and make customers engaged with your online business. In addition, you can reward them at the end of the quiz to make things more engaging.
Warby Parker nailed it in incorporating quizzes in their AMP emails. They understand customers' needs and the difficulties accompanied by shopping online for glasses. Accordingly, customers can answer Parker's quizzes to identify the most suitable sunglasses to send 5 of them as samples to try at home.
Hence, they make shoppers understand the most suitable frames that meet their expectations.
3- Abandoned Carts Emails
We can understand how devastating it is when shoppers abandon products in their carts. Yet, with AMP emails, you still have the chance to catch up on the abandoned products.
AMP emails don't only make shoppers have second thoughts about their left-behind products but also facilitate the process of placing an order without having to exert any effort or even leave their emails.
4- Games
There is no doubt that all people love games. This is part of human nature, as games bring so much fun and entertainment. So, by including games in your AMP emails, you are not only making things fun but also contributing to engaging shoppers.
Therefore, AMP emails enable your store to incorporate games and benefit the max from them by creating a highly interactive experience.
Gwyniee Bee, an online fashion retailer leverages AMP emails by adding some games through which shoppers can play and earn discounts.
Games add a sense of pleasure as you allow customers to work for the rewards and to earn them. So, they become more engaged and appreciative of the reward.
5- Product Recommendations

A successful way you can use AMP emails is by offering product recommendations. By monitoring the activity of customers, you can rely on AMP emails to send personalized product recommendations.
The thing is, your AMP email will include an interactive product catalog that encourages customers to make a purchase. Not to mention that their order can be completed through email as well.
So, what else do customers need?
Final Thoughts
AMP emails for e-commerce cannot be missed. They can revolutionize the performance and results of your emails with their interactive features. With the help of the tips and tactics mentioned in our article, we are sure you will ace your AMP emails.
However, your emails will combine between AMP and traditional ones. Hence, for your email marketing campaign, we recommend checking out Convertedin.
Convertedin is a marketing automation tool that can handle your email marketing with customized campaigns to increase your ROI. In addition, it creates an email marketing campaign for each activity like post-sale campaigns or abandoned cart campaigns.
So, whatever you need for email marketing will be available with Convertedin.
Never miss a chance, and book your demo now!