Your Full Guide To Healthcare E-Commerce in 2023

By
Nada Gad
·
6 minute read
Recent studies show that the healthcare e-commerce market will reach 366.94 billion dollars by 2023 and is expected to reach 732 billion dollars by 2027 (Global News Wire, 2023).
Therefore, the numbers indicate that healthcare e-commerce is booming. Hence, such a field can not be put aside.
Healthcare E-Commerce is the selling of healthcare products and services through the internet. The emergence of the Covid-19 pandemic encouraged people to shop online, and the healthcare sector was no exception.
Accordingly, the following article will explain the accelerating field of healthcare e-commerce, its trends, statistics, the best channels, and strategies to use.
Table Of Content:
Healthcare E-Commerce Top Trends
It became apparent that the healthcare e-commerce market is accelerating. Hence, it is a chance that can not be missed. Yet, if you want to be part of such a market, you must keep up with its top trends to simply Nail it!
1- Evolution Of Wellness
All social media platforms are filled with posts of people practicing yoga, meditating, nutrition, and healthy food. Accordingly, such posts show an alarming trend of wellness evolution.
The eruption of the Covid-19 pandemic made people more focused on their mental and physical health. Therefore, in 2023, healthcare e-commerce will continue witnessing wellness's evolution as a trend.
Consumers tend to buy vitamins, herbal remedies, supplements, and nutritious food. The good thing about healthcare e-commerce is its convenience. Consumers have the chance to focus on their wellness and order their products from the comfort of their homes.
The wellness evolution did not stop at this point; it even extended to the metaverse.
According to Meta, users' exercise statistics and activities will be tracked and available in one place. Accordingly, the wellness metaverse will offer users personalized workouts, nutrition tips, and meditation sessions.
2- Men's Personal Care
For a very long time, personal care and health products were considered exclusive for women. But the year 2023 has another perspective as men's personal care products are emerging as a trend in healthcare e-commerce.
Men have become more involved in buying their personal care products; hence, the demand is accelerating. The market size in 2021 reached 30.8 billion dollars, and it's expected to reach 67.2 billion dollars by 2030 (Research and markets,2022)
Accordingly, the cultural barrier standing against men's personal care products will be destroyed by 2023.
Amazon has its sector directed to men's personal care products. This includes men's supplements, vitamins, shampoos, and hygienic products.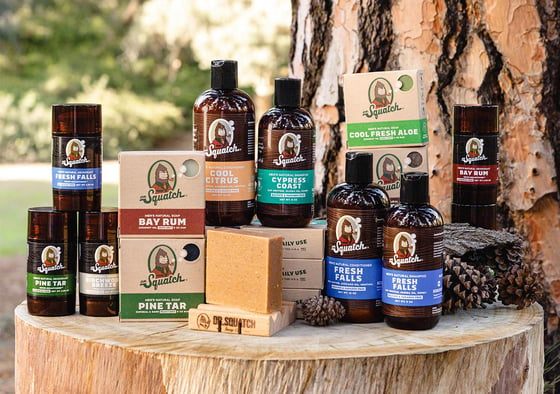 In addition, some E-Commerce brands are specialized only in men's personal care products. Dr.Squatch is a widely known E-Commerce brand that sells healthcare products made from natural ingredients and directed to men.
Therefore, men's personal care products are being taken into consideration by some E-Commerce brands. However, the market potential is enormous. So, keeping up with such a trend is crucial for success.
3- Personalization
Studies have shown that 80% of consumers are more likely to purchase from brands that offer them personalized experiences (Forbes, 2020).
As a result, personalization as a trend extended to Healthcare E-Commerce in 2023. Simply put, buyers want to enjoy a personalized shopping experience based on their interests and preferences.
This can be done in several ways. For example, you can monitor your customers' demographics and interests and send them automated, personalized emails with relevant recommendations.
In addition, you can offer your customers personalized products to suit their routines. For instance, your e-Commerce business can create a quiz asking customers about their routines and habits to provide them with personalized health products.
Personalization enables your healthcare e-commerce brand to stand out from competitors.
HUM Nutrition is a supplement brand that requires its buyers to complete a 13-question quiz about their nutrition, daily lifestyle, and exercise habits. Accordingly, it provides its customers with personalized supplements.
4- Omnichannel Healthcare E-Commerce
Since customers go back and forth between different channels, you have to be available through such channels to provide a seamless and harmonic experience.
Generally, omnichannel E-Commerce involves providing a unified and consistent customer experience across all available channels.
The omnichannel trend also reached healthcare e-commerce. For example, when customers place an order for acne products through your app, you can send an email to such customers for other products that go well with their ordered product. Also, you can add the link to an article you wrote about acne prevention.
Therefore, your e-commerce delivers consistent messages through different channels. In 2023, healthcare e-commerce is witnessing an accelerating trend of omnichannel marketing.
Healthcare E-Commerce Statistics
We just love to share numbers. They are an indicator of market potential. Hence, we will share some statistics on Healthcare E-Commerce 2023 to convince you of such a booming market.
The compound annual growth rate of healthcare e-commerce for 2027 is expected to reach 18.9% (The Business Research Company,2023)
Global E-Commerce sales of health and beauty products are expected to reach 449.6 billion dollars by (BigCommerce,2022)
In 2021, North America accounted for 53.2% of the global healthcare e-commerce market (Global News Wire, 2022)
In 2017, Amazon generated 2 billion dollars revenue from selling online medical supplies (Envision E-Commerce, 2021)
Amazon is growing its healthcare e-commerce by 33% each year (Digital Commerce360,2018)
Marketing Channels To Use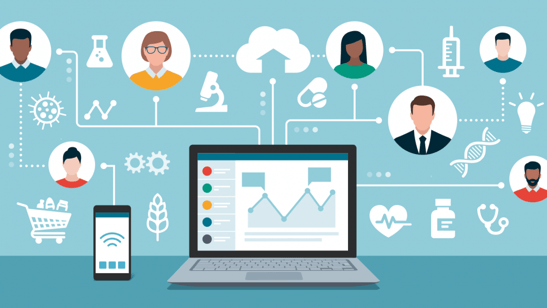 Image source
We are sure that you are convinced at this point with the accelerating market of Healthcare E-Commerce. However, before starting to sell, you must be aware of the best marketing channels for your business. This is precisely what we are going to discuss in the upcoming paragraphs.
One of the first marketing channels your Healthcare E-Commerce can use is definitely Facebook. With over 2.96 active users in 2022, according to Statista (2023), Facebook is a winning channel.
In addition, starting to sell your healthcare products is super easy. You can just create your page, and you are ready to go. However, your content is key for a successful presence on Facebook.
Plenty of Healthcare brands nailed it by selling on Facebook.
For example, Glaxo Smith Kline is a pharmaceutical company that noticed astonishing results through accelerating sales on Facebook. The pharmaceutical brand uses Facebook to deliver its brand message and to start conversations with its customers on health-related topics.
Instagram has been booming in the number of users and the number of E-Commerce brands using it. Hence, Healthcare E-Commerce is no exception.
Instagram is an essential marketing channel for your healthcare e-commerce. Generally, Instagram is full of posts and stories discussing mental health, physical health, exercises, and nutrition. Therefore, it is a suitable medium for sharing your healthcare products.
One of the appealing aspects of Instagram is that it enables you to share informative content, answer buyers' questions and even run initiatives. Hence, you are delivering valuable content to your customers, and you are available at each stage of their journey.
Golde is a supplement brand that has a strong presence on Instagram. It sells several products that are trending nowadays, like matcha and collagen. No wonder Golde is growing on Instagram.
Having a mobile app is actually crucial. Most E-Commerce businesses rely on mobile apps as one of their marketing channels.
Mobile apps provide your customers with high levels of personalization and an excellent user experience. This is exactly what you need for your Healthcare E-Commerce in 2023.
As mentioned earlier, personalization is one of the top trends for Healthcare E-Commerce. Hence, personalization will be successfully offered to your customers using the mobile app.
In addition, you can provide different types of content through your mobile app. For example, you can provide customized nutrition plans, exercises, essential supplements, and even informative content.
Marketing Strategies To Use
There are plenty of marketing strategies for your Healthcare E-Commerce that will ensure its success. Throughout the upcoming paragraphs, we will fill you in on the best marketing strategies to be used.
1- Use Influencer Marketing
Using influencer marketing while following the right steps and techniques never goes wrong.
Plenty of influencers nowadays are interested in nutrition and mental and physical health. Therefore, it's your chance to collaborate with these influencers to raise awareness for your products.
Having influencers talk about your healthcare products will increase engagement, raise awareness and familiarize customers with your products.
The key to successful influencer marketing is identifying your target audience and choosing the right platform. Most importantly, you must select the right influencer to help your products reach your target audience.
2- Utilize User-Generated Content
User-generated content (UGC) is one of the winning marketing strategies for any E-Commerce. However, it can be successfully utilized in your Healthcare E-Commerce.
You can run an initiative and benefit from the plenty of content created on a daily basis to serve your Healthcare E-Commerce.
For example, you can ask your customers to share their journey with your products. For example, they can share before and after pictures after using your vitamins. Also, customers can share how they include your supplements in their daily recipes.
If you want to go the extra mile, you can create a viral hashtag for your Healthcare E-Commerce that supports a specific cause.
For instance, Allergan is a pharmaceutical company that launched the #ActuallySheCan to encourage women's empowerment and to encourage women to share their healthcare issues.
3- Use Feedback And Testimonials
There is nothing better than customers who share desirable feedback about your products. Good word of mouth is highly desirable by any E-Commerce store.
Therefore, you have to make use of such feedback for your brand. Sharing the feedback and testimonials of your previous customers creates a psychological phenomenon known as social proof.
Social proof occurs when customers tend to receive confirmation from others before doing a specific action.
Therefore, by sharing feedback and testimonials, you are encouraging your current customers to make a purchase. So, it is definitely a winning marketing strategy for your Healthcare E-Commerce.
4- Focus On SEO
The first thing that comes to peoples' minds when they want to know more about a healthcare product and its effectiveness is looking for it online.
Therefore, focusing on Search Engine Optimization (SEO) and ensuring your presence on the top ranks of the Search Engine Result Page (SERP) will raise more awareness for your e-commerce brand.
You can utilize the necessary and relevant keywords to ensure your e-commerce store reaches your customers. In addition, you must deliver valuable content for your customers to ensure that your Healthcare E-Commerce is placed in the top SERP.
Final Thoughts:
Now you are ready to start your Healthcare E-Commerce. At this point, you are aware of the top trend, statistics, marketing channels, and strategies. Therefore, all of the success factors are in your possession.
However, one missing thing is to check out Convertedin. It is a marketing automation tool that will offer you auto segmentation, automated email marketing, automated ads, and plenty of other benefits.
We are sure we caught your attention. So, there is no time to waste, and book your demo now!