Your Roadmap to Success: 15 Ways to Improve E-Commerce Customer Experience

By
Nada Gad
·
6 minute read
E-commerce customer experience (CX) is a broad umbrella that encompasses all of the interactions occurring between your brand and your customers along their purchasing journey.
In other words, it shows how customers view your brand before, during, and after purchase. Hence, a satisfied customer is the one who has a pleasant customer experience. Accordingly, there are high chances for this buyer to return for future purchases.
As a result, online stores are doing all that it takes to improve their e-commerce customer experience. Such improvement is an ongoing process, yet it leads to higher sales, increased trust, and brand loyalty.
Accordingly, in this article, we will take you through the 15 best ways to utilize to improve e-commerce customer experience.
Best Ways To Improve E-Commerce Customer Experience
1- Automate Tasks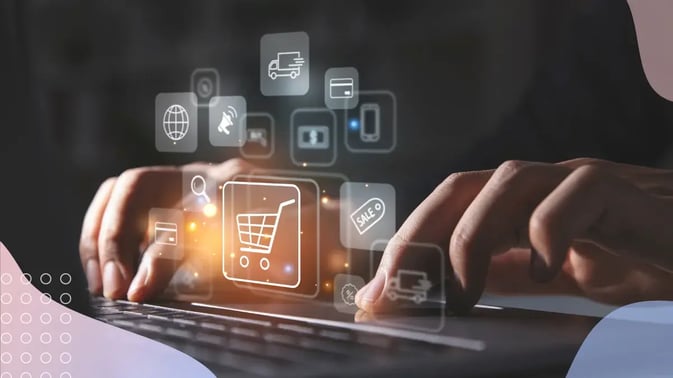 Image source: wrk.com
Automation is revolutionizing the e-commerce landscape at the time being. Hence, it should never be neglected in your e-commerce to enhance its performance and to improve e-commerce customer experience.
By automating tasks, you will be able to provide efficient customer support and reply to customers' inquiries promptly. In addition, automation will assist in processing orders rapidly and to manage inventory effectively.
Also, it can handle personalized product recommendations, pricing, email marketing, and notifications.
Simply, it will allow your online store to deliver a better customer experience with minimum effort from your side to focus on other vital tasks.
To enjoy all the benefits of automation, you have to check out Convertedin.
It is a marketing automation tool that will effortlessly handle email marketing, offer personalized ads to boost sales, provide a powerful product recommendation engine, and even work on auto-segmentation.
2- Make Your Website User-Friendly
A large faction of your website visitors are users who are still trying to decide what to buy or are just navigating your store to explore it.
Therefore, to improve e-commerce customer experience, you have to make your website a user-friendly one. Simply, navigating through your website should be easy and clear.
For example, your navigation panel has to be clear and organized with clear categories. Also, the search button must be vividly clear and easy to find by customers.
3- Offer Different Payment Options
To enhance the e-commerce customer experience, you have to give users what they need. In this case, we are talking about offering different payment options.
It's devastating when shoppers go through your website, purchase a product, and just at the moment to finalize their orders, they abandon their carts due to the absence of suitable payment options.
As a result, offering suitable payment options is crucial to the improvement of your e-commerce customer experience. You should offer various options as well to appeal to the different shoppers' preferences.
4- Provide High-Quality Product Images And Videos
If you think that providing high-quality images and videos for your products is unnecessary, you missed that out.
Providing high-quality images and videos is a crucial aspect of improving the e-commerce customer experience.
As we always say, online shoppers have nothing but to see your products. Hence, images or videos are the main determinants for purchasing. So, you have to work on the visuals to enhance customers' experience and encourage them to purchase.
5- Provide An Omnichannel Experience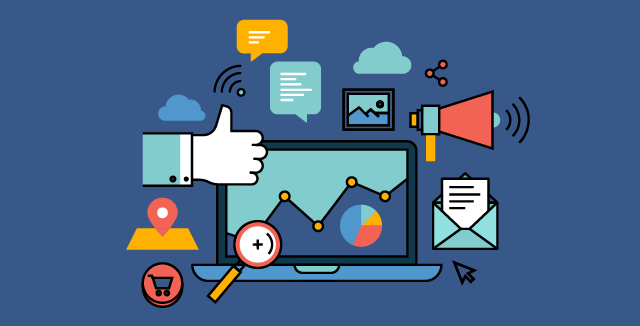 An omnichannel experience is the integration of all channels to create a consistent customer experience.
Nowadays, there are plenty of channels, and no doubt customers are present across all of them. Thus, you have to deliver consistent messages among them all so customers don't have to start over whenever they leave a channel and go to the other.
Accordingly, you provide shoppers with a consistent, seamless shopping experience regardless of the channel they choose. Integrating all of your channels will ensure delivering cohesive and convincing messages to customers while avoiding redundancy.
6- Build A Community
One of the ways to improve the e-commerce customer experience is through building a community.
It is a successful way of building an emotional connection with your loyal customers while standing out among the competition.
It connects your customers around a shared goal while making them feel like they belong to a family of loyal customers, all supporting one brand with its values.
You can spice things up with some exclusivity by offering discounts, coupons, or even events to the members of your community.
7- Listen To Your Customers
This is indeed the simplest way to improve the e-commerce customer experience. All you have to do is to listen to your customers.
Ask them about their shopping experience through post-purchase surveys. Know their feedback regarding the ease of placing an order, delivery time, shipping, and their thoughts about your product.
This will enable your online store to identify the points of weakness and to work on them.
In addition, listening to customers will increase customer satisfaction and eventually build brand trust and loyalty.
8- Provide A Clear Return And Exchange Policy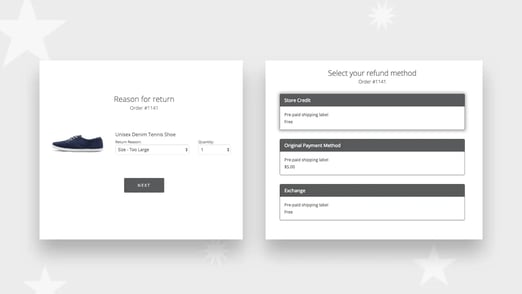 Image source: shopify.com
As a frequent online shopper, I have to tell you that I am always concerned with the return and exchange policy. I have to check them out before placing any order and undoubtedly, they affect my shopping experience.
Unlike retail shopping, online shopping doesn't allow trying out products. This is one of its drawbacks, which you have to get over in your online store.
So, for an enhanced e-commerce customer experience, your store must have a clear return and exchange policy. Shoppers have to know what they will go through if the product doesn't fit or they don't like it.
This will increase brand trust, and shoppers will be more confident before placing an order.
An extra tip: it will be a huge advantage if you add a free return and exchange policy. It will improve the e-commerce customer experience, and shoppers will return for future purchases.
9- Cross-sell And Up-sell
Cross-selling is a sales method that involves selling relevant products in addition to the primary ones customers intend to purchase. While up-selling is another sales method that encourages customers to buy an upgraded and premium version of the product to be purchased.
Therefore, you can rely on cross-selling and up-selling to improve the e-commerce customer experience by offering them relevant products to the ones they have chosen.
To elaborate, in cross-selling, if customers are purchasing a dress, you can recommend other relevant products like shoes or bags that will upscale the look. Yet, make sure not to bombard shoppers with plenty of products to avoid confusion.
Likewise, in upselling, you can enhance customer's experience by providing them with an upgraded version of their product. You can show testimonials about the upgraded product and how it's better than their primary choice.
Whether you rely on cross-selling or up-selling, you will certainly be able to provide more choices to shoppers and enhance their shopping experience.
10- Provide Premium Customer Support
In online shopping, customers will always have questions and inquiries that need to be answered promptly. The absence of human factors in online shopping requires online businesses to focus on providing premium customer support to improve e-commerce customer experience.
Therefore, you have to be present in various forms to respond to customers' inquiries. For instance, you have to incorporate a chatbot, live chat option, and emails for customers to reach out to you.
It's worth mentioning that in addition to your presence across various channels, your response has to be rapid as well.
Accordingly, you ensure your presence whenever shoppers need any assistance, and hence, you will get over one of the main drawbacks of online shopping.
11- Enhanced Mobile Optimization
According to Statista, in 2021, the number of mobile users accounted for 7.1 billion. Likewise, the number of sales by mobile e-commerce reached 2.2 trillion dollars during 2023 (Statista,2023).
Well, these are huge numbers that indicate one thing:" Mobile optimization."
You are missing out on a huge audience that is spending most of their time scrolling through their phones.
So, if you are aiming to improve their e-commerce customer experience, you will have to appeal to their needs by optimizing your store to become mobile-friendly.
Yes, it's that simple, but it will do wonders for the performance of your e-commerce.
12- Integrate Personalization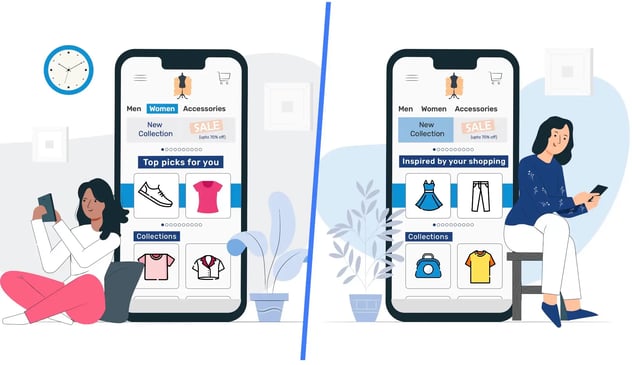 Image source:

argoid.ai





Generic shopping experience and product recommendations belong to the past. Now is the era of personalization.

Personalization is an integral aspect of the success of your e-commerce. Accordingly, you have to integrate personalization into your online store for an enhanced customer experience.

Personalization involves understanding shoppers' preferences, behaviors, habits, and demographics and offering relevant messages, product recommendations, and shopping experiences.

This will ensure that customers are having a pleasant shopping experience while increasing conversion rates. You are simply delivering the right content to the right audience at the right time.
13- Offer Free Shipping
Online shoppers admire discounts, coupons, sales, buy one get one, and loyalty programs. OK, We lost count; they love anything that gives extra cash off.
Yet, we want to tell you that one of the aspects that shoppers value the most is free shipping. In fact, shipping costs have a huge influence on shoppers' decision to complete their purchase.
A study has shown that 76% of online shoppers are encouraged to purchase on websites that offer free shipping (Digital Commerce 360, 2022).
Therefore, it becomes evident that free shipping is a satisfactory practice that improves the e-commerce customer experience.
Customers become on cloud nine because of free shipping, and this is exactly what you need as an e-commerce for a pleasant shopping experience.
14- Leverage Social Proof
Instead of telling online shoppers how amazing your products are, why not make previous shoppers do the job for you?
By offering a section on reviews and testimonials, you are assisting confused customers to trust your brand and place an order. They don't have to look for reviews, as everything is right here on your website.
People tend to find safety in imitating others and seeking their confirmation. That's why you are leveraging social proof through reviews and testimonials.
Most importantly, you are building brand trust and guiding customers, hence, contributing to creating an improved e-commerce customer experience.
15- Rely On A/B Testing And Optimization
Everything is trial and error. Thus, e-commerce is no different.
A way to improve customers' experience is simply to rely on A/B testing by measuring results based on different elements to reach the best-performing ones.
Accordingly, you can optimize your website to deliver the best results based on the elements that resonate best with shoppers.
** Check out 8 E-commerce Customer Experience KPIs And Metrics For Optimized Performance.
Final Thoughts:
A pleasant customer experience is the key to the success of your e-commerce. Therefore, with the 15 ways we mentioned in the article, get ready to witness a booming performance for your online store.
You will be ahead of the game with higher conversion rates, sales, and a huge base of loyal customers. It's a jackpot, isn't it?