Your Guide To Beauty Ecommerce Trends, Tips, And Strategies In 2023

By
Salma Habib
·
9 minute read
Can you imagine there was a time when the beauty, cosmetics, and personal care industry was only limited to physical stores, and people thought it would never be convenient for such products to be sold online? If you are having difficulty imagining that anyone ever believed that, it is very understandable because, today, everyone can see how strongly the beauty industry is taking over eCommerce.
When we talk about beauty eCommerce, we mean makeup, cosmetics, skincare, hair care, fragrances, deodorants, and other types of products. People who once believed that beauty products shopping only belonged to brick-and-mortar stores are now rooting for the unstoppable expansion of beauty eCommerce.
As we all know, generally, all businesses aim to offer their customers the best shopping experiences possible. During the past few years, eCommerce has allowed the beauty industry to do that in the most attractive ways. Additionally, this was accelerated by the rapid changes our world faces daily, such as technological advances, geopolitical conflicts, global pandemics, lockdowns… etc.
This article is your way to knowing how your beauty eCommerce business can thrive in 2023. We will walk you through the statistics you need to know about beauty eCommerce, the 2023 beauty eCommerce trends, and the best marketing channels and strategies you should use.
Table of Content:
Statistics That You Need To Know About Beauty E-commerce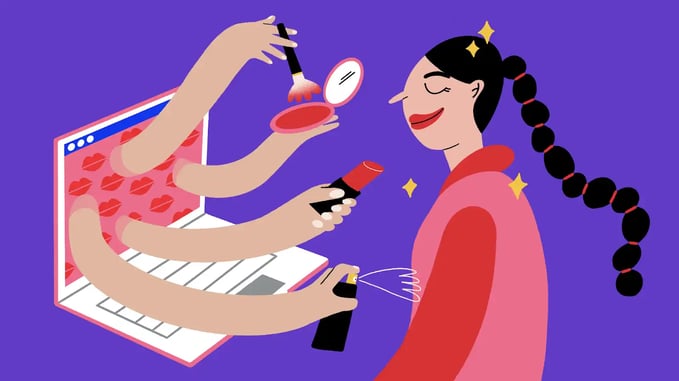 Image source: ctfassets.net
Research forecasts that global e-commerce sales in the health and beauty category will reach 449.6 billion U.S. dollars in 2027 (Statista, 2022).
In 2022, the top leading countries in the ranking of beauty eCommerce revenue were: (Statista)
The United States with $14.1 billion.
China with $12.61.
The United Kingdom with $2.64 billion.
Japan with $2.55 billion.
Germany with $1.93 billion.
Studies show that online buyers in the United States spend an average of $1 to $50 per month on beauty products online (Statista, 2022).
Top 5 Beauty E-Commerce Trends in 2023
In order to be able to ride the wave of beauty eCommerce growth, you have to be aware of all the 2023 trends. Here are 5 of the most important beauty eCommerce trends in 2023:
1- Artificial Intelligence and technological advancements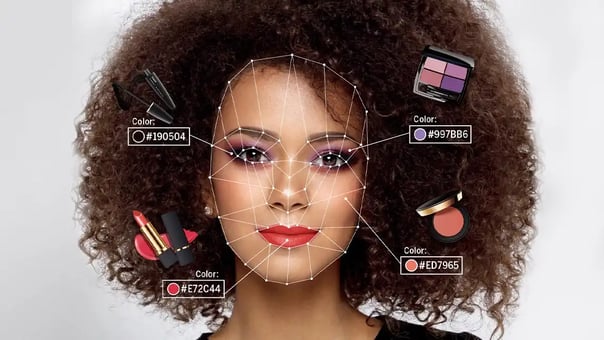 Source
If you are following the eCommerce digital marketing trends for 2023, which you should be, you are probably aware of the huge amount of attention that eCommerce is giving to artificial intelligence and technological advancements.
It can be said that this trend is the past, present, and future of beauty eCommerce. To better illustrate, technology is what made it possible in the first place for selling beauty products online to be as convenient as selling them in physical stores, if not even more convenient. It is currently the main driving factor behind the booming status of beauty eCommerce, and it is the main element on which beauty eCommerce marketers are basing their future.
Artificial intelligence today has what is called "skin technology", "AI skin mapping", or "AI skin scanner". It is a technology that provides a detailed analysis of a customer's skin based on certain metrics by scanning customers' faces via the cameras already integrated into their mobile devices. These in-depth scans of customers' skin types can help beauty eCommerce businesses to provide their customers with the best-personalized beauty product recommendations.
This will take us to another important beauty eCommerce aspect that can greatly benefit from AI, which is eCommerce personalization. AI utilizes all the data obtained from its AI skin technology, as well as all other types of data that your beauty eCommerce business can have access to. It offers perfectly tailored, well-customized, and hyper-personalized shopping experiences to each and every one of your customers.
Augmented Reality (AR) and Virtual Reality (VR) Technologies
What made it hard for some people in the past to believe that beauty products could be sold online is the fact that customers always wanted to try on such products before buying them. AR and VR technologies made it possible for customers to wear and try on beauty products online, from the comfort of their devices, and without having to go to an actual physical store. Such technologies might be called "virtual try-on technology".
These technologies are now integrated into many social media channels, such as Facebook, Instagram, Snapchat, and Pinterest.
Example:
L'Oréal, one of the world's largest beauty care and cosmetics companies, is excelling at utilizing AI and AR technologies to drive sales for its beauty eCommerce store. It even has its own technology incubator, in which the main focus is on how beauty and technology can meet. The ways l'Oréal utilizes technology are various:
Beauty Genius Virtual Try-On feature: It is a mobile application that uses augmented reality to let users try on hair color and makeup on their own faces before making a purchase. Customers only need to upload a photo of themselves or take a new one with their device's camera.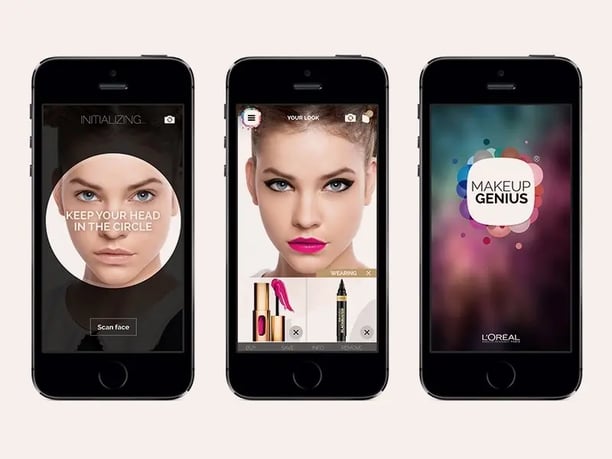 Source
AI-powered skin diagnostic: It is a tool that scans customers' skin, diagnoses it, and provides personalized product routines. l'Oréal developed this tool after acquiring an AI/AR company called "ModiFace".

AR-powered makeup try-on for Instagram shopping: It is a tool through which customers can go to the brand's Instagram page, find a product, and virtually try it on to see how it looks on them before purchasing it.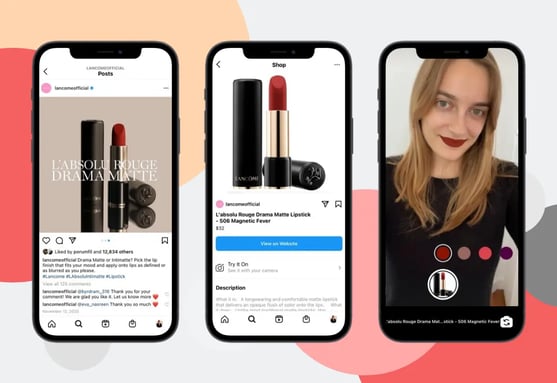 Source: squarespace
2- Loyalty Programs
E-commerce loyalty programs are proven to be very beneficial for eCommerce businesses in boosting sales and increasing customer retention rates. Beauty eCommerce is no exception to that.

There are numerous types of loyalty and rewards programs that beauty eCommerce businesses use. Some businesses provide customers discounts on products, exclusive access to product launches and other events, or even cash-back incentives. Other businesses reward clients for their loyalty by giving them gift cards or store credit.
Regardless of the type of loyalty program used by beauty eCommerce, research shows that 56% of customers are more likely to buy from a brand that has a loyalty program (Insider Intelligence, 2022).
Example:
Sephora is a leading brand in the beauty industry with an eCommerce store in addition to brick-and-mortar stores. Its beauty loyal program is considered one of the most successful tiered loyalty programs in the world.
It is a very traditional loyalty program based on points in which customers earn points as a reward for every purchase they make.
However, the main reason behind its success is the fact that it allows the members of the loyalty program to decide freely how they wish to spend their reward points. Moreover, Sephora has always been keen on regularly updating its loyalty programs.
The Sephora eCommerce loyalty program was originally named the "Beauty Insider" and customers could join it for free. In 2009, Sephora added a new type of loyalty program called "Beauty Tier (VIB)" which can be unlocked when you spend $350 within a year.

A third type of loyalty program was created in 2013, called the "Rouge Tier", which can be reached when you spend $1000 within a year. Additionally, in 2016, Sephora added something called the "Beauty Bazaar" where customers can spend their beauty insider points.
Sephora today is considered to have a tiered loyalty program. It is obvious how smart these loyalty programs are because they encourage customers to pay more in order to gain more exclusive benefits.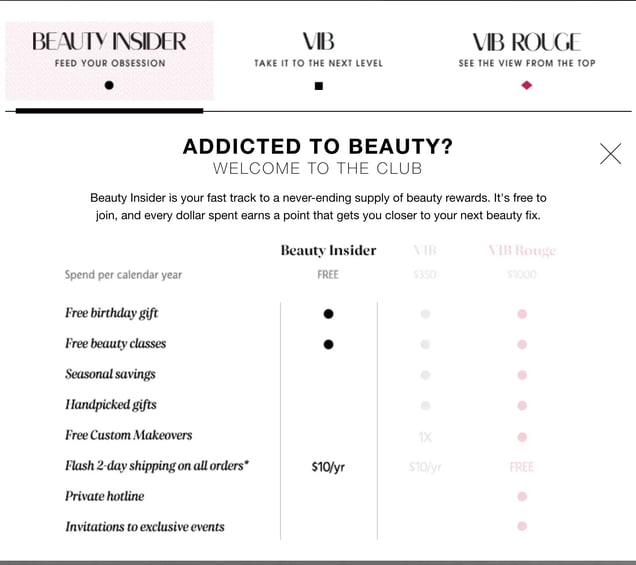 3- Influencer Marketing
Influencer marketing is also another one of the eCommerce digital marketing trends that are expected to rise in 2023. Beauty eCommerce is one of the main sectors that should leverage all the benefits that influencer marketing has to offer.
Moreover, in 2023, the opportunities in influencer marketing are becoming endless. As a beauty eCommerce business, you no longer have to work with big beauty influencers with millions of followers.

The trend today focuses on things other than the degree of influencer popularity and the length of their followers' list. It focuses more on things such as the authenticity, credibility, and transparency of influencers. In other words, instead of having to work with mega influencers, today, the options vary between mega, macro, micro, and even nano influencers.
When it comes to beauty products, customers don't care about the number of followers as much as they care about getting their social proof from trusted influencers. They also get very influenced by beauty content generated by credible content creators and user-generated content (UGC) created by other customers just like them. This is proven by research that shows that 42% of customers say they are influenced by user-generated content the most when buying beauty products (Insider Intelligence, 2021).
Example:
Morphe is a makeup and cosmetics brand that labels itself as "makeup for creators". It is one of the beauty brands that are succeeding at leveraging user-generated content and the content of micro-influencers. Morphe has an Instagram hashtag "#morphebabe" that has more than 3 million posts generated by customers and content creators.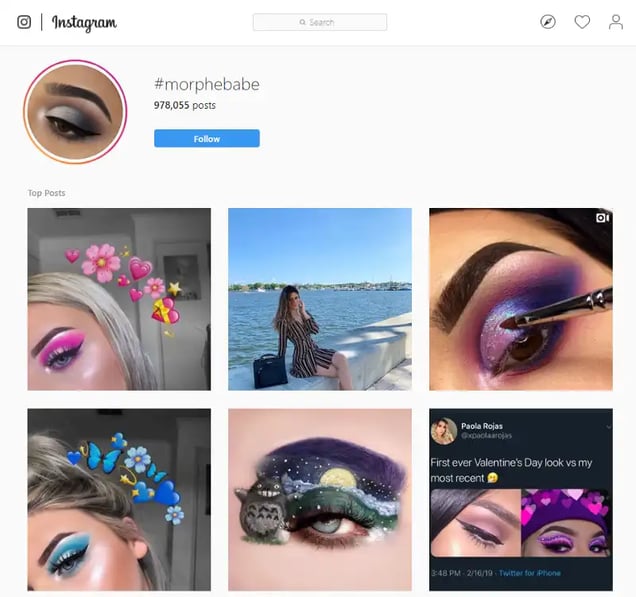 4- Word-of-Mouth Marketing
In beauty eCommerce, there is a rising trend that leverages word-of-mouth marketing, which is the online communities trend. Online communities are like hubs where beauty brands can engage with their customers to build stronger relationships with them.
Also, when it comes to online communities, beauty eCommerce has an edge because people love to talk about beauty, which makes it easy to build communities around it.
Example:
Glossier is a beauty brand that was founded by a blogger named Emily Weiss, in 2014. Glossier is a perfect example of a community-driven beauty brand. If you check their Instagram profile, you will find it in their bio:
" Glossier Inc. is a people-powered beauty ecosystem"
Weiss took advantage of the already existing community of its original blog, capitalized on it, and expanded its brand's online community.
The brand's community-driven strategy involves:
Product crowdsourcing and co-creating products with customers.
Selecting loyal customers and turning them into representatives for the brand.
Encouraging customers to share their daily experiences with Glossier products to constantly generate social proof.
Creating community-powered ad campaigns in which Glossier features their customers in national ads.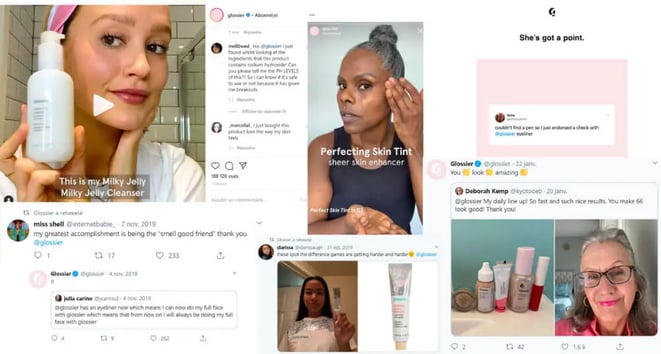 Source
5- Products Ingredients and Sustainability
Another crucial topic that is trending in 2023 is product ingredients and sustainability. Every day customers are becoming more aware of and cautious about the ingredients that constitute beauty products and the level of their sustainability.
The trend is now taking beauty eCommerce brands to use natural, clean, and environment-friendly ingredients and to be transparent about them. For example, beauty brands are now trying to limit the use of plastic in their product packaging and replace it with other recyclable materials.
Example:
Axiology is a plastic-free beauty brand. The brand specializes in making vegan lipsticks. It is strongly against the use of animal ingredients in its products and the testing of products on animals. Additionally, it manufactures its boxes from 100% recyclable island trash.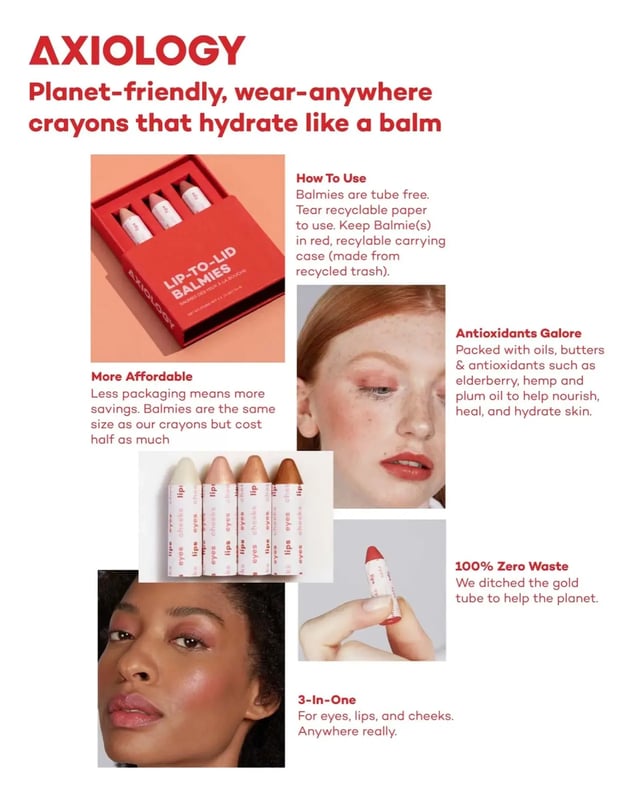 Best Marketing Channels For Beauty E-Commerce
E-Commerce customers are always looking for brands that can provide them with a seamless shopping experience, and there is no better way to create seamless experiences than through omnichannel marketing.
Research conducted by Harvard Business Review shows that 73% of customers prefer shopping through multiple channels. Therefore, as a beauty eCommerce business, you should work on your omnichannel marketing strategies by leveraging all the available channels, platforms, and devices and synchronizing them all together.
For beauty eCommerce, the best marketing channels that can be leveraged include:
Social media platforms, especially those that support new technologies, such as Snapchat, Instagram, and Pinterest.
Blogs where your beauty brand can interact with its online community.
The brand's E-Commerce website in coordination with its brick-and-mortar store.

Mobile applications

where your beauty brand can leverage all the benefits of mobile commerce.
Tips and Strategies to have a successful beauty eCommerce business in 2023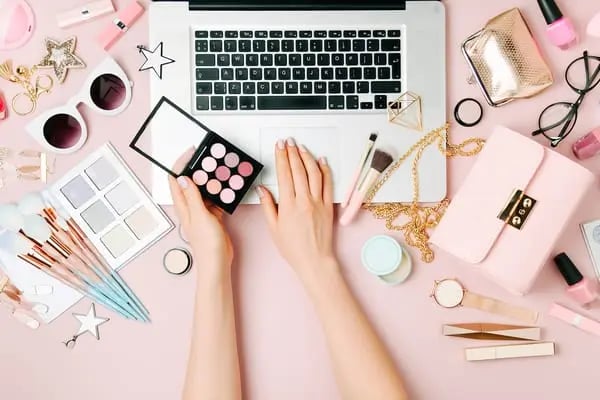 Source
You are now aware of the recent beauty eCommerce trends that you should keep an eye out for, and of the marketing channels that you should focus your work on. Let us now tell you a few tips and strategies that you can use to optimize your beauty eCommerce business in 2023:
Carefully segment your target audience

. Target segmentation is crucial for eCommerce, in general, and beauty eCommerce, in particular. Marketing the products of your beauty eCommerce store to non-interested customers will cost you a lot of resources.
Make sure the products of your beauty eCommerce store are inclusive. To demonstrate, your products be inclusive to all genders, races, sizes…etc. Additionally, your eCommerce website should be accessible to customers with diverse abilities.
Be transparent! Always disclose the materials that you use in the manufacturing of your beauty products.
Invest in your brand's identity and voice. A huge part of a beauty brand's identity is the design of its eCommerce website. Make sure your website has an attractive, responsive design, is easy to navigate, has clear call-to-actions and landing pages, and is telling the story of your brand with colors, fonts, quotes, and slogans.
Always remember the buying history of your customers. In beauty eCommerce, it is sometimes hard for customers to remember, for example, the shade of lipstick that they bought a while ago. It is your job to remind them and make them feel that you care about them enough to remember what they buy from you.
Build your online community from day one. You can do that by:

- Creating hashtags and regularly encouraging customers to post their user-generated content using these hashtags.
- Create blogs where you can feature the stories and experiences of your customers with your beauty products.
- Offer incentives for customers to write product reviews and make these reviews visible to everyone in your brand's community.
Offer product subscriptions and subscription boxes. This strategy will help you increase sales and customer retention. When subscribing customers run out of a certain product; instead of looking for competitors' options, they will find another one arriving from you at their doors. However, make sure you always send email reminders to remind them of the monthly subscription.
Be ethical! Stay away from any kind of testing on animals and any ingredients that might be harmful to the environment.
Your beauty eCommerce brand should be consistent. In today's rapidly changing world, for you to be able to keep the trust of your customers, you have to make sure that the quality of your products and the message that your brand is transmitting are consistent across time and channels.
Use automation because there is no surviving in 2023 without it. To do that, you are going to need a marketing automation system.
Converted.in offers you an automation tool that will be of great help to your beauty eCommerce business in 2023 by doing the following:
Segmenting your target audience.
Creating, customizing, launching, and automating personalized ads, SMS, and email marketing campaigns, in which you can promote the products of your beauty eCommerce store.
Book your Demo now and start your beauty eCommerce business on the automation journey.