+10 Best Magento Extensions You Should Use
Considering the myriad of eCommerce stores launched practically every day, you must ensure that your online marketplace has all the functionalities required to stand out. To draw in new leads and keep hold of existing customers, it must have appeal and hooks. Guess what? This is where; Best Magento Extensions steals the day when it comes to providing your store with the necessary upgrades to keep potential buyers coming back for more. Magento provides retailers with all of the features they require, along with excellent customization options.
At this stage, you want your Magento shop to generate more revenue; Oh, Yes. Fortunately, the Magento 2 application has a ton of extensions that can help you boost sales within a short timeframe. There is a tool for everything, including raising conversion rates, increasing online sales, establishing credibility, and gathering comprehensive marketing analytics. Nevertheless, it's exhausting to scan through 1,800+ Magento 2 extensions (plugins) to determine the perfect ones for your eCommerce store.
In this guide, we have handpicked all the Best Magento Extensions, so you don't have to spend enormous time examining each plugin. Each selection falls under at least –five categories: Site Optimization, Customer Support, Shipping and Fulfillment, Marketing, Payment Integration, Finance & Accounting, e.t.c.
What are Magento Extensions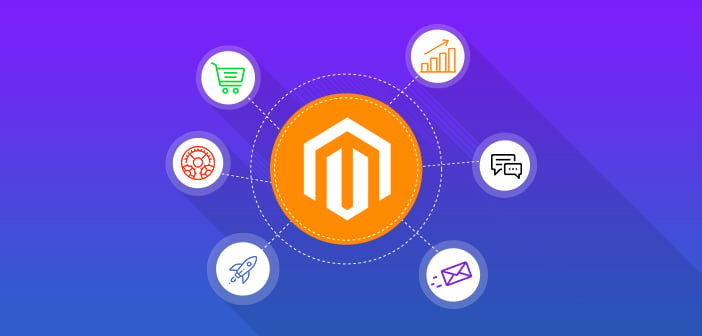 Magento Extensions are plugins that enhance the main application. They are PHP-based codes that contain features to add to the capabilities of the Magento online store. Both frontend and backend actions on the website go through the extensions. In addition, they serve as primary containers for some of the following: database data, settings, action controllers, e.t.c.
What are the two ways of installing an extension in Magento 2?
Here are the two proven ways to install Magento 2 Extensions:
Installation via Composer CLI Commands
Installation via Web Setup Wizard
Also, you can install Magento Add-ons via SSH.
What are the benefits of using Magento Extensions?
With Magento Plugins (Extensions), retailers don't need to spend money on research or education to become expert programmers or software developers. The enhanced features will be seamlessly implemented into your online eCommerce store with the help of straightforward installation guidelines. Due to this, sellers will enjoy this set of benefits:
Financial savings
Improve your retail marketplace to boost sales
Greatly enhance your "online store" ability to compete
Brings your buyers; remarkable and brand-new online shopping experiences.
Best Magento Extensions to Automate your eCommerce Business
1- Magento 2 POS Extension
The Magento 2 POS plugin is the customizable POS quick fix for Magento retailers.
Merchants can use Magento's advanced functionalities in this extension for offline-to-online business operations. They can sell items and track sales from a single location in real time while selling their products through various channels.
Most eCommerce store owners leverage this plugin because of the advanced features it offers, such as:
Accept multiple payment options: store credits, cash, cheques, and debit cards.
Apply shop credits, discount offers, and reward point programs from the website to the checkout points (counters) of retail stores.
Synchronize data between Inventories, Magento websites, and Physical Stores in real-time
Offline mode functionalities to complete transactions during poor/lousy network conditions
Integrates seamlessly with all Magento Add-ons
2- MageWorx SEO
The most effective long-term e-commerce promotional strategy is increasing organic traffic with excellent SEO.
MageWorx SEO allows online sellers to access various search engine optimization (SEO) features and tools, including XML sitemaps, layered navigation, rich snippets, automatic cross-linking, e.t.c.
A few of the notable features of this extension include:
Extended breadcrumbs for optimized on-site navigation
Built-in SEO insights & reports allow retailers to pinpoint and fix SEO issues
Canonical URLs to remove duplicate content.
3- ShipperHQ Extension
With the help of the ShipperHQ extension, store owners can define the shipping strategies for their products, figure out cross-shipping options, lower shipping costs, and make provisions for international or global shipping.
These features enable your customers to select the Magento shopping experience they prefer without causing you any trouble.
Additional features include an innovative shipping option at the checkout, Magento SEO optimization, zoom out/in the map, and different layout formats for multiple online store locator sections/pages.
4- Stripe Extension
If you have ever made an online purchase, it's highly probable that Stripe Gateway was used to complete the transaction.
The rationale behind Stripe Inc offering eCommerce businesses several practical features is no surprise given that the world's most successful companies are using it daily. These payment features can improve conversion rates and are highly advantageous if you have an international online store or want to enter new markets.
The advanced features it offers comprise;
Payout management
Accounting support
Easy-to-use APIs
Subscription services
Supports 135+ currencies
Multiple payment methods: from the shop now -pay later, to bank transfers
Invoicing, multi-card options.
With different customization options available for simple integration, Stripe is the ideal addition for both small businesses and established eCommerce merchants.
5- Poptin Add-on
Poptin is a unique Magento Extension that delivers attractive pop-ups and forms to enable you to interact with your existing buyers or shoppers.
By monitoring the site visitors' interactions (behaviors) at different intervals, the tool can deliver a customized pop-up to engage the users appropriately.
Some of the unique features of the Poptin add-on include:
Survey creation
Pop-up automation
Campaign tracking
Drag-and-drop editor
Pop-up deployment in any language
6- ConvertedIn ads automation for Magento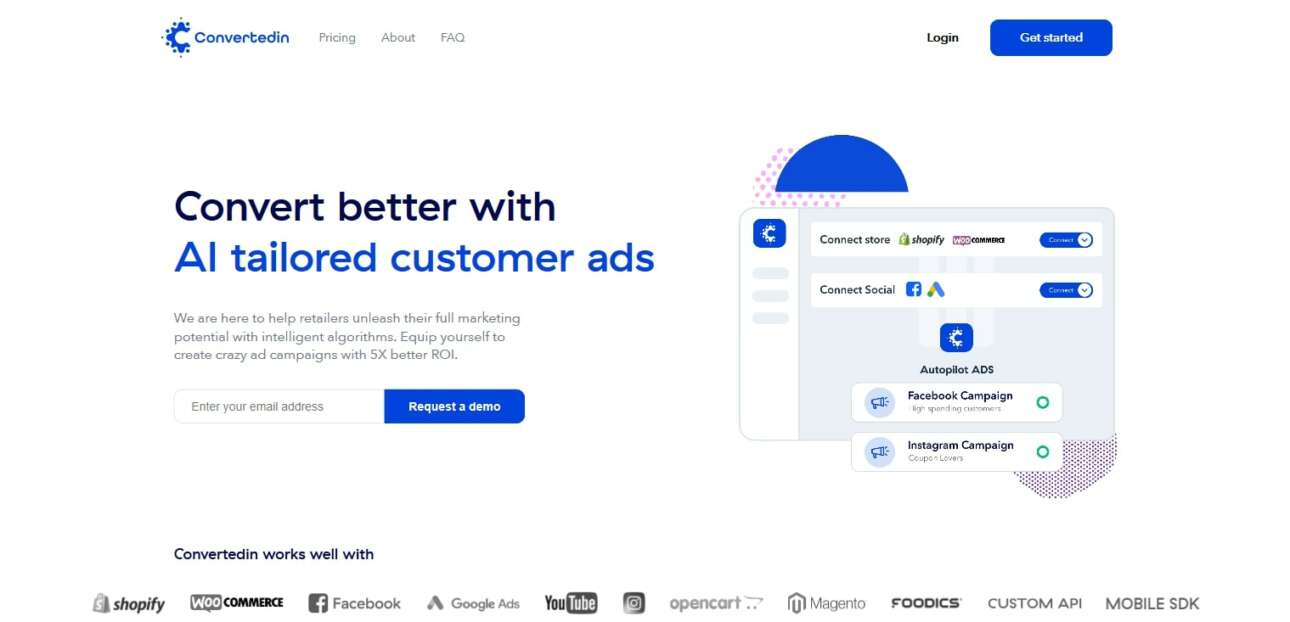 Converted.in is an ads automation tool to help you run your marketing campaigns through many channels by Using AI. The AI-powered ad marketing solution enables teams to test, plan, and deploy just the most effective advertising to their target demographic. It interfaces with a variety of big platforms, including Instagram, Pinterest, Snapchat, and Facebook, allowing businesses to manage every of their ad targeting from a single dashboard.
7- M2E Pro Extension
The M2E Pro Magento 2 Add-on allows retailers to export their existing products/items from Magento to multiple channels like Walmart, Amazon, and eBay. With the help of this extension, you can connect your real-time inventory data and send out each order placed on other marketplaces from your Magento store.
8- Quotation Manager for Magento
Fast transactions and workflow simplification are essential to business. The sale process is among the most demanding in any enterprise. The Quotation Manager streamlines the negotiation process through direct customer query clarification.
After the Quotation Manager is integrated with the online storefront, buyers will find it simple to request a quote. Similarly, you can suggest the quotation directly from the website.
Also, the most crucial advantage of this extension is that; retailers can use it to hide the prices of their goods or services from customers. Additionally, you will get email notifications at each stage of the quotation process.
9- Voice Search Plugin
Are you attempting to simplify the search process for your customers by eliminating the need for them to type almost everything? The ideal solution is to integrate the Voice Search Add-on for Magento2 store. Due to the rise of voice searches, sellers should catch on to this trend as well.
With the help of the Voice Search Extension, your customers' task is made hassle-free by making it as simple as tapping the Microphone icon, conversing (voicing) their brand or product name, and getting detailed results. To this effect, giving your online store this contemporary surprise can help you draw in more customers.
10- Magento 2 Product Slider
Magento 2 Product Slider enables retailers to display bestsellers, clearance items, hot deals, special promotions, e.t.c.
The extension has an inbuilt "visual builder" that allows for more customization options. With it, sellers can create multiple product sliders and modify their pagination, navigation, and slide speed settings while also deciding how many items are displayed in each slider.
Aside from functioning well across multiple stores, It works perfectly on touch-enabled mobile devices, is compatible with all mobile devices, and supports all current browsers & numerous screen resolutions.
11- LiveChat Plugin
LiveChat is a Magento 2 chat window plugin that allows potential leads or customers to chat with the customer service while browsing your online store. The extension comes with built-in auto-templates and pre-made queries adapted to specific questions that customers frequently ask.
A few of the distinctive features of the Magento Store plugin include;
Visitor tracking
Analytics reports
Feedback gathering
Mobile app functionality
Full customization of the LiveChat widget
Synchronization with other vital tools
In Summary!!
For some minutes now, we have delved into some of the Best Magento extensions, which will increase or add capabilities that will make your store more relatable, immersive, and user-friendly. To boost performance, customer engagement, and skyrocket sales in your eCommerce store, implement all the outlined Magento extensions; right away.