Black Friday SMS Marketing: Top Practices To Steal in 2023

By
Merna Helal
·
4 minute read
With Black Friday and Cyber Monday just around the corner, it is time for eCommerce businesses to strap up and get ready for their Christmas or to be more precise, the busiest shopping time of the year. So, if you haven't started planning your Black Friday SMS marketing campaigns, time is running out!
Many marketers have started doubting the effect of SMS marketing, but data has been constantly showing that it is still one of the most effective tools, especially for eCommerce businesses.
In fact, a survey showed that over 70% of consumers have opted in to receive SMSs from businesses this year!
If you still don't know why it is important or how to send the best SMS marketing campaign, this blog is for you.
Table of Contents:
Why Should You Use Black Friday SMS Marketing In eCommerce?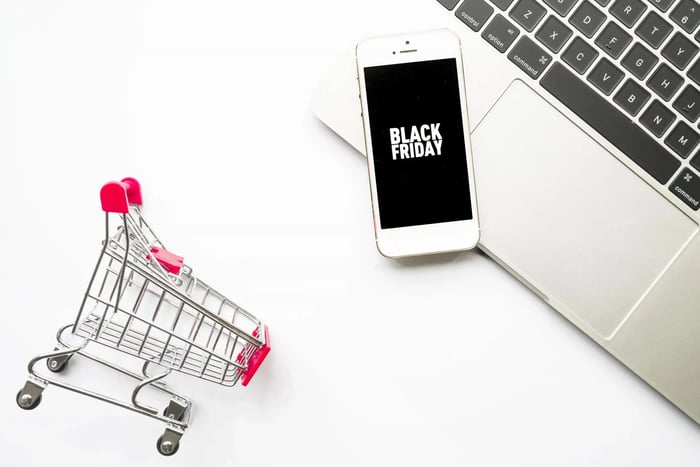 Before we go into detail about how to integrate SMS marketing into your Black Friday marketing efforts this year, it is important to learn why you should do this in the first place.

On one hand, Black Friday and Cyber Monday are two of the biggest shopping days in the year. Just last year, American consumers spent over $11 billion on Cyber Monday and more than $9 billion on Black Friday!

The numbers speak for themselves.

On the other hand, SMS marketing is one of the easiest ways to reach customers instantly and offer them what they need exactly where they are. Let's be honest, who doesn't check their phone a thousand times a day?

In addition to convenience, Black Friday SMS marketing is essential as it helps in:

Offering updates in real-time: these events are fast-paced, and offers can only be available for hours, so it's extremely helpful to be able to contact and provide updates to your whole customer base in real time.

Cutting costs: SMS is hands-down one of the most cost-effective marketing channels.
Boosting website traffic: with the right message and CTA, SMSs can drive high traffic to your online store in minutes.
Increasing conversion: with limited-time offers like the ones offered on Black Friday, SMS can drastically increase conversion as customers take immediate action.
It is known that a picture is worth a thousand words, but in business, numbers may be worth a million words. So, instead of telling you all those words, let's take a deep dive into some statistics that support the importance of using Black Friday SMS marketing for eCommerce businesses!
Important Black Friday and Cyber Monday SMS Marketing Statistics
Did you know that the open rate of SMS is 98%? That means almost everyone who is sent an SMS actually reads it and learns what you want to tell them!
If that already didn't convince you to use Black Friday SMS marketing, the following statistics definitely will.
Businesses sent

68% more SMS messages

on the last Black Friday, resulting in over 55% increase in orders.

Over 55% of consumers

want to hear from businesses well in advance of Black Friday, and more than 20% want to hear at least a month before.
Some of the previous most successful SMS campaigns on Black Friday have delivered an astonishing

2000% ROI

.
There was almost a

35% increase in SMS

messages sent during last year's Black Friday. (This shows how much businesses believe in that channel!)
In 2022, mobile devices accounted for

76% of Cyber Week

eCommerce traffic.
Generally, the click-through rate of

SMS messages stands at 20-35%

, keep in mind that email marketing sits at 1-10%.
Top Black Friday SMS Marketing Practices To Steal in 2023
Like any marketing campaign, Black Friday SMS campaigns can yield great results if done right. How can you do it the right way and increase sales during that highly competitive time?
The following top Black Friday SMS marketing practices can help!
1- Send teaser SMS messages
Kicking off your Black Friday SMS marketing campaign with teaser messages will get customers on the edge of their seats. Don't share too much on those messages to keep customers engaged till the offers are live.
Instead, just create an enticing message that resonates with your target audience and make them wait impatiently for your Black Friday offers.
2- Create personalized messages & deals
Personalization is not optional in the world of eCommerce anymore, and of course, that also applies to SMS marketing campaigns.
Whether you send a personalized message to every single customer or every segment, you should keep in mind their past orders and general behavior on your online store to create exclusive deals.
This creates a sense of exclusivity which further persuades consumers to place an order.
3- Leverage FOMO
The time-sensitive nature of Black Friday makes it the perfect opportunity to leverage fear-of-missing-out (FOMO).
Your SMS messages should create a sense of urgency by incorporating words like "Limited time", "Limited Stock", and "Only X hours left" to emphasize the fleeting nature of those offers and urge customers to take action fast.
Discover more tips in Top 10 SMS Strategies To Follow For Driving E-Commerce Conversions
4- Don't Overdo It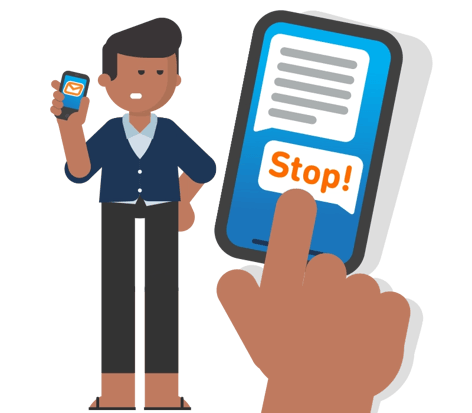 No one likes a nagging Nancy! In other words, don't attack your customers' inboxes with SMS messages to get them to place an order.
So the question here is: how many messages should your eCommerce business send?
There is no exact number, it depends on your campaign itself. But if you start with a teaser message and go all the way to the "If you missed out on the Black Friday offers, check out those great bundles" type of message, then your campaign should include from 4-6 messages.
Any more than that, and customers may opt out!
5- Automate your SMS marketing campaigns
Automating marketing campaigns in general has become almost a necessity for eCommerce businesses, and the benefits of that on your Black Friday SMS marketing can be out of this world!
Due to the time limit on Black Friday and Cyber Monday offers, having personalized automated SMS messages can help you reach more customers faster.
eCommerce marketing platforms like ConvertedIn can help you automate all your SMS marketing campaigns and integrate them with email marketing campaigns.
Final Thoughts
By leveraging SMSs in your Black Friday and Cyber Monday marketing campaigns, you can engage your customers, drive traffic, and increase conversion during two of the most highly competitive days for eCommerce businesses.
Don't know how and where to start?
Book a demo now with one of our experts to build and customize personalized SMSs effortlessly and increase ROI this Black Friday!