Black Friday Trends 2023: Must-Know Shopping, Marketing, and AI Trends

By
Nour El-Belbissy
·
6 minute read
Black Friday 2023 is sure to captivate buyers and retailers alike with a new set of innovative trends. This yearly retail is not immune to change as the world of commerce evolves. This year's Black Friday promises to be a dynamic and entertaining experience for all, from innovative digital techniques to altering consumer patterns.

To ensure that your marketing strategy works towards the right path to boost your sales, it may be necessary to adjust methods you may have planned a year in advance due to shifting spending patterns. In the wake of recent global economic developments, the business landscape is experiencing turbulence on multiple fronts. Inflationary pressures and surging interest rates are among the most notable challenges that have direct implications for your online business. Inflation and high interest rates are expected to impact consumer buying habits and, hence, your online business.
Here are some Black Friday trends, not only economic but also other minor trends that might not be that clear for you as an e-commerce owner. Thus, you should be aware in 2023 so, you can modify your marketing campaigns to give your clients the greatest possible shopping experience.

To discover the top Black Friday trends, tag along with the article to be well prepared! Let's delve into the key trends shaping the shopping landscape this season.
Table of contents:
Discover the Top 5 black Friday Consumer Behavior Trends
1- Preference for a wide range of payment methods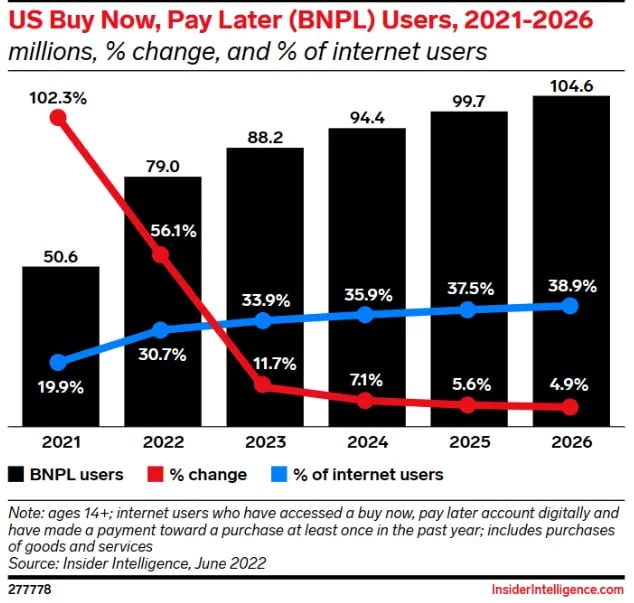 Customers favor online stores that provide a wide range of payment methods. In addition to using debit and credit cards, consumers also utilize e-wallets, prepaid cards, gift cards, and cryptocurrencies when they go out to eat and shop.

Buy-now-pay-later (BNPL) plans and financing options like 0% installments tempt customers to buy expensive Christmas gifts. This year, BNPL is noteworthy in particular because retail shoppers have been using it more and more frequently since 2021. By 2026, 40% of internet users, according to Insider Intelligence, will have made at least one purchase using BNPL.
2- Need for more fulfillment options
Consumers anticipate businesses to offer more alternatives for delivery and pickup in addition to a variety of payment options. Younger consumers value convenience highly; therefore, businesses would do well to offer a variety of purchasing and fulfillment choices.

BOPIS (sometimes referred to as Click-and-Collect) is a trend that is gradually displacing doorstep delivery as a fulfillment option post-pandemic. Customers can purchase items through BOPIS and pick them up at a nearby store. It's a great strategy for companies that run both an offline store and an online store, and it gives customers more fulfillment options.
3- A significant portion of Black Friday Market sales will come from younger customers
It seems logical that everything tech is popular with the 25- to 44-year-old age group. Consumers in the millennial and Generation Z ages are camped out in online marketplaces in anticipation of the start of Black Friday. Both groups were raised in the digital era and do almost everything online. Even if they don't always buy things online, they are known to spend a lot of money doing so—especially when it means getting more of what they need with offers and promotions.

4- High-interest rate and inflation
We all suffer globally from a high inflation rate, making us more sensitive when buying something. Yes, I know sometimes people try to neglect this fact, and they are trying to have a normal shopping experience, but now, at some point, they will find that the price gap between one product here and in another store is super wide.

What I want to say is that customers during this phase of high inflation will expect major, attractive discounts as a kind of supporting act to help people survive this period of high prices. These expected high discounts serve to save money; they will be doing great deals to save their money for other priorities.

You need to take advantage of this urge to lower prices and offer discounts. Inflation and high interest rates are expected to have an impact on consumer buying habits, hence your online business. Price sensitivity will increase, emphasizing competitive pricing and value-driven marketing. Prepare to adjust your pricing approach to account for this shift.
5- Take Advantage of Tiktok
As a marketer, you have to know some vital statistics. TikTok has the most average time spent on any social media network. TikTok users spent an average of 55.8 minutes on the app in 2023. In comparison, the average time spent on the second most popular platform, YouTube, was 47.5 minutes. This is followed by Twitter, where people spend 34.1 minutes on average. (influencermarketinghub,2023)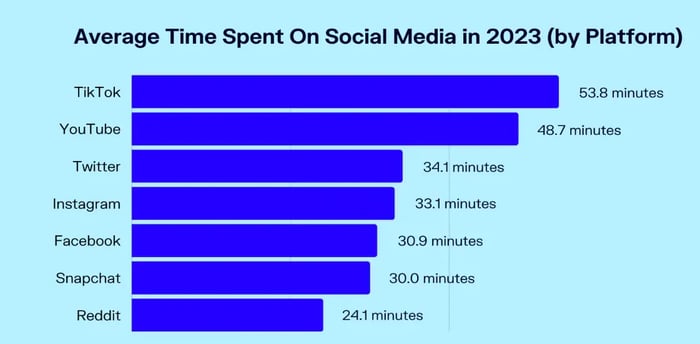 Image source: Oberlo
Do you even know that a recent survey found that, compared to users on other platforms, 54% more TikTok users intend to shop for Black Friday deals through sponsored social media postings?
With that kind of engagement, it's obvious that online businesses should pay attention to TikTok on Black Friday and Cyber Monday. TikTok had an effect on Black Friday spending even the year before. 80% of users who purchased on Black Friday 2020 said TikTok helped them make the decision, while 40% of users who purchased on Black Friday the previous year did so after viewing the exact item on TikTok. Tiktok is amazing! (Tiktok,2021) This was in the last 3 years, and Tiktok is still growing now.
Black Friday Marketing Trends 2023
Marketing trends evolve from one event to another. Online business owners have to shape their Black Friday marketing strategies to align with the new marketing trends and get the most out of the Black Friday period in terms of revenue and conversion rate. Here are the top 3 marketing trends in 2023 that work best with Black Friday.
1- Offers on cryptocurrencies and non-fungible tokens (NFTs)

Take advantage of special Black Friday discounts by embracing emerging technologies like cryptocurrencies and NFTs. This may attract clients who are tech-savvy and early adopters.

Black Friday bargains are also an excellent shopping opportunity for cryptocurrency enthusiasts as crypto-friendly gift card retailers begin to offer some fantastic deals.
These currencies can also be linked to gift cards to encourage more of your target audience to become loyal customers. This novel solution ensures that customers get the best of both worlds by shopping on different online stores including yours and using Bitcoin at the same time.
2- Livestream shopping

Live videos are very popular among shoppers and online shops. Online businesses can now open a live video on Facebook, YouTube, and definitely TikTok to show their products, unique pieces of clothing, and the latest version of mobile phones to encourage customers to watch their offerings while they are sitting on the couch.

This is so relaxing as you avoid going out, traffic, and standing in a crowded store. Just start your live video during your offer period and get a larger audience with one click.
3- Extend Your Black Friday Offers

You can prolong your Black Friday marketing sales strategy to cover Cyber Monday. Make a social media post informing your audience that they can still get some of your best Black Friday offers on Cyber Monday. Incorporate a countdown feature to inspire timely action and create a sense of urgency.
Black Friday AI Trends 2023
AI is now your marketing strategy assistant, so prepare yourself for Black Friday. You will always need it to improve your online business to cope with trends, technology, customer needs, and purchasing power.

It is so interesting to get marketing service from just a system; you just write your needs, your target, and your goals, and instantly, it generates for you a detailed, tailored plan for your Black Friday marketing strategy. I am going to list a few AI ideas and trends for Black Friday marketing strategies that might help you while you brainstorm for your preparations.
1- You Can Implement Augmented Reality technology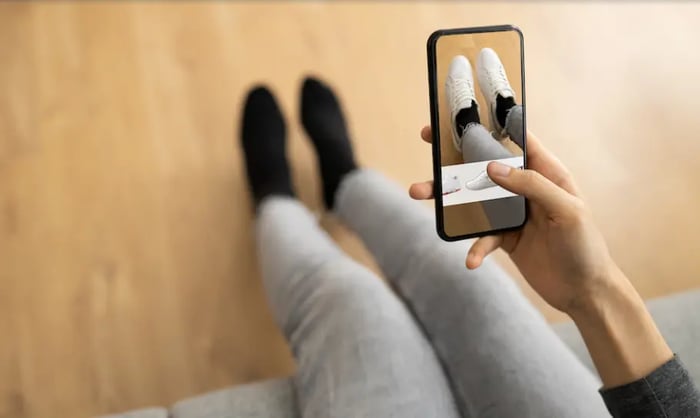 Customers will experience an exciting activity while making their purchasing decisions. They will be able to digitally try on apparel, accessories, or makeup if they are suitable for your products. This reduces ambiguity and boosts purchase confidence.
2- Customer Tailored Recommendations
You can use AI-powered algorithms to deliver personalized product suggestions based on customer preferences and browsing history. This improves the shopping experience and raises the chances of conversion.
3- Personalization via Email and SMS
Use dynamic content and segmentation to send bespoke Black Friday offers to different client segments. Make a point of emphasizing the worth of the offer as well as the urgency of the transaction. AI can surely help you know your exact target audience, as well as their preferences, locations, and lifestyle, as well as their purchasing habits. Imagine how you can get all this data with just one click or by typing a paragraph explaining what you want to an AI-generated assistant or system.
** Check to know more on how to prepare your Black Friday SMS marketing strategy.
Conclusion
Now that you have a general perspective of the new Black Friday trends in consumer buying patterns and the innovative marketing trends for your Black Friday marketing strategy, you need to start preparing to push your revenue to the maximum level. I definitely recommend Converted.in, which might be an excellent starting point to start if you are feeling lost and are unsure about where to begin concerning your Black Friday marketing strategy.
This e-commerce marketing platform creates targeted multi-channel marketing using data and consumer insights to boost customer engagement and ROI.

This system will assist in targeting the right audience for what you offer. It will also help in gathering people's changing preferences and lifestyles and linking them to your targets and goals during this period of Black Friday, as well as offering customers personalized recommendations according to data analysis.