Top 8 eCommerce Social Proof Best Practices

By
Nada Gad
·
6 minute read
Generally, people tend to imitate others. This is a psychological trait in all human beings. When we see people are massively buying a particular product, we are more encouraged to emulate these people and buy the same product.
So, how is this related to eCommerce?
The answer is Social Proof.
Social proof is a psychological phenomenon that implies people tend to seek others' confirmation and imitate others. Simply put, social proof describes when people can't decide which product to buy; hence, they seek their family and friends for confirmation.
The same applies to e-commerce, as buyers are more encouraged to purchase if they find positive feedback from previous buyers.
Marketers and e-commerce businesses who use human psychological traits are more likely to witness astonishing results for their business.
And since we constantly get you covered, we will show you the best practices for e-commerce social proof in this article.
Table Of Content:
E-Commerce Social Proof Best Practices:
You need more than just recognizing the importance of social proof for your online store; you have to work on it too. Therefore, we will explain the best practices for e-commerce social proof in the upcoming paragraphs.
1- Share Customers' Feedback And Reviews
Image source: wiremo.co
It goes without saying that the first and easiest practice for e-commerce social proof is to share your customers' feedback and reviews.
98% of customers read online reviews for local businesses before purchasing (Brightlocal,2023). Therefore, showing your customers reviews is a winning tactic to encourage your future customers to purchase.
Reviews and feedback make your e-commerce more trusted and give a positive view of your business.
Additional practice is not to limit your feedback and testimonials to your product page. Instead, you should include these testimonials on your homepage as well.
It is not necessary that your customers reach your product page. Therefore, including feedback on the homepage is more likely to drive better results.
Since feedback and testimonials are essential for your e-commerce social proof practices, you must ensure that customers will share their opinions on your products.
Accordingly, you must provide incentives to encourage your customers to share their feedback. For example, provide your buyers with coupons or discounts to incentivize the process. Also, send emails post-purchase asking your buyers for their feedback.
Amazon understands the importance of sharing feedback. Hence, it sends emails to its customers to collect their feedback and even provides them with gift cards as an encouragement.
2- Use Google Reviews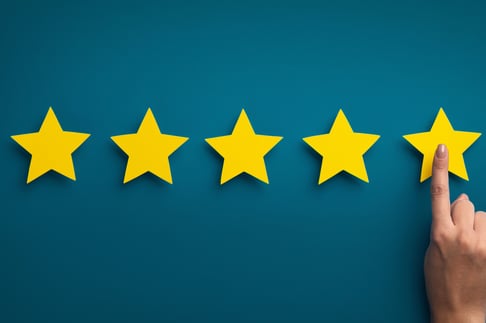 Image source
As we mentioned previously, buyers resort to online reviews before purchasing. After accomplishing the first practice we discussed, you have secured your homepage. However, considering search engines is crucial.
Speaking of search engines, Google is the one you should focus on. Your e-commerce has to use google reviews as well.
Registering your e-commerce store on Google Business will ensure you are visible whenever customers look for you on search engines. Accordingly, you should get used from such presence by including customer reviews.
The Google reviews help your online store by gathering feedback from customers who used your product. In addition, they view this feedback along with a 5-star rate for your e-commerce on their result page. Also, you can benefit from such a rating by adding it to your website.
We have got to say that using google reviews is a jackpot. It contributes to your e-commerce social proof, increases your visibility, and increases brand trust.
3- Show The Number Of Customers Who Trusted Your Brand
Image source: fera.ai
Numbers do wonders!!
So, we have got to tell you that including numbers on your store and your social media platforms can certainly build your customers' trust.
You might wonder, what numbers can you show on your website?
For example, you can include the total number of your brand purchasers, the number of people adding a certain product to the cart, the number of views, the number of likes, or simply the number of reviews.
Etsy, a widely known e-commerce business, recognizes the importance of numbers as a social proof practice. Therefore, it shows the number of products left in stock to leverage FOMO marketing. In addition, it shows the number of customers adding such products to their cart at the moment for social proof.
An extra tip while using such social proof practice for your e-commerce is to leverage FOMO marketing, just like Etsy did. A sense of FOMO will encourage people to make a decision faster.
4- View Your Best-Selling Products
Using terms like " our #1 product", "the best-rated product," "most viewed," "popular choice," or "best seller product" certainly builds confidence in your products.
This is precisely what you want to reach from using such terms: building confidence and creating social proof.
Whenever you use such terms on your website, you show your customers that several others trust your products. Hence, you create a sense of confirmation that customers desire before purchasing.
An e-commerce store known as Purple specializes in mattresses and uses the term"#1 in customer satisfaction to create social proof.
5- Feature User-Generated Content
It has been proved that whatever you say about your e-commerce store, customers are more likely to trust the views and content of regular customers than what you say about your e-commerce brand.
Since regular users' content is accelerating on all social media platforms, you must benefit from this content for your e-commerce.
Quite confused? Let us explain what we mean.
One of the social proof best practices for eCommerce is to feature User Generated Content (UGC) on all your platforms. For instance, you can encourage your customers to share their photos and videos using your products.
Satisfied customers will be willing to share their feedback for your products in photos and videos. Therefore, you must offer a high-quality product to benefit from the UGC in social proof.
In addition, you can offer some incentives like discounts or a feature to motivate buyers to post content for your e-commerce business.
A trending type of content at the time is unboxing content. Accordingly, you can encourage your customers to share their experiences while unboxing your products. Such content is viral and gets thousands, even millions, of views.
Generally, this unfiltered content offered by your buyers can do wonders.
Simply put, when your current potential customers view the content of previous buyers featuring your products, they will undoubtedly be prompted to make a purchase. That's why UGC is one of the best practices for social proof.
6- Use Experts' Testimonials
Image source: namogoo.com
All people trust experts and their views of products. Let's agree that we are more likely to trust dentists' opinions in all of the toothpaste ads.
Accordingly, you can do the same for your e-commerce store to create social proof.
Influencers, experts, or public figures are considered competent figures. Hence, they can create a form of authority that makes your brand more trusted by customers. Therefore, collaborations with such widely known figures are necessary to benefit from their testimonials.
Reach out to the field leading figures and ask them for testimonials after trying your products. It seems like an easy social proof practice but trust us, it will lead to astonishing results.
Pranamat is a massage mat that understands the importance of expert testimonials. Therefore, it includes the testimonials of influencers on its website to build brand credibility and trust. Most importantly, such expert testimonials are one of the e-commerce social proof best practices.
Discover How To Use Testimonial Advertising For eCommerce To Drive Sales
7- Benefit From Your Earned Media
Earned media is any content or publication written about your brand that you haven't paid for or written yourself.
Just imagine how amazing earned media is!
People are creating a buzz on your online store, and you have nothing to do with it. Accordingly, this is purely unfiltered content you can't miss benefitting from.
One of the e-commerce social proof best practices is to benefit from your earned media. You have to monitor all the shares and features of your brand and show them on your social media platforms or websites.
As a result, it will become evident that you are a credible and catchy brand that customers are discussing.
In addition, if professionals discuss your brand positively, you can benefit from such earned media on your website. This creates authority for your brand, which contributes to your e-commerce social proof.
8- Celebrity Endorsements
Image source
Just like people believe in experts' reviews, they also believe in celebrities.
Therefore, having celebrities discuss your e-commerce brand is undoubtedly one of your best social proof practices.
Manuka Doctor is a skincare product produced using mainly honey. However, to build social proof, the brand used Kourtney Kardashian to build brand trust based on one of the Kardashians' celebrities. Therefore, the brand witnessed a boom in its popularity and sales. In addition, Kourtney became Manuka's brand ambassador.
Celebrity endorsements never get old as an e-commerce social proof practice. However, you have to choose the right celebrity who will contribute to building your e-commerce social proof.
Final Thoughts:
You are all set to get the ball rolling!
Social proof is one of the key aspects for the success of your e-commerce store. Therefore, you must start working on the previously mentioned e-commerce social proof best practices.
However, you won't be able to achieve your desired results without proper segmentation and a marketing automation tool to assist you in your required tasks.
Therefore, you have to check out Convertedin. It is a marketing automation tool that will auto-segment your market and automate your ads and customers' product recommendations.
With Convertedin, you will have everything you need for your e-commerce success.
Book your demo now!