Fashion eCommerce in 2023: Top Trends, Statistics & Strategies

By
Merna Helal
·
5 minute read
The 90s were defined by jeans overalls, lacey shirts changed the 80s, and cargo pants were in every closet in the early 2000s. What does that all mean? Fashion is constantly changing and evolving, so your eCommerce business has to be on top of each era's trends to stay in the game.
Fashion trends used to take a decade or more to change. But thanks to the digital era and globalization, there are new years trends emerging each year. Needless to say, this is not just about the apparel or products but the whole industry and how it operates.
Speaking of new trends, let's take a closer look at what fashion eCommerce in 2023 will look like. Keep reading to learn the latest trends, important statistics, and the best ways to be the number one online fashion store.
Table of Contents:
Top Fashion eCommerce Trends:
Top 5 Fashion eCommerce Trends In 2023
With new trends emerging and other trends dying, fashion eCommerce in 2023 is already witnessing a lot of changes. To stay ahead and become the number one fashion online store in this competitive market, keep the following trends in mind;
1- Digital Showroom
Many people like to try on clothes or shoes before purchasing them. This used to give an edge for brick-and-mortar stores over eCommerce brands. Luckily, you can have that edge back by introducing digital showrooms.
A digital showroom allows customers to virtually try on your products. Already, numerous fashion retailers have added digital showrooms to their websites. Your eCommerce brand can easily join them by using platforms like Feel and ByondXR.
2- Reduced spending
Due to the expected global economic crisis, consumers are holding on to their money, afraid to spend it. This is a major trend/issue for fashion eCommerce in 2023. But no worries, you can easily tackle it by offering:
Several payment methods
Flexible payment plans (installments)
Easy return policies
All this encourages customers to order from your online store without worrying about breaking the bank!
3- Social Commerce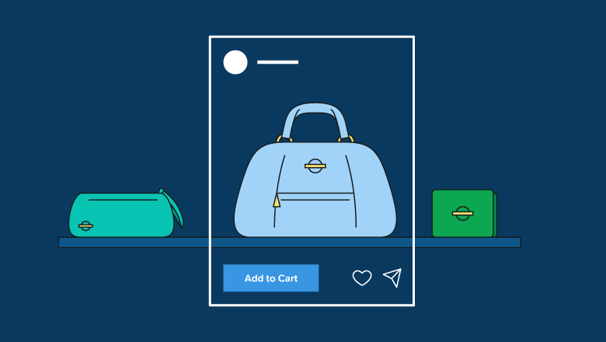 Social media is integrated into every part of consumers' lives and this definitely includes shopping! Social commerce is not just one of the emerging trends of fashion eCommerce in 2023. It's also one of the top challenges facing every eCommerce brand this year.
Allowing social media users to purchase your products on their favorite platforms will help you increase brand awareness and sales!
4- Resale
As the demand for green commerce and sustainability increases, people are turning more to resale products. In fact, the global resale apparel market is expected to grow 3x faster than the global apparel market as a whole.
This can be a hard trend to hop on, but if you can't (or don't want to) sell secondhand products, you can always use recycled materials and meet customers halfway.
Keep in mind that several big names in the fashion industry are launching resale projects. These brands include the fashion eCommerce guru, Shein, and DÔEN. This indicates how big this is expected to get. In other terms, it is more than just a fleeting trend of fashion eCommerce in 2023 and it can stand the test of time!
5- Personalization
Every eCommerce business can benefit greatly from personalization, but fashion eCommerce brands, in specific, have to personalize each step in the buyer's journey, or they can lose their edge.
The million-dollar question here is; which elements should you personalize as a fashion eCommerce brand?
The answer is quite simple - everything.
Everything in your marketing efforts should be personalized, starting from the products you recommend all the way to the chatbots and emails having customers' names and preferences.
It is also worth noting that customers don't think this is a perk anymore; they expect it. So if you are not personalizing their experience across all channels, you might lose them!
Now that you know the top trends affecting fashion eCommerce in 2023, it's time to take a look at some statistics that will help you get the full picture!
Must-know Statistics of Fashion eCommerce in 2023
Operating any business is all about numbers; this doesn't only include your own business' budgets, revenues, or anything else in your books. But it also has to include industry benchmarks and statistics.
So, if you are operating in fashion eCommerce in 2023, you should keep the following numbers in mind!
By 2025, the global fashion eCommerce is expected to reach $1.2 trillion.
97% of fashion executives believe that their cost of goods sold and SG&A expenses will increase over the year.
Phones account for more than 65% of eCommerce fashion sales.
The global footwear market is forecasted to increase from $365.5 billion in 2022 to $530.3 billion in 2027.
The global jewelry market is expected to reach $307 billion by 2026.
The luxury fashion global market will reach around $354 billion in 2023.
Now get your pens and notepads ready; it's time to take a deep dive into the best strategies and marketing channels to use for fashion eCommerce in 2023!
Best Strategies for Fashion eCommerce Businesses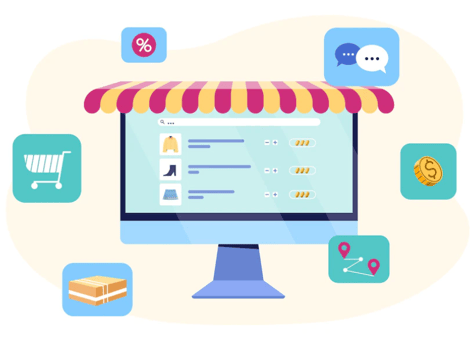 Forget everything you knew about fashion eCommerce marketing and start a new era in 2023 by focusing on the following strategies;
Utilize user-generated content in your ads and posts to increase authenticity.
Be there at every touch point in the customer journey to answer questions and resolve issues. This could be done by a team of outstanding customer representatives or AI chatbots.
Focus on your unique selling points to stand out in this heavily competitive market.
Enhance the quality of photos and videos, as low-quality content is overlooked these days and easily lost in the shuffle.
Use omnichannel marketing to offer the best user experience.
Add pop-ups to your website to increase conversion. It can include an offer, a newsletter subscription, personalized recommendations, or any other action you want customers to take.
Retarget old customers with enticing offers and deals, but don't forget to add highlight your new products so they have more than one reason to come back.
Leverage

FOMO marketing

techniques and entice customers by offering limited-time offers and exclusive loyalty programs.
Top Marketing Channels For Fashion eCommerce in 2023
Got your strategies ready? Great, but where are you communicating with your existing and potential customers? Choosing the right marketing channels is a vital step in the success of any business. To help you out, here are the top 5 marketing channels for fashion eCommerce in 2023 are:
Email marketing

: it's the easiest way to reach all your customers at once (of course you still need to personalize), increase conversion, and stay in your customers' minds at all times.

Social media marketing

: with the rise of social commerce, marketing in social media is not only beneficial but it is essential for your success as a fashion eCommerce brand.

Affiliate marketing: this type of marketing can benefit you greatly as it taps into an existing audience that is highly likely to be interested in your products.

Word of mouth

: no matter how much you spend on ads or marketing plans, word of mouth will remain one of the best ways to reach customers. To encourage word of mouth, you should introduce referral codes, work with influencers, and constantly share user-generated content.

Content marketing

: blogs, podcasting, videos, and infographics, are just some of the top examples you can start your content marketing strategy with. As fashion eCommerce is a fun B2C industry, you can create simple and fun content that engages your customers and ensures you are there whenever they are searching for something related to any of your products.
Needless to say, there are still several marketing channels you need to include in your plan this year but if you focus on these three your eCommerce business will definitely be on the right track!
Final Thoughts
Succeeding as a fashion eCommerce brand is a piece of cake if you are using the right tools. For instance, a marketing operating system like ConvertedIn can help you automate your marketing efforts, auto-segment your customers, and personalize their experience.
Book a demo now with one of our experts and become the top fashion eCommerce brand in 2023!