Guide: How To Use Facebook Lead Ads For Ecommerce
Over 92 percent of marketers in the global market use Facebook advertising. Along these, "Lead Ads" remain an effective strategy for finding potential customers and understanding your lookalike audiences. In this article, we'll discuss Facebook lead ads for eCommerce in detail, the strategies, tactics, and a few real-world examples of the ad type in action.
What are Lead Ads on Facebook?
Lead ads are display ads that can be seen in users' news feeds/stories via Instagram and Facebook. They enable enterprises to locate targeted audiences and get their "contact information" details directly on the platform. Easy-to-use tools such as "Instant Forms" make the steps for creating the ad very simple. Some of the uses of Lead Ads are:
Locate potential customers
Identify your demographic's preferences and interests by gathering information about them.
Increase the number of brochures or ebook downloads
Boost attendance at program and events enrolment
Increase the user count on your mailing list
Note: It's also called "Lead generation ads.''
How much do Facebook Lead Ads Cost?
Facebook charges advertisers based on the cost per impression model. To get the estimated cost per lead, you will divide your ad budget by the number of leads you create. The overall cost per lead will vary based on several variables; however, the following factors will aid in cost planning:
The industry you target greatly influences the total cost per lead. For instance, an Insurance ad campaign may cost at least $25 per lead, whereas a newsletter subscription may cost less than $2 per lead.


Your product offering and the country you target affect the cost per lead.
How do you use Facebook Lead ads for E-commerce?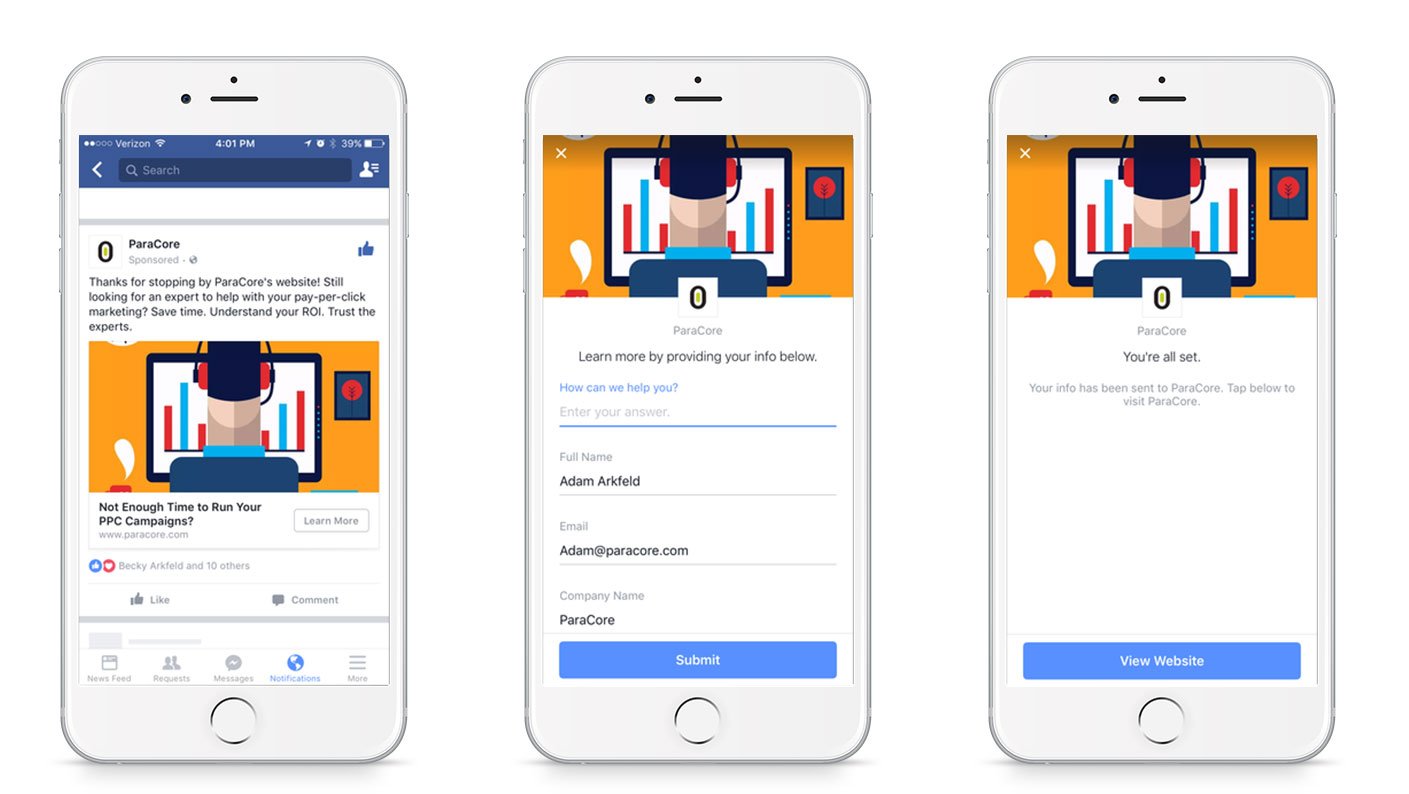 Facebook Lead Ads offer many choices for targeting, ad types, and form layout, making them incredibly adaptable. Here is a helpful breakdown to help you set up your first Lead Ads campaign. It would be best if you experiment with understanding the advert you are trying to run. Explore the steps below:
Select the Lead Generation Goal
Create a campaign—next select "Lead Generation" as your first objective.
Configure your settings and Ad set Targeting
You can utilize all the available targeting options available to you. For instance, you may decide to use Lookalike audiences from past customers or leads.


Since lead Ads work effectively on Instagram, we advise you to opt for 'Automatic Placement' to get a reasonable price.


In the Bid settings, choose 'Lowest Cost' since it performs very well.


Set the "bid cap" for your campaign if your cost per lead budget is above $30.
Note: To maximize reach, bid a few dollars above your target.
Develop a unique Ad Creative
There are presently many unique formats or options available for Lead Ads.
Choose a format that best serves your objectives, but try several alternatives to reduce the cost per lead.
You can also test a carousel layout to inform them of the many offers, services, or product features you have to offer just before the potential customer launches the lead generation form. It has been proven effective in other industries, such as real estate or automotive when promoting a few automobiles.
In addition, you can also utilize a video to instruct the target audience before they fill out the form. The concept effectively works in the education niche, where a user or student can have an idea of what the coursework in the program entails.
Discover: Facebook Video Ads For Ecommerce: Tips & Strategies
Choose your Call to Action (CTA)
The Call to Action you will use matters a lot. Depending on the product you are trying to market, as a rule of thumb, use CTA accompanied by fewer words. For instance, if you are selling an ebook, a good CTA will be "Download Now", or if it's for a training purpose, you can use a CTA like "Learn More".
Choose your Lead Ads Specifications
Facebook lead ads follow the same specifications as regular Facebook ads. Facebook suggests the following specifications for lead ads:
file type: GIF/ MOV/ MP4
Ratio: 4:5 (for mobile only) or 1:1 (mobile or desktop)
Video settings: Square pixels, fixed frame rate, H.264 compression, stereo AAC audio compression at 128 kbps+ and progressive scan
Resolution: All resolutions must be at least 1080 x 1080 pixels
File type: PNG / JPEG
Ratio: 1:1 / 1.91:1
Resolution: At least 1080 x 1080 pixels
Maximum file size: less than or equal to 30 MB
Minimum height and width: 600 pixels
Primary text: at most 125 characters
Headline: less than or equal to 40 characters
Description: At most 30 characters
Create the Lead Generation Form
When a potential customer clicks the advertisement's call to action tab, the Fb Lead Form -Set up wizard is launched. For easy engagement, the form is pre-filled with "profile data" where possible. In the form, you can select either a More Volume or High intent option. To be sure that users are entering the correct information, the High Intent form includes an additional review validation step.
Note: Thank you screen is an integral part of the Fb lead form. It would help if you maximized most of the user's interest at this moment by encouraging them to take some additional steps or learn more about your business.
Configure your Lead sync
You will get a CSV of all your leads from lead advertisements, which requires daily replies or interactions.
Examine everything before publishing
Before you hit the submit button, double-check each new campaign section carefully to avoid any fatal mistakes. Most importantly, ensure to recheck the Ad Budget you already set.
Track and measure the ad campaign
For a fact, you cannot effectively optimize or track what you don't know. The general recommended practice; is never to start a paid advertising campaign when conversions can't be tracked down to the Keyword or Ad level. Understanding what doesn't work or what works and when to push the running ad bids - provides you a significant competitive advantage.
To further explore your prospects, analyze, and track Lead Ads Campaigns, you can integrate all your Lead Ads initiatives to ConvertedIn and save yourself the stress of "error-prone" manual configurations.
Facebook Lead Ads: Examples
Airstream Brochure Download


Not all companies engage in direct sales to customers. Think of automobile companies, hotel reservations, exotic resorts, etc. Modern brochures with a polished design can communicate the information more effectively. In return for their "contact details", prospective buyers can download an electronic brochure and specify when and how they prefer to be reached.
Boost Event Registrations

Even if you are a large/small-scale events company hosting the biggest dancers and musicians in the country, you can utilize this ad type. Also, if you are selling college baseball or cricket event tickets, lead advertisements can assist your company in bringing in new customers and streamlining the registration process. For instance, the Bucks employed FOMO strategies to sell tickets, even reaching further to highlight the opposing team. Isn't that amazing? Yes, it's.
What are the Strategies to Improve The Performance of Lead Ads?
Here are some key pointers to take note of to guarantee maximum returns on the Fb Lead Ad Campaign:
Make a genuine value exchange.
Create relevant content that truly benefits the purchaser or their business in exchange for their contact information.
Include a unique Welcome Message
With Facebook Lead Ads, you can customize the welcome message of the Facebook Lead generation form. It offers you an excellent opportunity to instruct and justify their need to fill out the form.
Do not be reluctant to enquire further than you may on an online form. Because the quality of the lead form becomes higher, the algorithm discovers more users who are more likely to fill out your form, keeping -the cost per lead; from rising too much.
Optimize your Lead Ad targeting
Ensure that you can monitor the proportion of high-quality sales or leads generated by each Campaign, Ad, and Ad set. You will discover that various targeting majorly impacts the lead value. To cross this hurdle, you can utilize the ConvertedIn Ad Tracking feature to accomplish the task for you quickly.
Provide a range of options
Give the client various options, such as "I'm simply looking for alternative information," or I'd need a quote," and provide some information regarding their request so that you can better serve them.
What are the tips for Increasing the Conversion rate of Facebook Lead Ads?
Using your lead generation initiatives, you have access to a wealth of data you can effectively utilize at the moment to improve lead conversion. Every inquiry you make offers the possibility of scoring and segmenting your leads. For instance, if you are marketing a "Software Boot camp" you can include a question like "When are you willing to enroll for the training". With this straightforward query, you can segment clients into groups based on whether they are currently "in-market" for training or not.
If a potential customer is attempting to purchase your product, place the person at the top of the priority list, compared to someone who is only surfing or not showing a serious desire to buy at present.
Keep in mind that your conversion rate will increase the quicker you answer.
Leverage Facebook Custom Audiences for Lead Generation
Given that 1 out of 4 mobile users spends time on Instagram and Facebook, it is essential to nurture your leads via social media to increase your chances of conversion. From your CRM or email system, you can utilize ConvertedIn to integrate your segments directly into the social media advertising platforms.