How to Calculate Return Rate in E-commerce and 6 Ways to Reduce It
By
Nada Sobhi
·
9 minute read
Doesn't it feel great when a customer completes a sale? If you're a small business, you may be looking at an increase in revenues and $$ at the end of the month. Unfortunately, completing the sale isn't the end of the line. In e-commerce, you need to keep tabs on your return rate.
Returns are like a plague for any store; online, offline, mobile app… you name it. It's a long and tiring process. Returns, and accordingly the return rate, eats into revenues and profits.
It's even worse for e-commerce businesses. Because return rates are more common in e-commerce than in physical stores.
In fact, "at least 30% of all products ordered online are returned as compared to 8.89% in brick-and-mortar stores." (Invesp)
But that's not all. The product return process, including exchange and funds, is another element you need to take into consideration. Your customers do. Which means so should you.
But before we dive further, let's start at the beginning: What is a return rate in e-commerce? How does it affect online businesses?
How can you calculate the return rate in e-commerce? And what can you do to reduce your return rate?
What is the e-commerce return rate?
In e-commerce, a return rate is the average number of times products are returned to a store.
Also known as the product return rate, this metric is – and should be – measured by both brick-and-mortar stores and e-commerce businesses.
Mobile-app-based businesses should also measure their average return rate and explore the reasons behind these returns.
In 2020, US consumers returned $428 billion worth of products. This figure represents a 10.6% of total retail sales for that year, according to a report by the National Retail Federation (NRF).
The NRF estimated the cost of returns to be worth roughly $101 billion that year. E-commerce returns, alone, made up "nearly a quarter of [the] returns volume," it added.
A pre-pandemic McKinsey Returns Management Survey found that the apparel bought online witnessed a 25% average return rate, whereas other products saw a 20% return rate.
How to calculate the return rate in e-commerce?
Now that you know what a return rate is, let's see how we can calculate it.
The formula is quite simple. Just remember a rate means you get a percentage %.
To calculate your e-commerce return rate, you'll need to divide the cost of total returned items by the value of sold items. Then multiply the result by 100.
Here's what the return rate formula looks like:
Cost of returned items ÷ Value of sold items x 100 = %
Let's look at the return rate formula being used in an example. Let's say a customer bought 5 pairs of socks worth $75. The customer decides to return a pair worth $15. In this case, the return rate amounts to
(15/75) x 100 = 20%
When measuring your e-commerce return rate, it's best if you compare specific periods, like month-on-month, or quarter-on-quarter. You can even compare seasons like Christmas 2021 to Christmas 2022 or Mothers' Day 2022 to Mothers' Day 2023.
This becomes especially helpful if you're running a specific marketing campaign or if you're taking steps to reduce your store's return rate.
Return rate vs returning customer rate
First-time business owners often mix up these two similar-sounding but widely different e-commerce metrics: return rate and returning customer rate.
One is a good metric and the other means you need to do some work.
We've mentioned the that return rate measures the average number of items customers return in a given period.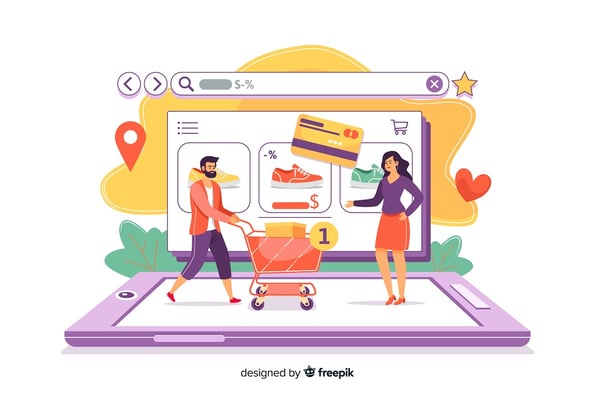 On the other hand, the returning customer rate is a loyalty marketing metric. It measures the average number of repeat customers. These are the customers who come in once, twice, thrice, and many times because they are loyal customers.
Another closely-related metric is customer churn or the customer churn rate, which measures the rate of customers who stop buying products from your store.
The higher your churn rate, the more customers are leaving your store. On the other hand, a lower churn rate, the higher your customer retention rate.
As an e-commerce business, you need to constantly work on reducing both your churn rate and your return rate.
It's also worth mentioning that a bad customer experience with product returns can result in a higher churn rate.
Why do customers return products?
To understand how to reduce the return rate for your business, you need to understand why customers return products in the first place.
Here are a few of these reasons:
While the degree of wear-and-tear can be a decisive factor, getting a torn electronic product is a no-go for many customers.
Customers will generally return various torn packages, especially if the items inside them are torn or damaged too.
Unfortunately, some products leave a warehouse in top shape but end up in pieces by the time they arrive at the customer's doorstep. Usually, the culprit is mishandling by warehouse employees or delivery people.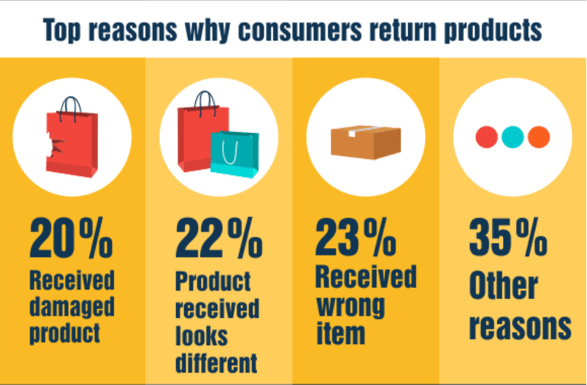 A common reason for product returns is that the product the customer receives is not the right size that they ordered.
Similar to the incorrect size, customers have a general idea about their size but not all products fit the same way. This is especially the case for apparel including sportswear and shoes.
Another major reason for returned products is that they're not the color the customer ordered. This can happen with apparel, electronic devices, notebooks, stationery, you name it.
Color is an important factor for why customers make orders in the first place.
With electronics, buyers need to be extra specific about what they're ordering. However, warehouse employees may not be aware of the minute details. Coupled with a large number of orders, you can expect a honest mistake.
But the result is a returned product, which means a higher return rate for your business.
You may find this surprising but inflation also plays a role in the rate of returns. However, this is more common with in the apparel industry.
"There are two main reasons for rising returns: inflation and fashion changes," says eMarketer in a report.
"Inflation is causing some consumers to dial back on apparel orders or return purchases they've already made," eMarketer adds.
Product arrived late/Product no longer needed
Every now and then you may be surprised to learn that a customer returned a product because they no longer needed it or because it arrived too late.
This often happens when you're running a mega sale and customer orders are delayed due to a large backlog.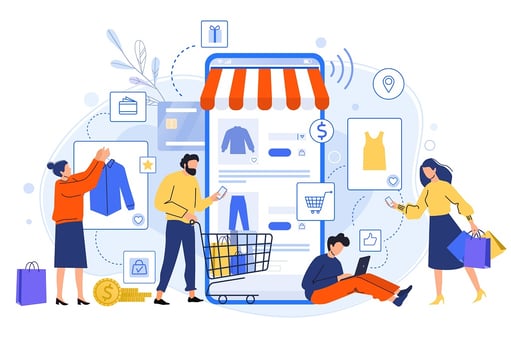 Customer ordered the wrong product
Sometimes customers order products when they're not focused or checkout before reviewing what's in their cart.
In cases like these, they're likely to return the product and tell you that they ordered it by mistake.
Product doesn't match the description
In some cases, especially with new e-commerce websites, product descriptions aren't aligned with the actual products.
This is also the case with multilingual websites, where translations are inaccurate, resulting in inaccurate product descriptions, and accordingly a high product return rate.
Customers get frustrated and return products when they receive something different from what was described on your website.
In the following section, we'll explain the benefits of having clear and accurate product descriptions.
What is the average return rate in e-commerce?
When people ask questions like they should know that the answer is going to be the cliché "it depends."
Usually this depends on the products being sold, the industry, and whether or not they're high-priced items.
However, a widely-reported average e-commerce return rate is around 30%, reports Clevertap.
So, if your e-commerce return rate is below 30%, it's a good sign. If it's higher than 30%, then you may want to keep reading and apply the tips to reduce e-commerce return rates that we're discussing below.
Fashion retail return rates average around 12.2% to 13.3%
And because of issues like size, color, and product-doesn't-match-the-description, you can guess why fashion e-commerce has significantly high return rates compared to other industries.
Why return rate is important in e-commerce
Measuring your e-commerce return rate is important because it affects your sales and bottom line.
However, the product return experience itself can have severe impacts on your entire relationship with your customers.
For one thing, if a customer suffers from a bad return – or exchange – experience, they're more likely to leave your brand for the competition.
This means that whatever your forecasts are for customer lifetime value, they're about drop significantly.
Data shows that 84% of e-commerce shoppers are likely to leave a brand after a bad return experience. (Klarna)
On the other hand, a positive return or exchange experience can translate in improving customer loyalty and increasing your customer retention rate.
How to reduce your online store's return rate
Now it's time to see how online, physical, and omnichannel businesses can reduce their return rate.
First let's see the measures undertaken by some global retailers. This is not to say that these are the right moves to make, but these are just ideas.
In fact, some of these 'measures' can hurt your brand's customer loyalty, something you need to avoid at all costs.
How global retailers are trying to cut their return rates
After looking at its e-commerce return rates, clothing retailer Boohoo decided to "reevaluate their returns policy," according to eMarketer.
Boohoo's CEO John Lyttle told Bloomberg his company was "considering" charging UK customers, Boohoo's largest market, for returns.
Fashion retailer Zara took on a similar initiative and "began charging customers in select markets for online returns." This step, according to Zara, "has not affected sales."
However, eMarketer's principal analyst at Insider Intelligence Patty Soltis described this move as "counterproductive." Instead, she offers a solution that can be implemented by larger retailers.
"If a retailer can get the customer experience right, they will avoid the return altogether." – Patty Soltis, eMarketer principal analyst at Insider Intelligence
Tips to reduce your e-commerce return rate
Let's look at some more helpful and less-loyalty-damaging ideas to trim down your return rate.
Clarify returns and exchange policies
The first step is to clearly state how returns and exchanges work for your online and physical stores. Standard returns include ensuring that products were not misused, torn, or damaged in any way.
However, we've mentioned that wrong colors or sizes can be a reason for increased return rates in the fashion industry.
Usually, customers only want the product they ordered in the right color.
What you can do is ensure that customers clarify why they're returning products. You can also look at this list of reasons to see where the problem is. Does the warehouse regular send incorrect colors, brands, or sizes?
Does your website have a clear size chart to help customers get what they want?
Consider these ideas and make sure you clarify them and any other details in your returns, refunds, and exchange policies.
"Managing returns comes with a complex set of operational challenges, including consumer expectations, reverse logistics, process ownership, and data limitations." - McKinsey
Use the returns experience to build loyalty
While a bad product return experience can make customers leave, the opposite is also true. A seamless or at least "easy" returns experience leaves customers happy and more willing to buy again from you.
After all, they've bought from you, had no problems returning a product for whatever reason, so they know you're easy and comfortable to deal with.
Offer alternatives to returns
This is another section you should include in your returns, exchange, and refund policy. Put simply, you can offer alternatives to returns and refunds by giving customers the opportunity to exchange products.
Another idea would be to give them the chance to have their money refunded as credit in your online store for their next purchase. That way you ensure that you get paid the amount of money for any other product.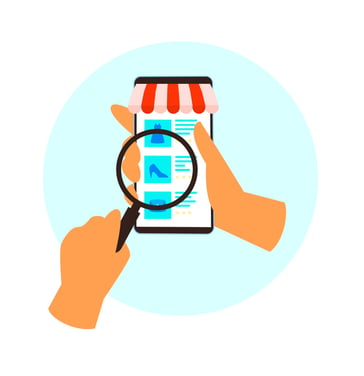 Avoid return shipping fees or limit it
Shipping fees are among the biggest customer pain points in e-commerce. Equally bad are return shipping fees.
Customers don't want to pay to return items, which can mean they'll get disgruntled over that $25-order that would cost them $20 to return.
So what can you do? You can offer free return shipping. This is your way of saying 'We made a mistake. This is on us.' (Even if it wasn't your mistake).
However, you may find some difficult customers returning the same product multiple times.
In this case, you can limit the number of times a customer can return a product or order within a given period of time or on the number of times they can return products from the same order.
According to Invesp, 92% of consumers say they're more likely to buy "again" from a brand if the "product return process is easy."
Make sure you have clear product descriptions
Some online stores neglect this part. But having clear product descriptions with supporting images of the product from various sides can reduce your e-commerce return rate.
Providing customers with clear product descriptions that list specifications or clarify how to use a certain product can go a long way into reducing your average returns.
Make sure you use quality images so that customers can zoom in, look at the product from various angles, and what's going to be delivered to their doorstep.
Ask customers to review your products
A good way to know what the problem is to ask customers about their experience with your products.
You'll often see customers giving low star-ratings because products turned out to be a smaller size than the image on your website.
In other cases, customers may get frustrated when receiving the wrong color or the wrong model of an electronic product or appliance.
However, asking customers to review products and their experience can clearly show where the problems are.
Are returns high due a shipping problem? Maybe shipments arrive too late? Or maybe the product itself is of lower quality than what you said on your website or it falls below your customers' expectations.
If it's a low-quality product, you may consider looking at a different supplier or improving that product.
Wrapping it up
One of the reasons e-commerce product returns remain high is because retailers don't address them. That's in addition to the above 6 reasons.
"Returns…continue to be a relatively neglected issue," McKinsey reports, stressing that "managing returns" doesn't even rank among the "top five priorities for a third of retailers."
The best way to overcome and reduce e-commerce returns is to understand why customers return products. It's also imperative you work on improving your store's customer experience including your returns experience.
In addition, segmenting your customers for your ad campaigns and using Convertedin's ads automation tool will help you tailor your ads and reach your target audience
Want to learn more about your customers, their behavior, and what drives them? Check out these articles on the Convertedin blog