Most Comprehensive eCommerce Social Selling Guide for Retailers
Undoubtedly, social media platforms give e-commerce business owners new avenues for selling and reaching the ideal target audience. With millions of people scrolling through their social media feeds for countless hours every week, it is evident that platforms like Snapchat, TikTok, Instagram, and Facebook shop are now effective ways to reach potential customers. Besides that, they are now excellent sales platforms for eCommerce social selling.
Efficient social selling involves active communication with prospective customers and business partners, offline or online. As you develop relationships with the target audience and earn their trust, retailers can inevitably move the "customers in" through the sales pipeline toward generating leads and a fruitful deal. To this effect, leveraging proven; social selling marketing strategies will further enhance your social media presence.
Table of contents:
In some seconds from now, we will cover what eCommerce social selling is all about, coupled with its importance and social proof techniques to adopt to sell products more effortlessly. Without further "ado", let's get started!
What is eCommerce Social Selling?
Social selling uses the trust established through cordial relationships to market goods and services.
As a subset of retailing, eCommerce Social Selling is a novel concept that enables consumers to interact with brands, reach out to customer service, navigate product catalogs, and finalize purchases via social media platforms.
Furthermore, social selling is distinct from conventional sales promotion, which focuses on selling straight to consumers by emphasizing their advantages and how they solve those problems. Social Shopping, as opposed to social media marketing, allows customers to make purchases directly from Facebook Shop and other social media platforms. For buyers to finalize their transactions, hyperlinks are often embedded on the SM channels to redirect shoppers back to the product page.
Why is social selling important for eCommerce?
It allows Sellers to engage the Target Audience
By utilizing social selling, sellers can quickly discover potential customers already conversing about their enterprise, industry, or direct rivals. After having access to this data, you can contact and interact with such leads to turn them into long-term, paying clients. Also, it gives you room to interact with your current followers through social selling to broaden your social media presence.
By incorporating a splash of humor or dramatic irony and ingenuity into the mode of communications, retailers can drive sales with social selling, making it possible to drive traffic to the unseen product catalog.
It aids brand expertise and publications
The goal of social selling is to go past product sales. For brands to convince the target audience as an authority in the field, they must be able to promote interactions that build long-lasting trust after offering guidance on any problems that users may encounter while using the products. To further reinforce commitment and encourage customer loyalty, eCommerce sellers must be consistent in their publications and quickly address any questions or concerns that followers may have.
Through the interaction between brands and consumers on various social media platforms, retailers can better understand their customers' needs, walk alongside them as they make purchases, and provide customized services.
It builds genuine relationships
Since cold calling rarely works due to its generic and intrusive nature, sales representatives have also been searching for a substitute primarily for this reason.
Via social selling, building stronger relationships with prospects is made possible by both the sincerity of the engagement and the simple targeting. Many potential customers use social media platforms to read information or express their unique needs. Social media marketing teams can achieve unbelievable levels of personalization by simply selecting a good data analysis application like ConvertedIn to analyze their audience segments.
Promotes effortless customer service
Even after the buyers make their final purchase, retailers must keep interacting with the prospect if they choose to retain such customers for a more extended period. However, such repeat purchases can only happen if you provide excellent customer service to your current customers.
Social selling makes it much simpler to deliver a better user experience. When other consumers see the attempt you are making to satisfy your customers and address their problems, you will generate a lot of reputation as well as additional leads.
When testing a unique product or service, users are often puzzled. The primary thing that helps them understand the Genuity of such products is a social proof (customer review) of the service offering.
Social media alone can be a great source of testimonials that attest to the greatness of your product or service offering. Aside from the fact that more consumers are already benefiting from your product offerings, the perspectives of the target audience may change for the better before they interact with your business due to social proof.
Proven Techniques to Enhance your eCommerce Social Selling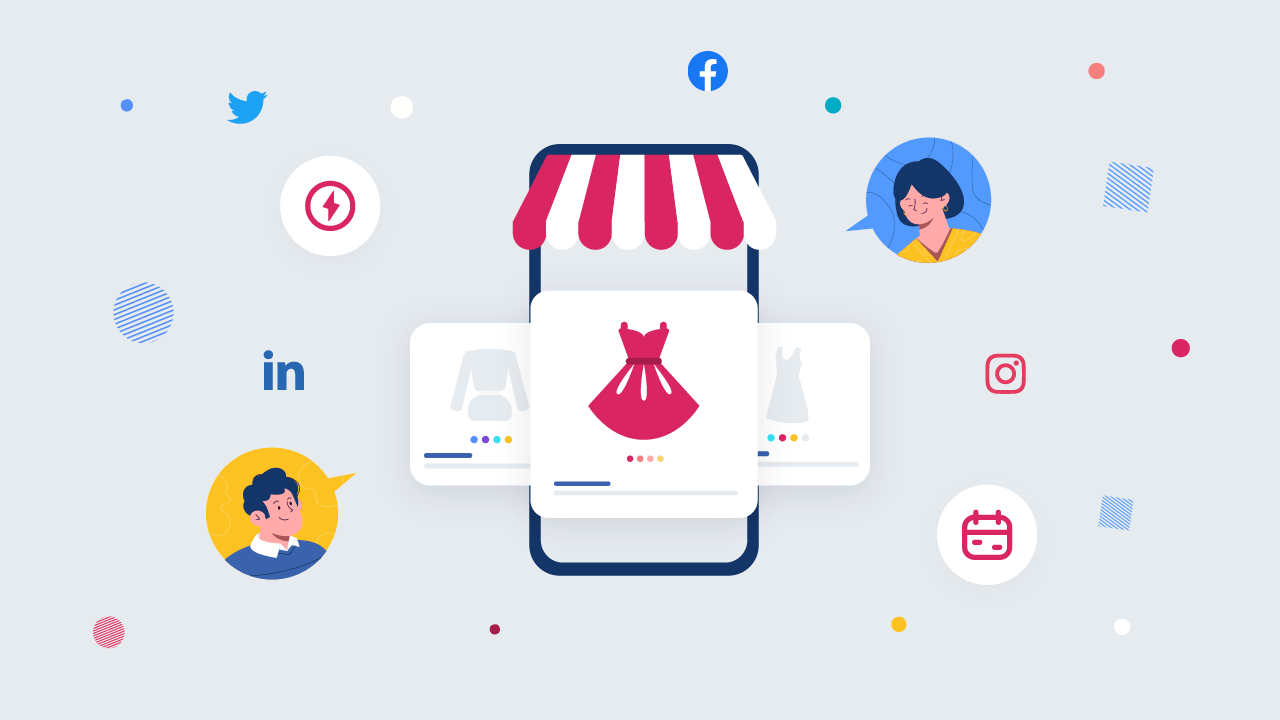 1- Repost User Generated Content
Did you realize that; user-generated content (UGC) has at least a 40% higher conversion rate for sales than branded content? UGC has many advantages, one of which is that it benefits customers and the retailer.
Seeing posts from actual customers will boost a firm's trustworthiness and put the promises made by the brand into a proper perspective. Track the posts and visuals where your enterprise has been mentioned. Repost a customer's review of your product via your social media pages. Through this means, potential customers will feel more at ease when relating to such content.
2- Optimizing brand campaigns using analysis and reports
Often, the primary function of social automation applications is to publish and schedule posts (content) for your social media platforms. But it's also crucial to make use of good marketing strategies in sync with the SM tool; to enhance the effectiveness of your social media strategy.
In addition, make sure you produce thorough reports that evaluate how well your shared content performed in terms of outreach and engagements. After that, use this information to improve the performance of your upcoming social selling campaigns.
3- Use marketing automation
With marketing automation, online sellers can develop unique types of promotional campaigns for each target audience. Due to this, they will be able to increase the level of personalization in every initiative while having more room to create innovative marketing strategies. Also, the potential customers will be more motivated and engaged to keep advancing through every step of the buyer journey.
4- Leverage on Influencer Marketing
One of the most challenging tasks to do on social networking sites is to grow and sustain targeted audiences. Surprisingly, influencer marketing is a cost-effective alternative that brands can use to boost product sales via social selling.
On social media, there are many influencers (users) with sizable followings and influential voices; who can significantly boost traffic to your Facebook shop or other channels of your choice.
5- Automate ads
Social selling isn't complete without proper ad automation. When trying to promote new products via social media platforms like TikTok, Snapchat, Instagram, or Facebook, failure to use an efficient ads automation tool will lead to a loss of advertising budget. To witness tremendous sales, most online retailers use the ConvertedIn tool, which delivers in-depth insights such as impressions, view reach, clicks, e.t.c.
Aside from being the best application for sellers to automate their ads, the tool also provides suggestions on how to enhance the ad campaigns and alerts the advertiser if the ads aren't performing well based on set goals & objectives. The tool also displays feature-rich graphs to help the advertiser understand the performance of each respective advertisement.
Next Steps?
A firm cannot quickly implement eCommerce social selling within a few weeks, days, or even months. As such, it requires time to build online reputations and connections. By leveraging good social media platforms and an effective social media strategy, sellers are bound to witness good returns on investment.