No-Brainer Guide: Pinterest Ads for eCommerce
If you're an online retailer, learning how to integrate Pinterest ads for eCommerce in your overall DIY and marketing plan should be your top priority. For most businesses offering online products or services in different sectors, Pinterest offers a lot of promise, including making a positive impact on your shop blog and digital marketing plan for eCommerce.
According to statistics, the audience engagement on Pinterest is 169 million, out of which Males make up 20%, while females make up 72% of the audience group. In addition, 2.8 percent of people who are 13 years or older can be targeted by Pinterest adverts. From this, aren't the numbers inspiring enough? Yes, it's. So, how do you leverage that to boost your store sales?
The best approach to nailing it with Pinterest adverts (shoppable and promoted and pins) is to concentrate on the channel as a whole, similar to how you would with some social media Sites like Twitter and Instagram. In this feature-rich article, you will learn the types and how to use Pinterest Ads for eCommerce.
Why use Pinterest Ads for eCommerce?
Enterprises can aid new leads in discovering their business by using Pinterest adverts for digital marketing. It's a great resource for people to find your product if they have never heard of it. Also, your products will appear in the same listings as comparable products if you integrate your Pinterest online ads into the stack.
In addition, more qualified leads will see your products thanks to platform algorithm advertising, which also increases product and brand awareness.
What are the types of Pinterest Ads for eCommerce?
Five types of Pinterest promotions are most effective for online retailers. These comprise buyable, video, carousel, story, and Pinterest-promoted pins. In the next section, we will examine each to gain insights into what's obtainable.
Pinterest Promoted Pins
The first kind of Pinterest ad is promoted pins. They display in the search results and home feed exactly like conventional pins but with far greater reach thanks to optimization and targeting. Just the way it works with organic content, users can pin it to their boards and comment or share on them. Additionally, the "promoted or sponsored" label disappears if users share a pin on their board, offering business-free exposure.
Promoted Pin Specifications
The standard aspect ratio "is 2:3."
For headlines, 100 characters maximum
Use JPEG or PNG files with a maximum size of 10 MB.
Maximum of 500 characters for the descriptions
Implement the "brand awareness" campaign goal.
Buyable Pins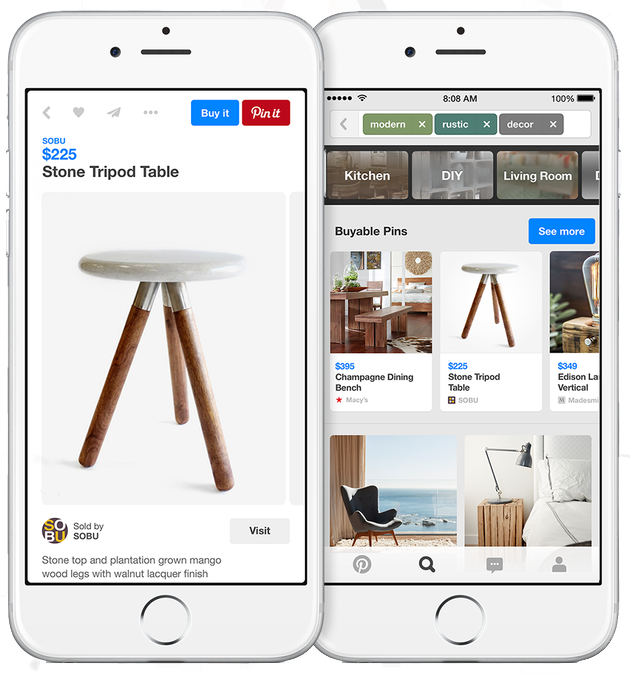 Buyable pins, often known as "Shop the Look," are branded pins that allow users to purchase items. The Buyable Ad type is advantageous for eCommerce because it's visible anywhere a promotional pin is found. However, it would help if you used Pinterest's tagging function to make buyable pins as effective as possible. After they are generated, you can advertise these pins.
Promoted Video Pins
Promoted video pins use dynamic videos rather than static ones. Pinterest promotional video pins will start playing when 50% of the screen is visible and will show up in search results, home feeds, and also via the "many/more like this" category. They also consist of two components: standard and maximum width.
Promoted Video Pin Specifications
The standard aspect ratio is 16:9, 9:16, 1:1, or 2:3
Video length varies between 30 minutes and 4 seconds
Utilize MOV or MPR file types not more than 2 GB maximum
Maintain a Maximum of 500 characters for descriptions
Implement 'video views' promotional objective.
Learn More about: E-Commerce Video Marketing: The Best Way to Effectively Increase sales
Story Pins
Story pins are only accessible to Android and iOS users and let you display up to 20 pages of content, including product links, text, and images. These pins can be promoted and are visible on the home feed. Modifying your blog posts, like the how-to instructions, is an effective method for utilizing this Pinterest pin concept.
Story Pin Specifications
The standard aspect ratio of 2:3, 9:16, 16:9, or 1:1
Maintain a minimum of 900×1600 pixels
Use MOV, JPG, BMP, WEBP, MP4, TIFF, or GIF, file types -not more than 16 MB
Includes between 2 to 20 pages
The title must not be more than 42 characters
Promoted Carousel Ads
With Carousel Ads, advertisers can display up to five photos (images) in a single ad; these images can appear in the search fields, Related Pins, or home feed. Each card has a unique landing page URL, description, and title; comparable to how FB carousel ads function and are excellent for displaying multiple products in a group or various iterations of a single item.
Promoted Carousel Specifications
Maximum of 500 characters for the descriptions
Use JPEG or PNG file types not more than 10 MB
For headlines, Maximum of 100 characters
An aspect ratio of 2:3 or 1:1
How To Use Pinterest Ads for eCommerce?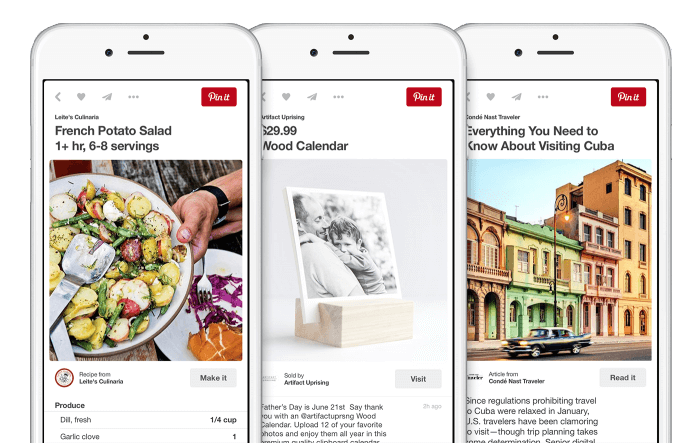 1- Create a User Persona
By identifying your user persona, you can run cost-effective adverts and increase your reach among customers likely to engage with your product. On Pinterest, the six available targeting choices are:
Demographics: The feature allows you to reach target users or potential audiences based on their device, gender, location, age, or language.
Keywords: This feature allows you to reach or target potential buyers based on search terms that align with your product description.
Placements: This option enables you to select where you want your promoted pins to show up.
Interest: The option enables you to advertise Pins to target customers with a similar interest as your promoted product.
Audience: This feature allows online store owners to reach customers who have initially interacted with your content or those that have bought items from your store or have interacted with your product Pins.
Expanded: This option allows retailers to target users with different keywords or interests depending on your shop/store content.
2- Include a link to your home page within the Pins
Send visitors to your product pages from Pinterest after they click on one of your pins. Hence, they can learn more about the benefits of your items, and they can also browse further about your offerings. It's a far more straightforward method of gathering data without running the risk of being flagged as a malicious user.
3- Define and Set your Campaign budget
Choose a lifetime budget if you wish to allocate your campaign funds equally over a certain time frame. To determine the daily payment amount, establish a budget. Depending on how quickly you want the ad to run, you'll need to alter the budgets manually. You'll then decide on a maximum bid. Although, based on the features of your ad, Pinterest will automatically recommend a budget for you.
According to statistics, manually adjusting the campaign budget is an ineffective strategy to deploy when running Pinterest campaigns. To streamline the process, retailers can utilize the widely used ConvertedIn, which helps retailers manage all their ad budgets effectively and seamlessly across different social media channels.
4- Carryout keyword research
Keyword research can help businesses perform effectively in their promoted content. Put keywords in the title and description text, but don't stuff them in too much.
5- Develop your customer engagement strategy and digital marketing
Strategize the marketing techniques for this online platform after first comprehending the Pinterest ecosystem. Conduct a comparative study to learn what kind of content your rival is promoting on Pinterest.
Final Comments!
Pinterest audiences are active individuals leveraging the platform to find inspiration for ideas they'll eventually implement. It should be your first consideration when thinking about placing an ad on this outstanding interactive platform. We hope these pointers will ingeniously motivate you to try out Pinterest Ads for eCommerce.