Pet Products eCommerce: Top Trends Best channels & Strategies (Guide)

By
Nada Gad
·
5 minute read
In 2022, around 70% of US households owned a pet (Insurance Information Institute,2022). Hence, it became apparent that the pet products market is indeed accelerating. Not only is the pet products market, but also online shopping.
As a matter of fact, people won't stop pampering their little furries (never). Therefore, all signs are encouraging you to kickstart your pet products e-commerce.
But, need to know where to start? No worries, we have got you covered. Keep reading the article for the top trends, statistics, marketing channels, and strategies for your pet products' e-commerce.
Table Of Content:
Pet Products eCommerce Trends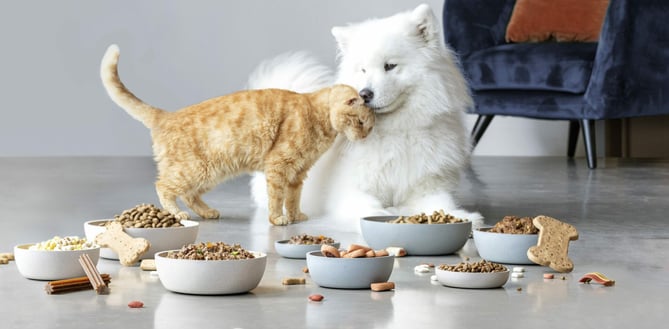 Image source

The strong emergence of pet products for eCommerce did not rise out of the blue. Some emerging trends require your attention as an e-commerce store. Keep on reading for the top trends in pet products in e-commerce.
Digitalization Of Pets Shopping
Like everything became online in the past couple of years, pet shopping was no exception. From the comfort of their homes, pet owners could order everything they needed for their little buddies; while comparing prices and researching products before purchase.
A study showed that pet food e-commerce is growing every year by 53% (Tinuiti,2020)
Accordingly, a drop in brick-and-mortar pet stores is being witnessed. Thus, the digitalization of pet shopping is a top trend that should be taken advantage of by e-commerce stores.
Healthy And Premium Pet Food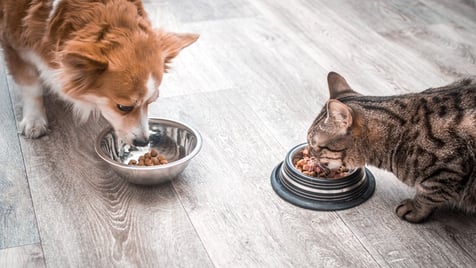 Just like there is a trend for healthy food for humans, furry friends are part of this trend as well. Therefore, pets are not fed anything that comes their owner's way. The quality of the food served became vital.
In the past couple of years, healthy and premium pet food has become essential for pet owners. The emergence of pet obesity as an issue for pet owners required sellers to start focusing on offering excellent food with natural ingredients and high quality.
Accordingly, the well-being of pets became a priority. Pet owners are willing to pay extra dollars to offer their fur friends healthy and premium food.
Thus, it is a trend that requires all e-commerce stores to tackle while providing pet products.
Image source
Pet products in e-commerce are not only about natural and high-quality food; several other products have also become trending.
We agree by now that pet owners will do everything to ensure their furry friends are having fun. Accordingly, new innovative pet products started to emerge. For instance, new products include toys, beds, clothing, and hygiene products.
Believe it or not but pet products started to include pet wipes and even toothpaste. Well, it has been proven that pets' dental health is essential, so we can't risk ignoring it (I didn't).
Plenty of other innovative products are currently emerging in the pet products in e-commerce. Therefore, as an e-commerce brand, you need to incorporate such innovative products to stand out among the competition.
Pet Products eCommerce Statistics
Well, we are intense pet lovers. So, we will only stop once we make you love them just like us. Accordingly, we will show you some numbers and statistics of pet products for e-commerce to get you started.
The pet industry is expected to reach 358.62 billion dollars by 2027 ( Exploding topics,2022)
70% of American households own a pet.
Americans spend 123.6 billion dollars on pet products annually.
The global pet care e-commerce market had a market value of 38.36 billion dollars in 2020 (Business wire,2022)
According to Statista (2022), by 2025, 29% of pet care sales will be generated online.
In 2021, pet specialty retailers witnessed 31 billion dollars in sales, and the majority of these sales came from online platforms (Packaged facts,2022)
Marketing Channels

To Promote Pet Products eCommerce Business
Are you excited enough to start your pet products e-commerce store?
Well, so are we. But before you start, we want to take you through the best marketing channels and strategies for a successful pet products e-commerce.
1- Google Shopping
One of the good things about online shopping is having the chance, as a customer, to view several products and compare prices.
The same thing happens in Google shopping. It is one of the most critical channels for selling pet products as it lists several products with their features and prices. Therefore, it's your chance as an e-commerce business to get use of this point.
Also, Google shopping enables your e-commerce business to reach many people. In addition, your brand becomes visible on the Google search page.
2- Instagram
Well, social media cannot be ignored as a channel, right?
Certainly not; social media offers exposure to plenty of e-commerce stores. Yet, for pet products, Instagram can be a fantastic channel to showcase your products.
Generally, customers do research before making any purchase. However, if this purchase is related to their little fur buddies, an extensive one is done.
Therefore, you must be present on Instagram if customers land on your page. In addition, your Instagram page has to be full of appealing visuals and valuable content as well. Branding is essential for a successful pet products e-commerce.
An additional tip is: Appeal to your customer's emotions ( Trust me, it will work). Who doesn't like to see cute pictures of pets? Indeed, no one.
Dapper Dexter is an e-commerce pet products store that is killing it on Instagram. The key to its success is strong branding while appealing to its customers through giveaways and contests.
3- Facebook
Our social media giant is still taking it strong in e-commerce. 40% of pet owners in the US use Facebook to search for pet products (Statista, 2023).
Therefore, Facebook is one of the top channels you should target for your pet products' e-commerce. Even though the numbers on Facebook might have declined compared to its earlier years, good content can still go viral.
Let's take a look at Pups-way and its Facebook ad.
We just can't get over this cute puppy in the ad; this really caught our attention. Not only the picture is what caught our attention but also the free service (We love free services)
Therefore, the Pups-way ad was a successful one with just a few techniques.
Marketing Strategies to Promote Pet Products Online Stores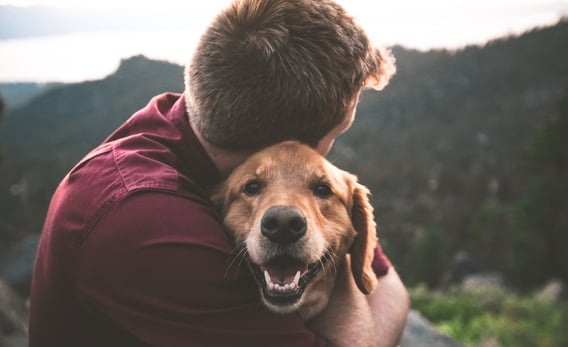 1- Improve Your Website Position On Search Engines Result Page (SERP)
Let's give you a glimpse from the customer's perspective. As a pet owner, whenever my little doggie does not eat well or is just not feeling well, I immediately start my extensive research to understand better what is happening.
As an e-commerce business, you must be available at such a point in your client journey. Therefore, you need to be well-positioned on SERP. How can this be done?
You will have to focus on Search engine optimization (SEO). It is one of the most successful ways to drive organic traffic.
One of the ways to be used for SEO is creating a blog with valuable content while using some keywords. Your customers will value the relevant content you provide; hence, they will return for further purchases.
2- Use Influencer Marketing
What? Influencers and pets? How is this even possible?
Surprisingly, it is possible.
One of the most successful strategies for pet products e-commerce is collaborating with influencers. There are many influencers on social media platforms with thousands of followers mainly interested in pets.
Well, here comes your chance to collaborate with these influencers for more exposure and awareness for your pet product's e-commerce. You can offer them your products to try them out and give a review.
It's that simple but is really effective.
Believe it or not, Nala, the cat, has 4.3 million followers on Instagram and its website. Not only that, but Nala is a Guinness world record holder as the most famous cat. You should contact Nala's mum for a collaboration.
3- Appeal To Emotions
Seriously, how many times did we say appeal to emotions? I bet we said it plenty of times. But, trust us, this is because of its effectiveness.
Pet owners treat their little furries as part of their families. Therefore, you must appeal to emotions in your marketing campaigns. Appealing to emotions will encourage pet owners to purchase, leading to more sales.
Final Thoughts:
We are sure that you are excited as we are to start your pet products e-commerce. The market is booming, and the chances of success are huge.
However, a tip we want to offer you is to check out ConvertedIn. It is an automation tool that will help you automate your ads strategy and management while getting a complete view of your ads. In addition, it provides an auto-segmentation engine that allows you to achieve the right target audience.
Book your demo now for all of this and more!