Re-Engagement Emails: Top 7 Practices To Win Back Customers

By
Merna Helal
·
5 minute read
Are you losing customers left and right? Previously loyal customers stopped ordering from your online store? That always happens but what makes your eCommerce business stand out from the competition is what you do about those lost customers!
It is easy to say that's just how it is and go on trying to attract new customers. However, if you put a little effort into re-engaging your old customers, you will get better results at lower costs. One of the most successful methods in gaining back your eCommerce customers is re-engagement emails.
Re-engagement email can help you gain back a customer, increase sales, and grow your business one step at a time. That's why we gathered in this blog everything you need to know about sending the perfect re-engagement mail that wins back a customer.
Table of Contents
What is a Re-engagement Email?
A re-engagement email is literally what it sounds like. An email or a campaign sent to a lost customer to re-engage them with your eCommerce business.
Many reasons can lead to the loss of a customer; accordingly, re-engagement emails can't all look the same. That's the reason why many businesses send a series of emails in the form of a campaign instead of just one email.
Why Should Your eCommerce business Send Out Re-engagement Emails?
Although re-engagement emails are not that big of a hassle, many eCommerce businesses skip them. So the million-dollar question is; should you be among those who send or those who don't?
Instead of just telling you it is an important marketing tactic that you should definitely use, let's take a look at some facts and numbers that will help you decide for yourself. A re-engagement email campaign can help you in the:
Reducing customer churn rate
Driving traffic to your online store (website or app)
Cleaning out your email lists and having a higher sender score (by removing customers who still won't engage with your brand after the re-engagement campaign)
Improve customer relationships. Maybe you didn't lose that customer they were just occupied, so a re-engagement email will help you strengthen bonds with those customers.
Increasing orders and revenues
Winning back customers (obviously!)
Still not convinced? Well then, you should know that:
Now that you know what re-engagement emails are and why they are important let's take a look at how to send the perfect one!
Top 7 Practices to Send the Perfect Re-engagement Email (with examples)
Typically, a re-engagement email campaign targets those who were unengaged with your brand for at least six months, and it includes 3-4 emails. Each email should have a different concept to eventually solve any problem that might have made them leave your brand.
Re-engaging old customers is no piece of cake, but if you follow these proven-to-be successful tactics, you can easily send the perfect re-engagement email and win back customers!
1- Give customers a reason to come back (incentives)
The first thing any brand does to gain back customers is to offer them exclusive deals or freebies. This might seem basic, but don't overlook the power of the classics.

Many old customers can see that as an opportunity to get one more thing from your brand at a discount. Then with your high-value products and outstanding customer service, you can win them back for life!
This type of email is the perfect way to start the campaign and get them to open the rest of the emails you will send later on.
A real-life example of this type of email is bareMinerals' email which offers a 20% discount on the next purchase, followed by a clear CTA urging them to make a purchase right away.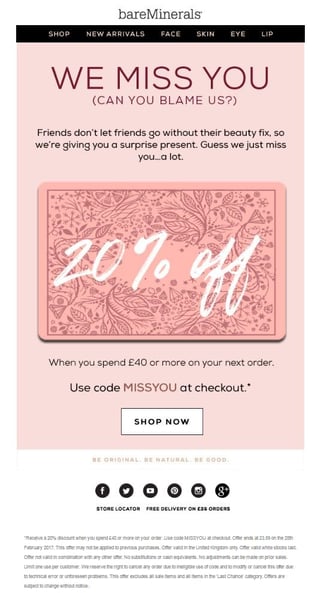 2- Showcase your value
Old customers are people you have already won over once, so you can simply remind them why they used to purchase from your online store. By showcasing the value of your products, you can easily get back customers who just got lost in the shuffle or simply forgot about you.
A great example of that is Airbnb's email that highlights the value it offers by showcasing how much the host could make when they come back.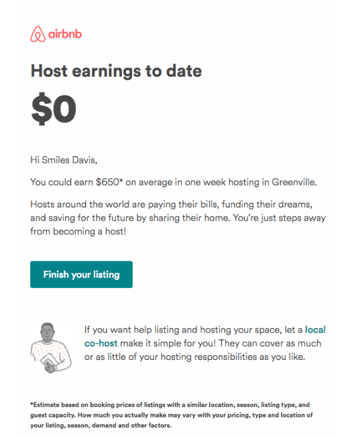 3- Get Emotional
Customers tend to love eCommerce stores that offer a human-to-human experience; accordingly, you can show emotions in your re-engagement emails to trigger back the love for your brand. You can start simply by "we miss you" and maybe add some sad visuals. In other terms, this type of email needs to be cute and attention-grabbing.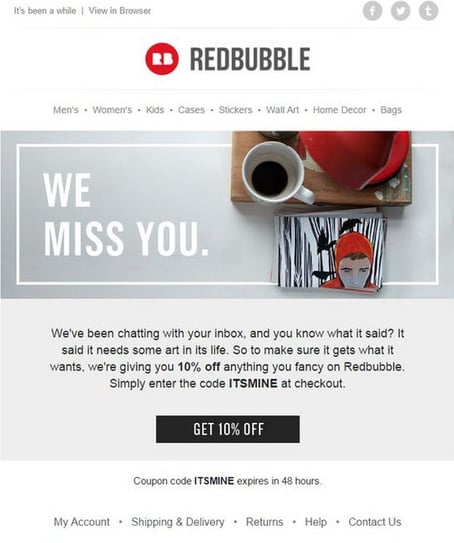 Redubble has a whole section to say they miss the customer, and then it goes on to offer a discount to give them that last push to convert.
4- Create some FOMO
Thanks to social media, FOMO marketing is one of the best tactics used these days. You can leverage FOMO in your re-engagement emails by showing user-generated content and how other people are enjoying your products. Or you can highlight the things the recipient will lose if they don't return to your online store.
In the following example, Other Goose sends an email notifying the customer that all the previous data will be removed if they don't return in 2 weeks.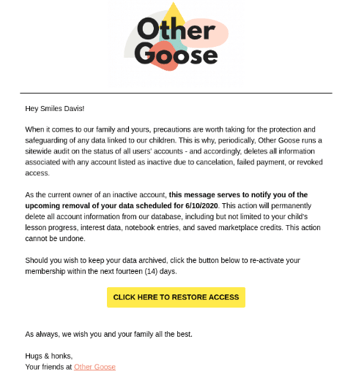 5- Flex your new products
If a customer stops purchasing from your store, then most probably, they know nothing about your new products or services. With this in mind, it's safe to say that it's essential to highlight what they missed in their time away.
Surfstitch sent a perfect example of this type of re-engagement email that dives right into showcasing new products and features.

6- Open a dialogue
One of the best ways to re-engage a customer is to learn why they left and try to resolve the issue. So you can open a dialogue in your email and show that the customers are more than a transaction to you. Nothing can help win back customers more than showing you care!
In this example, Help Scout offers an extended trial and asks the customer to send their feedback. This will help them get a deeper understanding of why they are losing customers, and as a result, the business can alter their marketing efforts.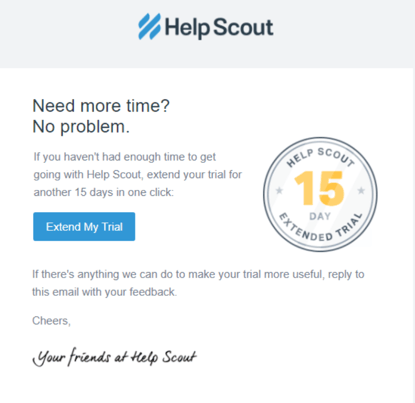 7- Say goodbye (show them how to easily opt out)
Unfounrtalty, no matter how hard you try, some customers just won't come back to your online store. To ensure you are not wasting time and effort on lost causes, the last email in your re-engagement campaign should give customers an easy way to opt-out of your email list.
Also, this helps clean up your email lists, so your other email marketing metrics are not affected (like open rate, bounce rate, conversion rate, etc).
Paul Mitchell sends an emotional email that gives an easy opting-out option. This is a great example of trying up to the last minute to engage old customers while offering them a way out of your email list.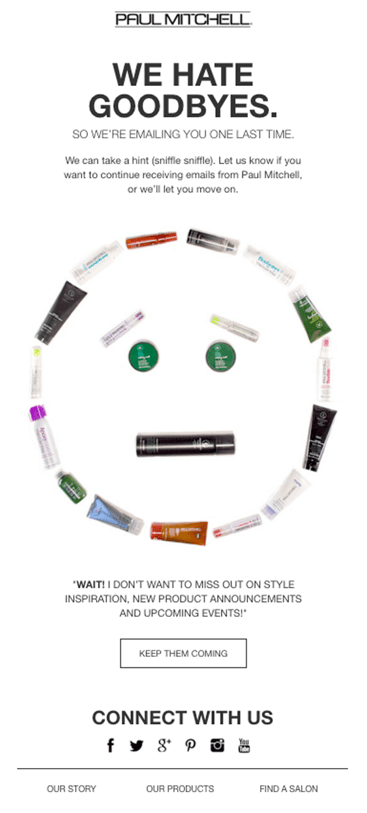 Final Thoughts
You can combine many of the previously mentioned practices together in one email or choose a couple for the whole campaign. Keep in mind that re-engagement emails like any other type of email, can benefit greatly from personalization and automation. All in all, re-engaging emails can help you in growing your eCommerce business.
Marketing operating systems like ConvertedIn can help you automate your re-engagement email campaign, auto-segment your customers, and personalize your emails.
Request a demo today and start sending the perfect re-engagement email campaigns!