13 Shopify Marketing Strategies You Can't Afford to Ignore

By
Merna Helal
·
4 minute read
Operating an online store on Shopify seems really easy, but did you know that there are 4.36 million online stores on the platform? That means if you are not pouring your blood, sweat, and tears into your Shopify marketing strategies, you can easily get lost in the crowd!
Don't panic; it is way easier than it looks. In fact, if you read this blog carefully and learn about the best 13 marketing strategies to use, running a successful eCommerce business will be a piece of cake.
Table of Contents:
Best 13 Shopify Marketing Strategies To Skyrocket Sales:
Best 13 Shopify Marketing Strategies To Skyrocket Sales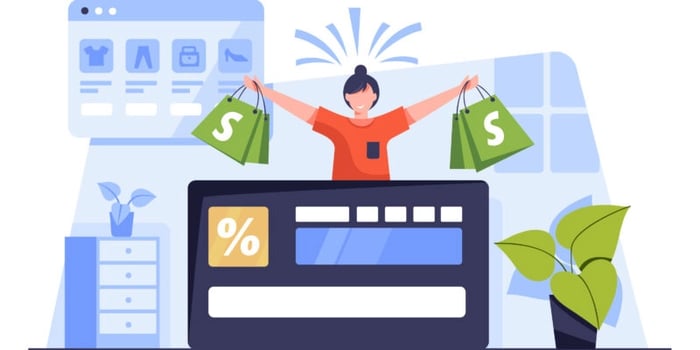 Before we go into detail about the best Shopify marketing strategies to use, let's take a minute to discuss why it is beneficial for your online store to invest in those strategies.
As we previously mentioned, there are millions of stores also operating on the same platform as you, so standing out needs some effort on your part. That's where those marketing strategies come in.
But of course, that's not the only reason!
Or to be more accurate, this reason (standing out from the competition) will result in an increase in brand awareness, engagement, sales, and revenues.
Now enough beating around the bush, and let's get right to it!
1- Focus on your unique selling points
The whole concept behind these Shopify marketing strategies is to stand out from other online stores. Accordingly, highlighting your unique selling points should be the first thing to do.
Whether it is fast delivery, one-of-a-kind products, or great offers, whatever you excel in needs to be your main focus in your marketing campaigns and home page.
2- Embed interactive popups
You already have some potential customers on your online store; now what? If this is a brick-and-mortar store, there will be a sales assistant right there pushing for that sale. Online stores are no different.
Having an interactive popup on your home or product page can give website visitors that extra nudge they need to make an order. It helps to showcase any discount or loyalty program you have on that popup.
3- Optimize your website
One of the best marketing strategies is focusing on optimizing your website for search engines (SEO).
This is easily done through keyword research to learn what your target audience is actually searching for. Then, you can integrate these keywords into your website pages to ensure when potential customers search, you are right there.
Bear in mind that the technical parts of your website like page loading time and mobile responsiveness are also key factors to landing one of the top ranks.
Discover more in How To Promote Your Shopify Store Without Exceeding Your Budget
4- Add upselling and cross-selling plugins
Have you ever ordered a sizzling burger and the cashier asked you if you want fries and coke with that? That's cross-selling.
Meanwhile, if you were at a hotel booking a room and the clerk asked if you would like an upgrade to a suite, that's upselling.
As an eCommerce business, these strategies can drastically impact average basket size, sales, and revenues. Thankfully, there are numerous Shopify plugins that can help you with that.
These plugins can offer personalized recommendations for complementary products or upgrades.
5- Integrate Instagram feed to your store
Social proof is the bread and butter of online stores and one of the best Shopify marketing strategies.
By adding your Instagram feed to your website, visitors can see how existing customers use the products and interact with the brand. There are several Shopify marketing apps that can help you integrate your Instagram with your Shopify storefront.
6- Utilize product reviews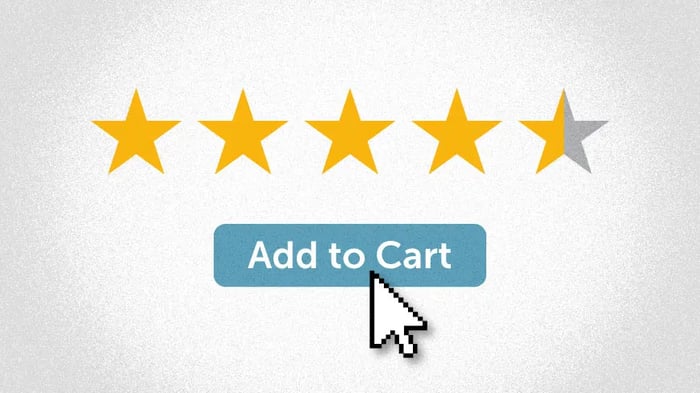 Another great way to utilize social proof in your marketing efforts is showcasing product reviews on your online store.
Additional tip: throw in a couple of mildly negative reviews to increase trustworthiness. Actually, it's been known for years that an average rating of 4.2 to 4.5 is the best range to be in.
7- Launch a customer referral program
Just like social proof, word-of-mouth is one of the top and most cost-effective marketing strategies out there.
For this one, all you have to do is launch a customer referral program where existing customers get to refer a friend for a simple compensation (e.g., free product, discount, free delivery).
8- Don't forget about Pinterest
When talking about Shopify marketing strategies, we have to mention Pinterest. The image sharing & social media platforms are a great way to reach potential customers with high buying intent.
To perfect that strategy, you should include appealing images and videos of your products. And don't forget to add product tags so users can go straight to your website or even checkout page!
In other words, Pinterest offers you a way to take a customer from the awareness stage all the way to the decision stage - completing the whole sales funnel in a matter of minutes.
9- Run Google and social media ads
Although we highlighted some inbound Shopify marketing strategies, unfortunately, they are usually not enough on their own. This problem can be solved by running some Google and social media ads.
Don't worry; you don't have to break the bank running ads. Choose a budget you are comfortable with and kick off some campaigns. Why? Simply because these campaigns can help with:
Enhance brand visibility
Reaching customers where they already are
Increase website visits
As a result, orders will skyrocket!
10- Be active on social media
While we are on the subject of social media, paid ads on their own are not enough you need to be constantly active on social media.
Being active doesn't just mean posting, but it also includes replying to comments, interacting with existing and potential customers, and even engaging with other brands.
11- Work with other eCommerce businesses
Not every other eCommerce business is a competitor. So, working with other businesses can help you both reach more audiences, tap into new segments/markets, and increase sales.
That's a win-win situation if we have ever seen one!
These collaborations can be creating bundles of complimentary products from both online stores, promoting a certain cause, or any other creative partnership you can think of.
12- Go offline
Despite what many people say, offline marketing is still extremely beneficial, and just because you are an online store doesn't mean all your marketing efforts have to be online.
Offline marketing activities include but are not limited to events, posters, billboards, traditional media ads, pop-up shops, and press releases.
It is also worth noting that some of those marketing activities can be a bit more expensive than online marketing. So, finding the right balance between online and offline is where your best shot is.
13- Automate your marketing
Nowadays, most of the online marketing activities can be automated using marketing automation systems like ConvertedIn. These systems can help you with:
Automate ads' strategy and management
Sending emails and SMSs
Product recommendation
Segment your customer base
Offer a personalized experience
Book a demo now to automate your eCommerce marketing strategies and grow your online store!