The Best 16 Google Discovery Ads Tactics For eCommerce
In an extremely crowded marketplace, it can seem hard for some businesses to reach new audiences, keep ongoing relationships with existing ones and promote their products to their audiences. Marketing can be quite challenging especially for startups and even for businesses that want to acquire new audiences or maximize their sales.
In 2019, Google launched a group of new features under the name of "Discovery ads" to reach people where they are and show them exactly what they need, rather than waiting for them to search for it. Google Discovery ads are a crucial part of digital marketing nowadays and have to be involved in your marketing plan and strategy.
With the right Google Discovery Ads tactics, you can optimize your campaigns for maximum visibility and conversion.
In this informative article, you will find all the hacks and tactics you need to best optimize your Google Discovery Ads to achieve the most and best results for your eCommerce.

Table of Content:
What are Google Discovery Ads For eCommerce?
Google Discovery ads are one type of Google Ads. They are visually appealing ads meant to reach your target audience during their scrolling and according to their interests and recent shopping history.

Google uses intuitive data-driven software to identify consumer buying behaviors so that your products are shown exactly to the right audience who is interested in your products or services.
Google Discovery ads appear in 3 places:
The Google Discovery feed
YouTube
Gmail
How do Google Discovery ads work?
Discovery ads offer engaging formats that can help you reach the exact audience targeting you are looking for. Google Discovery ads work easily; advertisers upload a business logo, high-res images "can be one image or multi-image", headlines, and descriptions, and Google later creates different combinations of the creatives to identify the best performing one. The ads' main objectives are to offer your audience a personalized ad experience and inspire them to take action.
Discovery campaigns place the ads on Discover, or they can be displayed as Discovery ads on YouTube Home and Watch Next feeds, the Gmail Promotions, and Social tab.
The Best Google Discovery Ads Tactics For eCommerce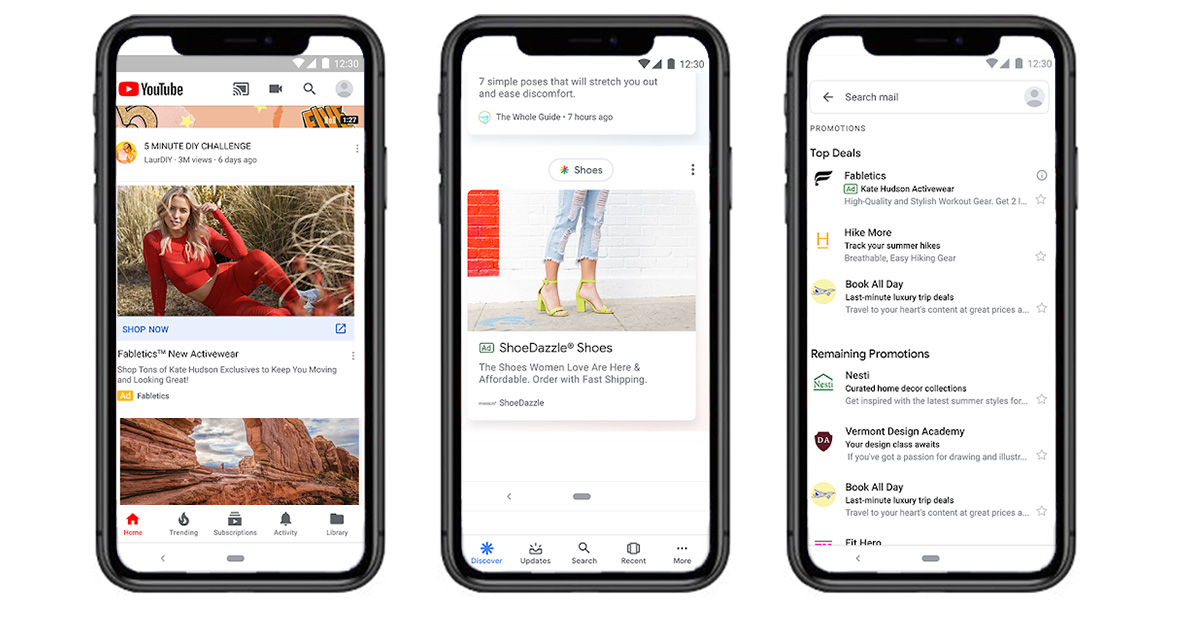 1- Choose Your Target Audience
Know exactly who your target audience is, what they want and how you can best communicate with them so that you can tailor an ad that talks directly to your people.
2- Use High-res Media
Using high-quality images and visual photographs can be a great way to showcase your products and attract your audience. Knowing what your audience wants to see exactly can help you drive way more traffic and maximize your conversions. Avoid using stock images.

3- Use Images in the Right Aspect Ratio
To obtain the best results, upload multiple 1.91:1 landscape images. Select images that work well with your logo and can be combined with any of your headlines, any of your descriptions, and your landing page.

If you are uploading images in a carousel ad, you have to upload all images with the same ratio aspect. Images will be shown in the order you choose.
4- Use Eye-catching Headlines
Discovery ads reach people who aren't actively searching for your brand. Hence you need to catch their attention and let them stop at your ad. This can happen by using the right and most catchy words for your audience. You have got to play on their emotions with descriptive phrases. Still, make sure you use minimal text.
5- Use Your Brand Logo
Make sure you have your brand logo and identity visible to your audience in all your ads. This can lead to better brand visibility and awareness.
6- Choose Your Ad Timing Wisely
Knowing when your audience is active, whether it is choosing the time of the day or which day of the week, is so crucial and can play a very important role in your marketing campaign. Such information can be obtained through Google Analytics or your own analytics tools.
7- Use A/B Testing
Experiment which ad works best for your audience, which text, which images, which call to action! Trying different ads and seeing what achieves the best results can help you plan better for your future marketing.

8- Try Out Audience Expansion
If you can afford this default feature, then it would be beneficial for your business to reach new potential people outside of your chosen audience. However, you need to keep an eye on your ad to make sure your budget is not being drained on the wrong audience.
9- Tell Your Brand Story
Carousels can be a great way to tell your brand story in an emotional and informative way. They give you the chance to use more appealing images and display more product features.
10- Promise & Deliver
Attracting your audience is one thing; maintaining your relationship with them and building trust is another thing. Hence, make sure that when you attract them with a compelling promise or call to action, you also deliver what you promise.
11- Use Automated Campaigns
Using automated ad campaigns can save you time, and it will help deliver the best performance based on your bid, budget, and marketing objective.
12- Set Your Budget Properly
Choose an average daily budget at least ten times higher than the value of the offer based on cost per target action (CPA). Setting the right budget for your ads can be a crucial part that can immensely affect your performance.
13- Analyze Your Performance
Monitoring, measuring and analyzing your ad results and how people interacted with your efforts can be greatly informative for your brand and can lead later on to a better plan and effective results.
14- Use Discovery Retargeting Campaigns
Discovery retargeting campaigns can lead to the best ROI for advertisers and can maximize impressions as much as possible, drive more sales, and influence people to purchase what they didn't yet.
15- Tie a Lead Generation to your Discovery Ads
Lead generation forms can lead to an extremely high conversion rate. Moreover, you can integrate your CRM to automate lead flow.
16- Add a CTA
A compelling call-to-action button can help you reach the result you want and can influence people to take action.
Follow these tactics to achieve the results you want. However, one of the most important tactics, if you would like to give up all of this hassle, is to use Convertedin.
Automate Your Google Discovery Ads With One Click
Convertedin is one of the best marketing operating systems for e-commerce. Create personalized multi-channel marketing that boosts customer engagement and maximizes ROI. Have your Google Discovery Ads automated now with only one click.
Reach the right customers, engage shoppers, and save time with ready-made automation templates. Moreover, Boost sales and entice shoppers with personalized ads across multiple channels using our e-commerce-focused automation platform.