6 Key Benefits Of Customer Segmentation for eCommerce
Customer segmentation is among the best marketing tools in an e-commerce business, as it simply helps in understanding your target audience more profoundly. If you own an e-commerce business and website, do you have any idea which customer type provides you with the highest revenue? What kind of customers return to your website, and which customers simply scroll away? All these questions can be answered from the insights that you can gain from customer segmentation, assuring that you get the most relevant customers for your business.
Once you know what your customers prefer on your website, their buying habits, and how they spend money, you will succeed in gaining your target audiences' trades and retaining them for a long time. This article will explore the definition, examples, and key benefits of customer segmentation.
What Is Customer Segmentation?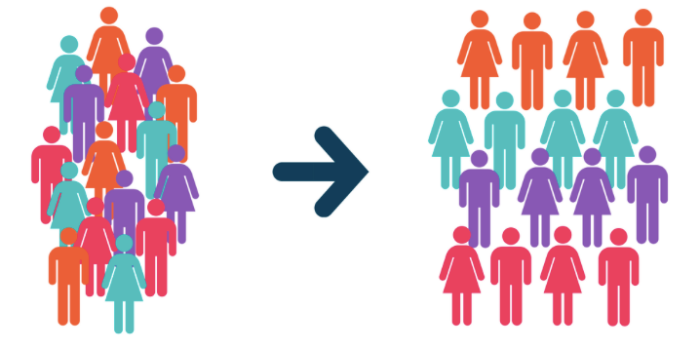 Customer segmentation is simply bringing together a group of customers with similar buying personalities and spending habits, dividing them into different segments based on their gender, taste, location, age, etc. It is necessary for an e-commerce business that helps understand your customers better to prepare marketing and communication strategies for each division accordingly.
Examples Of Customer Segmentation
Here are a few practical examples of dividing your e-commerce customers to better understand and maximize the benefits of customer segmentation.
- Create a VIP customer list
If you have customers on your website, who have purchased repeatedly from your business or have reached a specific amount of purchases, you can create a VIP list for them, keeping it separate from seldom-occurring visitors. You can offer special deals and discount services to this customer segment and thank them for their loyalty and recurrence.
- Have a list of location-based customers
Location plays a significant role in understanding what your targeted customers are interested in buying. Therefore you can divide your customers based on different cities and geographic locations to offer them more relevant products and eliminate unnecessary product recommendations.
- Create a separate group for the cart abandoners:
This is a tough group. Sending a reminder email just would not work. Sometimes, shoppers abandon their carts because they get interrupted or simply because they saw a shipping fee. Hence, you can segment the cart abandoners into a separate group by adding their products of interest or related items in the reminder email to feel valued and think about returning to their abandoned cart.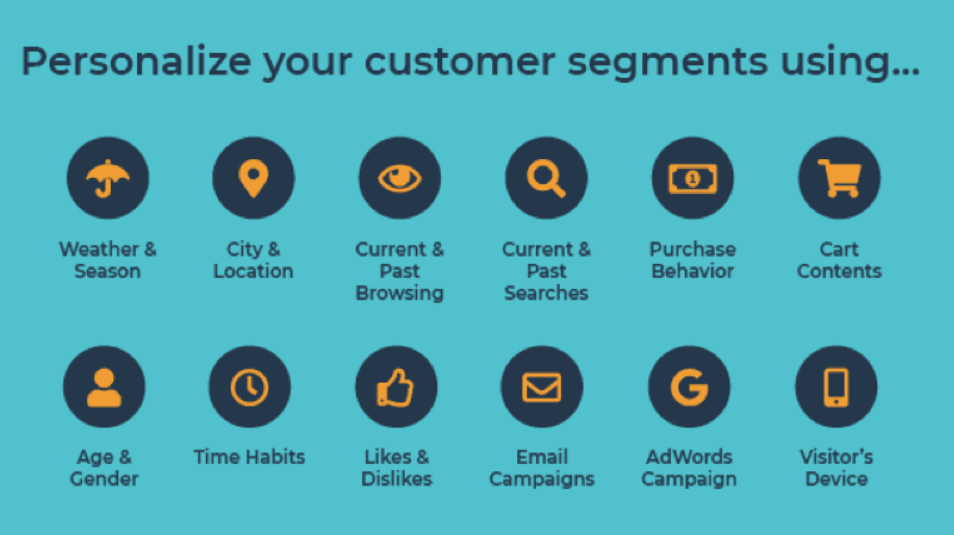 - Have a list of customers for special events
Events like birthdays are one of the best days to gain customers. How? The answer is simple. If you segment your list of customers according to their birthdays, you can deliver them more personalized emails, offering them a particular discount or other deals for their special day. To do this, first, you should encourage your visitors to create an account on your website to gather their personal data.
- The new customer list
Welcoming your new customers is the best way to build a good relationship. Therefore, when a new customer purchases from your business, you can send them a welcoming email and add them to your new customer segment. The welcoming email is an excellent way to tell customers about your brand. You can also offer a special welcoming discount to all those visitors who make a purchase from your website for the first time.
6 Key Benefits Of Customer Segmentation for eCommerce
Undoubtedly, customer segmentation today is a necessary marketing tool for all businesses, especially in e-commerce. It helps a brand obtain real insights into what its customers want, thus building loyal customers, reaching new clients, and eventually successfully growing the business. Here are a few more benefits that customer segmentation has to offer:
1- better-targeted messages
With the help of customer segmentation, you can easily understand who your audience actually is, thus marketing your brand to the right people. Without it, marketing your brand is similar to throwing a wide net in the sea and waiting for which fish gets caught.
2- More loyal customers
Since you focus on marketing to customers who are actually interested in your brand and are more likely to make a purchase, customer segmentation allows you to pay attention to all your loyal customers. These are the perfect relevant audience that you might want to retain. However, sending them a personalized email or message will help your customers repeat their purchases as well.
3- An improved customer service
When you get feedback from your customers from different segments, you will be able to comprehend your audience better and how your customer grouping helps your business. Doing so will help you create improved solutions for your customer's queries, thus providing them with better customer service than before.
4- A more significant return on investment
Retaining already-existing customers is far more convenient than acquiring new ones. Therefore, focusing on customer segmentation as a marketing tool would increase the lifetime value of your loyal customers. Sending them personalized marketing campaigns according to their segments will help retain your customers, thus generating a more significant ROI. They will repeat their purchases every now and then from your brand.
5- A better price optimization
The data you collect from customer segmentation will allow you to identify the perfect customers for your brand, including the amount of money they spend on your website. With this data, you can put up the price of products according to your choice for your unique customers.
6- A better customer satisfaction
By segmenting your customers according to their buying habits and other traits, you can send personalized emails showing their areas of interest. This will make your customers feel unique and valued, thinking that they will always get some deal whenever they make a purchase from your brand.
Wrapping Up
Today, the ways of doing business have dramatically changed. To sustain a healthier customer base, you must focus on the modern marketing ways of keeping your customers engaged and loyal to your company. In simpler words, customer segmentation will allow your e-commerce business to reach new heights in this competitive business world. Along with the other benefits of customer segmentation, you will also be able to recognize your authentic audiences with their needs and wants. You will build a strong relationship with your customers and eventually make their experience personalized and more profitable.