Top 8 Psychographic Segmentation Examples For eCommerce To Inspire You

By
Merna Helal
·
4 minute read
Marketing is all about one thing - sending a message. But how will you send a message if you don't know your audience and what they want to hear?
To send the perfect message that entices people to click that order now button, you have to speak their language. In simpler terms, conversion starts with the right message sent at the right time in the right place.
There are many ways you can figure out the answers to these questions, and on top of that list comes psychographic segmentation. Through this model, you can learn how to send the right message to your prospects and customers to ensure they turn into a loyal customer base.
With this in mind, let's take a look at some of the top psychographic segmentation examples for eCommerce to get you inspired.
Table of Contents:
eBay
What is Psychographic Segmentation?
First thing first, what exactly is psychographic segmentation, and how can it benefit your eCommerce business?
Psychographic segmentation is a marketing segmenting model that classifies customers according to their psychological characteristics like lifestyle, social status, interests, opinions, and values.
As an eCommerce business, you can benefit greatly from psychographic segmentation, as it helps you in enhancing your targeting, improve communication with your customers, and obtain new loyal customers.
Ready to start using psychographic segmentation and skyrocket your sales? Let's take a look at the top psychographic segmentation examples for eCommerce to inspire you.
Discover more in Psychographic Segmentation in Marketing: The Complete Guide
Top 8 Psychographic Segmentation Examples For eCommerce
Most if not all successful eCommerce businesses segment their customers and use buyer personas to ensure they are targeting the right people at the right time and in the right place. So let's take a look at the best of the best, also known as the top 8 psychographic segmentation examples for eCommerce!
1- Amazon
As always, the eCommerce tycoon, Amazon, is the first on the list of top examples. Here Amazon focuses on empowering women entrepreneurs. This example perfectly showcases how you can target customers through their values.
The whole world is focusing on empowering women these days, but sending this to young women will surely capture their interest and turn them into loyal customers.
2- Wolf & Badger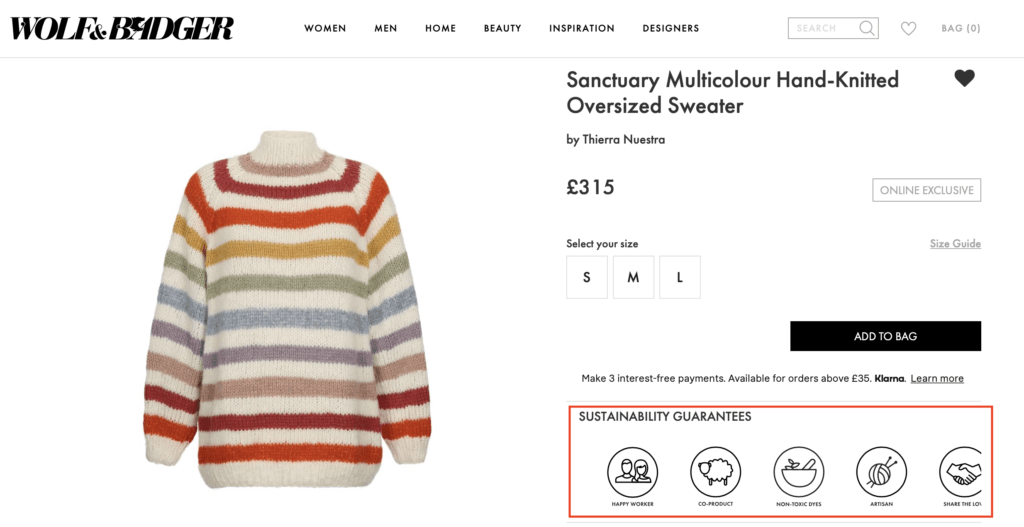 Another great addition to the list of psychographic segmentation examples with a focus on value is the ordering page of Wolf & Badger.
The company knows how much people value sustainability these days. Accordingly, the ordering page emphasizes the steps the company takes to offer green and sustainable products.
This is one of the most guaranteed methods to earn the trust and loyalty of potential and existing customers. Let's be honest who doesn't want to buy from a company that respects mother nature?
3- Who Gives A Crap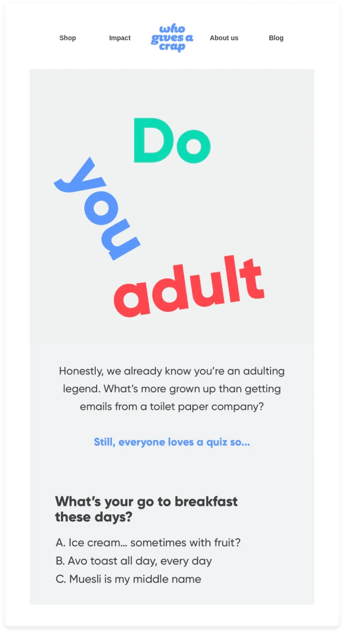 At first glance, this may look like an age group segmentation (part of the demographic segmentation), but when you take a closer look, this is clearly an interest segmentation.
Can't see it? Well, take a minute to think about the adults in your life, are they all struggling with the idea of being a grown-up? Surely not, and that's exactly who this campaign is targeting, adults who are still figuring it out.
4- Daily Harvest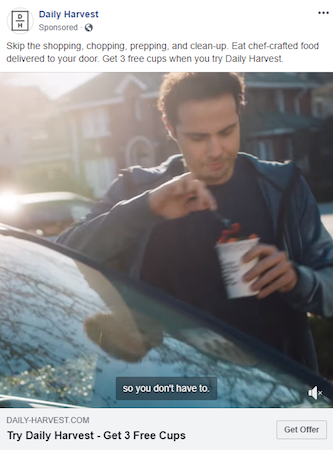 Another example of segmenting according to interest is the Facebook video ad of Daily Harvest. This ad targets people who value their time and prioritize convenience. The video also highlights the fact that Daily Harvest offers you healthy and nutritious options.
By that, Daily Harvest is targeting several segments and providing us with one of the best psychographic segmentation examples!
5- Klook
Like most traveling booking platforms, Klook started its journey with a focus on destinations. However, after researching, the company found out that customers know which activities they want to do more than they know where they want to go.
As a result, Klook altered its message and platforms to emphasize that customers can book trips based on the activities they wish to indulge in.
This is hands down one of the most important psychographic segmentation examples you should learn from. As Klook didn't just use segmentation for ads or campaigns, they ensured that it's on every message they send out!
6- Headspace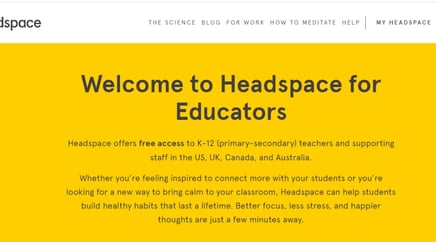 Headspace is a really popular meditation app (it even has its own Netflix show!). After some research, the company found out that many of its customers are educators and teachers.
So simply, they introduced an exclusive deal for educators, honoring this notable profession. In a short period, Headspace saw a 25,000 increase in subscribers from 3 different markets. Surely, that's an ROI worth the effort of segmenting your customers!
7- eBay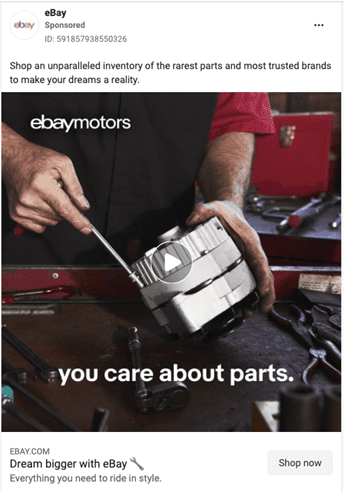 In this example, eBay didn't beat around the bush. The ad specifically targets customers that "care about parts", so right off the bat, the ad says that those who want the rarest part can easily find it in eBay's inventory.
This is clearly an interest segmentation, as eBay targets numerous segments, but for this ad, it choose one very specific interest and targeted its segment.
eBay here is teaching every eCommerce business a valuable lesson, that no matter how big or popular you get, all your customer's interests should be addressed.
8- Patek Philippe
Although this is not an eCommerce business, we can't talk about the best psychographic segmentation examples without mentioning the outstanding generation campaign of Patek Philippe.
The luxury watch manufacturer is famous for selling expensive products, so in this campaign that targets parents, the company sends a clear message that a Patek Philippe watch is a form of investment.
Many parents don't get luxury items for themselves even if they can afford them, so by emphasizing that their kids will also benefit from these products, the company ensured that they don't lose that segment.
It is also worth noting that this campaign has been running for years with many touching videos targeting parents all over the world.
Now that you are inspired by the top psychographic segmentation examples, ready to segment your customers and skyrocket your sales? Before you start planning, you have to know that we are not in the stone age anymore. In other words, you don't have to manually segment your customers anymore!
Auto-segment Your Customer Base
Instead of spending months manually filtering and analyzing customers, you can use a marketing operating system like Converted.in and auto-segment your customer base! In fact, ConvertedIn can help you
Auto-segment your customers
Send the right message to each segment across several channels
Update segments in real-time
Book a demo now to start segmenting!