Your Ultimate Guide To Social Commerce: Why and How To Use In 2022
Having an online business nowadays might seem like a real challenge! The social media world is evolving rapidly, and with the new trends that keep appearing, sometimes it might seem so difficult to cope with the development happening in the e-commerce marketing field. It is crucial to know how to perfectly market your brand, how to choose the best tools for your products, and how to sell more. This article will help you get the full picture and know the best practices to use.
Get to know what social commerce is, the trends, the best practices, the benefits, and the top social commerce platforms, as well as the difference between social commerce and e-commerce.
Table of Content:
Here is your guide on how to use social commerce to offer your customers the top-quality experience they crave.
What is Social Commerce?
Social Commerce is the type of eCommerce that involves social media platforms, like Facebook, Instagram, Snapchat, Tiktok, and others to market and sell products or services. Social commerce allows customers to purchase your online products or services WITHOUT leaving the social media app they are using.
This actually eases the process of online shopping for customers. Social Commerce helps your brand to be more discoverable by the target audience you want, lets your products be easily reachable, moreover, it helps you interact through your social media sites with your audience and influence them to purchase your items.
Social commerce provides a more convenient and interactive shopping experience. It is becoming popular with a rapidly increasing value that is estimated to reach about $2.9 trillion by 2026.
Did you know that nearly 56.8% of the world's total population, which is nearly over 4.48 billion worldwide are currently using social media?
For instance, social commerce retail earnings in the United States are expected to reach $80 billion by 2025. Hence, social commerce is a must-have in your marketing strategy to reach more people.
Is Social Commerce the same as Social Media Marketing?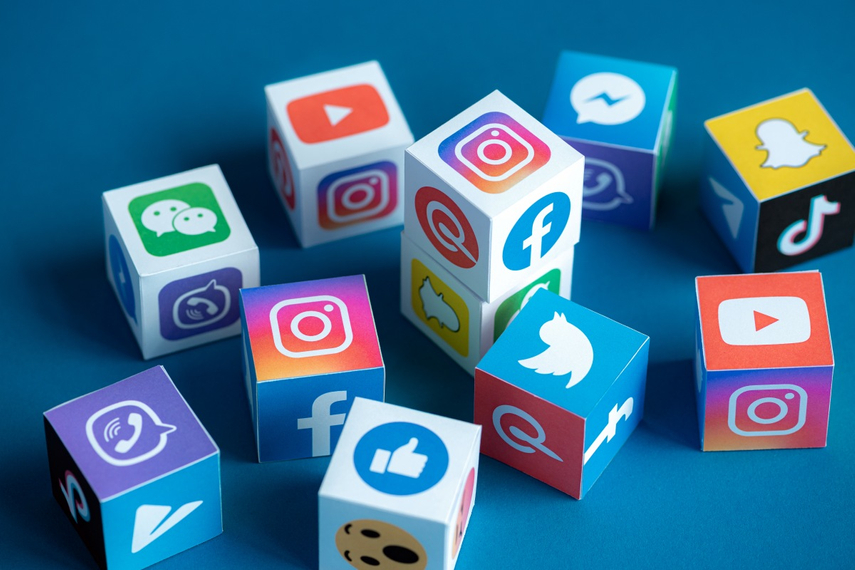 Actually, these two are linked in some way. However, they are a bit different. In social media marketing, shoppers view your brand's products, click on them, and get directed to your website to start and finalize their shopping process. Hence, Facebook, Instagram, and other platforms act like a storefront.
On the other hand, social commerce allows shoppers while scrolling on Instagram to view your products with all their information, tap Shop Now, add it to their shopping cart, and check out within the app at the same time. Also, in case you have a website and you want to drive more traffic, social commerce allows your shoppers to tap to visit your website to see more products if they want to.
The crazy spreading of social media helps social commerce to boom and is indicated to be the future of commerce.
Did you know that the typical social media users spend nearly 15% of their waking life on social media? This proves that social commerce is crucial for the exposure and expansion of your brand.
Social Commerce VS E-commerce: What Is The Difference?
As we mentioned before, social commerce is a subset of e-commerce. E-commerce, which is the bigger umbrella, is the shopping experience that takes place on your website, online store, or application.
Whereas social commerce does more or less the same thing yet, it does it on social media platforms. In social commerce, everything from product research to checkout takes place on the social platform.
One important thing social commerce does is that your brand doesn't need a website to sell! On the other hand, brands that have a website can direct leads to their website as well. So it is designed to fit your needs and help you get the desired results.
For a better comparison, check the table below Social Commerce VS E-commerce.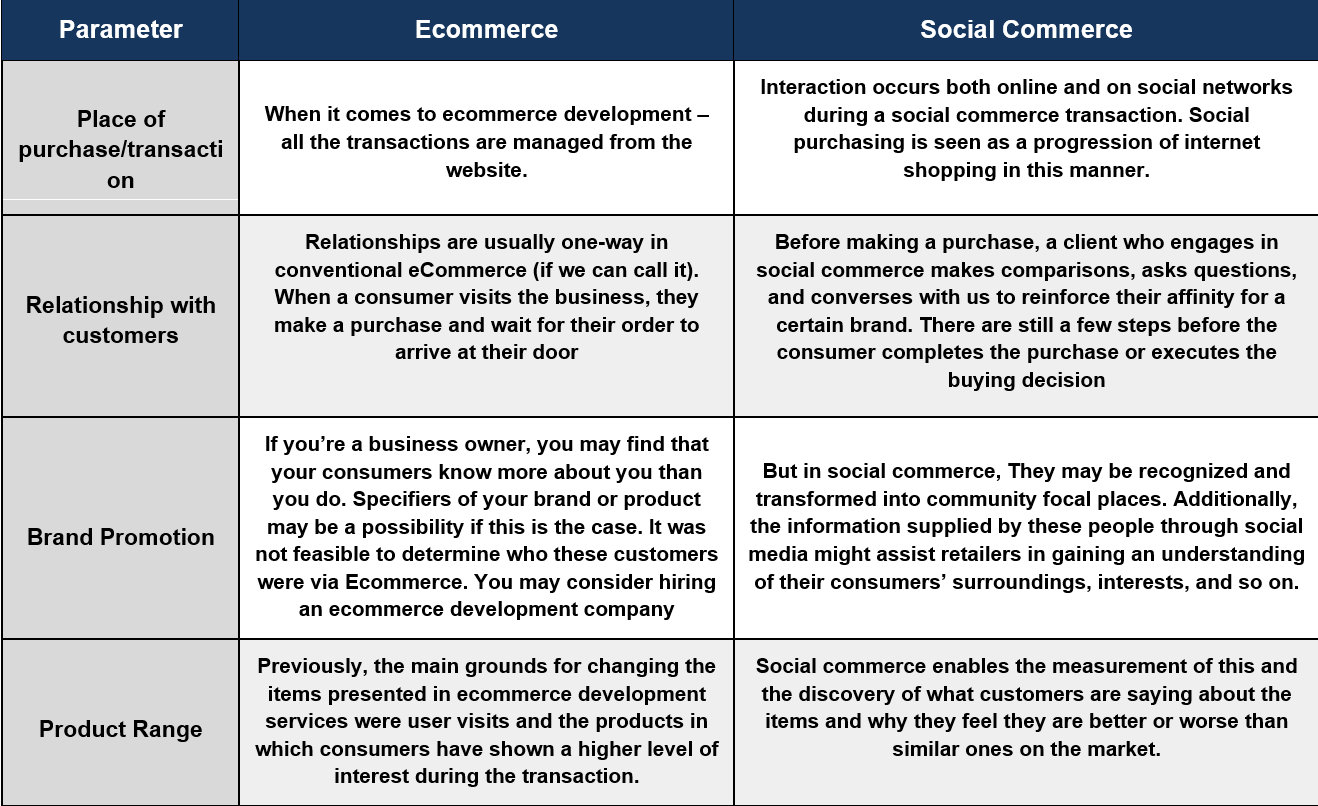 6 Benefits of Social Commerce For Your Online Brand
The main goal of social commerce is to boost and maximize your e-commerce sales through social media. Away from that, it has a bundle of benefits for your online brand:
1- Reach Out To New & More Segments

Did you know that social media users are expected to reach 5.17 billion by 2024?
Social Commerce is the perfect tool to reach out to new and potential customers locally and globally. Currently, Facebook has over 2.2 billion users. Adding that in 2023, Instagram is expected to reach 120.3 million monthly active users only in the U.S.!
If your online store targets the 18-to-34 age group, then social commerce should be your go-to. This is because millennials and Gen Z are the ones who will most likely purchase from a social media platform.
Moreover, with the customers' data that social media offers, you will be able to target the exact groups you want for your brand wherever they are.
2- Social Commerce Eases The Shopping Process
People are currently looking for what is easy, fast, and convenient. Social commerce provides easiness and speeds up the shopping experience of your customers to influence them to complete their purchases. They see it, click on it, and purchase the products with no hassle.
People nowadays can lose interest if the process takes longer and if they have to go from the social media ad to the website to the shopping cart to fulfilling their credit card information! Now they do all of this from one place at the same moment, which increases the chance of them continuing the shopping process.
3- Social Commerce is SOCIAL!
Social networks allow shopping to be an interactive process. Your customers can see other customers' reviews. Eighty-nine percent of online shoppers check reviews before purchasing.
They can like, comment, and share the products they like with their friends. This user-generated content can lead potential and new customers to trust your brand. Moreover, your audience can engage with your brand in two-way communication by DMing you or asking product-related questions.
You can also use influencer marketing as a tool and let influencers market your products in their stories or posts, which are clickable and can lead directly to your product catalog.
4- Social Commerce is the future!
It is expected that e-sales will exceed $735 billion in the next three years. Moreover, 81% of shoppers search for products on Instagram and Facebook. Selling your products or services on social media platforms is crucial and can make all the difference in maximizing your sales. Reach your online shoppers where they are now!
5- Social Commerce Increases Brand Reach & Exposure
Social media is crucial for your brand exposure, reach, and loyalty. It can help you build a community and reach the precise audience you want. It allows your brand to earn your shoppers' loyalty, increase the retention rate, maximize your sales and double your revenue. It also helps in establishing the right brand awareness and reach new relevant audiences.
6- Social Commerce Improves Your SEO
If you want your pages to rank at the top of a Search Engine Results Page (SERP), then you need to have a strong social presence with quality content across all of your social media platforms. Adding social commerce to your social media will result in topping your SERP ranking.
Top 5 Social Commerce Platforms For Your Social Commerce Strategy
1- Instagram
The main and most effective feature on Instagram for social commerce is "shoppable posts." With its visual nature, Instagram is the top platform for social commerce. Instagram has already upgraded the features of Shoppable Posts, and now they include an in-app checkout feature for a more convenient shopping experience!
Discover How To Turn Instagram Ads Into Sales for Ecommerce Business
2- Facebook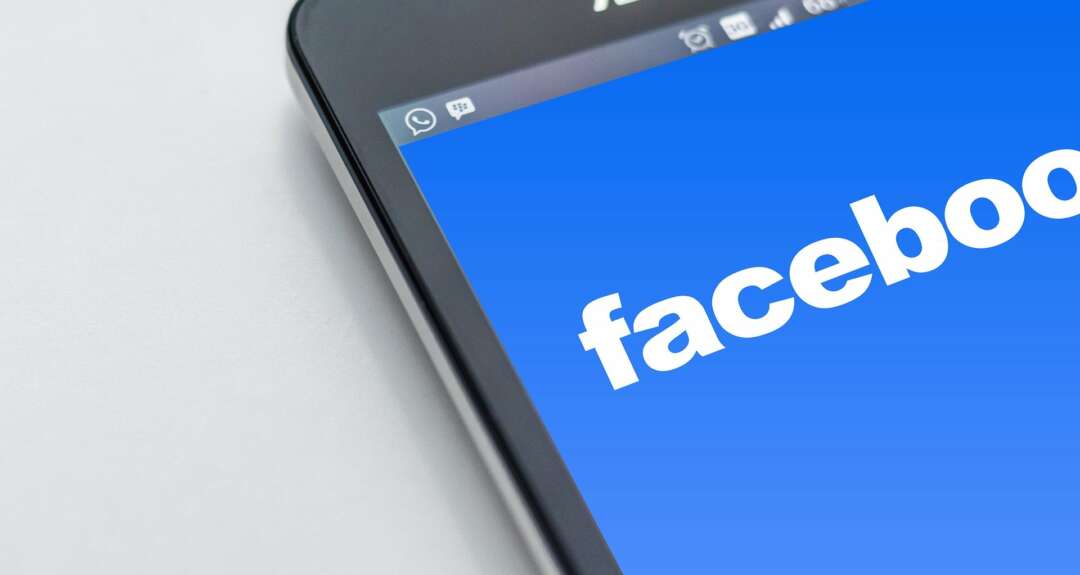 Facebook has strong social commerce tools for brands to use. It currently allows businesses in the US to use Instagram's in-app checkout so customers can experience the entire shopping process within the app.
With Facebook Shops, you can create a full online store from which consumers can shop within the app. Facebook Shops allow consumers to communicate with your business through Instagram, Facebook Messenger, or WhatsApp.
3- Pinterest
Pinterest is one of the most aesthetically pleasing social networks. It boosts creativity and helps creatives out there. Pinterest is ideal for social commerce. This visual search engine works with shoppable Product Pins.
Pinterest suggests relatable shoppable products to customers, with a direct link to your online store's checkout.
Pinterest ads also feature 'Shop the Look' ads that allow you to market multiple products in a single ad. Moreover, you can tag up to 25 items in a photo.
4- TikTok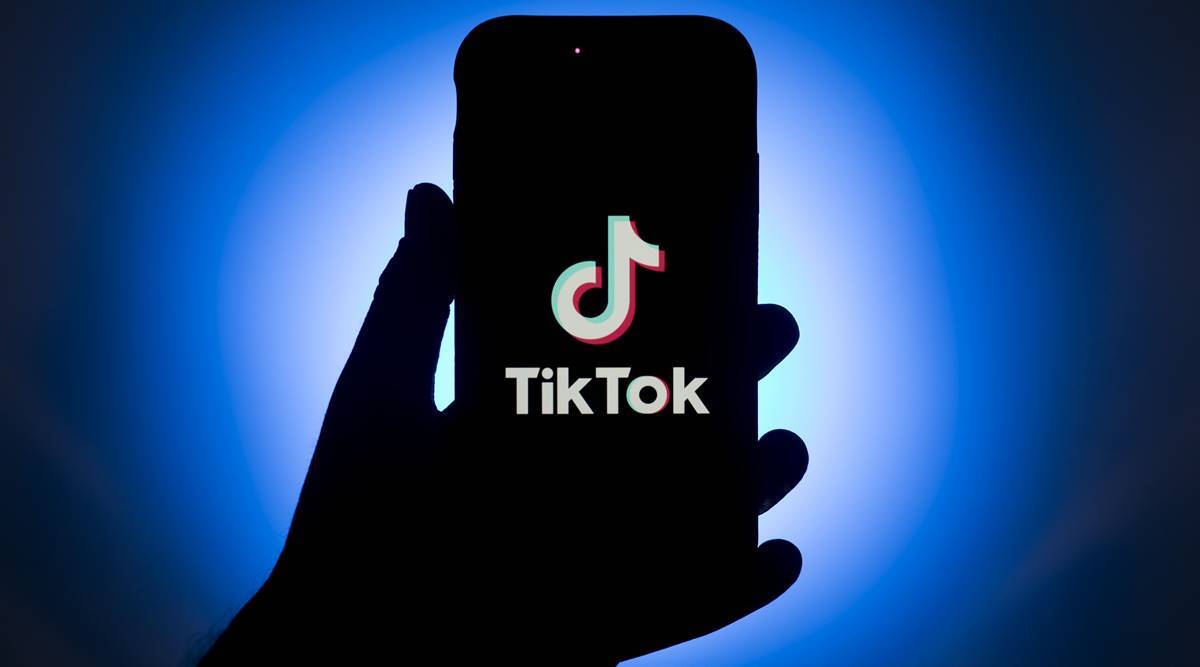 Being a video-sharing platform, TikTok is one of the best tools for your social commerce. Videos are proven to be one of the best ways to advertise your products.
Also, did you know that TikTok has already established a global partnership with Shopify? Well, yes, now you can create, sell, run your campaigns and optimize them easily!
Discover Your Complete Guide on How to Use TikTok Shopping
5- Snapchat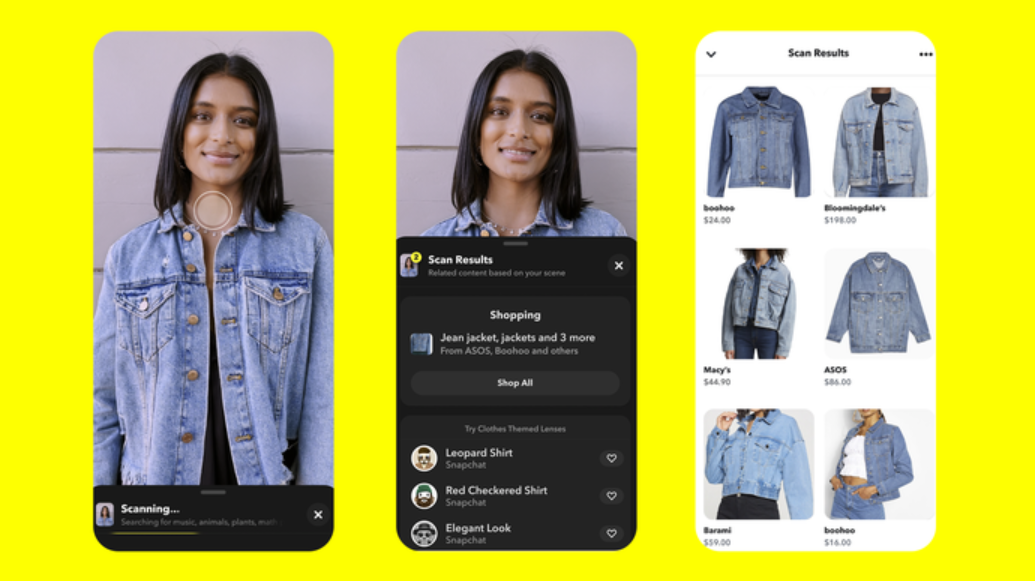 Using augmented reality (AR) on the platform, snapchat is another good option for your social commerce. Giving users the opportunity to try on make-up products, clothes, glasses, and other items with their AR lenses is a game-changer! Moreover, Snapchat announces that nearly more than 170M users engage with AR on the platform daily! So give it a go if your shoppers use the platform.
Best Practices, Tips & Tricks For Your Social Commerce!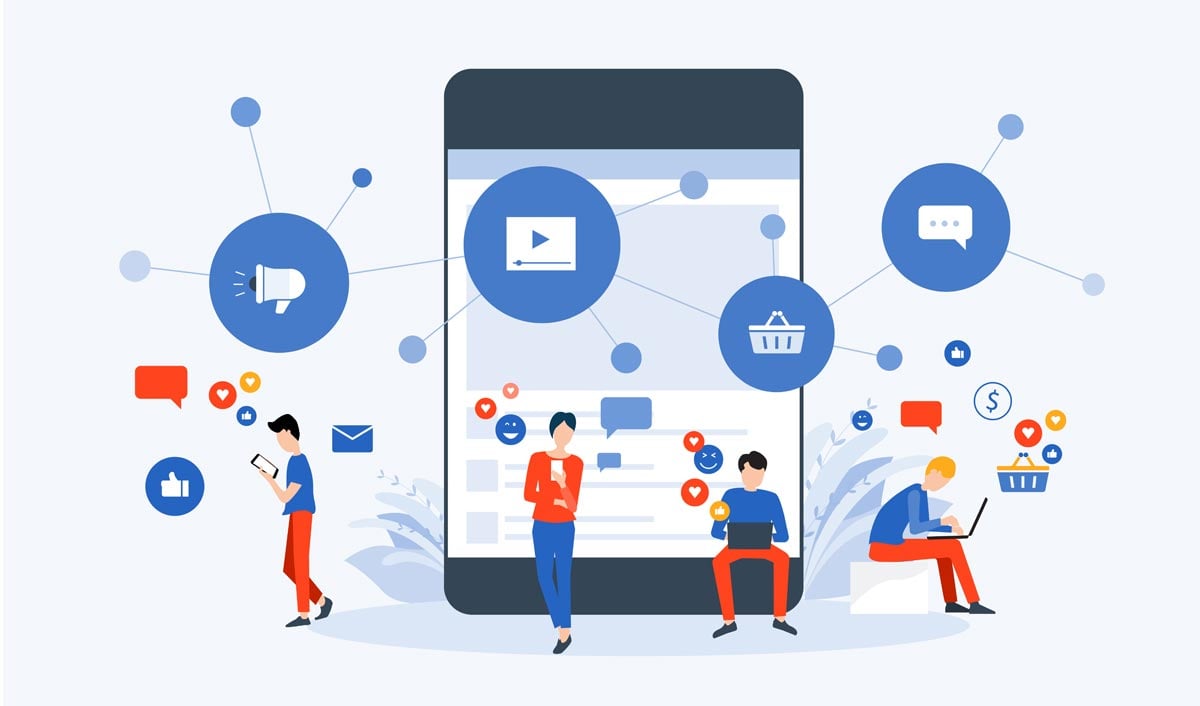 1- Know Your Audience Perfectly
To get the best results and maximum ROI, you need to build your social commerce precisely according to your target audience's needs and wants.
2- Choose the Right Platform For Your Business
Not any social media platform is good for your brand's objectives. Do your research before you start to focus on the channels your customers are using.
3- Create a Captivating Look and Feel For Your Brand
Your online store and social media have to be attractive and engaging enough to capture the attention of your new and potential customers. You also need to know that your social media act as your brand's digital storefront.
4- Consistency is key
You need to be consistent with your posting on social media. This is an excellent way of sharing your products with their details and information and attracting your audience.
5- Be Humane and Communicate
Engage with your audience in the right way by replying to all their messages and comments. Communicate in a way that aligns with your brand values and tend to reply immediately, people appreciate social media for the speed. Moreover, try to know what they need, recommend a product, or offer a discount.
6- Analyze Your Efforts
Use analytics to know if you are going in the right direction and to guide your future social commerce strategy. Use social media analytics as trackable metrics.
7- Use Influencer Marketing
Collaborate with influencers that relate to your brand to increase your brand visibility and push potential buyers directly to your shop.
Boost Your Customer Engagement and Maximize Your ROI with Convertedin
Social commerce is a win-win for customers as well as businesses. It offers a seamless and convenient user experience. Hence, it is crucial for your business. If you don't know how to start, then Convertedin is the place.
Now you can automate all your marketing activities and skyrocket your ROI with one click. Customize your personalized brand marketing strategy and get the results you are searching for.