Digital Transformation in the Retail Industry in MENA

By
Convertedin Staff
·
3 minute read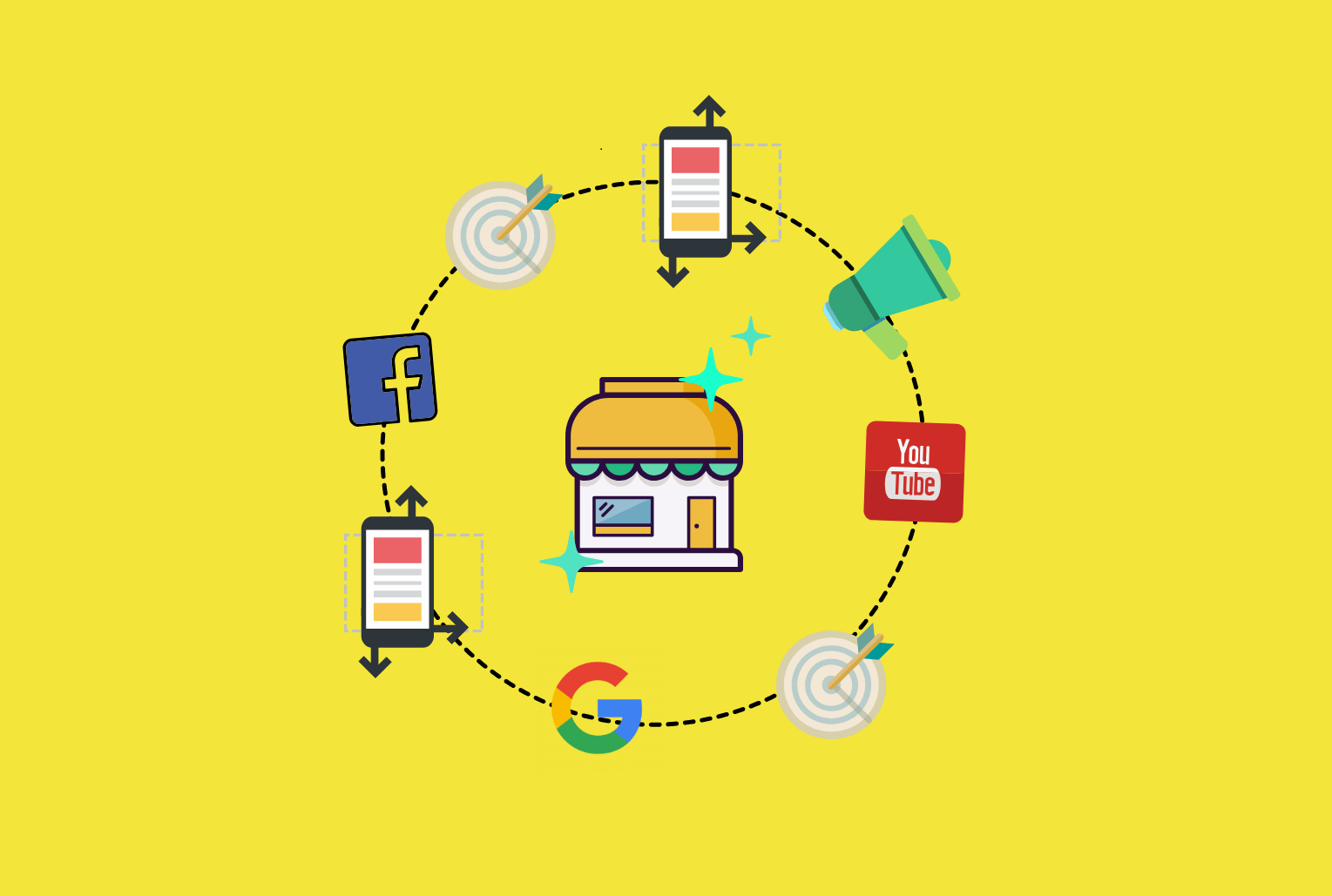 If there's one sector that's most affected by ever-changing customer demands and customer buying behaviour; it's the physical retail industry. Today, customers have the upper hand- they go online for convenience, easy access and personalised shopping experiences.
On one hand, eCommerce websites target, track and monitor their visitors, collecting invaluable data at each touchpoint. On the other hand, physical retail stores are barely managing to tap into the potential of the digital world.
In the MENA region alone, eCommerce sales have been growing YoY with 2017 closing at $23.3bn, 2018 at $28.6bn and 2019 estimated at $35bn.
So how can physical retailer take back their market share and continue to grow their bottom line?
The answer lies in Digital Transformation.
Hey, before you dive right in– There is a simple form to request a demo or request more info at the end of the article. Please feel free to contact us if you have any questions.
What does Digital Transformation Mean for the Retail Industry?
Simply put, digital transformation is nothing but reimagining how you drive revenue and stay competitive in a digital-first, customer-centric world.
However, digitally transforming your retail store does not necessarily mean that you need to shut down your brick-and-mortar. Set up an eCommerce revenue channels. Or start advertising to grow online.
On the contrary, you could digitally transform your store by making the most of something as simple yet sophisticated as geomargeting or proximity targeting to drive footfall.
How can Retail Stores in MENA get started with Digital Transformation?
Leveraging Pinoffer as a stepping stone
As the owner or manager of a retail brand, you're most likely hesitant or overwhelmed by the countless digital channels out there.
Talking about the MENA region specifically. It's become commonplace to hire 3rd party digital transformation consultants that burn a hole through marketing budgets. As a result, only big players in the retail space can actually afford to turn to them.
At Pinoffer, we're breaking these barriers!
With Pinoffer, now you can drive in-store traffic and deliver smooth customer experiences- without burning a hole in your pocket or the knowledge and expertise of digital channels.
So without further ado, here's why Pinoffer's simple and efficient platform is a retailer's ideal stepping stone into a digital first world:
1. Analytics Dashboard: Collecting valuable in-store data to understand customers and store performance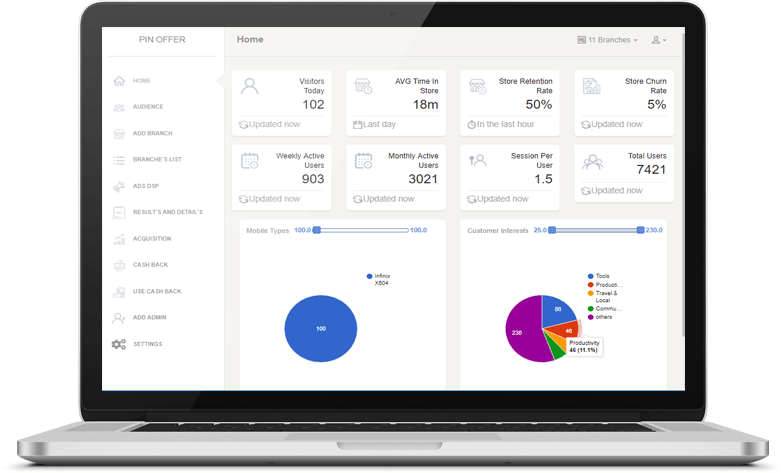 Once you sign up for a demo at Pinoffer, you get access to a unified dashboard that tracks, measures and presents every aspect of your physical store.
From monthly to hourly metrics like:
footfall
time spent in store
revenue generated
churn and retention rates
slow days, busy days
We bring all the analytics you need to track and optimise your store's performance- all in one place.
Think about what you can do with this data, from sending offers on low key days to upping your store and customer experience on busy days- all of which our platform helps you do.
2. Powerful geo-targeting and retargeting options to drive footfall
In a nutshell, geo-targeting allows you to send location-based notifications to users. On the other hand, geo-fencing allows you to draw a virtual area in and around which you want to target users.
With a read rate of 98%, sms and push notifications can be one of the most effective ways to expose customers to promotions. Couple them with geo-targeting and geo-fencing and it's possible to for you to send highly personalised offers to ideal customers at the right place, at the right time.
Retailers like yourself can use Pinoffer to target new customers and retarget the old ones in real-time. On top of that, by using other targeting criteria like age, gender, interest, etc it becomes all the more easier for to reach your ideal customer!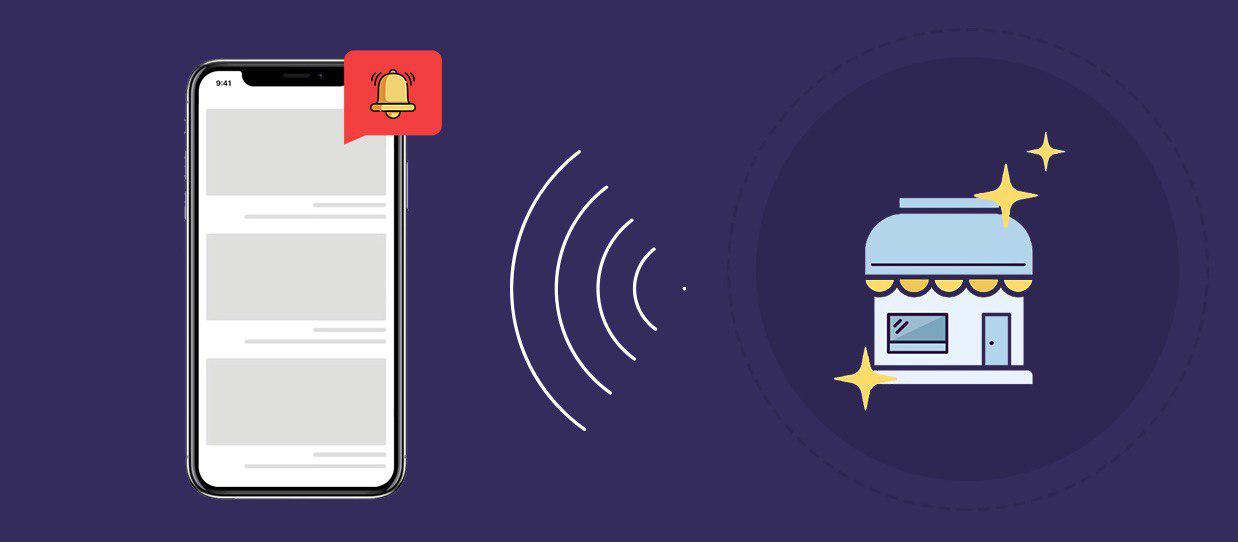 3. Attracting and retaining customers with targeted Google and Facebook Ads
On typical days, you most likely see a lot of visitors who look around but don't buy or buy but never come back. If you're not doing anything to get these people back to your store once they leave, then you're missing out on potential sales. After all, it's easier to sell to people who know you, than people who don't!
So, what better way to reappear in front of them and attract them to come back than personalised Facebook and Google retargeted ads.
With Pinoffer specifically, you can target ads to your past visitors and customers. These ads could offer special discounts and engage them. To boost conversions, you could create FOMO by making the offer valid for a limited time. The possibilities are endless!
Tapping into the advantages of the digital world to improve in-store sales and customer experience doesn't have to be as intimidating as it sounds.
Get in touch for a quick demo and discover how you can start attracting, tracking and retargeting your ideal customers, right away!
[hubspot type=form portal=5623983 id=997a5a0d-e404-414a-80f0-83b634ccf26b]
Also, you van read about customer segmentation in retail e-commerce business