2X Conversion With These 7 Facebook Video Ad tactics For eCommerce

By
Merna Helal
·
4 minute read
Did you know that the average Facebook user spends around an hour a day on the platform? This might not seem like a lot, but when you consider that Facebook is the most used social media platform around the globe with 2.85 billion active users, the number is much more impressive.
But how can you take advantage of that huge population to grow your eCommerce business and stand out from the competition? The answer is simply two words: Video ads!
Just creating video ads is not complicated, but creating the right ones that convert is surely a challenge. To help you create the best ads that convert, in this article, we will present you with the top Facebook video ad tactics for eCommerce businesses.
Table of Contents
How Important Are Facebook Video Ads For eCommerce?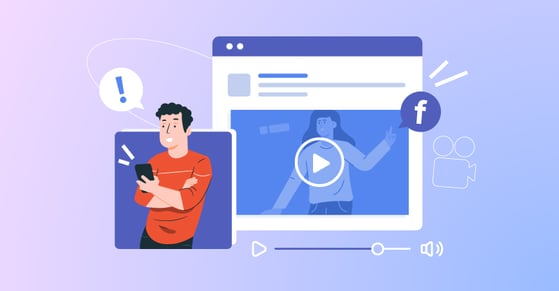 Needless to say, all Facebook video ad tactics for eCommerce businesses will cost you money and effort even if you keep the hours spent on them to a minimum and stick to a limited budget.
So it's important to know how can Facebook video ads benefit you before investing resources in creating them. Here are some numbers that can help you learn the importance of Facebook ads;
Ready to launch your video ad campaign? Before you start, there are some Facebook video ad tactics for eCommerce that can help you create the best campaigns and have the highest ROI!
7 Innovative Facebook Video Ad tactics For eCommerce That Convert
To have a successful video ad campaign with a high ROI, you should try out some of these Facebook video ad tactics for eCommerce businesses:
1- Add closed captions
Research shows that around 85% of Facebook users don't have the sound on while watching videos. This means that you can lose almost all of your views if your videos don't have closed captions.
You can even take it a step further and ensure that your video can be understood and enjoyed if someone is just watching the visuals. It is also worth noting that by adding closed captions to your Facebook video ads, you can see a 12% increase in views.
2- Run giveaway ads
This is a no-brainer; if you want to drive traffic and increase brand awareness and engagement, then giveaway ads are your best bet.
What's truly great about this type of video ads that don't need a lot of effort, as customers will only be focusing on the giveaway. So all you got to do is have an enticing video and a gift worth the effort you want them to put in.
Most giveaway ads simply ask customers to leave comments, tag friends or do something simple on the website, like fill out a form. To keep it simple, the easier you make it, the more engagement you will get.
3- Focus on the first 5 seconds
As people spend more time online, their attention span drastically decreases. This is not only bad for healthcare professionals, but that also makes your task as a marketer much harder. Therefore, it is essential to grab attention and have the best part of your Facebook video ad right in the beginning.
When the 5 seconds are intriguing, you ensure that customers actually don't skip the ad and your campaign is a success!
4- Optimize for mobile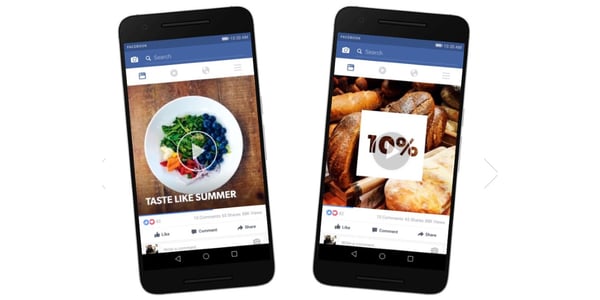 Did you know that 98.5% of Facebook users access the platform through their mobile phones? On the other hand, only 1.5% use Facebook from a laptop or desktop. This makes optimizing for mobile phones one of the most essential Facebook video ad tactics for eCommerce businesses.
Also, don't forget to optimize your landing pages so you never lose a lead from your Facebook video ads.
Read more in Top 10 Facebook video Ad Examples for E-Commerce That Convert
5- Use social proof
Social proof or user-generated content is a great way to showcase your real impact and give your video ad an authentic twist. You can use testimonials from customers, videos from micro-influencers, or photos of your products taken by your costumes.
Basically, any type of social proof will make your video ad stand out from competitors because you are not just saying you are great; you are showing them why you are great.
6- Keep it short
As previously mentioned, people are now easily distracted, and the "skip ad" button surely doesn't help. This is inevitable, and many people won't give your ad that much attention.

However, by creating short videos, you are drastically increasing the chances of potential customers watching till the very end.
With this in mind, one of the top Facebook video ad tactics for eCommerce businesses that will help increase conversion is creating 15-second videos.
You might wonder what to do if you need more time to convey your message. Then create multiple short video ads as a series, which can also help viewers remain engaged with your Facebook page for a longer period.
Discover The Best 6 Types Of E-commerce Facebook Video Ads To Use
7- Don't end with your CTA
In most content, you should end the ad with a call to action (CTA), but in Facebook video ads surprisingly, that's not the case. A CTA in a Facebook video ad should be right in the middle. Why is that? Simply because there's no guarantee that viewers will stick till the end of the video.
Additionally, don't place the CTA in the very beginning as that's the part where you want to grab the viewer's attention. In a nutshell, you want to get viewers interested, then hit them with what you actually want, followed by more interesting content.
Read More on How to Increase your sales with E-Commerce video marketing
Final Thoughts
There are numerous Facebook video ad tactics for eCommerce that convert, but it all comes down to execution. If you want the best results, then you should use extra help from a marketing operating system for eCommerce, like ConvertedIn to automate your ads on Facebook (and other platforms).
Book your demo today and learn from the experts how to uplevel your game and take your Facebook video ads to the next level!